Italian authorities fine Amazon and Apple over 25 billion yen


On November 23, 2021, Italian antitrust authorities fined Amazon and Apple for a total of € 230.2 million on suspicion of anti-competitive behavior. Both companies have announced their intention to appeal.

AGCM-Autorita' Garante della Concorrenza e del Mercato

https://www.agcm.it/media/comunicati-stampa/2021/11/I842-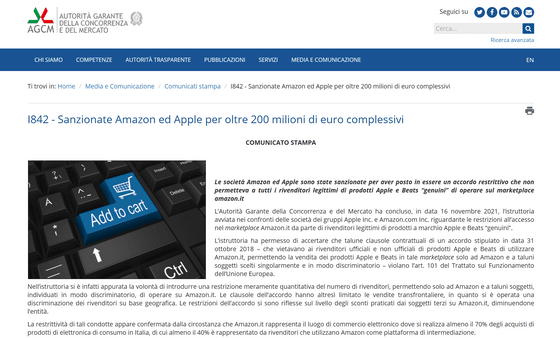 Amazon and Apple handed $ 225 million in Italian antitrust fines | Reuters

https://www.reuters.com/technology/italys-antitrust-fines-amazon-apple-more-than-200-mln-euros-alleged-collusion-2021-11-23/
According to an official investigation, Amazon and Apple signed a contract on October 31, 2018 to ban certain product resellers from using Amazon.it and allow only a limited number of vendors to sell their products. It was said that it was. The target products were those of Apple and Beats, an audio equipment manufacturer under the umbrella of Apple.
Authorities said the deal violated European Union law and affected the activities and price competition of third-party resellers, with authorities saying € 68.7 million to Amazon and € 134.5 million to Apple. We imposed a fine of 17 billion yen) and ordered that the restrictions on the use of resellers be lifted.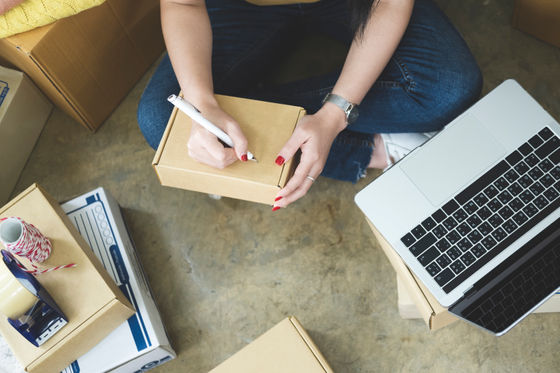 Apple denied cheating in response to this order. 'We have a dedicated team that works with resellers, law enforcement agencies, customs, and distributors to ensure that only genuine Apple products are sold, so that our customers can buy genuine products.' Said. 'Our business model depends on the success of retailers, so we deny the idea that Amazon is profiting from excluding retailers,' Amazon said.