What's wrong with the game 'Far Cry 6' getting angry with animal welfare groups?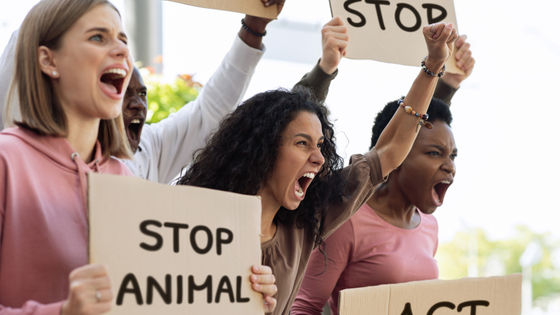 Animal protection group '
People for the Ethical Treatment of Animals (PETA)
' protests on October 7, 2021
the video game 'Far Cry 6
' released by Ubisoft known as
'Assassin's Creed Series' etc.
We have issued a statement to do so.
PETA Latino Statement: Cockfighting in'Far Cry 6'| PETA
https://www.peta.org/media/news-releases/peta-latino-statement-cockfighting-in-far-cry-6/
Far Cry 6 Draws PETA's Ire
https://comicbook.com/gaming/news/far-cry-6-peta-response-cockfighting-minigame/
PETA Wants Far Cry 6 to Remove Its Cockfighting Mini-Game
https://gamerant.com/far-cry-6-cockfighting-peta/
Released on October 7, 2021, Far Cry 6 is an action-adventure game aimed at defeating dictators by throwing themselves into the dusty world of the guerrilla revolution, and the playable platform is PlayStation 4. And 5, Xbox One and Xbox Series X / S, PC.
Regarding this 'Far Cry 6,' PETA Latino's senior manager Alicia Aguayo said in a statement, 'A terrifying competition in which animals like cockfights bleed, appearing in the form
of'Mortal Kombat'.
It's far from true innovation. The cockfights used in cockfights are equipped with sharp weapons to tear meat and bones, causing them to suffer painful and fatal injuries. PETA Latino urges Ubisoft to make changes to make such mini-games less praise for atrocities. '
According to ComicBook.com, a news site specializing in entertainment, 'Far Cry 6' is
a format similar to fighting games such as 'Tekken series
' and '
Street Fighter series
', where you can choose chickens and play against other chickens. It is said that a mini game to play is included. 'It's not really a cockfight, but it's not that it's not a cockfight at all,' ComicBook.com said of the mini-game.
You can see
what kind of mini-game it is from the scene
where 1 minute and 10 seconds have passed since the start of playback of the following movie.
COCKFIGHTING | Far Cry 6 Gameplay --YouTube
When the mini-game starts, a screen like the character select of the fighting game is displayed.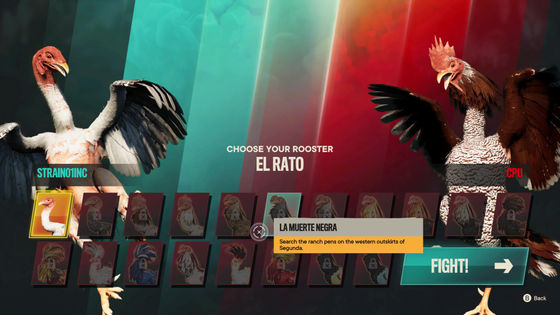 When the match starts, the health gauge will appear at the top of the screen. The two chickens make an attack by scratching with their toenails, and when the attack hits, a red effect that makes blood splatter appears.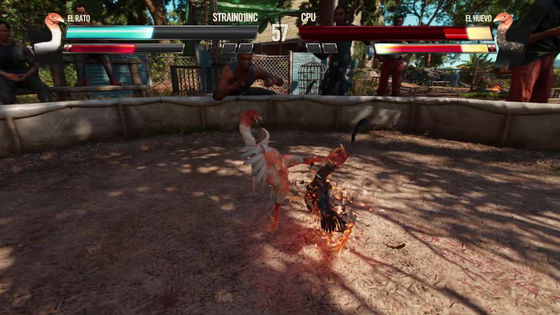 After holding down the opponent, a special move was also performed by poking with his beak.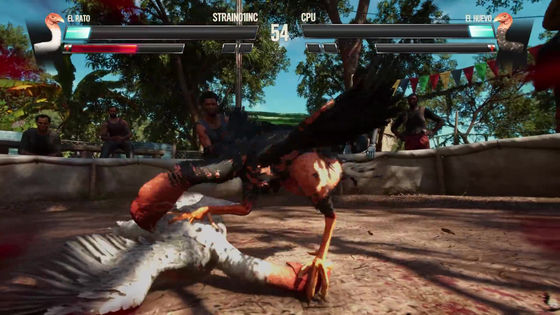 The player wins the CPU in the first two rounds.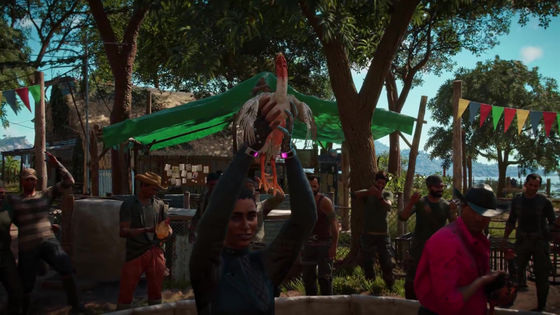 In 'Far Cry 6', in addition to a mini-game where chickens play against each other, a cockfighting character will also appear as a companion.

' Amigo' appearing in '# Far Cry 6 ', cockfight Chicharon rampages ????????
Can this chicken be the kind of fire that lights the revolutionary fire ...! ?? pic.twitter.com/Tt4MqUIXmU

— UBISOFT_JAPAN (@UBISOFT_JAPAN) September 29, 2021


Game Rant, a news media for gamers who took up the statement of PETA, said, 'There seems to be disagreement in the game industry about the validity of introducing a cockfight. Those who think that it is harmless because it does not hurt real animals. Others are concerned about in-game animal abuse, 'he said.

This is not the first time PETA has developed a criticism targeting the game. In 2020, PETA released a movie in which characters are demonstrating in connection with ' Animal Crossing: New Clothes Forest, ' a game that leads a slow life with animals. At this time, it is reported that the element of catching fish in 'Animal Crossing: New Year's Forest' was regarded as a problem.

A cultural reset ???????? #AnimalCrossingNewHorizons pic.twitter.com/2kfMnTUeRX

— PETA (@peta) May 19, 2020