Introducing the open source software modular 'BESPOKE' that allows you to build synthesizers on your PC for free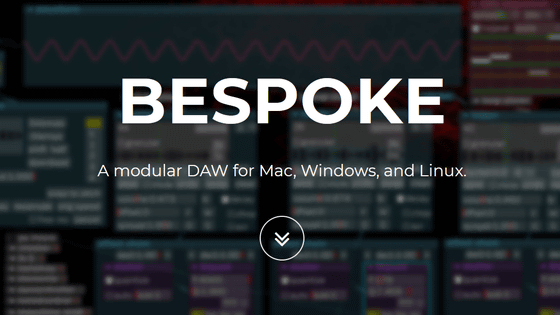 September 14, 2021 is the official version of the open source software modular 'Bespoke ' that allows you to create sounds by connecting modules and effectors like a real synthesizer on Windows, macOS, and Linux. It was released in.

Bespoke Synth

https://www.bespokesynth.com/
bespoke 1.0.0: now available! Https://t.co/i7P7KaEmAb https://t.co/QrCr363jrn

— Ryan Challinor (@awwbees) September 14, 2021


Bespoke is available in over 190 modules and also supports MIDI controllers. By connecting software modules on Bespoke, you can build your own original synthesizer.

bespoke 1.0.0 is nearly ready to go ... just wrapping up a few final details before launching, and fixing any last-minute bugs that crop up pic.twitter.com/3Vapi2nAbs

— Ryan Challinor (@awwbees) September 10, 2021


In addition, since external audio input is also possible, it is possible to use other than electronic sounds produced from the circuit.

one new feature of the karplus / strong module is that it can take external audio input, rather than just its internal oscillators. This allows you to do some pretty neat stuff, like exciting the karplus / strong physical model with drums: pic.twitter. com / 8ga9L3lWQY

— Ryan Challinor (@awwbees) September 14, 2021


In addition, Bespoke can host VST plugins. In addition, 'live coding' that generates music in real time by a Python program is also possible.

another new addition to bespoke: VST3 hosting! wanna bring together @matttytel's incredible Vital synth with @valhalladsp's awe-inspiring ValhallaRoom reverb? You can do it in bespoke! Pic.twitter.com/IU6La8lXdU

— Ryan Challinor (@awwbees) September 14, 2021


You can watch the Bespoke demo published on YouTube by the actual developer, Ryan Challinor, below.

Bespoke Jam 5 --YouTube


Bespoke is available in three versions: the free version 'Bespoke Free', the $ 5 'Bespoke Plus', and the $ 15 'Bespoke Pro'. However, all the functions are the same. The paid version is actually a donation to Mr. Challenger. Bespoke has been open sourced by Challenger since 2011, and the source code is available on GitHub.