The Ig Nobel Prize ceremony is blocked on YouTube, the reason is the use of the sound source recorded in 1914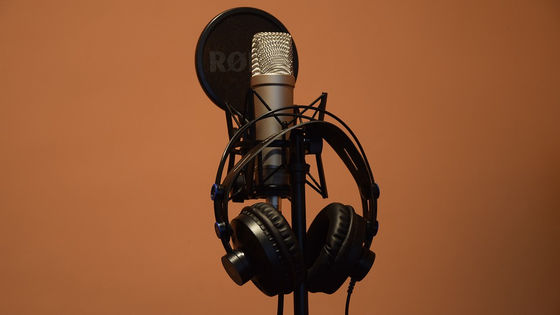 We found that the video of the 2021 Ig Nobel Prize award ceremony
on September 9, 2021 was blocked on YouTube in some countries.
Improbable Research »Blog Archive
https://www.improbable.com/2021/09/13/youtube-the-ig-nobel-prizes-and-the-year-1914/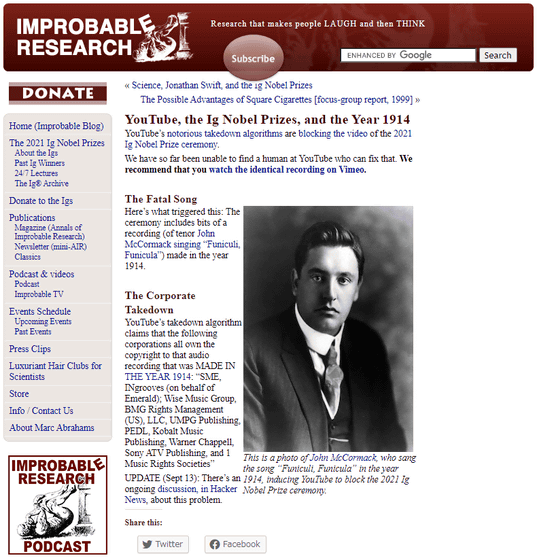 The video is as follows. When accessing from Japan, the message 'This video is not published in your country' is displayed and the video cannot be played.

The 31st First Annual Ig Nobel Prize Ceremony 2021-YouTube

https://www.youtube.com/watch?v=_Rr8NxPDzBM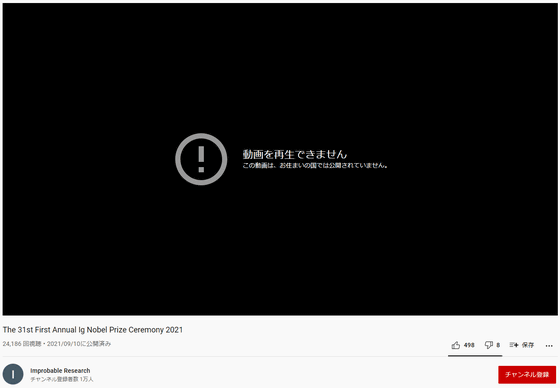 According to 'Improbable Research', which sponsors the Ig Nobel Prize, the cause of the block is 'Funiculi Funicula' recorded in 1914 by tenor singer John McCormack, which was played at the award ceremony. For this sound source, from 'Wise Music Group' 'BMG Rights Management (US)' 'LLC' 'UMPG Publishing' 'PEDL' 'Kobalt Music Publishing' 'Warner Chappell' 'Sony ATV Publishing' '1 Music Rights Societies' It seems that there was a copyright claim.

Following the block, Improbable Research recommends watching the award ceremony video on Vimeo.

The 31st First Annual Ig Nobel Prize Ceremony 2021 on Vimeo


There is a heated debate on this issue on Hacker News.

YouTube takes down the Ig Nobel show because of a 1914 recording | Hacker News
https://news.ycombinator.com/item?id=28515457

According to the information in the thread, under US copyright law, 'works published before January 1, 1926 will lose their copyright protection (become public domain) on January 1, 2021.' The recordings are classified separately, and it is stipulated that 'recordings before 1923 will not be in the public domain until December 31, 2021.'

17 US Code § 1401 --Unauthorized use of pre-1972 sound recordings | US Code | US Law | LII / Legal Information Institute
https://www.law.cornell.edu/uscode/text/17/1401

YouTube's copyright program sometimes recognizes even the 'copyright-free sound source' officially prepared by YouTube as a copyright infringement target , causing a big backlash, but at least this sound source will be blocked until the end of 2021. It is likely that it will be done.