It turns out that Google began considering the acquisition of YouTube on November 8, 2005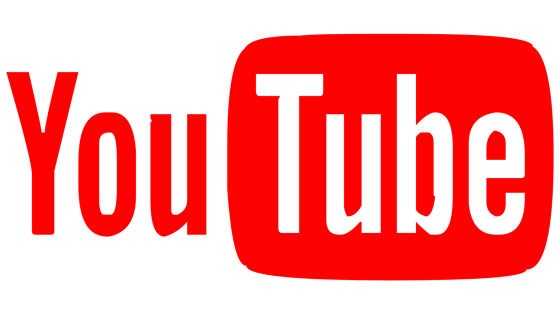 YouTube was founded in February 2005 by former PayPal employees
Chad Hurley
,
Steve Chen
and
Jawed Karim
. At that time, YouTube was aiming for a video version dating site, but since then various videos have been posted and it has grown rapidly as a video sharing service. From 2005 to 2006, we received more than 20 million dollars (about 2.32 billion yen) from various companies and started official service from December 15, but suddenly in October 2006 Was acquired by Google as. The official acquisition was announced three days after the possibility of acquisition was reported, but in fact Google was already considering the acquisition of YouTube as of November 2005, a year ago. , It is clear from the internal materials.
The possibility of Google's acquisition of YouTube was reported on October 7, 2006. The Wall Street Journal, which first reported the news, said an anonymous source said, 'The acquisition debate is in its infancy and could be broken.' 'The acquisition will cost $ 1.6 billion.' There is a possibility. '
Is Google in talks to buy YouTube for $ 1.6 billion? --GIGAZINE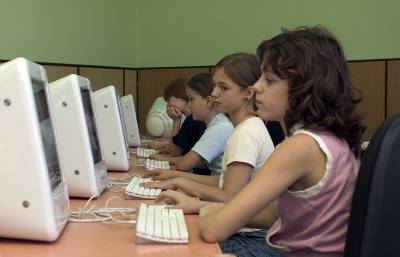 However, three days later, the acquisition was decided. The purchase price was 1.65 billion dollars (about 195 billion yen), and the acquisition was carried out by the transfer of shares.
Google buys YouTube for $ 1.65 billion-GIGAZINE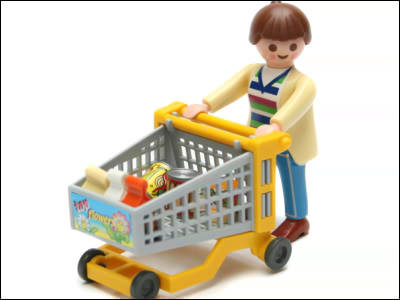 However, Google's internal sources reveal that YouTube's acquisition consideration began in 2005. Google has been sued for antitrust violations, and the published material has been submitted in court.
Larry Page: 'I think we should look into acquiring [YouTube]'

November 8, 2005 pic.twitter.com/boWOsDKNq6

— Internal Tech Emails (@TechEmails) September 3, 2021


The material contains an email between Google founder Larry Page, former Google executive Jeff Hoover , and supposedly Google employee Peter Chance. In an email with the subject 'youtube?' To Chance, Hoover said, 'I'm just curious, did you talk to the YouTube guys about coming here? They do interesting features faster than we do. But it doesn't seem to have a backend to generate revenue or scale up, while we do have it. '' How do we go with them? , Otherwise we have to increase the feature rate. '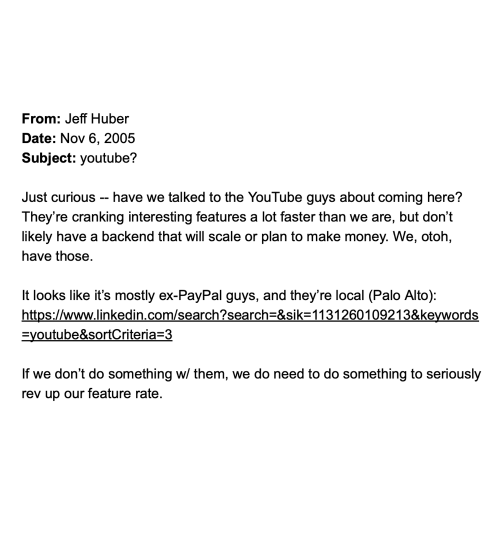 'I haven't talked about it yet. They've earned $ 5 million from Sequoia Capital and they seem to be thinking about selling it to Yahoo !,' Chance said. Google plans to implement YouTube's features in the fourth quarter, and Chance said there are enough engineers to compete with YouTube. In response, Hoover said, 'Are you interested in buying them? I know
Michael Moritz
and
Roerov Bota
are good people. The purchase price is $ 10 million. ) To $ 15 million (¥ 1.74 billion). '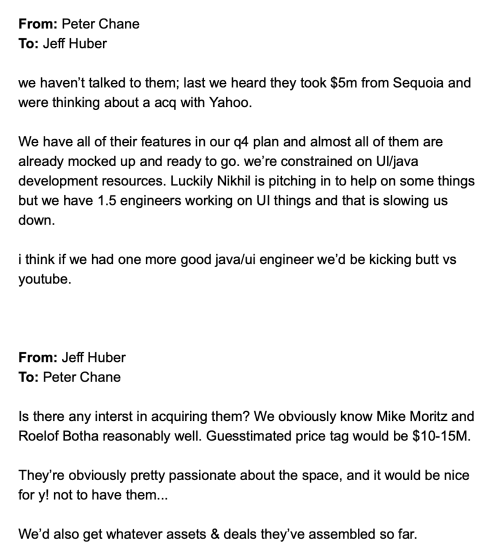 Then, after several exchanges between Mr. Chance, who was reluctant to buy, and Mr. Hoover, who was aggressive, an email thread was sent to Mr. Page. And at 15:02 on November 8, 2005, Page should consider buying them (YouTube) to several people, including then Google CEO Eric Schmidt. Please note that YouTube raised funds from Mike of Sequoia Capital. '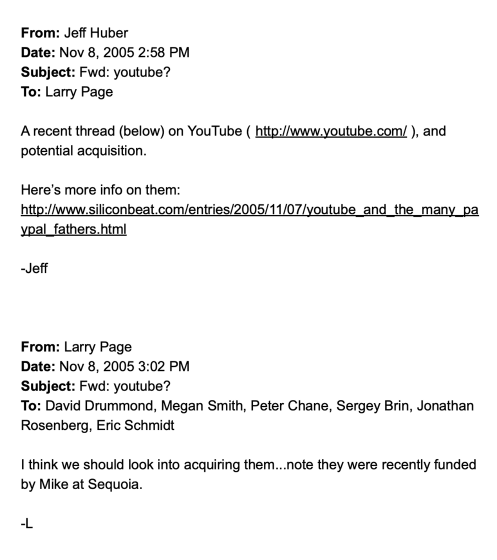 In response to this Twitter post, Kenna Security researcher Jeffrey Gamblin said, 'I don't know who Jeff Hoover is, but it's fun to see $ 15 million go up to $ 1.65 billion.' When I said ...

I don't know who Jeff Huer is but guessing 15M for something they paid 1.65B for is hilarious.

— Jerry Gamblin (@JGamblin) September 3, 2021


Mr. Hoover himself commented, 'I don't know, but he seems to be a stupid person.' Hoover also wrote that the YouTube team has surprisingly expanded the number of users, usage and brand over the 11 months since the acquisition.

Me neither, but seems like a bozo.

— Jeff Huber ?????????? (@jhuber) September 3, 2021


In addition, Chris Sacca, a venture investor who knew at the time, said in a series of threads that the acquisition of YouTube was the most important acquisition for Google. Until then, Google employees were hired mainly for their educational background, and the acquisition was also focused on functions, and there was no such thing as 'acquiring because there is a large audience.' However, the acquisition of YouTube has changed the mood of Google as a whole, and it has come to appreciate not only 'typical people who are good at computer science' but also employees with excellent soft skills and artist type employees. that's right.

I continue to believe this was the most important acquisition at Google. Not necessarily for revenue / business reasons. But bigger than that. As someone who worked on deals before and after YT, here's what I saw.

— Chris Sacca ?????????? (@sacca) September 4, 2021


'Hoover, you've always tried crap and slammed into crazy ideas. As Google grew, that became rare. Chad Hurley said I'm in public You wouldn't expect to praise him, but thank you for being a weirdo on the Internet, 'concludes Sacca.

All told, thanks to you who made it possible. Huber, you were always willing to try new shit and stick your neck out for crazy ideas. As Google got bigger, that was rarer. @Chad_Hurley , can't believe I am complimenting you in public. But thanks for keeping the Internet weird.

— Chris Sacca ?????????? (@sacca) September 4, 2021