YouTube is testing a cheap paid plan 'Premium Lite' that focuses only on 'ad hiding'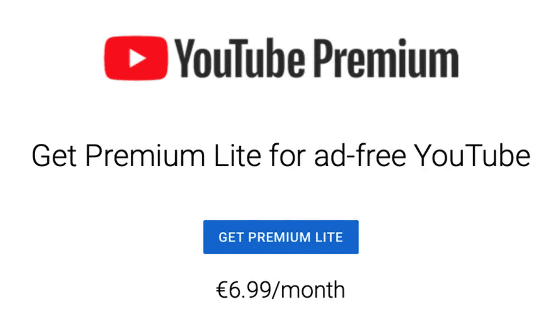 YouTube offers a paid subscription service that allows you to use functions such as ad hiding, background playback, and temporary storage offline, but in some areas, only 'ad hiding in video' is available. It turns out that we are piloting a low-cost, feature-focused paid subscription.

So Youtube Premium Lite (ad-free sub) is a thing now (in select countries?) | ResetEra

https://www.resetera.com/threads/so-youtube-premium-lite-ad-free-sub-is-a-thing-now-in-select-countries.465198/
YouTube'Premium Lite' subscription offers ad-free viewing for less --The Verge
https://www.theverge.com/2021/8/2/22605455/youtube-premium-lite-pilot-benelux-nordics-experiment-ad-free-subscription
The YouTube is a paid subscription service 'YouTube Music Premium' or 'YouTube Premium'
exists
. In both cases, music and videos can be played without ads, and can be temporarily saved on mobile devices for offline playback or background playback. In addition to the services provided by YouTube Music Premium, YouTube Premium allows you to watch YouTube Original series and movies. The monthly fee in Japan is 980 yen for YouTube Music Premium and 1180 yen for YouTube Premium.
What's new is that YouTube is piloting 'Premium Lite,' which allows you to watch videos without ads. Premium Lite has been tested in countries such as Belgium, Denmark, Finland, Luxembourg, the Netherlands, Norway and Sweden, and costs around € 6.99 per month. In Europe, YouTube Premium is offered for 11.99 euros (about 1560 yen) per month.
Premium Lite allows you to watch YouTube videos on the web, iOS apps, Android apps, smart TVs, game consoles, etc. without ads. However, it does not include the ability to play music without ads, or other features included in YouTube Premium such as offline temporary storage and background playback.


Premium Lite can be said to be sufficient for those who use YouTube exclusively for watching videos, but overseas news media The Verge says, 'The price is 60% of YouTube Premium, but only a quarter of the functions are provided.' Is pointed out. However, according to YouTube, Premium Lite is in the testing stage, and user feedback may change the content or develop another plan in the future. At the time of writing the article, it is unknown whether a new plan equivalent to Premium Lite will be deployed in Japan.