Cryptocurrency exchange 'FTX' succeeded in raising 100 billion yen, corporate value reached 2 trillion yen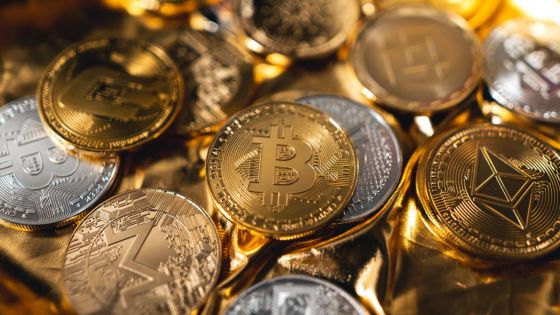 On July 20, 2021, FTX,
a cryptocurrency exchange, announced that it had successfully raised $ 900 million from more than 60 investment groups, including Softbank. With this successful financing, FTX's corporate value has reached $ 19 billion.
FTX Trading Ltd. Closes $ 900M Series B Round --Largest Raise in Crypto Exchange History
https://www.prnewswire.co.uk/news-releases/ftx-trading-ltd-closes-900m-series-b-round-largest-raise-in-crypto-exchange-history-847881913.html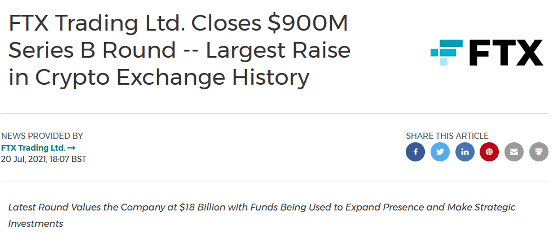 Crypto Exchange FTX Raises $ 900 Million, Valued at $ 18 Billion --Decrypt

https://decrypt.co/76447/crypto-exchange-ftx-raises-900-million-valued-at-18-billion
FTX is a cryptographic assets Exchange faced a million or more users, which was founded in 2019,
CoinGecko
per 24 hours has been aggregated
open interest
in the rankings
Binance
have been recorded in second place industry following the.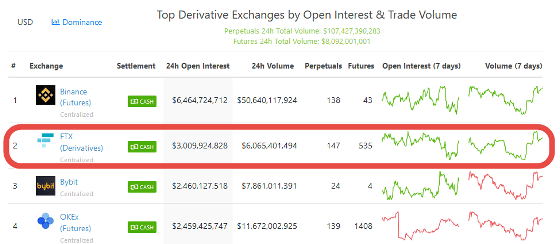 According to FTX, FTX succeeded in raising revenue in 2021 after successfully raising a
series A round in 2020.
FTX continues its approach to the sports industry, winning the naming rights for
the home stadium
of the professional basketball team Miami Heat in 2021
and welcoming American football player Tom Brady brand ambassador.
In addition to Softbank, major venture capital firms
such as
Sequoia Capital
and
Thomas Bravo
are among the investment groups that have provided a total of 100 billion yen to FTX. FTX CEO Sam Bankman-Fried said, 'We are excited to work with our funding partners to make FTX the best company. FTX is a new
derivatives exchange two years ago.
This funding will help FTX continue to build a broader vision. '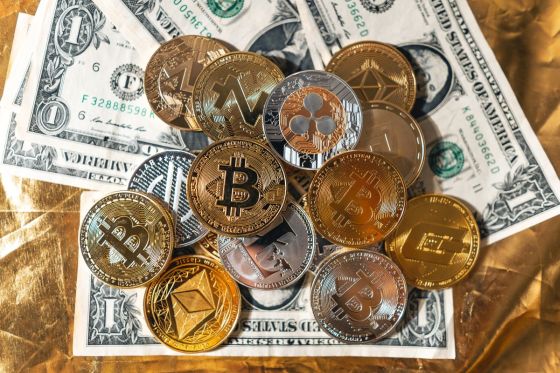 According to crypto asset-related news media Decrypt , FTX will use the funds raised to acquire margin trading-related companies. In the past, CEO Fried said, 'If we can raise funds, we would like to acquire a major financial institution such as Goldman Sachs.' However, after the successful funding, Fried said, 'Goldman Sachs is too big a target for acquisition. Still, we are interested in major financial institutions.' It's premature.

in Note, Posted by log1o_hf