Announced that TSMC & Foxconn purchased 10 million new corona vaccines and donated them to the Taiwanese government


The Yong Lin Foundation, a charitable organization founded by
TSMC
, the world's largest semiconductor foundry
based in Taiwan, and Terry Gou
, the founder of
Foxconn
, the world's largest contract manufacturing company for electronic devices, also based in Taiwan. Announced that it has purchased a total of 10 million doses of the new coronavirus vaccine '
BNT162b2' developed by Pfizer and Biontech.
It has also been revealed that the 10 million vaccines purchased will be provided free of charge to the Taiwanese authorities.
TSMC, Hon Hai / YongLin Foundation Donate BNT Vaccine to Taiwan CDC for COVID-19 Epidemic Prevention
https://pr.tsmc.com/japanese/news/2847
TSMC and Hon Hai / YongLin Foundation Donate 10 Million Doses of BNT Vaccine to Taiwan CDC │ Foxconn Technology Group
https://www.foxconn.com/en-us/press-center/press-releases/latest-news/646
10 Million Doses of mRNA-based COVID-19 Vaccine to be supplied to Taiwan Region | BioNTech
https://investors.biontech.de/news-releases/news-release-details/10-million-doses-mrna-based-covid-19-vaccine-be-supplied-taiwan
On May 26, 2021, Taiwanese
President Tsai Ing-wen
said, 'We actively negotiated with AstraZeneca in the United Kingdom, Moderna in the United States, and Biontech in Germany, and were able to purchase from AstraZeneca and Moderna. However, due to China's obstruction, we are still unable to sign a contract, 'he said. In addition, President Cai said, 'Quality and safety are guaranteed only by purchasing from the manufacturer,' and showed a willingness to negotiate directly with Biontech without going through China.
President Cai of Taiwan "Vaccine Procurement Difficult due to China's Interference" | New Corona Vaccine (World) | NHK News
https://www3.nhk.or.jp/news/html/20210527/k10013053661000.html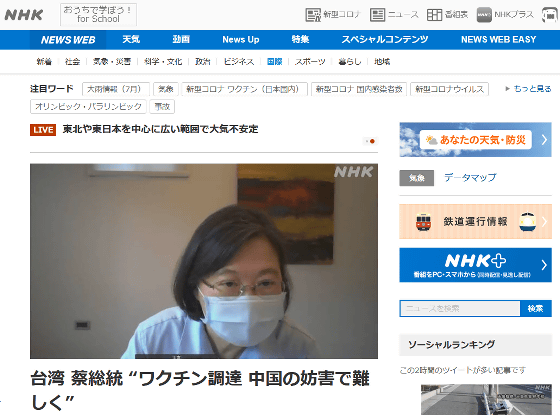 Then, on July 12, 2021, TSMC and the YongLin Foundation announced that they would purchase the new coronavirus vaccine 'BNT162b2' 5 million times each and provide it to the Taiwan Centers for Disease Control and Prevention (CDC) free of charge. Counterparties of TSMC and YongLin Foundation will participate in the development of the new coronavirus vaccine along with the Biontekku, responsible for the sales of 'BNT162b2' in China, Hong Kong, Macau and Taiwan ' Fosun Pharma (Fukuboshi pharmaceutical) in', TSMC is 'Vaccines are made at the manufacturing facility and then shipped directly to Taiwan,' he said.

Also, according to TSMC, 10 million doses of vaccine will arrive in Taiwan as early as the end of September, after which it will be confirmed that the vaccine complies with Taiwanese standards and related regulations.

'I proposed to the government on May 23, 2021 to donate Biontech's new coronavirus vaccine,' Gou said in a comment posted on Facebook. 'Shipping directly from Germany and other European countries. The new coronavirus vaccine gives Taiwanese people some leeway and confidence, 'he said, highlighting that the new coronavirus vaccine will be delivered directly from European manufacturing facilities. In the same post, Mr. Go said, 'There was no guidance or interference from the Chinese authorities during the vaccine negotiations. The vaccine procurement action was acknowledged as a commercial transaction between companies. Thank you, 'he said, emphasizing that there was no interference from China.


Uglu Sahin, CEO of Biontech, said, 'Our goal is to provide effective vaccines to as many people as possible around the world. We provide vaccines manufactured in Europe to Taiwanese people. I'm happy to be able to do it. '

In addition, the Japanese government provided a total of 2.37 million new coronavirus vaccines to Taiwan in June and July 2021, and on July 8, 2021, President Cai received the vaccine with his Twitter account. I am reporting.

Tonight, the Taipei 101 Building was once again shining with words of gratitude to Japan. Thanks to this #friendship vaccine , Taiwan will be one step closer to gaining herd immunity.
While paying attention to the damage caused by the debris flow that occurred in Japan the other day, I hope that Taiwan will be able to 'disappear the plague' as soon as possible.

Photo: Taipei 101 pic.twitter.com/vhcI5XWCbw

— Tsai Ing-wen (@iingwen) July 8, 2021
in Note, Posted by log1o_hf