Volkswagen plans to offer fully automated driving function for 900 yen per hour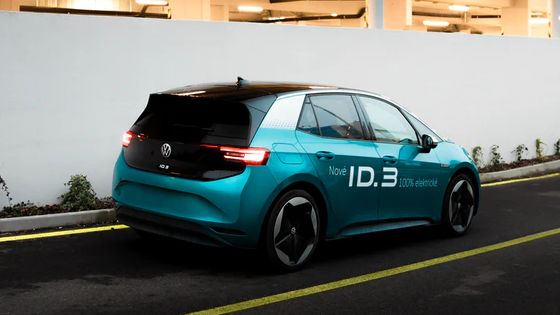 While the development and research of 'autonomous driving' that moves the car without the driver's operation is progressing, Volkswagen will make the fully automatic driving function like a subscription model for 7 euros (about 930 yen) per hour. It turns out that I have an idea to offer.

7 Euro pro Stunde für Autonomes Fahren – so will VW bald Geld verdienen --WELT

https://www.welt.de/wirtschaft/article231681663/7-Euro-pro-Stunde-fuer-Autonomes-Fahren-so-will-VW-bald-Geld-verdienen.html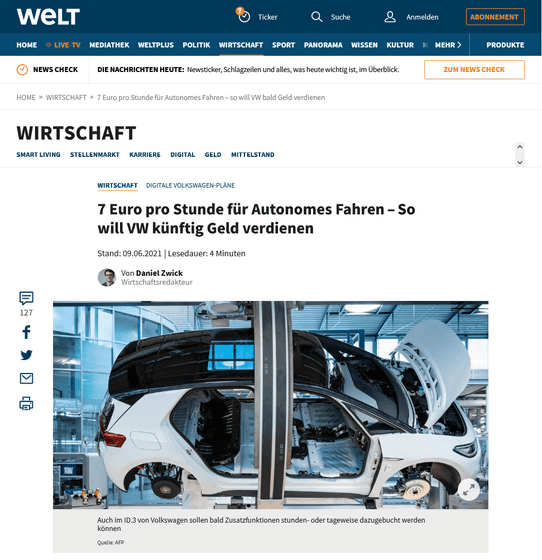 What would you pay for autonomous driving? Volkswagen hopes $ 8.50 per hour | Ars Technica
https://arstechnica.com/cars/2021/06/volkswagen-plans-to-offer-subscriptions-for-autonomous-driving-extra-ev-range/

The estimated price of the automatic driving function by Volkswagen is about 7 euros (about 930 yen) per hour, for example, if you want to leave the drive for 3 hours, you will use the function for 21 euros (about 2800 yen) I will.

Volkswagen's sales officer, Klaus Zellmer, said, 'Everyone is self-driving, not just those who buy a car for an additional five digits (millions of yen in Japanese yen). You will be able to use it. '

Volkswagen lags behind Tesla in terms of digital functions in the car, but electric vehicles 'ID.3' and ' ID.4 ' are providing on-demand updates, and 12 weeks in the future. It is planned to deliver new functions every time.

According to Mr. Zellmer, more than 50% of Volkswagen's sales in the German market are already leased vehicles, and it is expected that short-term usage demand will increase by one day or several hours in the future. Providing the automatic driving function on an hourly or daily basis is a form of provision that meets demand.

Volkswagen as a whole expects that short-term usage demand will be reduced to 20% to 30% of business by 2030.