America's largest oil pipeline shuts down in ransomware attack, Biden administration declares emergency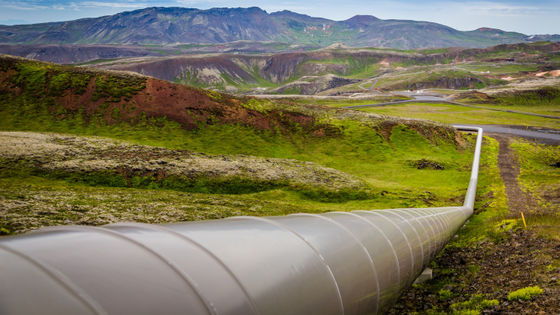 Colonial Pipeline, the largest oil transfer pipeline in the United States, announced on May 9, 2021 that it was shut down due to a ransomware attack. If the company's suspension of operations, which transports 100 million gallons (380 million liters) of fuel a day and covers 45% of the fuel used on the East Coast, is prolonged, the lives of the American oil industry and citizens It has been pointed out that it may have a significant impact on.

Media Statement: Colonial Pipeline System Disruption

https://www.colpipe.com/news/press-releases/media-statement-colonial-pipeline-system-disruption
Cyberattack on US pipeline is linked to criminal gang
https://apnews.com/article/europe-hacking-government-and-politics-technology-business-333e47df702f755f8922274389b7e920
Colonial Pipeline Shut Down After Ransomware Attack --Bloomberg
https://www.bloomberg.com/news/articles/2021-05-08/uss-biggest-gasoline-and-pipeline-halted-after-cyberattack
US Pipeline Cyberattack Forces Closure --WSJ
https://www.wsj.com/articles/cyberattack-forces-closure-of-largest-us-refined-fuel-pipeline-11620479737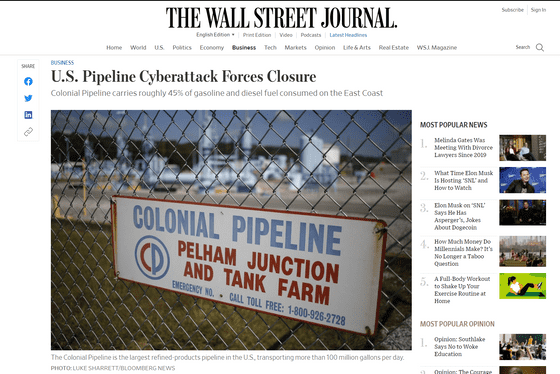 Colonial Pipeline announced on May 8 that it was 'attacked by cybersecurity on the 7th and actively took its commercial system offline to prevent the damage from spreading.' The following day, the 9th, he reported that the attack was a ransomware attack that encrypted data and demanded payment of ransom, and said that he was working with cyber security experts and the government.

The Colonial Pipeline has not disclosed exactly what kind of threat was received from what kind of group, but according to the Associated Press and Bloomberg reports, it was the cybercriminal group '
Dark Side' that attacked the Colonial Pipeline with ransomware.
'. Dark Side, which started its activities in August 2020, states that it does not target medical institutions, educational institutions, non-profit organizations, etc., and is also known not to target areas that belonged to the former Soviet Union. ..
Operated by Colonial Pipeline, the approximately 5,500-mile-long pipeline covers 45% of the gasoline and diesel fuel consumed on the east coast of the United States. An analyst interviewed by The Wall Street Journal said, 'Oil has stockpiles and supply is often cut off due to hurricanes, etc., so unless the pipeline remains closed for several days, it will not have a big impact. However, market research firm ClearView said, 'Government stockpiles are only about 1 million barrels (about 160 million liters) in New York, Boston, Maine, etc., so relying on stockpiles is more than an emergency measure. It's not a thing. '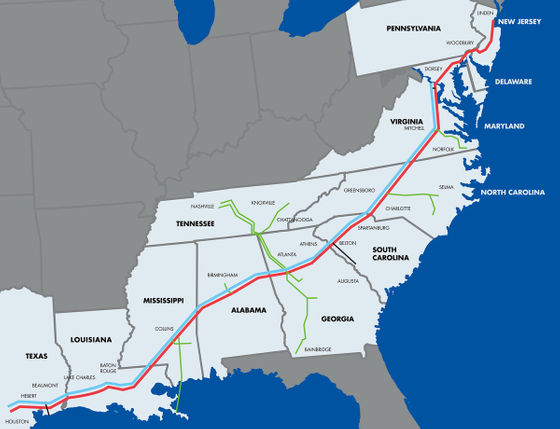 'President Biden was informed earlier today about the ransomware attack and its consequences,' the U.S. government said in a statement released yesterday. to avoid interrupted, and as early as possible we are working on the pipeline restoration, ' he said .

In addition, the Transportation Security Administration (FMCSA) of the US Department of Transportation issued a regional emergency declaration on the 9th. Policy to relax restrictions on working hours for drivers who transport gasoline, diesel fuel, jet fuel and other refined petroleum products by land, allow overtime and flextime, and respond to fuel shortages due to pipeline outages Was launched. The measure will apply to drivers who fuel 17 states and the District of Columbia.