iPhone 13 may have a smaller notch at the top of the display


In the 'iPhone 13' that will appear in 2021, it is rumored that the notch at the top of the display will be smaller than the conventional one. You can also see this notch getting smaller in the photo of the protective glass for the iPhone 13 leaked on April 17, 2021.

New photos claim to show smaller iPhone 13 notch compared to iPhone 12 --9to5Mac

https://9to5mac.com/2021/04/17/iphone-13-notch-images-vs-iphone-12/
A photo of a protective glass made for iPhone 13 is leaked on Weibo, a Chinese social network. This protective glass photo reveals the display size and notch size of the iPhone 13.
@ Duanrui1205
shared a photo of the protective glass for iPhone 13 leaked on Weibo on Twitter.
April 17, 2021


Regarding iPhone 13, it is reported that 'the width of the notch is reduced by about 30% compared to the conventional one', and it can be seen that the notch of the protective glass leaked this time is also about 30% smaller than the conventional width. However, the display size is the same as the conventional one. The big change other than the notch size is the position of the receiver part, and you can see that what was previously stored inside the notch has moved between the notch and the bezel.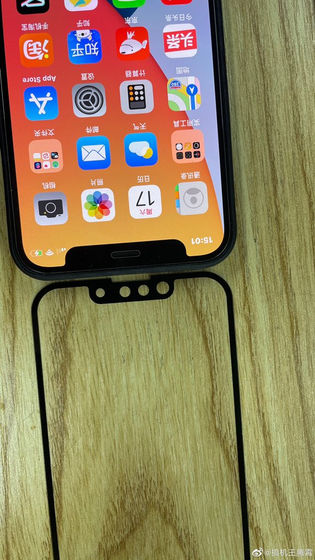 As a change caused by the smaller notch, 9to5Mac of Apple related media reports that 'it will be possible to display the remaining battery level in% in the status bar part'.

Except for the notch size reduction, the iPhone 13 is visually similar to the iPhone 12, and will likely have the same four display sizes.

In addition, famous analysts predict that the iPhone 14 released in 2022 will have no notch and a punch hole type display.

2022 iPhone is predicted to be able to shoot 48 megapixel camera & 8K video, is the worst selling mini abolished?-GIGAZINE