Intel announced the appointment of new CEO rehired a retired CPU architect, and 'exciting high-performance CPU project' is being promoted

by
Jernej Furman
At the same time that Intel announced the appointment of a new CEO, it was revealed that it had rehired a veteran
architect
who had once retired, and that an 'exciting high-performance CPU project' is underway.
New Intel CEO Making Waves: Rehiring Retired CPU Architects
https://www.anandtech.com/show/16438/new-intel-ceo-making-waves-rehiring-retired-cpu-architects
Intel (INTC) earnings Q4 2020
https://www.cnbc.com/2021/01/20/intel-intc-earnings-q4-2020.html
It has been announced that Intel CEO Bob Swan will retire and
Pat Gelsinger
will be appointed as new CEO on February 15, 2021. After working as an
Intel486
designer, Gelsinger was appointed CTO of Intel and worked for the company until 2009. After leaving Intel, he was CEO of VMWare for about 10 years.
Announced that Patrick Gelsinger will be appointed as Intel's new CEO-GIGAZINE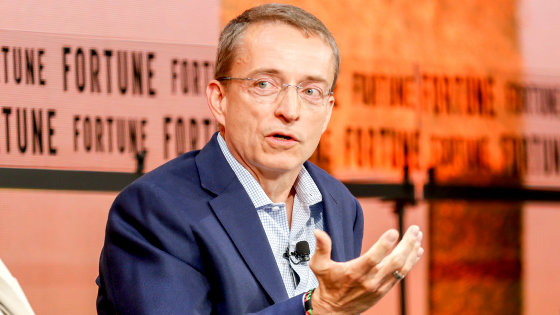 by
Fortune Brainstorm TECH
In addition, Intel has announced that it will rehire former senior fellow Glenn Hilton, who had retired from the company after working as a lead architect for
Nehalem microarchitecture
. In addition to Hilton, Ronak Singhal and Per Hammerlund are among the leading architects of the Nehalem microarchitecture. Singhal is still working at Intel at the time of writing and is working on the development of next-generation processors, but Hammerlund has been with Apple for over five years.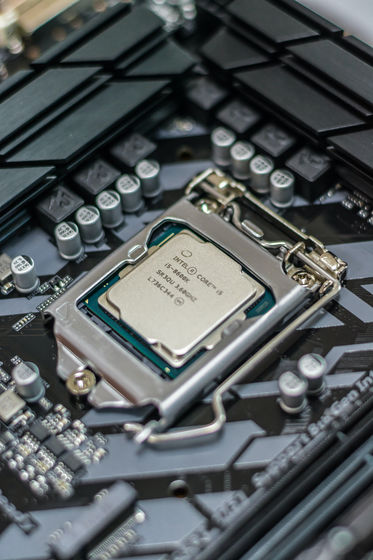 Hilton is a veteran architect with over 35 years of experience, one of the senior architects in designing Intel's
P6 microarchitecture
, and has led the team in developing the
Pentium 4
microarchitecture. He was a lead microarchitect during the development of the
Intel i960CA
, the world's first single-chip superscalar
RISC
. In addition, Intel has obtained more than 90 patents due to the CPU design that Mr. Hilton was involved in.
Hilton said on social media that he was working on an 'exciting high-performance CPU project', 'if this wasn't a fun project I wouldn't be back at Intel. As you know. Retirement is a wonderful thing, 'he said. In addition, Mr. Hilton has been approached to return from around November 2020, and he seems to have been pondering. The deciding factor for his return was the news that Gelsinger would become Intel's new CEO.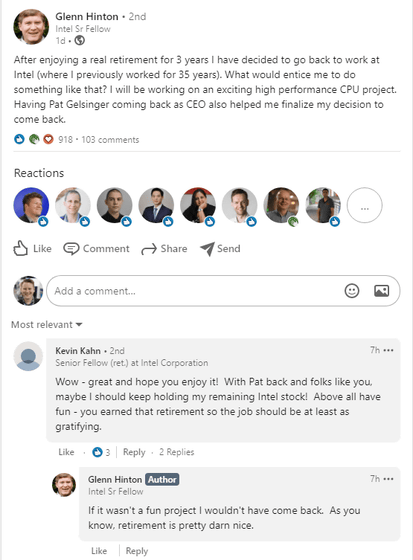 Technology media
AnandTech
said of the 'exciting high-performance CPU project', given Intel's current success, the project wasn't financially grounded, but 'let's tackle something new and exciting.' Pointed out that it is considered to be of the same kind. Therefore, it is said that a development period of at least 3 years is secured.
In addition, assuming Hilton's 'exciting high-performance CPU project' is a new project in Intel's R & D department, it could take three to five years for the results to appear, AnandTech said. Is written. 'Hilton's lead architect expertise can be applied to any stage of Intel's R & D department,' said AnandTech, who said it could be designed for new process node technology. It's probably best to provide that knowledge from the early stages of development, 'he said, raising expectations for the possibility of starting the development of a whole new microarchitecture.
Also, in response to the announcement that Mr. Gelsinger will be appointed as the new CEO of Intel, many analysts said, 'Given the product cycle, the effect after Mr. Gelsinger took office is confirmed until more than 3 years have passed. I can't. ' However, AnandTech completely denied this, claiming that 'we can discuss product design with engineers at a level that Bob Swan couldn't.' In fact, Gelsinger said he was helping the veteran architect return before he took office.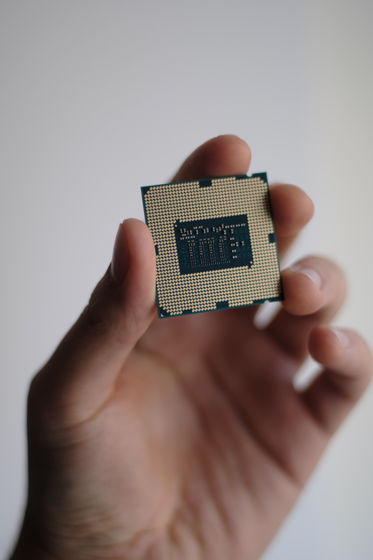 In addition, Intel announced the financial results for the fourth quarter of 2020 (October to December) on January 21, 2021 local time. According to the financial results for the fourth quarter of 2020, sales for the same period were 20 billion dollars (about 2 trillion yen), down 1% from the same period of the previous year. As a result, annual sales in 2020 reached a record high of $ 77.9 billion (about 8 trillion yen), an increase of 8% from the previous year.

Intel forecasts that sales in the first quarter of 2021 will be around $ 18.6 billion.

Intel Reports Fourth-Quarter and Full-Year 2020 Financial Results :: Intel Corporation (INTC)
https://www.intc.com/news-events/press-releases/detail/1439/intel-reports-fourth-quarter-and-full-year-2020-financial