Google fires ethical AI team technical leader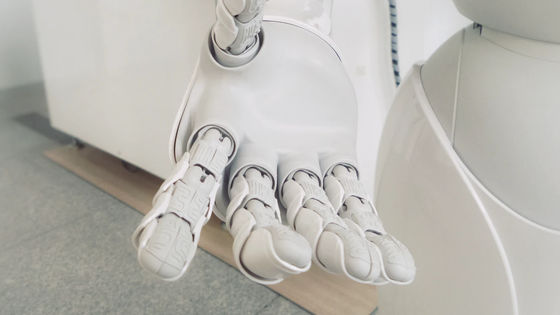 Dr.
Timnit Gebru
, technical leader of the ethical artificial intelligence (AI) team at Google, said Thursday, December 3, 2020, from
Jeff Dean
, Senior Fellow & Senior Vice President of AI. I revealed that I was notified of the dismissal by e-mail. The reason for the dismissal was 'Sending an email that management considered'disappointing Google's manager'', and AI research experts and Google employees have voiced protests.
I was fired by @JeffDean for my email to Brain women and Allies. My corp account has been cutoff. So I've been immediately fired :-)

— Timnit Gebru (@timnitGebru) December 3, 2020


Google's Co-Head of Ethical AI Timnit Gebru Says She Was Fired for Email --Bloomberg
https://www.bloomberg.com/news/articles/2020-12-03/google-s-co-head-of-ethical-ai-says-she-was-fired-over-email?sref=ExbtjcSG

The withering email that got an ethical AI researcher fired at Google --Platformer
https://www.platformer.news/p/the-withering-email-that-got-an-ethical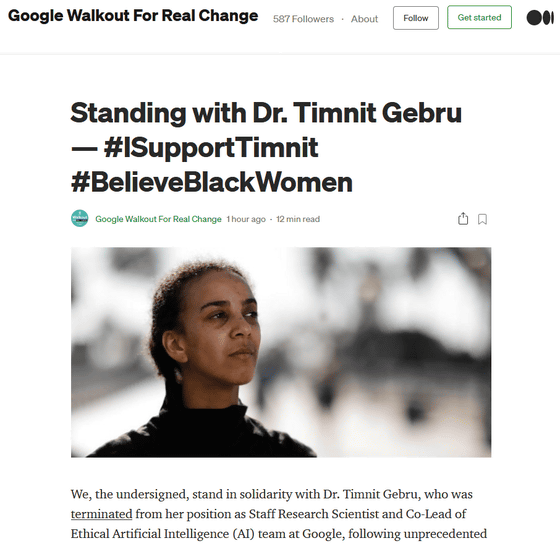 According to Mr. Gebble, the reason for the dismissal was the issue of AI-related treatises. The treatise discusses ethical issues in the language model and was written by Gebble with a total of six people, including four Google colleagues.

Google needs to go through an in-house review to publish a treatise, but Google confronts Mr. Gebble for withdrawal of the treatise. Google refused to discuss the treatise, while Gebble said he would resign if he didn't discuss the treatise further. In addition, Google sent an email to members of the Google Brain Women and Allies Listserv about the issue of diversity at Google and the experience of being exhausted by being a black woman. Notified the dismissal.

Gebble is a leading AI researcher, with a 2018 study showing that facial recognition software works almost exactly for white men, but has a 35% false positive rate for dark-skinned women. Has been done.

He was also one of the few black female researchers among the only 1.6% of black employees within Google, and a supporter of former employees who lost their jobs.

Google employees and AI researchers argued that the dismissal of leaders would undermine ethical research at Google. I've created a site called 'Standing with Dr. Timnit Gebru' and asked Google for an explanation.

Standing with Dr. Timnit Gebru — #ISupportTimnit #BelieveBlackWomen | by Google Walkout For Real Change | Dec, 2020 | Medium
https://googlewalkout.medium.com/standing-with-dr-timnit-gebru-isupporttimnit-believeblackwomen-6dadc300d382

'Standing with Dr. Timnit Gebru' requires Google to:

1: We're talking to Jeff Dean, Google's Senior Fellow and Senior Vice President of Research, Megan Cachoria, Google Brain's Vice President of Engineering, and others involved in the censorship of Dr. Gebble's treatise. Meet with the ethical AI team and ask for an explanation of how the treatise was unilaterally rejected.

2: We call for transparency to the public, including Google users and academia colleagues, about the Google leadership decision that ordered Dr. Gebble and his colleagues to withdraw their research treatises on large-scale language models. This is a public concern, and Google needs to be publicly accountable in order to secure trust in Google Research in the future.

3: We call on Google Research to have a clear statement about research integrity and academic freedom, and to radically strengthen that in Google Research's research philosophy. We will also support research to achieve the goals of Google's AI principles by creating clear guidelines on how research is reviewed and how research integrity is respected. I ask for that.

In this regard, Jeff Dean told Google employees, 'The treatise written by Gebble was submitted one day before the deadline, even though it took two weeks to review.' I knew I didn't meet it, but I had already submitted it. '' When I emailed Mr. Gebble, he said he would resign if she didn't meet the requirements, and accepted her decision. I respected you. '


in Note, Posted by logc_nt