A man misdiagnosed as 'dead' was trapped in a freezer for 20 hours and really died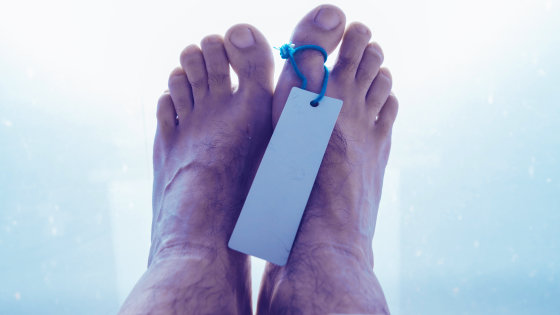 A 74-year-old man was sentenced to death and was in a frozen casket, but it was discovered that he was not dead. One day later, he was rescued from the casket and treated at the hospital for two days, but died. There was an incident that it was done.

Man rescued from freezer dies in hospital; doctor who issued death certificate under the scanner-The New Indian Express

https://www.newindianexpress.com/states/tamil-nadu/2020/oct/17/man-rescued-from-freezer-dies-in-hospital-doctor-who-issued-death-certificate-under-the- scanner-2211558.html
74-year-old man presumed dead and kept in freezer, rescued a day later in Tamil Nadu --india news --Hindustan Times
https://www.hindustantimes.com/india-news/74-year-old-man-presumed-dead-and-kept-in-freezer-rescued-a-day-later-in-tamil-nadu/story- B7KMhskyEWBrfpPB3OLKsI.html
Frozen: Man kept in freezer for 20 hours, survives in Tamil Nadu | City --Times of India Videos
https://timesofindia.indiatimes.com/videos/city/chennai/frozen-man-kept-in-freezer-for-20-hours-survives-in-tamil-nadu/videoshow/78652864.cms
74-year-old Balasubramaniya Kumar, who lives in Salem, Tamil Nadu, India, suffers from an age-related illness and has lived with her 70-year-old brother Sarvanan for several months. One night, Sarvanan thought, 'My brother is dead,' because he tried to wake up Kumar many times but didn't get a response. After that, Mr. Sarvanan, who received the 'home death certificate' from his doctor, contacted the funeral company to arrange a freezing box and called his relatives to inform him about the funeral the next day.
Employees of the funeral company delivered the freezer box immediately after receiving the call, and Kumar was placed in the freezer box the night he was sentenced to death. The next day, funeral company employees and relatives who came to collect the box before the funeral saw Kumar moving his hands inside the box. The employee reported to Sarvanan that Kumar was moving, but Sarvanan told the employee that 'it was an attraction due to the soul not leaving the body.'
It is reported that
Kumar was stored frozen for about 20 hours.
The following is the freezing box that Kumar actually contained.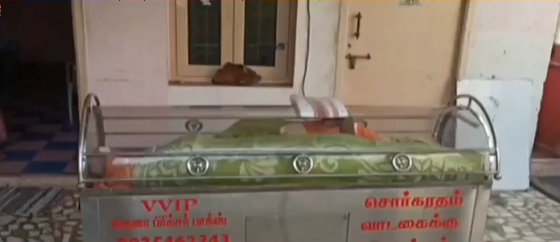 The situation was discovered when employees reported to the police, and Kumar was transferred to the Salem government hospital for two days of treatment. At one point it was seen as 'recovering', but in the end Kumar was unhelpful and died two days later.

Kumar is taken to the hospital.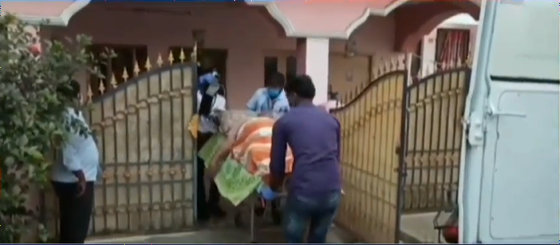 Health officials have said they will investigate doctors who have issued home death certificates, while police believe that his brother Sarvanan intentionally kept alive Kumar frozen, according to sources. He said he didn't know that his 70-year-old brother didn't have enough knowledge. However, one case is being investigated as being suspected of being an act that endangers the lives of people under Article 287 of the Criminal Code and an act that endangers others under Article 336.

in Note, Posted by darkhorse_log