FamilyMart 'Chen Mahan' tasting review pursuing the limit of spiciness with Chinese pepper and chili oil, I can not stop eating with the spicy spiciness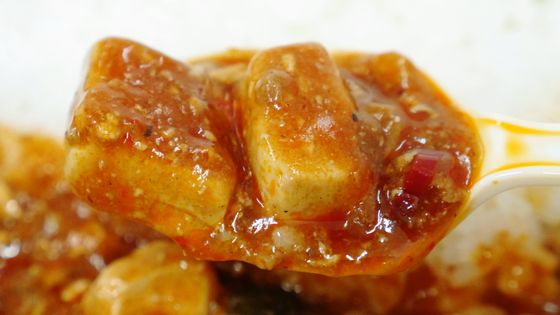 'Sichuan food specialty store
ChinAsaka
Szechuan Mapo tofu bowl, which' was supervised by
'ChinAsameshi'
was appeared in Family Mart from October 13, 2020 (Tuesday). He said that he pursued the limit of spiciness with numbing pepper and chili oil, so I actually tried to see what kind of taste it had.
Supervised by Sichuan restaurant 'Chen Ma family' ????
The spicy mapo tofu bowl 'Chen Mahan' is now available!
Pursuing the limit of spiciness with numbing Japanese pepper and chili oil ????????

If you add the attached Chinese pepper to your liking,
You can even upgrade to a spicy specification! ???????????? #Chen Ma family # Chen Ma rice
* Limited to Kanto / Chubu / Kansai. pic.twitter.com/VdPG3lOrgA

— FamilyMart (@famima_now) October 14, 2020


Chen Mahan | Product Information | FamilyMart
https://www.family.co.jp/goods/obento/0731225.html

I bought 'Chen Mahan' (430 yen including tax) at FamilyMart.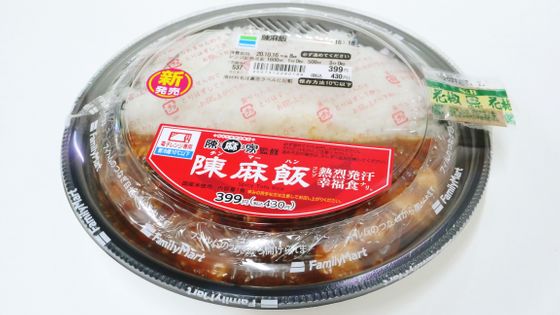 The diameter of the package is less than 20 cm.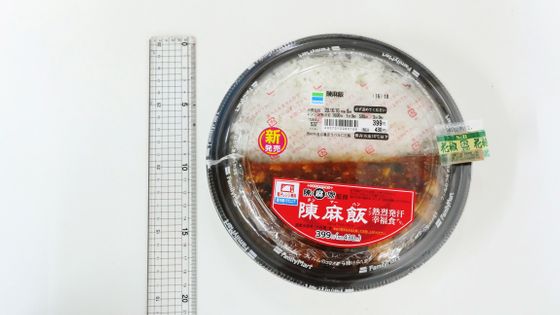 The lid says 'Korezo enthusiastic sweating happiness food Nari', which conveys a rather spicy atmosphere. There was also a note saying, 'If you are not good at spiciness, please take it with caution.'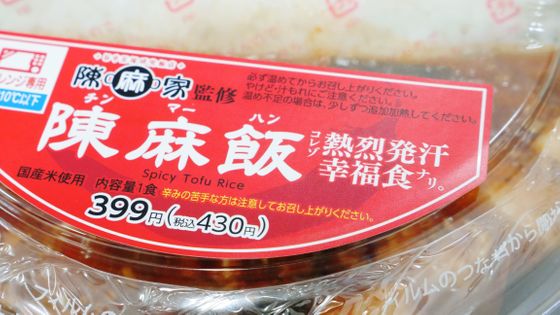 Also, a small bag of Chinese pepper was attached to the end of the package.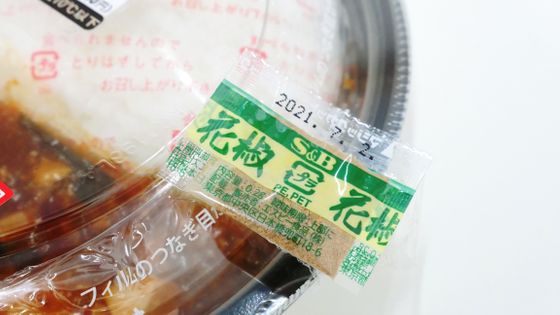 The calorie of Chen Ma rice is 537 kcal, and the raw materials are domestic rice, mapo tofu (tofu, seasoned pork soybean protein stir-fried, chili oil, onion, nira, vegetable oil, tofu banjan, lard, pepper, pepper paste. , Gelatin, lard) etc. are included.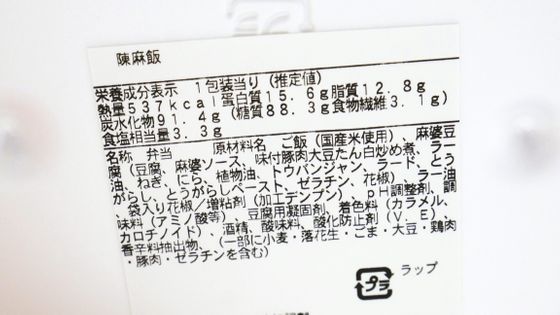 It is possible to have it warmed at the time of purchase, but if you warm it yourself, the standard is 500W for 3 minutes.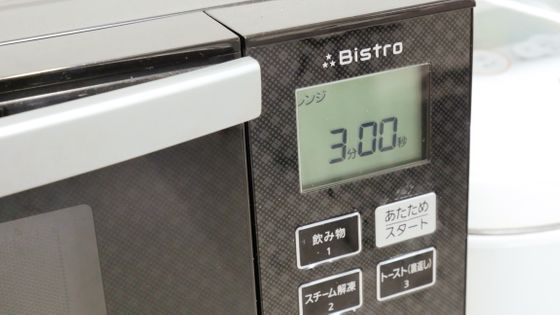 Open after warming.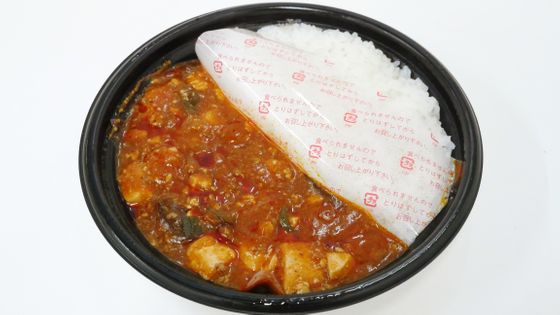 It contains plenty of lumpy tofu, green onions and minced meat, and the spicy aroma of pepper, tofu banjan and Chinese pepper stimulates your appetite.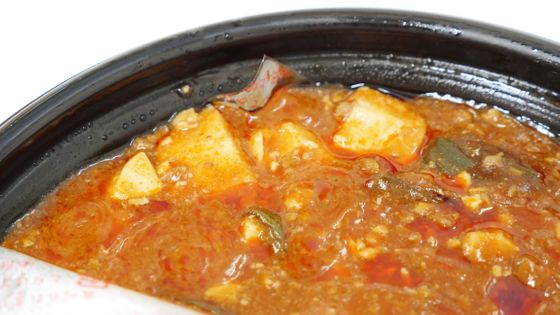 The partition between rice and mapo tofu is removed after warming.



First of all, when you try to eat mapo tofu, the spicy spiciness of pepper, doubanjiang, chili oil, etc. spreads in your mouth. Tofu and minced meat with a smooth texture also go well with the spicy mapo tofu.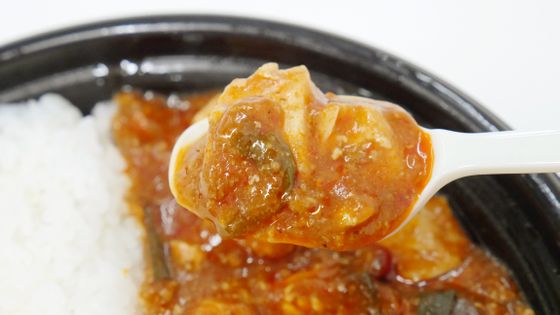 People who are not good at spiciness may find it difficult to continue eating because the tingling and numbness remains in the mouth even after swallowing, but if you like spicy foods, you will not be able to stop eating mapo tofu.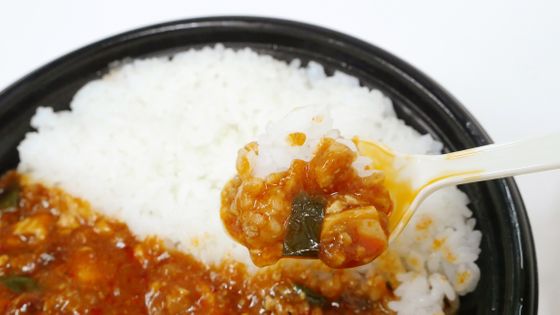 In addition, by sprinkling the attached pepper according to your taste ...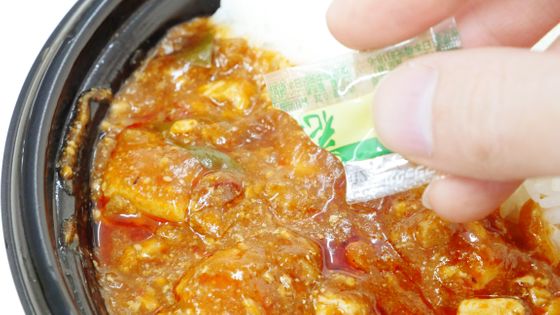 Numbing spiciness and unique flavor are further improved. It was finished in a mapo tofu bowl with an addictive stimulating umami taste.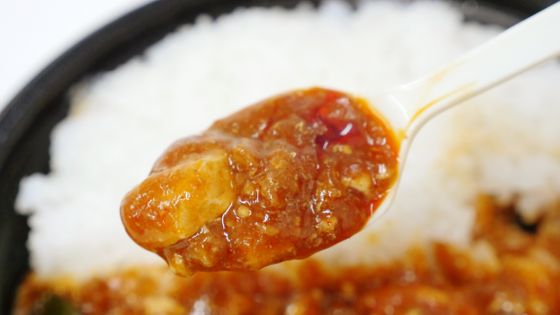 'Chen Mahan' is 430 yen including tax and can be purchased at approximately 11,500 FamilyMart stores in the Kanto, Chubu, and Kansai regions.