How much income do people who make a living from vending machines alone make?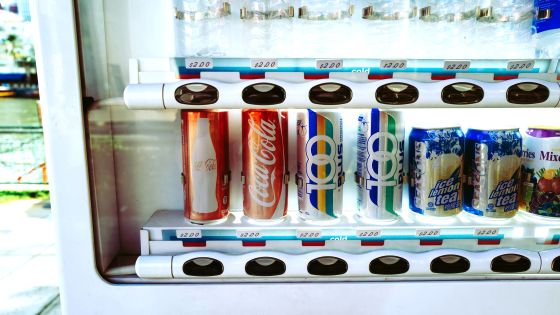 There are a wide variety of vending machines in the world where you can buy
iPods
,
Kindles
and
marijuana
. There are multiple people in the world who make a living only from such vending machines, and the result of an independent survey of the income and the number of vending machines owned by people involved in the vending machine industry is the news media, The Hustle's Zachary. It is summarized by Mr. Crockett.
The economics of vending machines
https://thehustle.co/the-economics-of-vending-machines/
According to Crockett, there are about 15 million vending machines in the world by 2020, and it is estimated that one-third of them are in the United States. In addition, of the approximately 5 million vending machines in the United States, less than half of the vending machines in operation in 2020 are 2 million.
The following is a chart showing the ratio of products handled by about 2 million vending machines operating in the United States. 38.7% of the total is the highest percentage of light meals such as candy and cereal bars. 33.7% are drinks, 12.6% are candy machines, and 7.9% are health foods. In some cases, vending machines sell 'living crabs,' 'living earthworms,' 'engagement rings,' 'contraceptives,' etc., and these are classified as Other.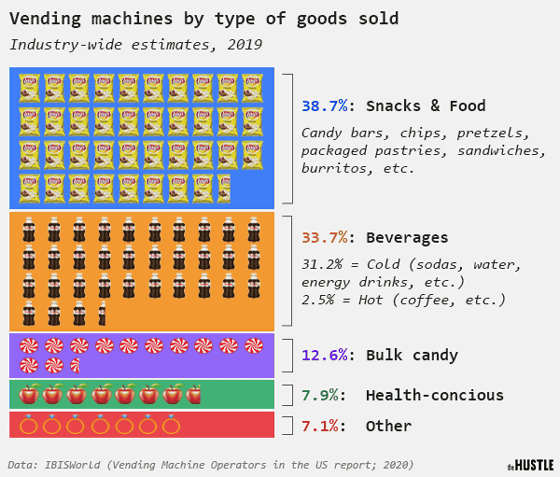 Mr. Crockett says that vending machines are easy to attract attention because they can be purchased for less than $ 2,000 and restocking and cash collection are only required several times a month. Therefore, there are many individuals who run the vending machine business.

The graph below shows the vending machine ownership rate by company size in the United States in 2019. 67.1% of the total is owned by companies with annual sales (Annual rev.) Of $ 1 million or less, including sole proprietors. In addition, the vending machine ownership rate of large companies such as Coca-Cola with annual sales exceeding 10 million dollars (about 1 billion yen) is less than 10% overall, according to Mr. Crockett, 'One company as a whole No company owns more than 5% of vending machines. '



However, Crockett also pointed out that there are many difficulties in starting a business with vending machines. For example, Paul Valdes, who runs a vending machine business in Miami, bought four used vending machines for $ 300 (about 30,000 yen) to keep costs down, but everything went wrong. It is said that it has been repaired. In addition to repairs, it was also difficult to choose where to install the vending machine, Valdes said.

According to Crockett, some owners have to make more than 100 phone calls to secure a good location and pay 10-25% of their sales to the landowners. 'The reason for this competition is simple: there is a tremendous difference in the revenue generated depending on where the vending machines are,' Crockett commented.

The graph below shows the revenue of the entire vending machine divided by location. The first place is about 30.2% in the industrial area (Manufacturing), the second place is 25.4% in the offices (Offices), and it seems that the sales of vending machines are higher as the workers gather. 3rd place is Hotels with 12.7%, 4th place is Schools with 9.9%, 5th place is Retail with 7.3%, 6th place is Hospitals with 6.2%, and 7th place is military. Military bases accounted for 4.7%, followed by Bars and clubs at 3.6%.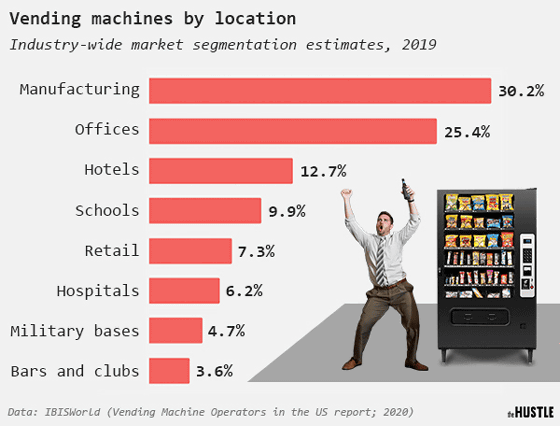 Mr. Crockett conducted a survey of 23 vending machine owners, and the table below shows the number of vending machines owned by each owner (machines), the total monthly income (Monthly rev.), And the monthly income per unit (Per). machine / mo) is summarized. The average number of vending machines owned was about 13, the average monthly income was about $ 4433 (about 460,000 yen), and the average monthly income per unit was about $ 309 (about 32,000 yen).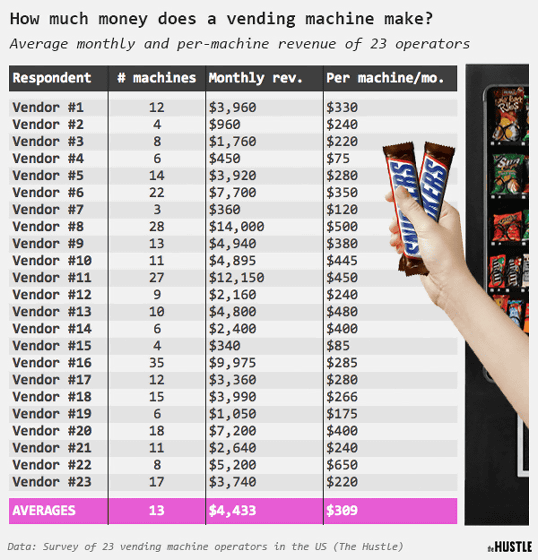 One of the subjects of the survey conducted by Mr. Crockett, Mr. Jaime Ivanes, seems to have entered the world of vending machines in 2018. Ivanes, who just graduated from high school, bought a vending machine for about half of his savings, $ 25,000, and started his business.

Two years after starting the business, Mr. Ivanes owns 35 vending machines and sells a total of $ 10,000 (about 1.05 million yen) every month. Mr. Ivanes' vending machine, which has the highest sales, is installed in the hotel and earns about $ 2,800 (about 290,000 yen) a month. Also, the lowest-selling vending machine owned by Mr. Ivanes is said to have monthly sales of about $ 200 (about 20,000 yen).

'I can inspect all the vending machines I own in about two days and then I don't have to do anything for two weeks. Around 2000, I inspect the vending machines by car every six months and what I need. It seems that I had to write down the vending by hand, but now thanks to the telemetry tool, I can manage the vending machine from a distance, 'says Ivanes. The image below is Mr. Ivanes who replenishes inventory.



Mr. Ivanes seems to get up at 6 am and check the inventory of each vending machine with a smartphone app on the inspection day of vending machines. After that, he said that he would go home at 4 pm by purchasing goods at Costco, replenishing the vending machine with inventory, collecting money, and making repairs. In addition, Mr. Ivanes has set up a YouTube channel based on the vending machine business, and it is so popular that it has attracted more than 360,000 subscribers. According to Mr. Ivanes, the YouTube channel earns more than the vending machine industry.

In the vending machine industry, not only purchasing costs, but also general liability insurance, fees for installation locations, transaction fees when purchasing cards, rent for spaces where unused machines are placed, transportation costs, taxes, regular Maintenance and repair costs are also required. 'Given all the costs, an owner who earns $ 5,000 a month might be able to make a profit of $ 2,000,' Crockett said. Is guessing.