Google announces next-generation smart speaker 'Google Nest Audio', price is 11,550 yen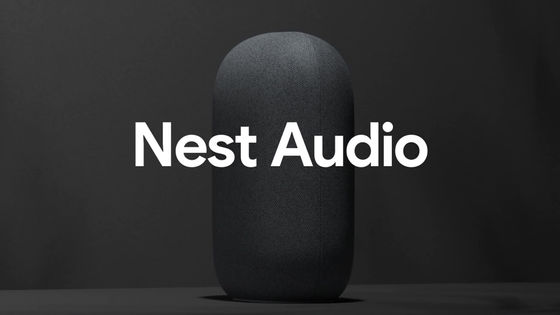 Local time On September 30, 2020, Google announced the next-generation smart speaker ' Google Nest Audio ' at the online new product announcement event '
Launch Night In
' in 2020. 'Google Nest Audio' is already on sale in Japan.
With Google Nest Audio, you can get the power you want--the Google Store
https://store.google.com/jp/product/nest_audio
Google Japan Blog: Introducing Google Nest Audio!
https://japan.googleblog.com/2020/10/google-nest-audio.html
The announcement of 'Google Nest Audio' can be watched from around 10 minutes 55 seconds of the following movie. There are Japanese subtitles.
Launch Night In --YouTube
The three features of 'Google Nest Audio' are 'the deep bass is effective', 'a larger volume can be produced', and 'natural and clear sound quality is maintained'.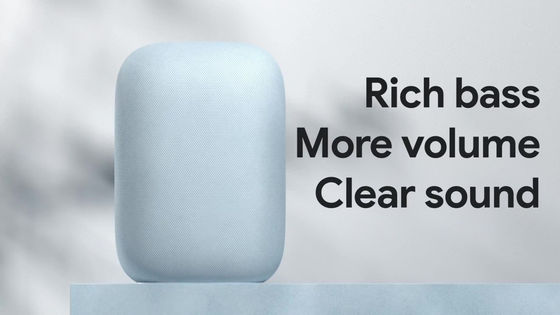 Compared to the original Google Home, 'Google Nest Audio' has 50% more bass. The volume is 75% larger.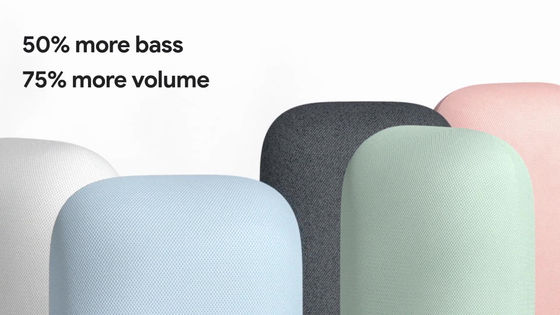 The internal structure looks like this. The 19mm tweeter delivers harmonious high frequencies and clear vocal sound.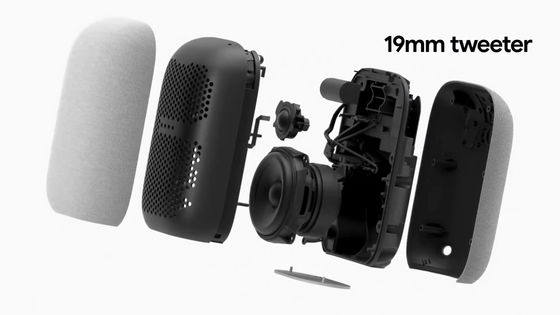 The 75mm mid woofer echoes the deep bass. With clear bass and deep vocals, it is possible to reproduce excellent sound quality regardless of genre such as classical music, R & B, and pop music.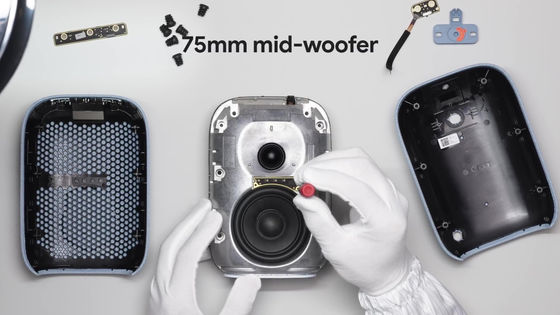 In addition, 'Media EQ' that automatically adjusts the equalizer according to what you are listening to, such as music, podcasts, audiobooks, playback of responses from Google Assistant, and Google Assistant based on the ambient sound in the room, It has a feature called 'Ambient IQ' that adjusts the volume of news, podcasts, and audiobooks.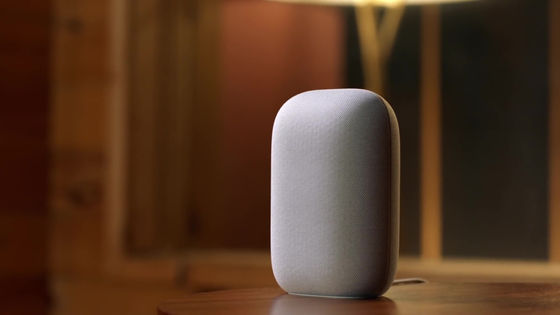 In addition, by managing multiple 'Google Nest Audio' and existing models of Google Home, Google Nest Mini, and Google Nest Hub as a group, the same song can be played from all devices. You can also install two 'Google Nest Audio' in the living room for stereo playback.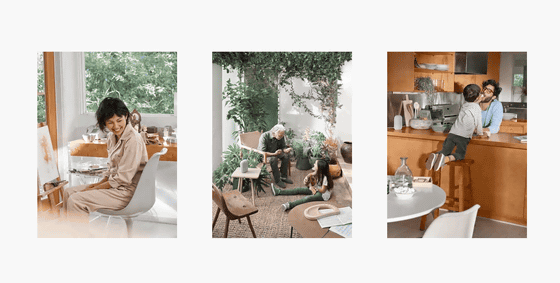 The dimensions and appearance of the main body are as follows. The size is width 124 mm x depth 78 mm x height 175 mm, connection is 802.11b / g / n / ac (2.4GHz / 5GHz) Wi-Fi connection compatible, power supply is 30W / 24V external adapter, sensor is capacitive touch The sensor and processor are 1.8GHz quad-core A53.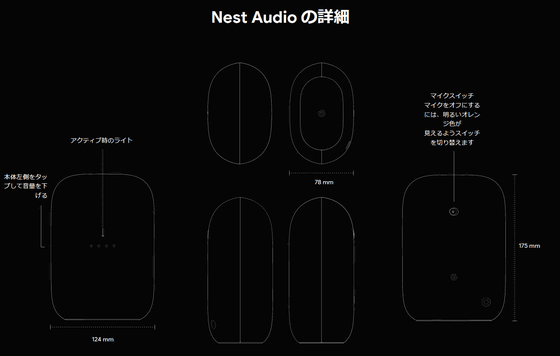 Apps that can be launched from the Google Assistant's 'OK Google' voice command include various Google services such as YouTube, Google Maps, and Google Calendar, music & entertainment services such as Spotify and Netflix, smart home services, and news & publishing services. Compatible apps and devices You can check from the following.

Google Nest Audio Compatible Apps and Devices-Google Store
https://store.google.com/product/nest_audio_apps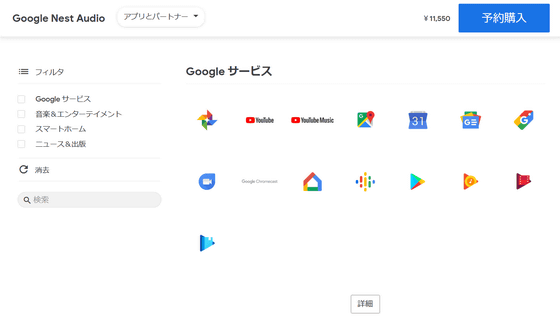 The price of 'Google Nest Audio' is 11,150 yen. There are five colors, Sage, Sand, Sky, Chalk, and Charcoal, but only two colors, Chalk (white) and Charcoal (black), are sold in Japan. An early purchase campaign is being held until October 15, 2020, and you can earn 10% of Google Store credits. In addition, if you purchase two at the same time, a discount of 2500 yen will be applied.