'IPad Air 4' will appear soon, or a special case will be sold from the case maker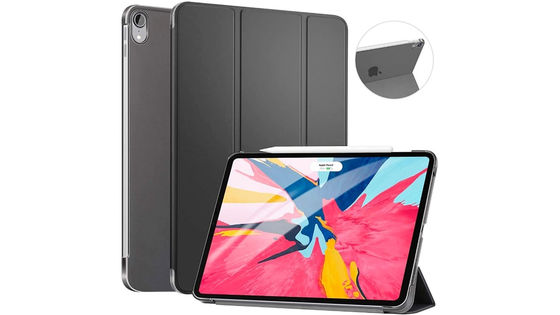 It is rumored that the new iPad ' iPad Air 4 ' will be announced soon, but Amazon's case for this iPad Air 4 has been released a little before the announcement.

Evidence growing for Tuesday'iPad Air 4'launch | Appleinsider

https://appleinsider.com/articles/20/09/06/evidence-growing-for-tuesday-ipad-air-4-launch
On the overseas bulletin board Reddit, it is reported that cases for iPad Air 4 are being sold by Amazon, Germany, from case makers
ZtotopCase
and
TiMOVO
. According to the image of iPad Air 4 published on the sales page by Ztotop Case and TiMOVO, iPad Air 4 has the same appearance design as iPad Pro, there is no home button, and it supports the second generation Apple Pencil. pattern.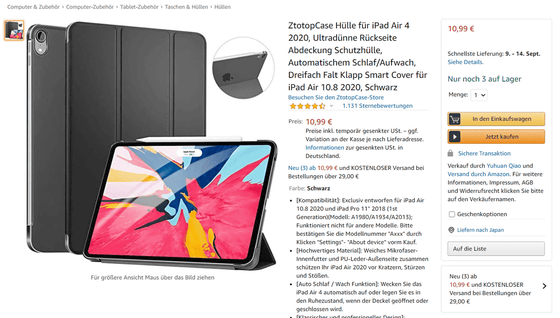 However, according to Apple insider, which handles Apple-related information, accessory makers of Apple products usually look for leaks and rumors in blueprints of new products and try to design a case quickly based on that data. By doing so, when a new product is announced, it becomes the 'earliest case'. There is also a risk that the newly announced new product will be different from the specifications and designs that were rumored, but since the case maker can easily pull up the product, ``relatively low risk,'' Appleinsider wrote ..

Incidentally, Jon Prosser, who handles Apple's leak information, said, 'Apple is preparing to issue a press release on September 8th,' Appleinsider said that Apple will announce iPad Air 4 in this Is predicting.

Apple press release is currently scheduled for Tuesday (September 8) at 9:00am EST — though, I should note that it's not locked in until the press has been briefed, day of.

I'll tweet early that morning to update you if it changes.

— Jon Prosser (@jon_prosser) September 6, 2020


In addition, Prosser predicted that in August 2020, 'Apple will announce the new iPad and Apple Watch on September 7th.'

New, adjusted Apple dates!

Apple Watch & iPad
-Via press release
-Week 37 w/c Sep 7

iPhone 12 event
-Week 42 w/c Oct 12

iPhone 12 devices
-Preorders week 42 w/c Oct 12
-Shipping week 43 w/c Oct 19

iPhone 12 Pro devices
-Preorder and shipping in Nov (no exact date yet)

— Jon Prosser (@jon_prosser) August 12, 2020


'In addition to having a relatively good track record of leaking Apple products, Prosser is also versatile in the details of leaks,' said Appleinsider.

Mr. Prosser predicts that the iPhone 12 announcement event will be held on 'October 12', the reservation of iPhone 12 will be from October 12, and the release will be from October 19. In addition, the reservation and release of the iPhone 12 Pro will be delayed until November.