SpaceX's satellite Internet 'Starlink' speed is up to about 60 Mbps in downlink, found by measurement result leak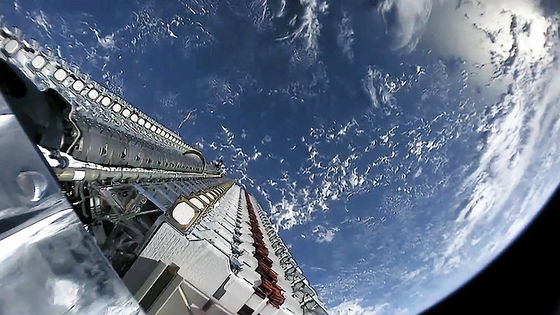 by
Official SpaceX Photos
The US private space company SpaceX is pushing
ahead with
a plan to provide an internet connection environment to the ground using more than 10,000 artificial satellites `
`Starlink
'' has already launched more than 500 artificial satellites and has also performed approval procedures, Beta testing is now possible in some regions. The Internet speed test result by such Starlink is leaked on the bulletin board site Reddit.
Speedtest: 21 ms 46 Mbps down 10 Mbps up: Starlink
https://www.reddit.com/r/Starlink/comments/i84klo/speedtest_21_ms_46_mbps_down_10_mbps_up/g17v5r6/
List of Confirmed Starlink Speed Tests :Starlink
https://www.reddit.com/r/Starlink/comments/i9w09n/list_of_confirmed_starlink_speed_tests/
SpaceX Starlink speeds revealed as beta users get downloads of 11 to 60Mbps | Ars Technica
https://arstechnica.com/information-technology/2020/08/spacex-starlink-beta-tests-show-speeds-up-to-60mbps-latency-as-low-as-31ms/
The Starlink beta test is closed and participants of the beta test are required to have a non-disclosure agreement, but the Starlink line speed measurement results have been posted to Reddit. This result was conducted using
Speedtest.net
of Ookla, and the result of 11 times has been published.
It was found that the measurement location is Seattle, Washington where the beta test is provided, or Los Angeles, California, the downlink speed is 11 Mbps to 60 Mbps and the uplink speed is 5 Mbps to 18 Mbps. The Ping value, which indicates the delay, was 31 ms to 94 ms. The following images are part of the published results.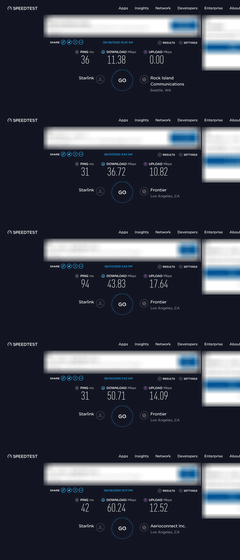 Below is
a list of test results
created by volunteers of Reddit users, and the table also adds a record with a ping value of 20 ms to 27 ms.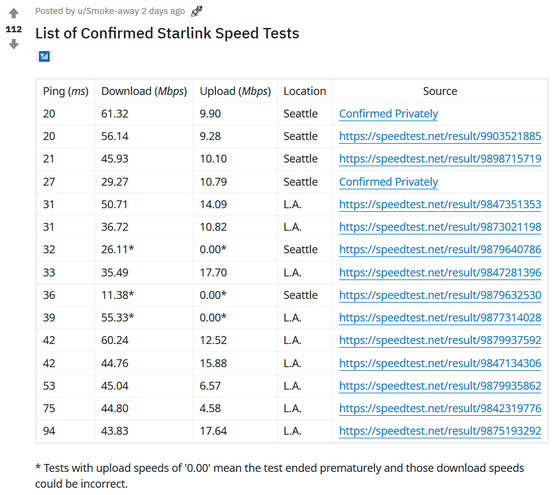 Published by Speedtest.net,
the average speed of wired broadband lines
in
2018 in the
United States is 96.25 Mbps down and 32.88 Mbps up, so Starlink's line speed reaches about 60% of conventional broadband It will be.
In addition, according to Speedtest.net,
the average ping value in 35 cities around the world where online games are popular
is 20 ms in Los Angeles and 28 ms in Tokyo. It can be said that it has sufficiently caught up with the broadband line level in the city. However, please note that speed and delay may change significantly if more than 10,000 Starlink satellites are fully deployed and the number of users increases with the official launch of the service.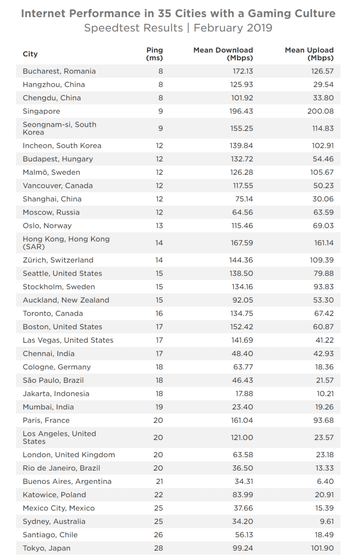 SpaceX CEO Elon Musk said at the satellite-related conference ' Satelite 2020 ' in March 2020 , 'Starlink's internet connection has very low latency, so it should be a pretty good experience.' 'Because we are aiming for a delay of less than 20 milliseconds, we can expect high-speed response even when playing online games,' said the line speed comparable to broadband even in areas where wired internet connection service is not provided on the ground. It is appealing that the internet can be provided.

Elon Musk, Founder & Chief Engneer, SpaceX-SATELLITE 2020 Opening Day Keynote-YouTube


Meanwhile, Federal Communications Commission Chairman Agit Pai questioned Mr. Musk's claim to be 'a delay similar to a broadband line', and in May 2020, Starlink's communication business was called 'providers with delays of 100 mm or more. It is proposed to classify as. Although the proposal has been withdrawn, the test results show that Starlink's lines boasted far more speed and latency than Chairman Ajit Pai expected.