Detailed specifications of Microsoft's two-screen mobile terminal ``Surface Duo'' found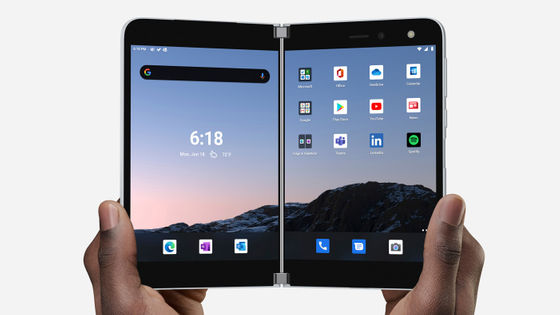 Local time On August 12, 2020, Microsoft announced detailed specifications for the foldable dual-screen mobile device ' Surface Duo '. The price in the United States is 1399 dollars (about 150,000 yen) and the release date is September 10, 2020.

Available for preorder today, Surface Duo is purpose-built for mobile productivity | Microsoft Devices Blog

https://blogs.windows.com/devices/2020/08/12/available-for-preorder-today-surface-duo-is-purpose-built-for-mobile-productivity/
New Surface Duo – Dual-Screen Mobile Productivity, Do One Better – Microsoft Surface
https://www.microsoft.com/en-us/surface/devices/surface-duo
The Surface Duo, Microsoft's first-ever Android phone, is $1,400 | Ars Technica
https://arstechnica.com/gadgets/2020/08/microsofts-surface-duo-is-1400-and-comes-with-a-tiny-3600mah-battery/
Microsoft's Surface Duo arrives on September 10th for $1,399-The Verge
https://www.theverge.com/2020/8/12/21364633/microsoft-surface-duo-release-date-pricing-features-specs
Surface Duo is a foldable 2-screen mobile device equipped with Android OS. According to Microsoft, the Surface Duo incorporates the best elements of tablets and laptops, and is not a reinvention of the smartphone, but a device that reminds us how to use the device. It emphasizes that it is different from smartphones.
The newly released official PV is as follows.
The new Surface Duo. Do one better.-- YouTube
The thickness of each display is 4.8 mm, the thinnest Surface ever.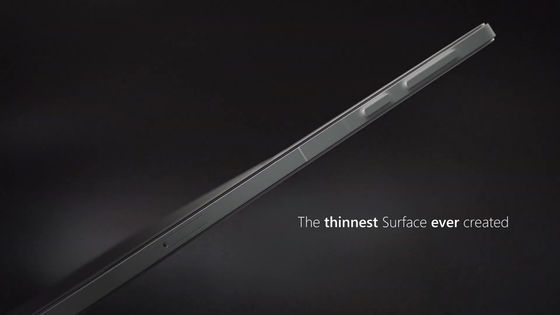 Hinge part that can open and close 360 degrees. You can unlock with the fingerprint authentication sensor.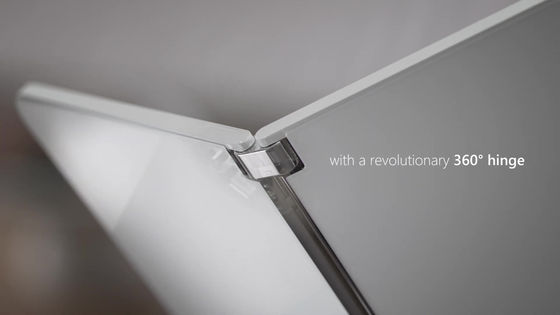 The display is a 5.6-inch 'PixelSense Fusion' display with an aspect ratio of 4:3. Combining the two makes an 8.1 inch display with an aspect ratio of 3:2.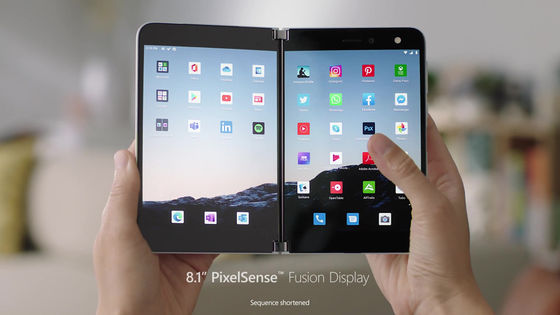 Not only Android apps from Google Play store, but also Microsoft apps such as Office, Outlook, Teams, Edge, OneNote, OneDrive, Microsoft To Do are available.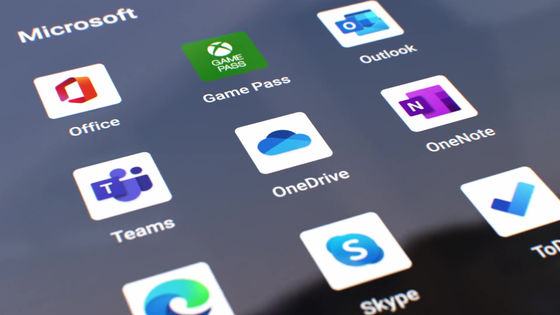 The Microsoft app also supports two screens.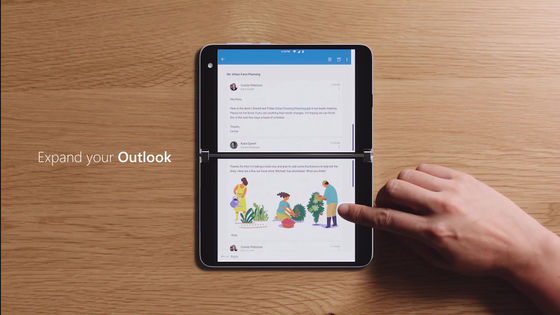 Separate apps can be launched on the left and right displays.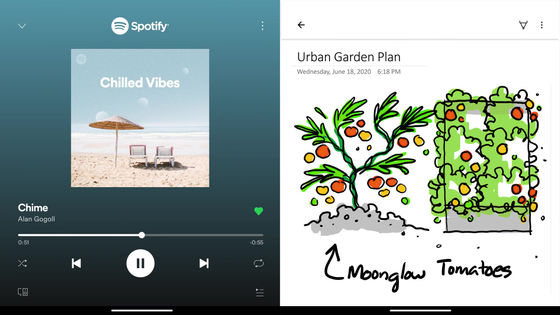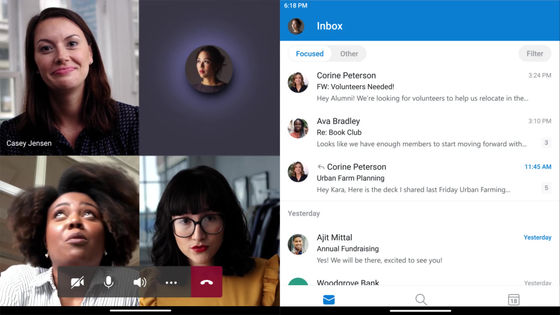 You can also create a group that combines two apps and launch them simultaneously with a single tap on the home screen.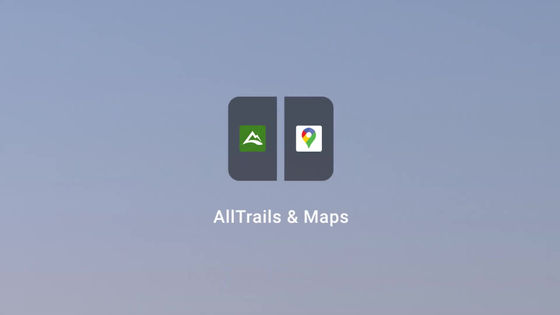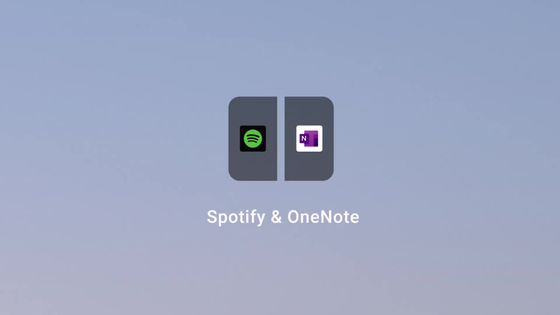 Compatible with all 'Surface Pens' released so far.



There is also a seamless linkage function with Windows 10 PC.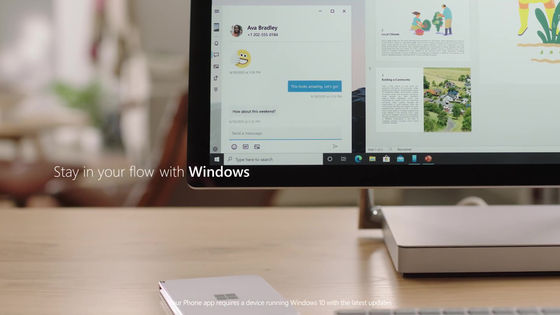 You can check the message that arrived at Surface Duo on the PC side.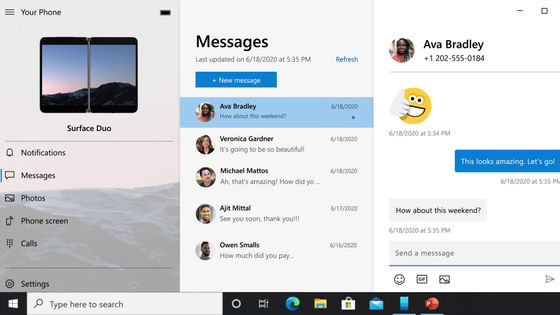 When it is bent, it becomes self-supporting...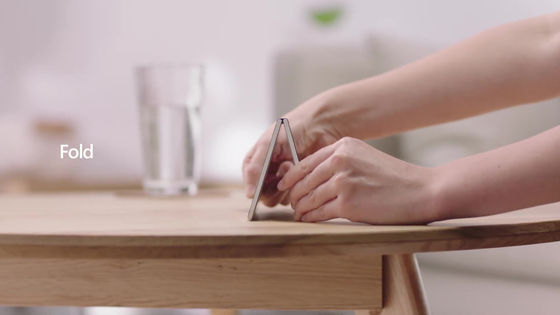 Convenient for watching movies.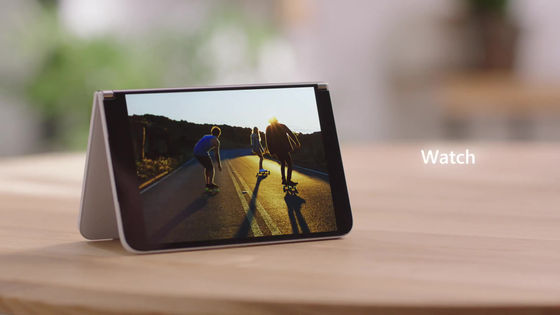 You can use one display as a keyboard and use it like a laptop.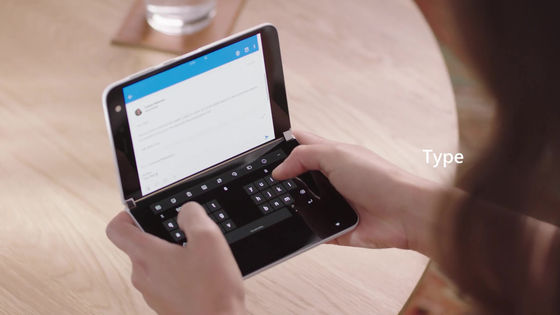 Detailed specifications are below.

External dimensions
Fully open state: length 145.2 mm × width 186.9 mm × thickness 4.8 mm
Folded state: vertical 145.2 mm x width 93.3 mm x thickness 9.9 mm
weight
250g
display
Fully open state: 8.1 inch AMOLED, resolution 2700 x 1800
Folded state: 5.6 inch AMOLED, resolution 1800 x 1350
Material: Gorilla Glass
battery
3577mAh dual battery, local video playback up to 15.5 hours, standby up to 10 days, call up to 27 hours
camera
11 million pixel pixel, pixel size 1 μm, aperture value 2.0, viewing angle 84 degrees, auto focus, AI optimization function
Photo mode
Auto mode with low light and HDR multi-frame photo capture and dynamic range scene detection, up to 7x super resolution zoom mode, depth adjustable portrait mode, panorama node, burst mode
Movie shooting mode
4K video recording at 30FPS and 60FPS, 1080P video recording at 30FPP and 60FPS, HEVC and H.264 video formats, gyro-based digital video stabilization mechanism
Wifi
WiFi-5 802.11ac (2.4GHz, 5GHz)
Bluetooth
Bluetooth 5.0
Processor
Qualcomm Snapdragon 855 optimized for mobile dual screens
Storage and memory
128GB or 256GB UFS 3.0 connection internal storage, 6GB DRAM
audio
Dual microphone with monaural speaker, noise suppression and echo cancellation
sensor
Dual accelerometer, dual gyroscope, dual magnetometer, dual ambient light sensor, proximity sensor, hall sensor, fingerprint sensor
The 'Surface Duo' will be released in the United States on September 10, 2020, and the price will be $1,399 (about 150,000 yen). The release date and price in Japan have not been revealed.