'Abstract Wikipedia', a project that overcomes language barriers with 'language-independent Wikipedia' started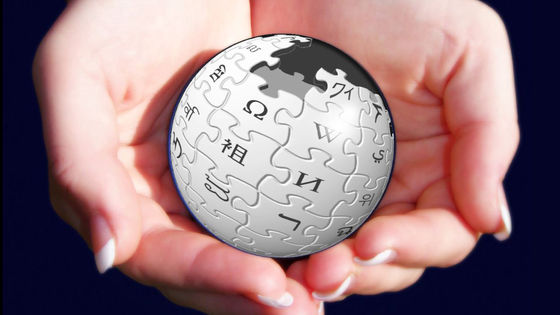 by
Noj Han
The Wikimedia Foundation, which operates and manages the online encyclopedia Wikipedia, has announced that the new project
Abstract Wikipedia
has been unanimously approved by the Board. As this project progresses, it will be possible to share Wikipedia information in more languages.
Abstract Wikipedia/Announced July 2020-Meta
https://meta.wikimedia.org/wiki/Abstract_Wikipedia/July_2020_announcement/en
Abstract Wikipedia is a project proposed by Denny Vrandečić, one of Wikipedia's co-founders, in May 2020, the Wikimedia Foundation's first major project in seven years. Abstract Wikipedia's goal is 'more and more people to be able to share in more languages more knowledge', specifically '
wiki data
by applying to Wikipedia to extend the, language To create or manage Wikipedia articles in a way that is independent of.
When you open a Wikipedia article, links to pages in up to 171 languages, such as English, German, and Korean, are posted in the left column. These language pages have been created or translated by volunteers participating in the Wikipedia project. However, because Wikipedia is very encyclopedic in nature, there is a problem that information obtained in one language version cannot be obtained in another language version. There is also the problem that even if it is a translation, it is not always translated correctly.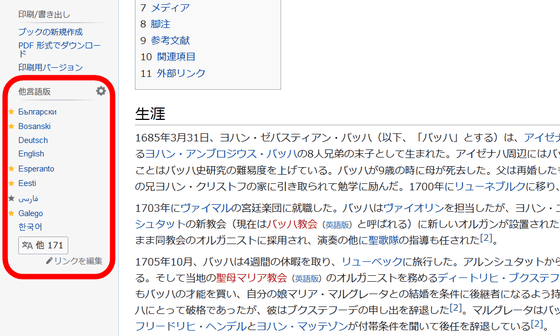 Launched in 2016, Wikidata is a collaborative database provided by the Wikimedia Foundation. In Wikidata, which has the concept of 'unifying inter-language links' from the beginning, information is basically described in the form of 'giving a value to a parameter', and each item is uniquely identified by an ID. ..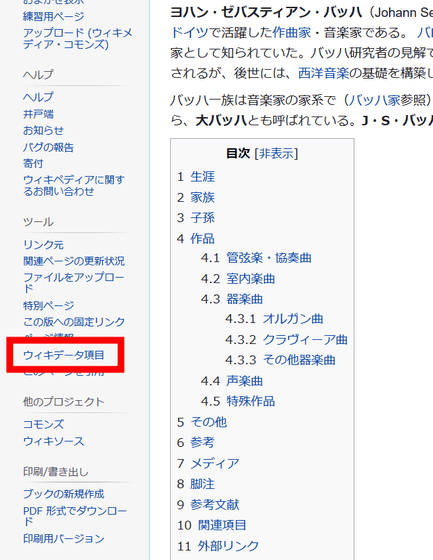 For example, here is the page of
Johann Sebastian Bach
, a 17th century musician. An ID of 'Q1339' is given, and this page will be shared in multiple languages such as English and Japanese.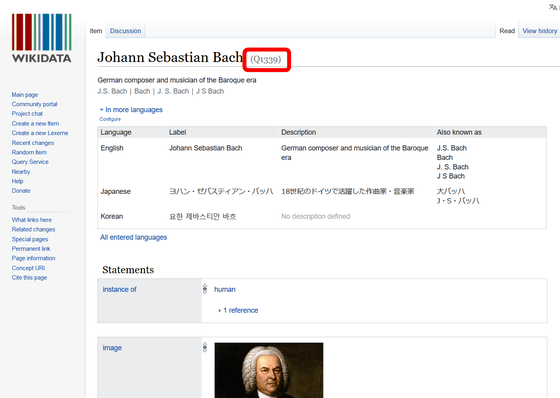 Bach's Wikidata page shows, for example, date of death, place of death, manner of death, cause of death, place of burial. A value is set for each item. In other words, the expression 'Johan Sebastian Bach died of a stroke in Leipzig on July 28, 1750 and was buried in the
Church
of
St. Thomas
' is expressed without using a language-specific grammar. Click "St. Thomas Church"……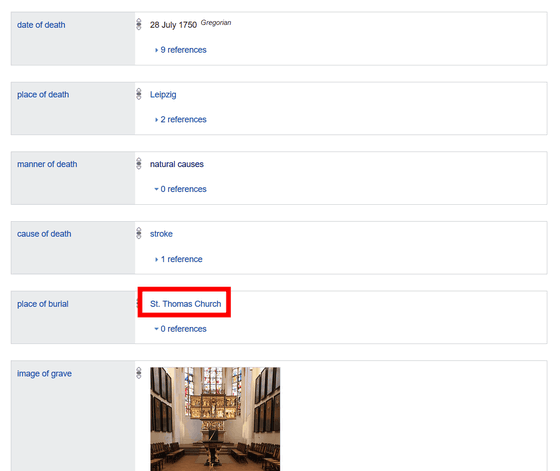 I jumped to the Wikidata page of St. Thomas Church. Next to the name St. Thomas Church, the ID 'Q170402' is assigned.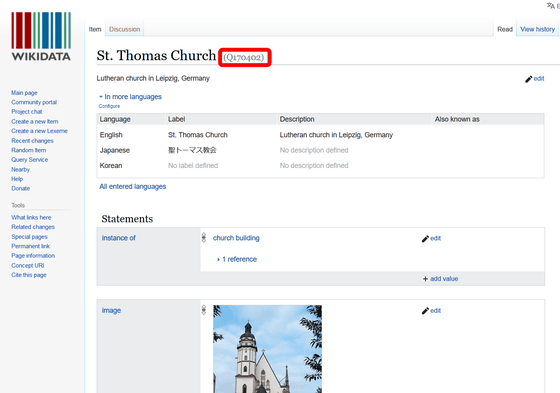 By describing the basic parts of Wikipedia articles using the method used in this Wikidata, we can expect to make Wikipedia a language-independent model and create an article model with universal value in any language. 'Volunteers can programmatically translate this abstract 'article' into their own language,' said Katharine Marr, director of the Wikimedia Foundation. Hopefully everyone will be able to read articles written using Wikidata in their own language.'

However, a lot of cooperation and software development are required to advance Abstract Wikipedia. President Marr acknowledged that Abstract Wikipedia is an experimental project only and has its own needs in the Wikipedia community, adding: 'This new project will bring broader access to knowledge and We are excited that we may be able to drive sex, and this project raises significant questions about how and to whom knowledge is built. We look forward to contemplating with the community.'