The spectacle of stray cats lined up with a 'social distance' is the topic, and why do cats like the circles and narrow boxes drawn on the ground?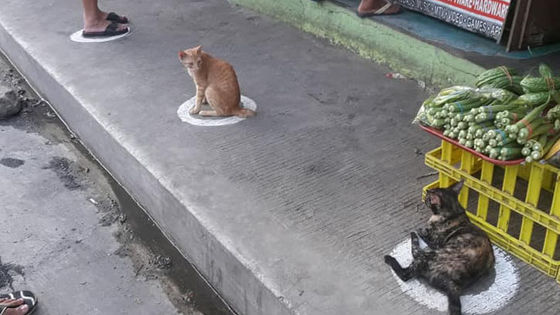 by
The Philippine Star
If you've ever had a cat, you've seen cats squeeze themselves into cardboard boxes or small containers, turning them into
liquids
. Also, on SNS, '
#cat transfer device
', which is a mysterious cat when a circle is drawn on the floor, has become a hot topic. The science news site Inverse explained the mystery of this behavior, which is loved not only by domestic cats but also by wild cats and large feline tigers.
Viral social distancing photo spotlights an enduring cat mystery
https://www.inverse.com/science/why-do-cats-like-to-sit-in-circles
As a measure against the new coronavirus infectious disease (COVID-19), a fruit and vegetable store in Holy Spirit
Bangalai
(administrative district) in Quezon City, Philippines, drew a mark on the storefront to encourage shoppers to line up at a distance. However, the stray cats, not the customers, actually lined up at the storefront. When the local newspaper The Philippine Star reported the situation on Twitter, the cats lined up in front of the store were instantly shared on SNS all over the world, showing how they were behaving socially.
Stray Cats Were These Spotted Occupying The Circle Marks Intended For The Implementation Of Social Distancing Protocols In Front Of A Store In Brgy. Holy Spirit, Quezon City On Sunday Amid Enhanced Community Quarantine. Pic.Twitter.Com/EqOORqCJMa

— The Philippine Star (@PhilippineStar) May 13, 2020


Philippine Star's tweet includes replies, such as a picture of a cat sitting in a round pot and clinging to it, and a movie in which the cat is drawn to a square on the floor.

Pati sa square. ???? pic.twitter.com/nsOS4MRYgq

— Rune of Invisibility (@ bottleme4later) May 13, 2020


There are various theories about why cats prefer containers, but the most influential idea is that they are driven by their survival instincts. `` Most of cat behavior is due to one reason, '' said Michel Nagelschneider, an ethologist and founder of The Cat Behavior Clinic , a cat-specialized animal behavior clinic in Oregon. It means 'survive'. '

Many felines in nature are both small animal predators and prey targeted by larger animals. Therefore, he said that he would try to get into a space as closed as possible to hide himself from both the target prey and the animal aiming at himself.

A 2014 study comparing cats that were given hide boxes and those that were not, also confirmed that boxed cats had reduced stress levels.

Looking at the movie below, you can see that even large cats such as tigers and lions love to enter the box.

BIG CATS like boxes too!-YouTube


Caracal at Big Cat Rescue , an animal shelter in Florida, USA ...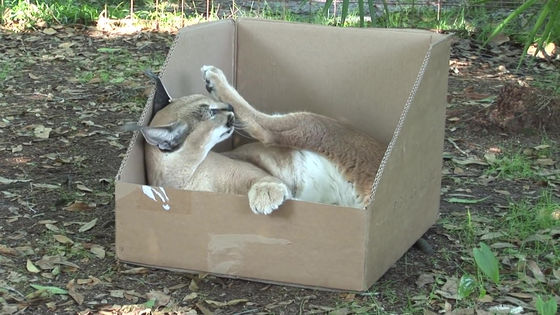 Bobcat
went inside as he looked at the box.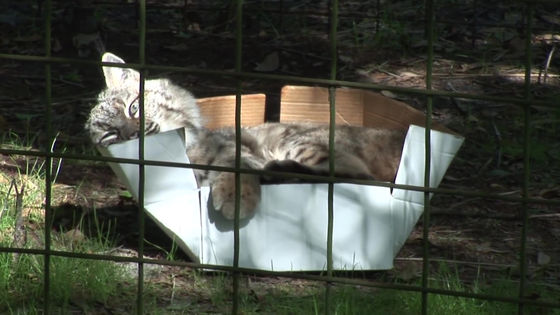 Tigers ...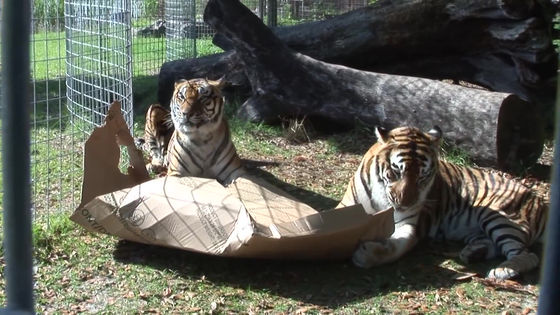 The lion destroyed the box while playing, but is lying satisfactorily on the squashed cardboard.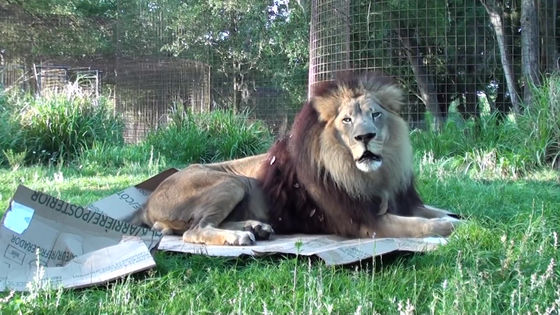 Compared to boxes, circles and squares drawn on the ground do not help hide themselves, but they are still enough to stimulate the cat's instinct. 'Placing yourself in a taped circle gives your cat a sense of security. It's supposed to increase your chances of survival in your heart,' says Nagel Schneider. talked.

But cat behavior is not limited to innate instincts. According to the mechanism of social learning, it may imitate the behavior of others and incorporate it into their own behavior.

Nagel Schneider said of the phenomenon in the Philippines: 'Instinctively trying to stay in a safe place can lead to hiding, but seeing humans standing in a circle, Perhaps the cat wanted to do the same, 'he said.

Also, cats may have the same 'social distance' as humans. Nagel Schneider said, 'The cat instinctively 3 to 6 feet (about 1.8 meters) comfortable and you have a personal territory,' stated that, miraculously of COVID-19 measures the social distance and cats instinctively Pointed out that the distances needed for were matched.

Regarding the effect of COVID-19 on cats, cases have been reported so far that 'COVID-19 is infected between cats' and 'tigers develop COVID-19'.

It has been confirmed that cats are infected with new coronavirus from cat to cat, so there is no possibility of becoming a `` quiet intermediate host ''-GIGAZINE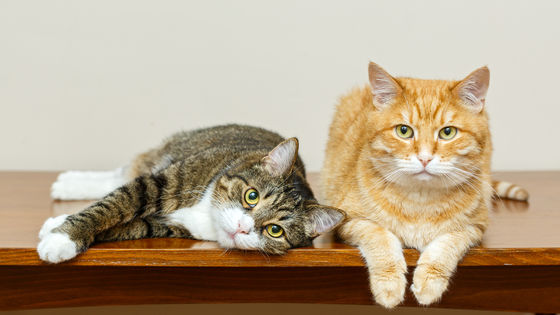 Infection with new coronavirus confirmed in tigers at zoo, infection from asymptomatic caregivers-GIGAZINE