AMD added a new model of high clock '7Fx2' to the second generation 'EPYC', claiming that the performance per core is the highest in the world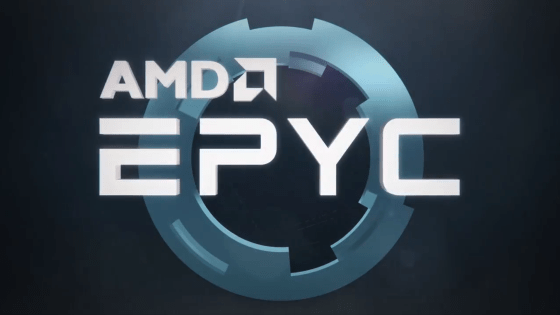 by
AMD
On April 14, 2020, AMD added a new model group '
7Fx2
' with a higher clock frequency to the CPU 'EPYC' for servers. It has already been adopted in cloud systems such as IBM and VMware, and claims that the performance per core is the highest in the world.
New 2nd Gen AMD EPYC ™ Processors Redefine Performance for Database, Commercial HPC and Hyperconverged Workloads | AMD
https://www.amd.com/en/press-releases/2020-04-14-new-2nd-gen-amd-epyc-processors-redefine-performance-for-database
AMD EPYC 7F52 Benchmarks Review and Market Perspective
https://www.servethehome.com/amd-epyc-7f52-benchmarks-review-and-market-perspective/
AMD Claims World's Fastest Per-Core Performance with New EPYC Rome 7Fx2 CPUs | Tom's Hardware
https://www.tomshardware.com/news/amd-worlds-fastest-processor-epyc-rome-7fx2-cpus
EPYC's new model group '7Fx2' consists of three models, '7F32', '7F52', and '7F72', with 8 core / 16 threads, 16 cores / 32 threads, and 24 cores / 48 threads CPU, respectively. It has become. The clock frequency has been increased by up to 500MHz from the previous model, and the L3 cache capacity per core has also been strengthened, AMD claims that '7Fx2 is a new leader in performance per core'.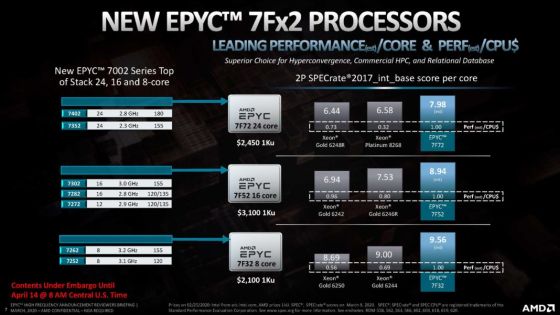 Optimization for
HPC
is progressing, and performance is improved with typical HPC software.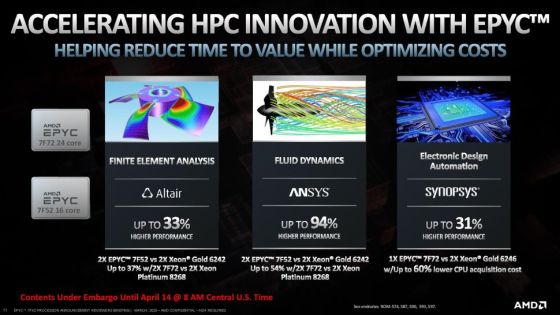 Comparing the price of 3 models of 7Fx2 with competing models of Intel Xeon series, it looks like this. It can be seen that the price is cheaper and the L3 cache capacity is also higher in the 3 models of 7Fx2 with the same number of cores and the same clock frequency.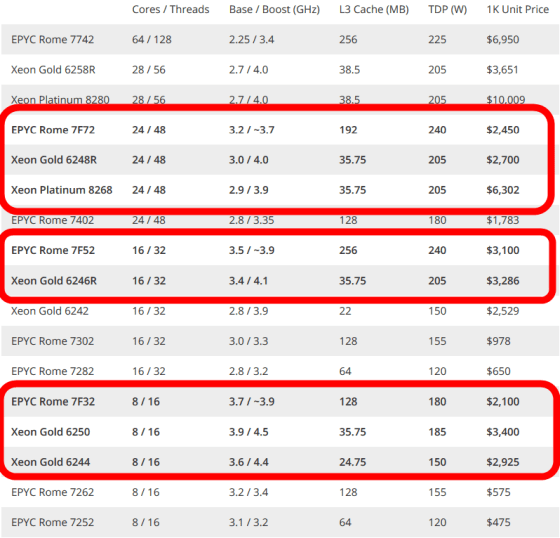 Comparing the price per core to other EPYC series CPUs, the 7Fx2 series shown by the dark red bar graph shows that the price per core is higher than other EPYC series CPUs. Regarding this,
Patrick Kennedy
, a writer for '
ServeTheHome
' who is sending information for IT professionals, said, 'AMD has broken the price standard of EPYC with this new model, and how much performance to EPYC through 7Fx2 series I'm trying to show how influential it is. '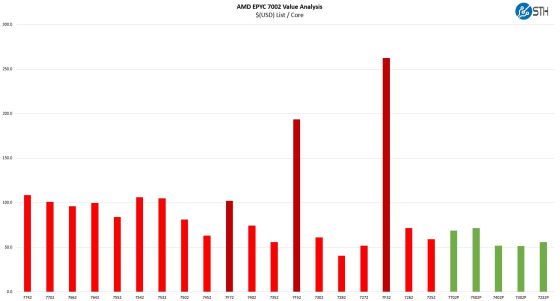 In addition, AMD is focusing on building an ecosystem, and major IT companies such as Dell, HP, and Lenovo will introduce EPYC to their cloud platform in 2020.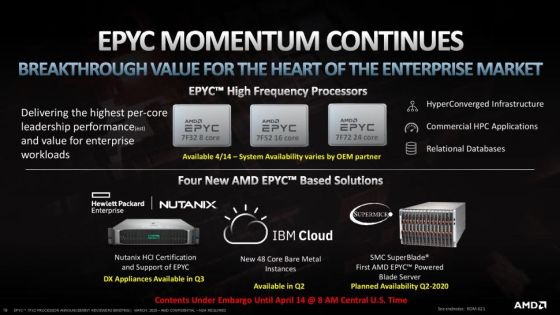 'EPYC will continue to redefine the modern data center. With the introduction of three powerful models, our customers will be able to achieve better results in the enterprise market,' said Dan McNamara , senior vice president of AMD. '.