Release date of 'Theatrical version' Kimetsu no Yaiba 'Infinite Train Edition' & the first trailer released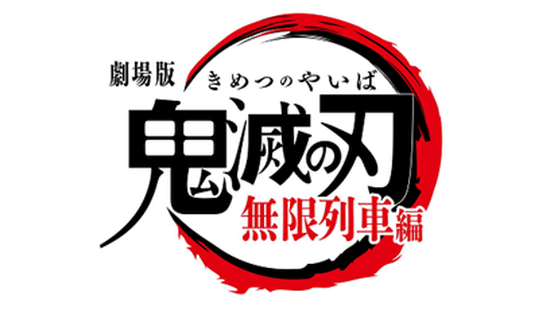 The TV anime broadcast in 2019 became very popular, and the cumulative circulation of the original comics exceeded 40 million, and the momentum of '
Kimetsu no Yaiba
'. The movie version of the anime, '
Theatrical Version' Kimetsu no Yaiba 'Infinite Train Edition
' will be released on October 16, 2020 (Friday), and the trailer has been released on YouTube. As it is a noteworthy work, the number of views has exceeded 200,000 times in one hour from its release.
Theatrical version 'Kimetsu no Yaiba' Infinite Train Edition Trailer 1st release October 16, 2020 (Friday) --YouTube
The movie version of the key visual is also released.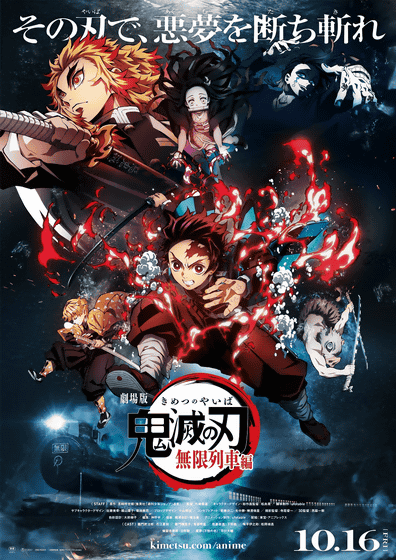 The story is as follows.

Endless
In an infinite dream-

After completing their training at the butterfly house, Sumijiro and his friends arrive at their next mission, the Infinite Train.
It is said that more than 40 people are missing there in a short period of time.
Sumijiro, Zeni, and Inosuke's party with Kaedeko join one of the strongest swordfighters of the demon swordsman, Purgatory Anjuro, in the flame pillar, and in the darkness of the 'Infinite Train'. , Confronted the demon.


The TV anime 'Kimetsu no Yaiba' broadcast from April to September 2019 ends when 'Tanjiro Kamado Ritsushi Hen' ends in the final episode 'New Mission' and when Kanjiro and others board the infinite train. was doing. This 'Infinite Train Edition' is a continuation of that. While I am looking forward to seeing what kind of image Purgatory's battle will be on the screen, seven prefectures will be under the state of emergency from April 8, 2020 (Wednesday) due to the influence of the new coronavirus. I'm a little worried that it will be in a state where it can be seen in movie theaters when the movie is released in October.

◆ Movie version 'Kimetsu no Yaiba' infinite train edition Work information
·staff
Original: Koyoharu Gotouge
Director: Haruo Sotozaki
Character design / animation director: Akira Matsushima
Screenplay production: ufotable
Sub-character design: Miyuki Sato, Yoko Kajiyama, Mika Kikuchi
Prop design: Masaharu Koyama
Concept art: Koji Eto, Masaru Yanaka, Yuri Kabazawa
Cinematographer: Yuichi Terao
3D Director: Kazuki Nishiwaki
Color design: Yuko Omae
Edit: Manabu Kamino
Music: Yuki Kajiura, Go Shiina
Animation production: ufotable
Distribution: Toho, Aniplex
©吾峠呼世晴/集英社・アニプレックス・ufotable

·cast
Tanjiro Kamado: Natsuki Hanae
Akari Kito: Akari Kito
Yoshiyasu Gazuma: Hiro Shimono
Inosuke Kohei: Yoshitsugu Matsuoka
Purgatory Anjuro: Satoshi Hino
Yume (first string): Daisuke Hirakawa