Why medical mask manufacturers do not "increase production of masks due to insomnia and rest" due to worldwide mask shortage?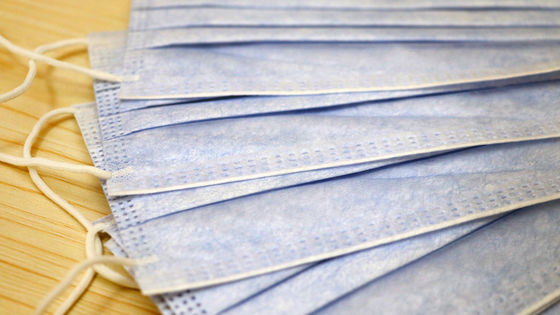 With the spread of the new coronavirus, there is a worldwide lack of masks to prevent coughing and sneezing from infecting others. However, despite the sharp rise in demand for masks, the medical mask production company ``
Prestige Ameritec
'', which boasts the largest share in the United States, operates the production line on a usual schedule . The Dallas Morning News reports why Prestige Ameritec refused to increase mask production due to sleeplessness.
If you imagine that a local business making surgical face masks is working 24/7, guess again
Prestige Ameritec was founded in 2005, independent of the mask manufacturing division of paper and health products maker Kimberly Clark. Prestige Ameritec, which boasts the number one share of domestic production of medical masks in the U.S., is flooding with orders for masks. My phone rings every two minutes and an email arrives every minute. '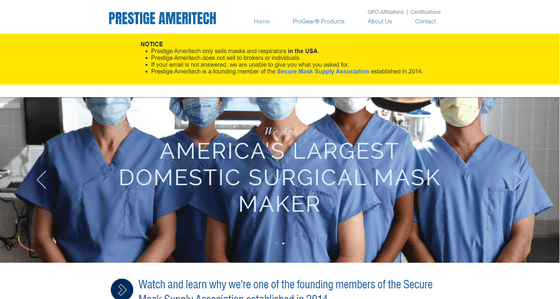 However, despite the growing demand for masks, Prestige Ameritec is operating only on weekdays during the day as of April 2020, and the company's parking lot is empty at night and on weekends. That it will be. Oscar Trevino, Mayor of North Richland Hills, Texas, where Prestige Ameritec is based, said, `` Despite the shouting of masks, Prestige Ameritec has taken 24/7 production. There is a reason for not having one. '

In the U.S. market, 2 cents (about 2 yen) of Chinese-made masks were more common than 10 cents (about 11 yen) of domestic masks. In response, President Bowen argued that 'reliance on other countries, such as China and Mexico, for personal protective masks would be a major issue in national security.' 'I have been arguing since about 2007 that mask production should take place mainly in the United States. However, the entire medical mask market is only interested in mask prices, and no one listens. I spoke to Congressmen and generals and wrote letters to the President, but the statement sent by President Obama had no meaning other than decorating it in a picture frame, 'said Bowen. Talking.

When swine-derived H1N1 influenza spread worldwide in 2009, mask imports from other countries ceased, and Prestige Ameritec was flooded with mask orders from all over the United States, and President Bowen was switched three times a day. Large increase in production. The supply of masks has risen significantly, but once the flu epidemic has subsided, the medical mask market will once again flow to cheaper masks in China, leaving Prestige Ameritec with a debt of $ 100 million and on the verge of bankruptcy. It was said that it was done.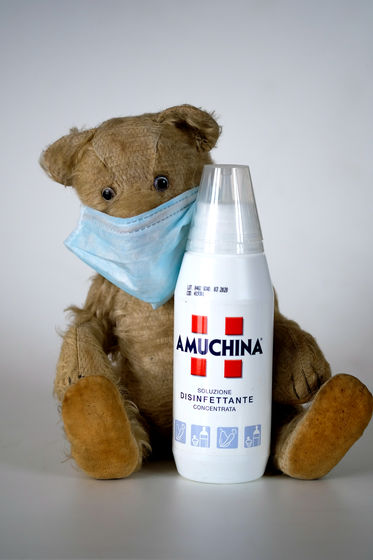 In 2010, Prestige Ameritec overcame the great deficit, rebuilt the factory and resumed mask production. However, it was unable to compete with cheap Chinese masks, and Prestige Ameritec fired 150 employees. 'The 150 employees who have saved many hospitals from closing have lost their jobs in return, and this will never happen again,' said Bowen.

Mayor Trevino picked up President Bowen's intention to `` want to contract with the federal government to enable stable production of domestic masks in preparation for the upcoming pandemic '' and approached the congressman, but there was no response at all. thing. 'I'm tired of being a backup person. It's important to create American jobs and buy American masks,' said Bowen.



As of April 2020, Prestige Ameritec is producing 600,000 masks per day. However, according to President Bowen, operating the plant 24 hours a day, 365 days, requires several weeks to build a new production line and train newly hired employees, resulting in approximately It can produce only 1 million pieces, and even if it produces sleeplessly, it can hardly contribute to the increase in global demand.

At the time of writing, Prestige Ameritec's masks are available only to healthcare professionals in the United States, and are not sold outside the United States or to the general public. President Bowen says he is working with healthcare facilities to sign a contract with Prestige Ameritec.

in Note, Posted by log1i_yk