`` Virtual museum '' that can enjoy museums around the world for free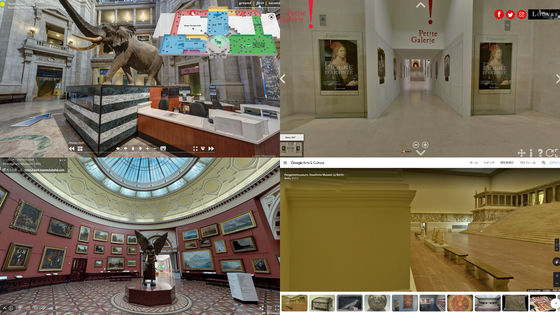 Response to the spread of the new coronavirus, in which it is required to refrain from going out of nonessential all over the world, Tokyo in Japan
National Museum
and
the National Museum of Modern Art
, Kyoto
National Museum of Modern Art, Kyoto
, Osaka
National Museum of Art
Are closed temporarily. As many museums are closed temporarily not only in Japan but also around the world, a ``
virtual museum
'' that allows you to experience many of the artworks exhibited in the
museum
via the Internet has been released
Explore the World's Museums
https://virtualmuseums.io/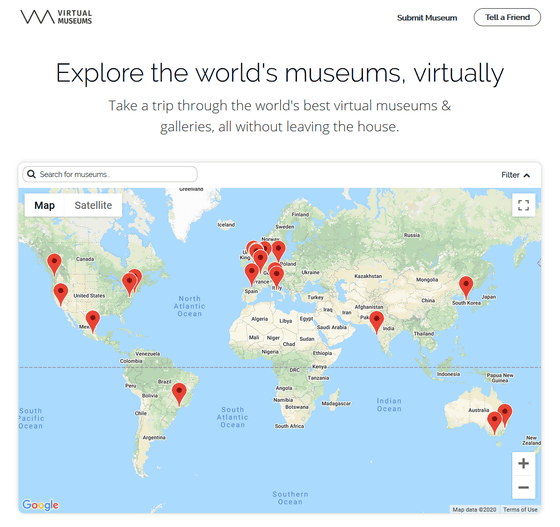 Mack Grenfell
opened the virtual museum. A collection of artefacts from online museums around the world is organized on a virtual museum.
It's easy to use, and you can select a pin on the map displayed on the virtual museum or perform a text search to select the museum you want to visit.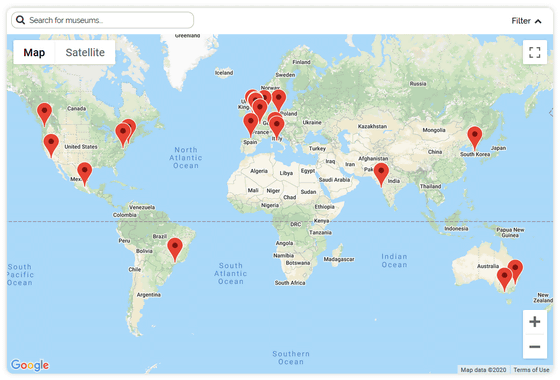 For example, if you click on a pin that stood in New York ...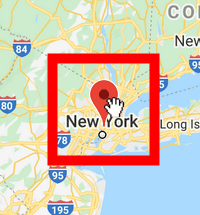 The Museum of Modern Art
(MoMA) is displayed. At the bottom of the screen, a button called 'Visit Website' was displayed, so when you click this ...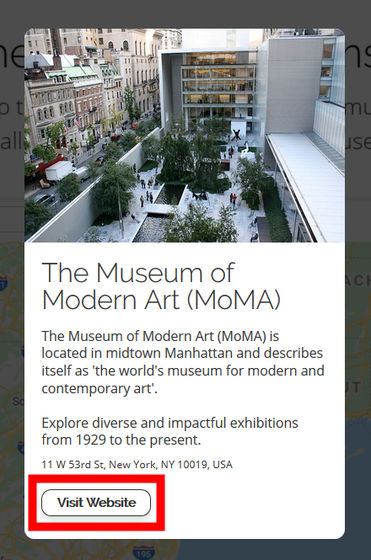 I moved to the page that summarizes the exhibits of MoMA, which is included in Google Arts & Culture , an online gallery that collects works of art from around the world published by Google. In the case of MoMA, it linked to Google Arts & Culture, but depending on the museum, it will be linked to the virtual exhibition room page that is released independently.

MoMA The Museum of Modern Art-Google Arts & Culture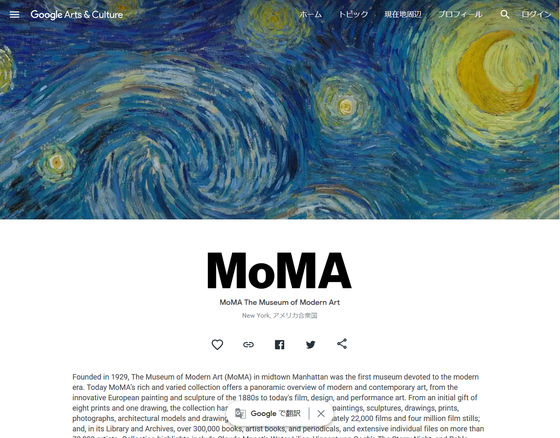 Google Arts & Culture has released 129 MoMA exhibits for free, including oil paintings such as Vincent van Gogh 's ' Starry Night ' and Henri Rousseau 's ' Dream ', and Nan Goldin 's art photos ' Nan and Brian in Bed, New York City 'and so on.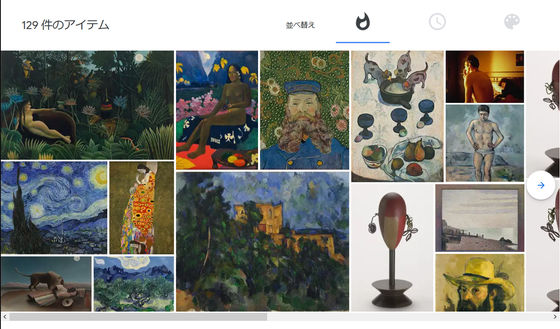 Some of the museums lined up on the virtual museum have a 'Start Tour' button as well as a 'Visit Website' button. For example, the
National Museum
of
Natural History
, which featured the movie
Night Museum 2
, has a Start Tour button. So, when I actually click it ...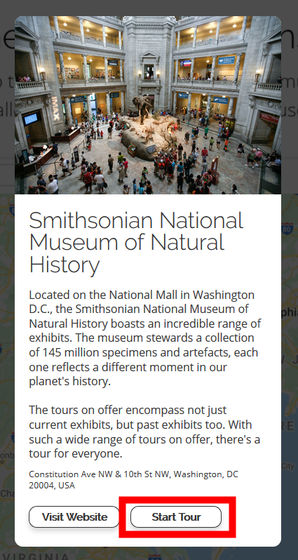 Suddenly a virtual tour of the National Museum of Natural History starts. At the top right of the screen is a map of the building, and at the top right is the floor. The inside of the building can be looked around by dragging the screen. The virtual tour starts at the circular entrance on the ground floor, where giant African elephant foils are displayed. This is similar to the virtual tour that you can experience from the official
virtual tour page
of the National Museum of Natural History that is skipped when you click "Visit Website".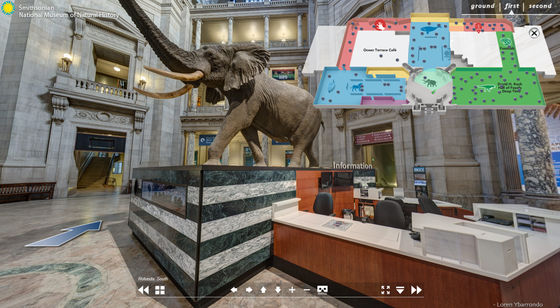 The virtual museum is organized on the MoMA in the United States, the National Museum of Natural History, Museum of Flight , 4 museums of the J. Paul Getty Museum , the Frida Kahlo Museum in Mexico, the Sao Paulo Museum in Brazil, Birmingham in the United Kingdom Museums and Science Museums , Louvre Museum in France , Guggenheim Museum in Bilbao , Spain Uffizi and Vatican Museums in Italy, Van Gogh Museum in the Netherlands, Pergamon Museum in Germany, Dr. Bhau Daji Lad Museum in India, National Museum of Modern Art in Korea , Australia's Australian National Surfing Museum and the International Cricket Hall of Fame .