AMD's next-generation GPU source code is stolen, the criminal is looking for buyers `` worth more than 10 billion yen ''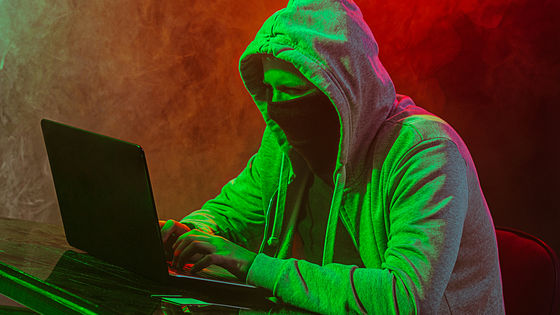 Chip maker
AMD
has announced that source code related to AMD's next-generation GPU architecture 'Navi' and 'Arden GPU' used in
Xbox Series X
has been stolen by unauthorized access. Some of the stolen source code is temporarily released on GitHub, and the culprit states that 'the information is worth 100 million dollars (about 11 billion yen) and all will leak if there are no buyers.'
AMD Statement on Theft of Graphics IP | AMD
https://www.amd.com/en/corporate/data-update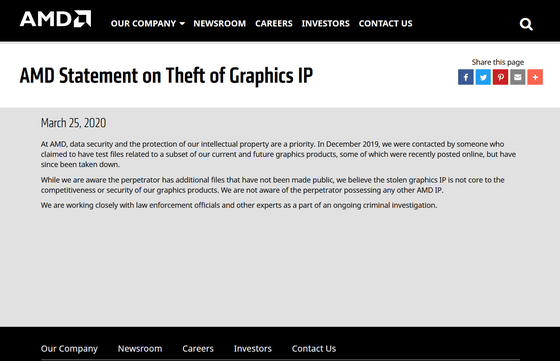 AMD Uses DMCA to Mitigate Massive GPU Source Code Leak (Updated) * TorrentFreak
https://torrentfreak.com/amd-uses-dmca-to-mitigate-massive-gpu-source-code-leak-200325/
According to AMD, in December 2019 it was contacted by a person claiming to have a test file related to AMD's GPU. Later, some of the contents of the test file were posted online but were deleted.
AMD notes, 'We have confirmed that the culprit has additional files that have not been released, but believe that the stolen information is not at the core of our GPU's competitiveness and security. Has not confirmed the fact that it is stealing the intellectual property of other AMD products, 'he said, working closely with law enforcement and professionals as part of criminal investigations.
In addition, AMD has applied to GitHub to delete the repository of `` xxXsoullessXxx '' and the project `` AMD-navi-GPU-HARDWARE-SOURCE '' based on the
Digital Millennium Copyright Act
(DMCA), and the
project
has already been deleted. You.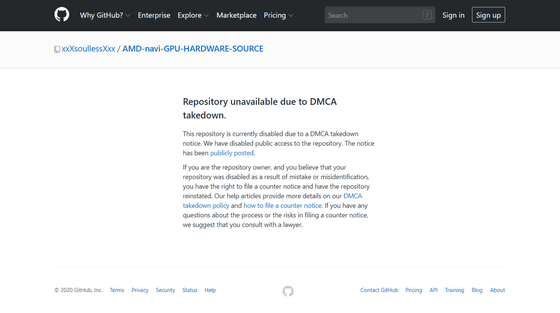 IT news site TorrentFreak has revealed that a message was obtained anonymously from a self-proclaimed female hacker who stole the source code from AMD, `` From a computer hacked in November 2019, the source code of AMD Navi was downloaded. The hacked computer user found the code leaked. Leak Did not take any effective action against. '

Also, the hacker said, 'The source code was unexpectedly available from a computer that was not protected by some exploits . I later learned what the files in it were. It's sad that it wasn't protected and not encrypted. '

Asked if TorrentFreaks told AMD about the source code leak, `` I haven't talked to AMD, but it's trying to sue me, not admitting their mistakes and trying to move forward I was convinced that everyone was asked, 'Why not leak?' 'Said the hacker.

Also, hackers have said, 'The source code has already been uploaded on the net,' according to TorrentFreaks, and confirmed that a file containing the source code was uploaded to a certain file hosting site. thing. However, the files are password-protected, and hackers have said they will distribute passwords to buyers of source code. Hackers claim the source code is worth $ 100 million, saying that 'if you can't find a buyer, you'll leak everything.'