I tried drinking Starbucks 'Butterscotch Coffee Jelly Frappuccino' 'Butterscotch Latte' with the addictive flavor of butter and caramel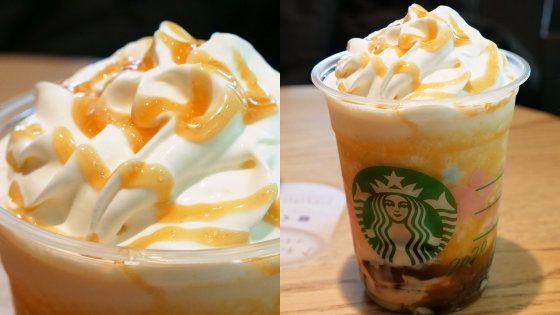 Mellow flavor and bitter as burnt to the sweetness of the caramel of butter scent a 'butterscotch source', 'butterscotch latte' mellow sweetness combined with freshly extracted espresso and steam milk 'butterscotch Coffee Jerry Frappuccino 'has appeared at Starbucks on Friday, March 13, 2020.
Starbucks Reserve Roastery
with roasting factory It is said that the popular latte in
Tokyo
can now be enjoyed in Starbucks nationwide, so I immediately drank it at a shop.
Starbucks Reserve® Roastery Enjoy the taste of the popular latte "Butterscotch Latte" in Tokyo at Starbucks nationwide! Butterscotch Coffee Jelly Frappuccino® is also here! Also sells two vegetable milks, 'Oats Milk' and 'Almond Milk', which make latte more fun
https://www.starbucks.co.jp/press_release/pr2020-3399.php
Arrive at Starbucks.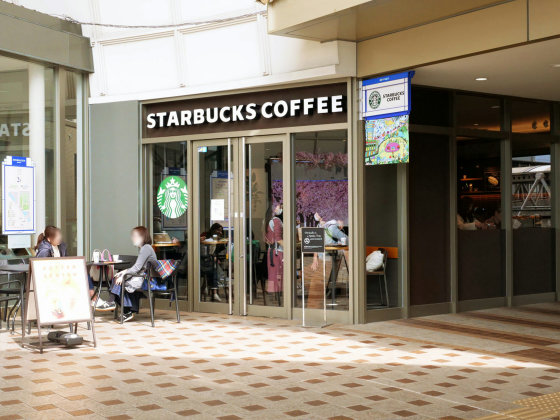 In front of the shop are two new products using butterscotch sauce.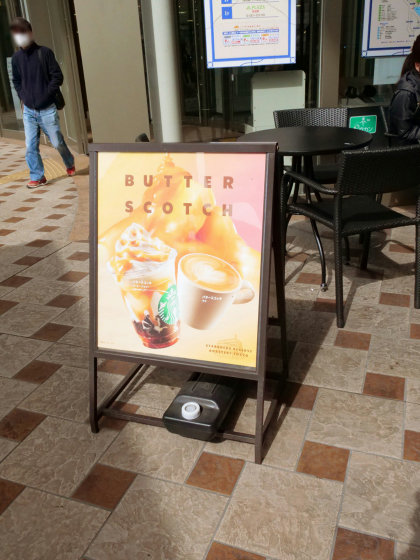 Immediately after ordering, I received a photo and a drink that I couldn't help.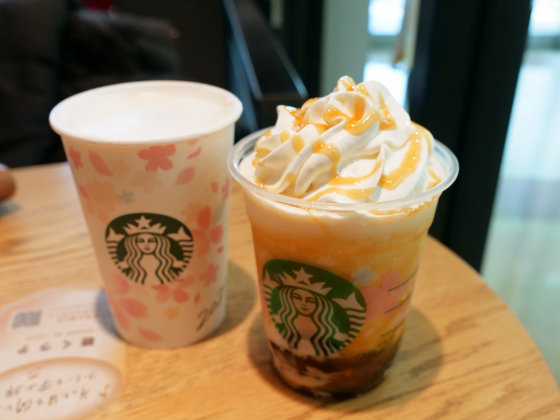 In all cases, tall size is ordered. That's about as much as the 123.8mm long iPhone SE.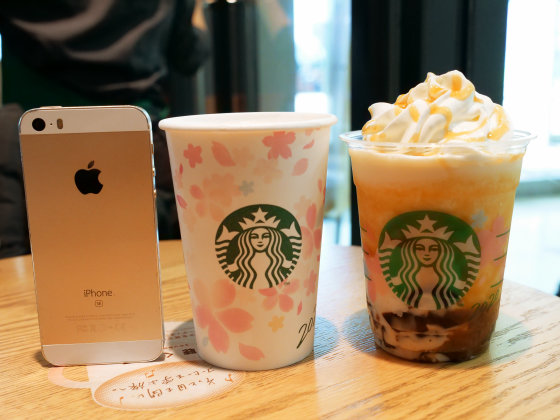 Let's start with Butterscotch Coffee Jelly Frappuccino.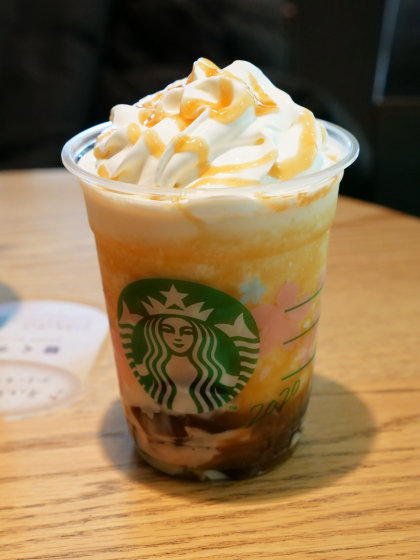 On top of the thickened whipped cream is plenty of butterscotch sauce.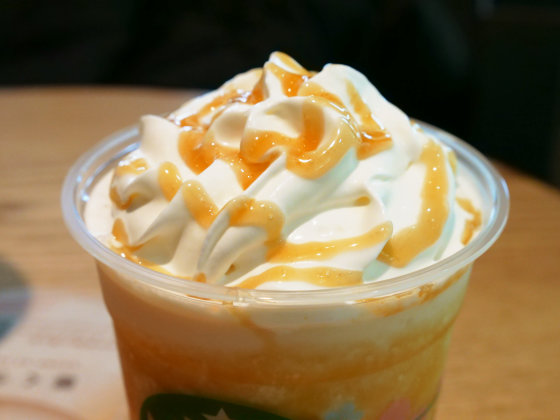 Plenty of butterscotch sauce on the side of the cup. There is also coffee jelly on the bottom.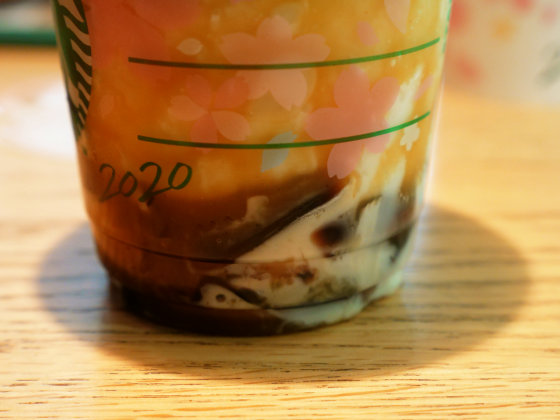 When drinking with a thick straw, a lot of coffee jelly comes into your mouth. The base is a milk type that does not feel much coffee, but the jelly gives a firm coffee bitterness and flavor, so the mouthfeel is like milk coffee. The addition of butter richness, caramel flavor, and a slightly salty butterscotch sauce add caramel frappuccino as a whole, but a richer dessert drink was completed.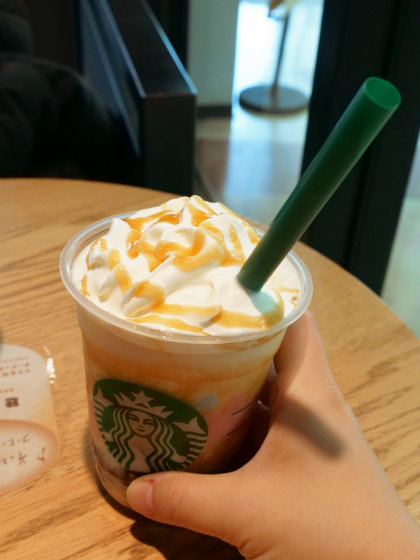 Next, let's drink butterscotch latte.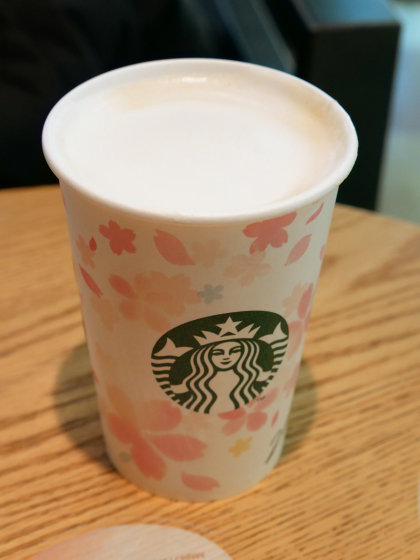 Butterscotch latte is a mixture of butterscotch sauce, espresso and milk. Starbucks's classic latte retains its mellow taste while adding rich butterscotch flavor. Butterscotch coffee Jelly Frappuccino was more of a dessert than a drink, but the butterscotch latte is sweet, but has a caramel-burnt aroma, so it tastes a little adult. It is a perfect drink when you want to take a break.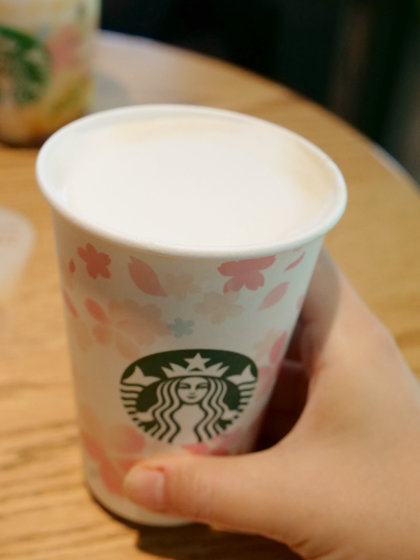 On the same day, 'Oats Milk Latte' and 'Almond Milk Latte' also appeared, so I drank it.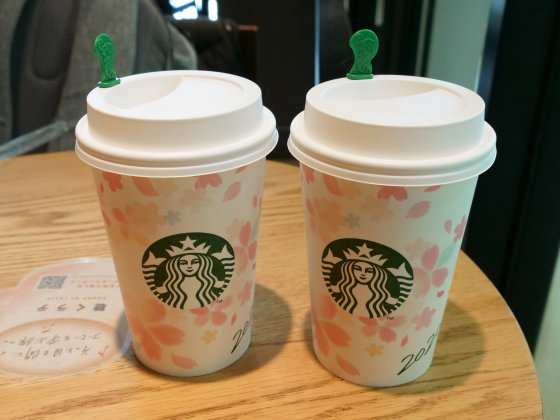 Opening the lid looks like this. It cannot be determined from the appearance.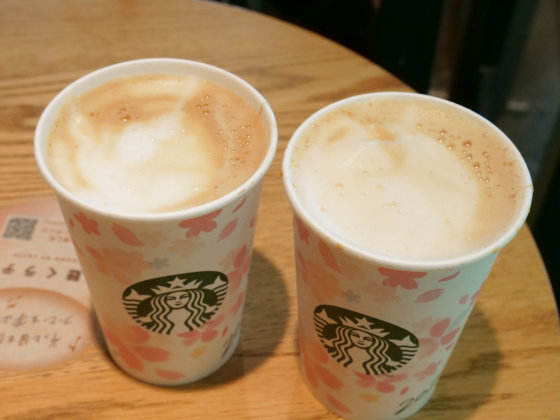 ... but the taste is slightly different. Almond Milk Latte combines espresso with Starbucks original almond milk. Starbucks latte retains its relaxed mouthfeel, but is different from milk and soy milk.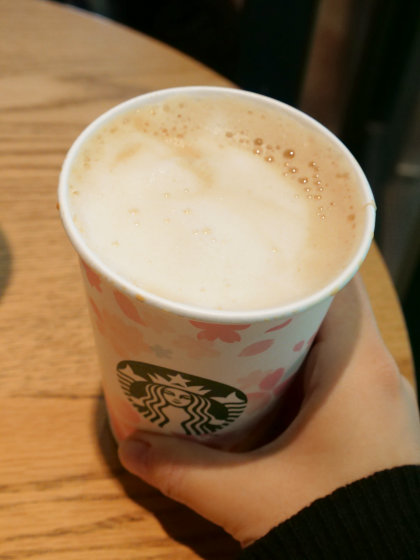 Oats milk latte uses 'oats milk' born from oats, and has a unique fragrance and a stronger natural sweetness than almond latte. Oats milk and almond milk are likely to be Starbucks's classic items, so it's a good idea to try them when you want to change your mood.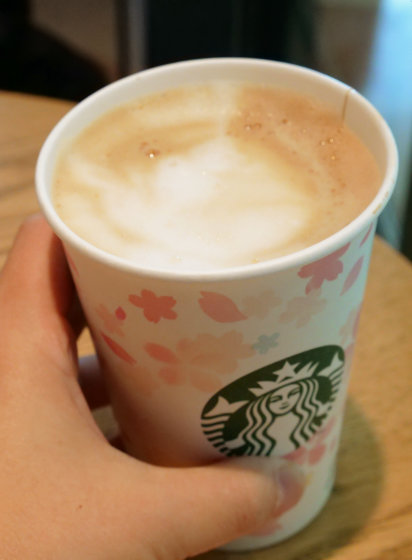 Butterscotch Coffee Jelly Frappuccino is limited to April 8, 2020 and Butterscotch Latte is limited to June 16. The tax-excluded price of each product is as follows.

Butterscotch Coffee Jerry Frappuccino: Tall only 590 yen
Butterscotch latte: short 420 yen, tall 460 yen, grande 500 yen, venti 540 yen
Oats milk latte: short 390 yen, tall 430 yen, grande 470 yen, venti 510 yen
Almond milk latte: short 390 yen, tall 430 yen, grande 470 yen, venti 510 yen