A function that can directly display a lost website from the Internet archive is installed in the web browser `` Brave ''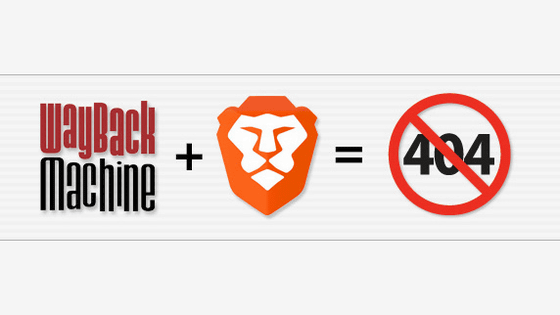 Even if you visit a website you care about, an error code such as '
HTTP 404
' may be returned because it has already been deleted from the Internet. The desktop version 1.4.95 of the web browser ``
Brave
'' equipped with a function to automatically access and display such pages that can not be viewed automatically on the
Internet Archive
Wayback Machine
, February 26, 2020 Released to
Today's desktop update (1.4.95) features a Chromium upgrade (80.0.3987.122), various fixes, and the ability to look up an archived web page using the @internetarchive 's @waybackmachine (which has archived more than 900 billion URLs!) Details here: https://t.co/Ki3YeF25nb pic.twitter.com/7xIzgyPOnz

— Brave Software (@brave) February 25, 2020


Brave Browser and the Wayback Machine: Working together to help make the Web more useful and reliable | Internet Archive Blogs
http://blog.archive.org/2020/02/25/brave-browser-and-the-wayback-machine-working-together-to-help-make-the-web-more-useful-and-reliable/

According to a survey by the Library of Congress, the average life span of a web page is between 44 and 100 days. According to the Internet Archive, 'Websites containing your favorite news organizations, brands, businesses and governments are short-lived and can be edited or deleted quickly.'

Wayback Machines, operated by Internet Archive, have archived over 900 billion URLs and over 400 billion web pages over the past 23 years, archiving hundreds of millions of URLs daily. Therefore, it is possible, but not necessary, to view pages that have been deleted and cannot be viewed by using a wayback machine.

Until now, the ability to view web pages returning HTTP 404 from a wayback machine was provided by extensions such as Safari, Chrome, and Firefox. However, Internet Archives says Brave is the first officially affiliated web browser to function with a wayback machine.

For example, the following is the URL displayed by typing the URL exemplified by the Internet Archive into Chrome. A 404 code is returned and the web browser says 'Page not found or cannot find location where web page is archived'.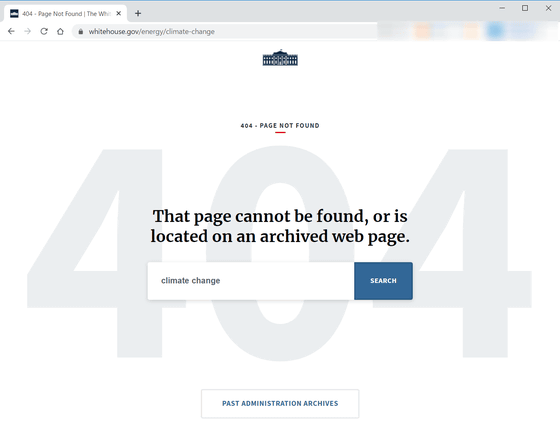 And here is the same URL accessed in version 1.4.95 of the desktop version of Brave. The 404 is displayed bigger as it was when displayed on Chrome, but at the top of the browser you are asked 'Sorry, the page can not be found. Do you want to check the saved version available on the wayback machine?' Click 'Check for saved version'.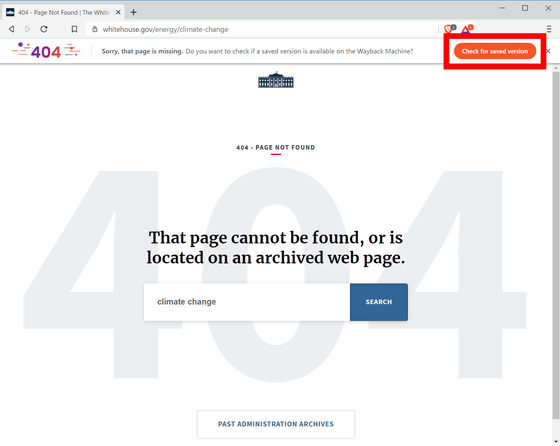 Then, the pages that are archived on the Wayback machine is displayed, the image of Obama former President talk with Xi Jinping chairman of China was displayed.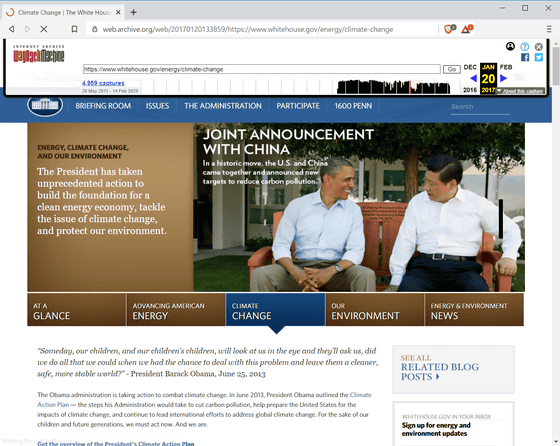 This is not the first time that Internet Archive has partnered with Brave, and Brave will support a donation system for Internet archives using micropayments using bitcoin in 2017. 'I'm grateful that Brave continues to innovate and deliver new values and services through the browser,' said the Internet Archive.