'Jollylook Auto' foldable instant camera with automatic shutter & flash while having a retro look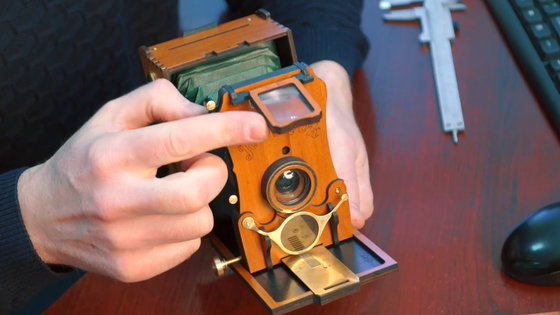 Although it looks like an old vintage camera, the foldable camera ` ` Jollylook Auto '' equipped with automatic shutter and flash using the latest technology, using the instax film used in Fujifilm's instant camera check An instant camera that allows you to check photos on the spot.

Jollylook-The Vintage, Cardboard, Analog Instant Camera!

https://jollylook.photo/
You can see what kind of camera Jollylook Auto is by looking at the following movie.
Jollylook Auto-The Modern Vintage Instant Film Camera Kickstarter Video-YouTube
Jollylook Auto is designed like a camera from decades ago and comes in two colors: brown & green and black & red.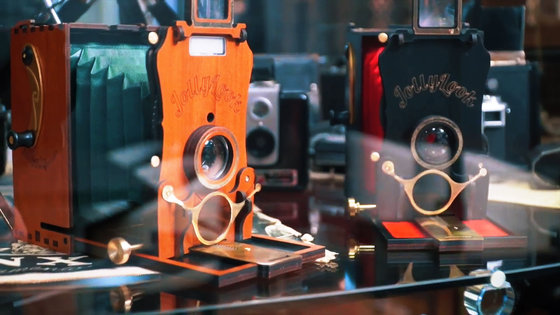 Jollylook Auto parts are cut out from the board with a laser cutter.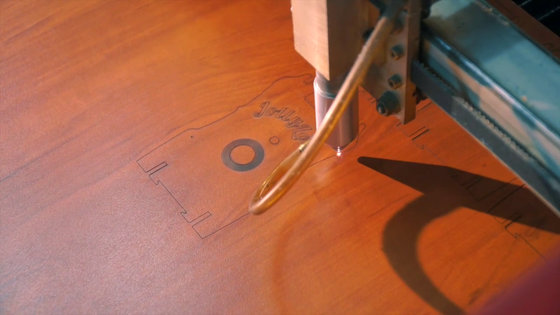 The structure is much simpler than a digital camera.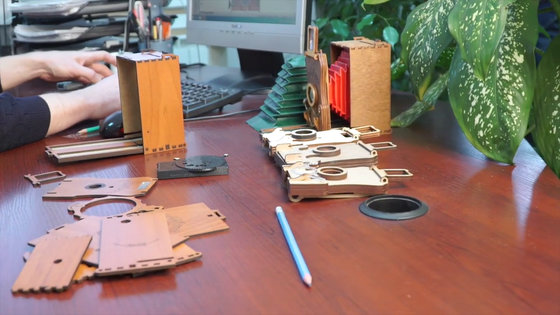 Although it looks very retro, it has an electronic circuit board with automatic shutter and flash.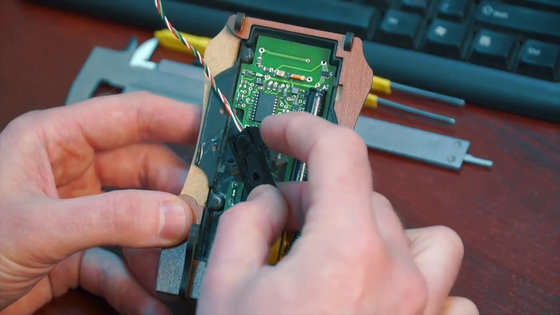 Open the back of Jollylook Auto and insert the film. In addition, Jollylook Auto has two usable film sizes, ` ` Jollylook Mini Auto '' corresponding to the screen size 62 mm × 46 mm instax mini, ` ` Jollylook Square '' corresponding to the screen size 62 mm × 62 mm instax SQUARE Auto . '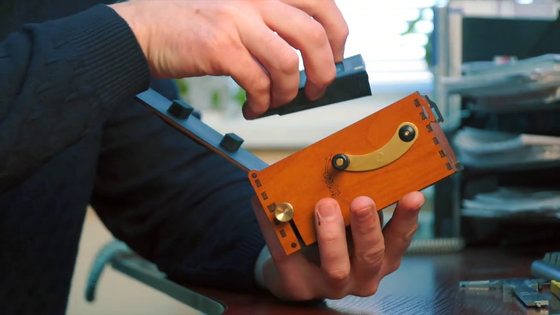 The difficulty of obtaining the instax film, which is also used in the check, is relatively low, so it seems unlikely that you will be able to use it because you bought an analog camera but could not get the film.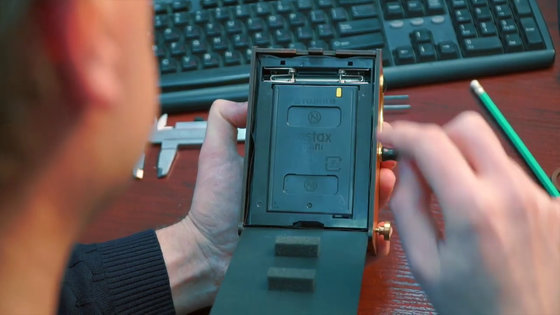 Adjust the focal length while reading the scale on the rail.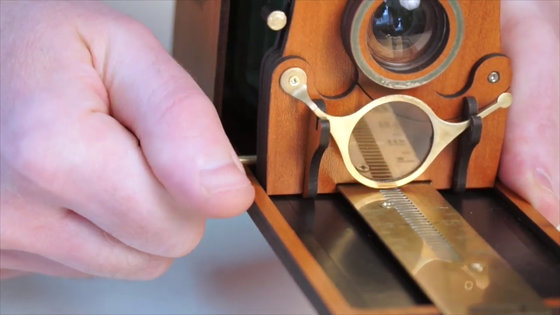 Jollylook Auto is a
folding camera
, and the lens protrudes with the bellows from the main body.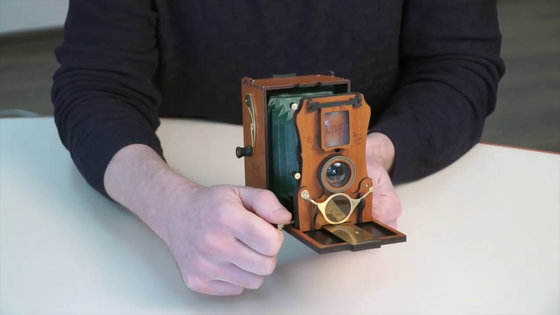 Launch the folded viewfinder ...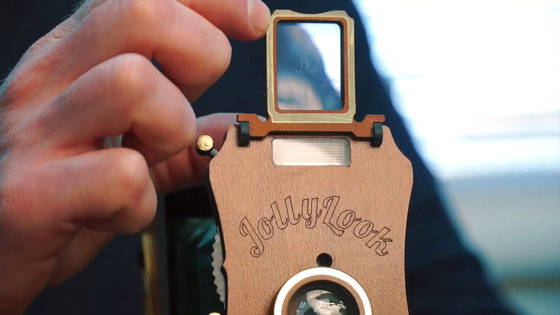 Hold the subject.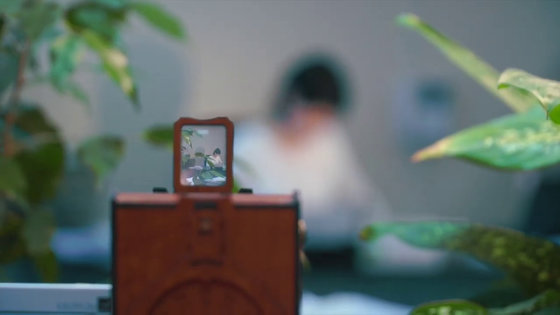 There is a dial next to the 110mm focal length acrylic lens. You can switch the aperture by turning this dial. There are six types of aperture: f / 16, f / 24, f / 32, f / 45, f / 64 and pinhole.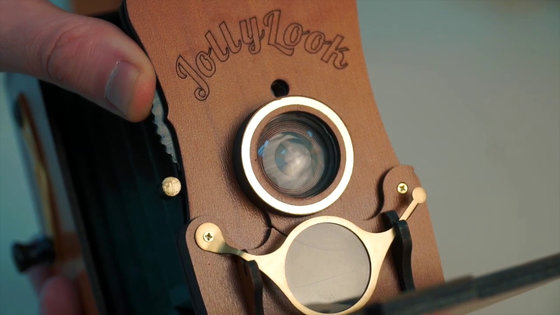 There is also an optical filter in front of the lens.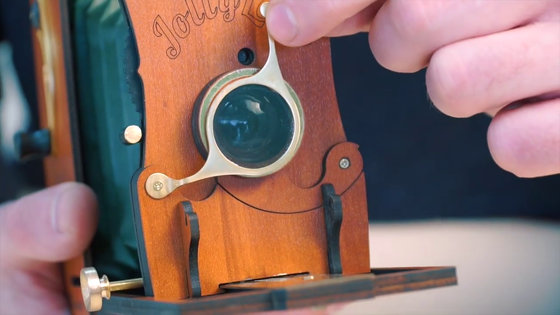 Switch on the flash ...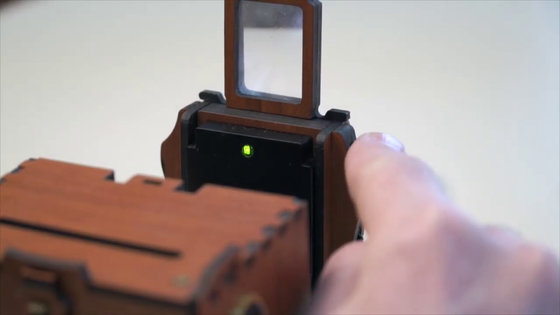 The shutter can be released by lowering the release beside the lens. Shutter speeds range from 1/200 to 60 seconds and are automatically selected by the light sensor. Also, bulb photography is possible.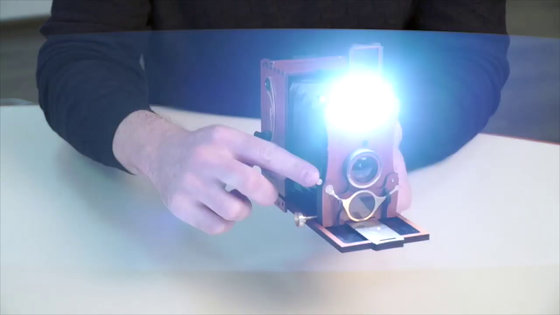 When you turn the handle next to the main unit, the picture comes out.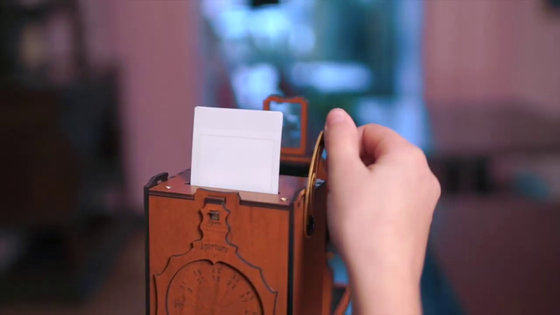 Wait for a while and the photos will pop up.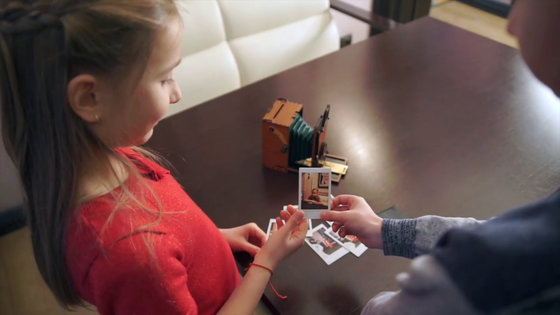 Jollylook Auto has a built-in lithium-ion battery and can be charged with a microUSB cable. It is possible to shoot about 80 shots with a single charge, and it seems to be about half that when using a flash.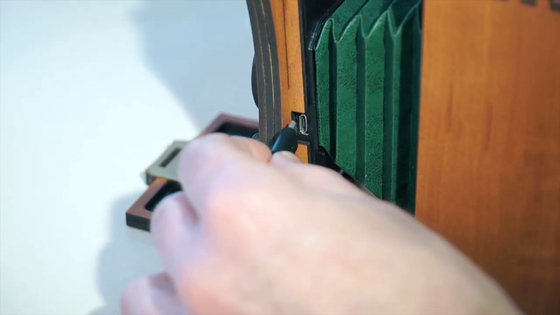 The bottom has a quarter inch screw hole so you can fix it on a tripod.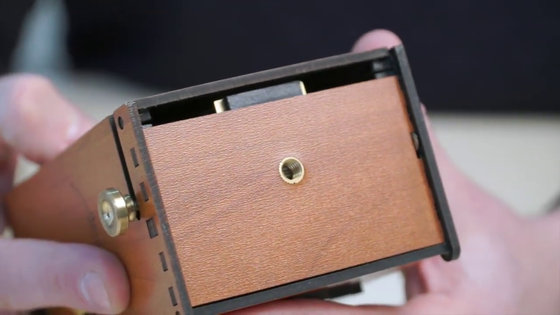 The operation is very simple, so even children can use it safely.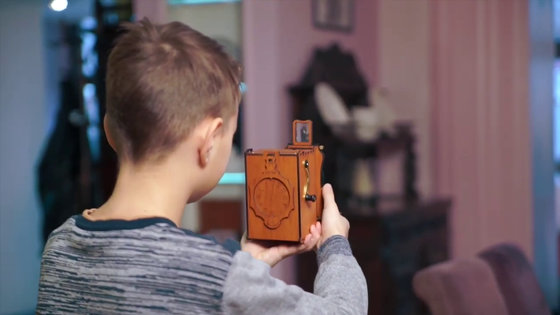 Jollylook Auto is looking for investment at Kickstarter of the crowdfunding site, and the target amount is $ 20,000 (about 2.19 million yen), but already 200,000 dollars (about 21.9 million yen) at the time of article creation.

In addition, the following rewards can be obtained according to the investment amount. In addition, Jollylook Auto's dedicated strap and bag are attached by achieving the stretch goal, and it is possible to upgrade Jollylook Mini Auto to Jollylook Square Auto by adding $ 10 (about 1090 yen) per unit with each plan Has become.

$ 89 (about 9770 yen): One Jollylook Mini Auto. Limited to 1500 pieces, additional shipping fee of $ 10 (about 1090 yen) is required.
$ 99 (about 10,900 yen): One Jollylook Mini Auto. Limited to 1000 pieces, extra shipping fee of $ 10 (about 1090 yen) is required.
$ 109 (about 12,000 yen): One Jollylook Mini Auto. A separate shipping fee of $ 10 (about 1090 yen) is required.
$ 169 (about 18,600 yen): Two Jollylook Mini Auto. A separate shipping fee of $ 17 (about 1870 yen) is required.
$ 249 (about 27,300 yen): Three Jollylook Mini Auto. A separate shipping fee of $ 23 (about 2500 yen) is required.
$ 319 (about 35,000 yen): 4 Jollylook Mini Autos. A separate shipping fee of $ 27 (about 3,000 yen) is required.
$ 389 (about 42,700 yen): 5 Jollylook Mini Auto. A separate shipping fee of $ 30 (about 3270 yen) is required.
$ 749 (about 82,300 yen): 10 Jollylook Mini Auto. A separate shipping fee of $ 50 (about 5450 yen) is required.
$ 1099 (about 12700 yen): 15 Jollylook Mini Auto. A separate shipping fee of $ 75 (about 8240 yen) is required.
$ 1,449 (about 159,200 yen): 20 Jollylook Mini Auto. A separate shipping fee of $ 100 (about 10,900 yen) is required.
$ 3,449 (about 384,400 yen): 50 Jollylook Mini Auto. A separate shipping fee of $ 250 (approx. 27,500 yen) is required.

Shipping to Japan is also possible, and all plans are scheduled to ship in November 2020. Investment is possible from the following page and is accepted in Japan time until 21:00 on February 18, 2020 (Tuesday).

Jollylook Auto-The Modern Vintage Instant Film Camera! By Jollylook — Kickstarter
https://www.kickstarter.com/projects/jollylook/jollylook-auto-the-modern-vintage-instant-film-camera