Pointed out that Apple Pay will grow to occupy 1/10 of all credit settlements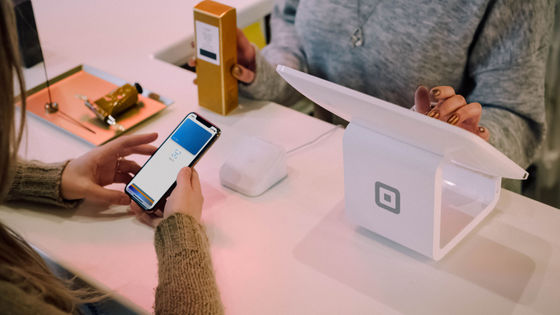 Apple Pay,
an electronic payment service launched in 2014, has grown to account for one-tenth of all credit card payments in 2025. Business information site Quartz summarizes where the overwhelming strength of Apple Pay comes from.
Apple Pay on pace to account for 10% of global card transactions? Quartz
https://qz.com/1799912/apple-pay-on-pace-to-account-for-10-percent-of-global-card-transactions/
Apple Pay could account for 10% of all card transactions by 2025, analysts estimate-9to5Mac
https://9to5mac.com/2020/02/11/apple-pay-transaction-card/
According to a recent report from market research firms, Quartz said that Apple Pay already accounts for about 5% of global card payments, and that if this growth trend continues, it will expand its share to 10% by 2025. Has been done. '
Below is a graph showing the cumulative total return on stock prices of the three major credit settlement brands since February 2017. The purple line indicates Mastercard, the pink line indicates Visa, and the black line indicates Apple. The red box shows that Apple is growing ahead of Visa, especially from late 2019 to 2020.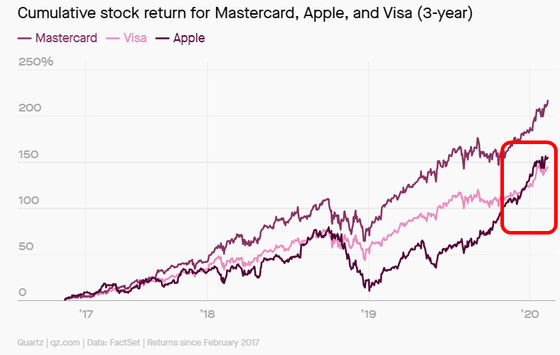 'Apple Pay is growing more than four times faster than similar payment service
PayPal
,'
commented
Apple CEO Tim Cook. According to Apple's
investor announcement
, Apple's service department including Apple Pay has achieved revenue of more than $ 12.7 billion (1.395 trillion yen) in the fourth quarter of 2019 alone, up 17% from the same period last year Is known.
According to Quartz, 'It's not only Apple Pay is a sophisticated and feature-rich payment service, but Apple Pay has its own strengths that are pre-installed on the iPhone.' Payment services other than Apple Pay, such as
Alipay
and
WeChat Pay,
which use
QR codes
, have to be installed externally in order to use them on smartphones. In contrast, Apple Pay is a payment function built into the iPhone using
Near Field Communication (NFC)
, so iPhone users can be potential Apple Pay users.


Apple also strongly restricts the use of NFC on the iPhone, with the only exception being Suica in Japan. As a result, third-party payment services continue to be unavailable to iPhone users, which is also fueling the growth of Apple Pay.

Some voice this situation as dangerous. In November 2019, the German parliament passed a bill requiring Apple to open iPhone NFC mobile payments beyond Apple Pay. The European Commission's antitrust regulators have also begun investigating the impact of Apple Pay on the market, considering whether Apple Pay is a monopoly.

'Apple is currently taking a major lead in the mobile payments space by leveraging an integrated ecosystem, as competitors such as Google and Samsung increase their presence in the market,' said Susanna Hampton of market research firm Juniper Research. the, continue will have defect so that we are working to expand the service, ' he said .