Apple will hold a special event on December 2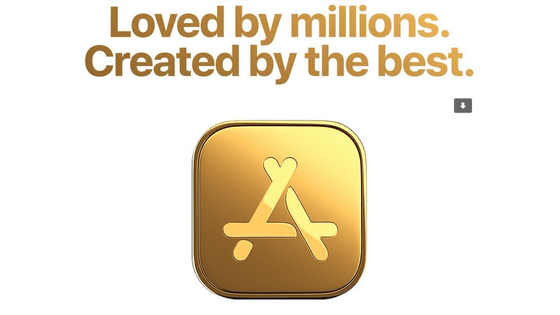 On December 2, 2019, local time, Apple announced that it will hold a special event in New York, USA. The event is designed to honor popular apps and games in 2019, and it's unclear whether the event will be broadcast live and whether other announcements will be made.

Apple holding 'special event' for December 2nd in New York City-9to5Mac

https://9to5mac.com/2019/11/18/apple-announces-special-app-focused-event-for-december-2nd/
On November 18, 2019, Apple distributed a special event invitation to the press.
Lance
Ulanoff
, editor of technology media
Lifewire
, has published a special event invitation from Apple on Twitter.
This is unexpected. Apple Event. December 2 in NYC.pic.twitter.com/ok4UtcAylC

— Lance Ulanoff (@LanceUlanoff) November 18, 2019


The event invitations are accompanied by the words "Loved by millions." And "Created by the best." Along with the App Store logo. At the bottom, it says 'Please participate in Apple's special event honoring your favorite apps and games in 2019'.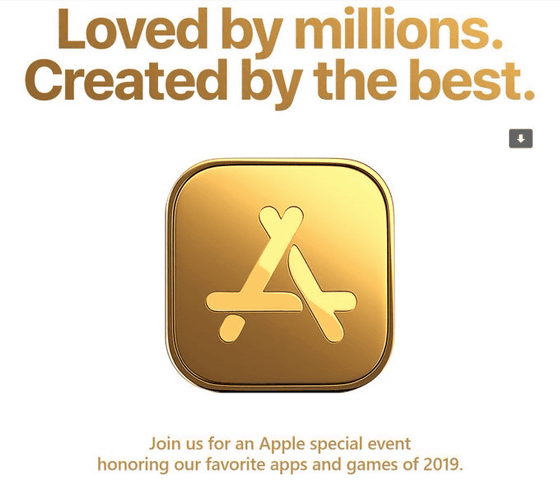 Apple always delivers live events, but it is unclear if this special event will be delivered. At the time of writing the article, there are no details about the event scheduled for December 2 on the Apple Special Events page .

In addition, at the event of December 2, it is also the timing of the announcement of "This Year's Best App", which commends "Most Downloaded Apps" etc. that Apple performs at the end of the year. The "Best App of 2018" is as follows.

Apple announces 2018 best-Apple (Japan)
https://www.apple.com/newsroom/2018/12/apple-presents-the-best-of-2018/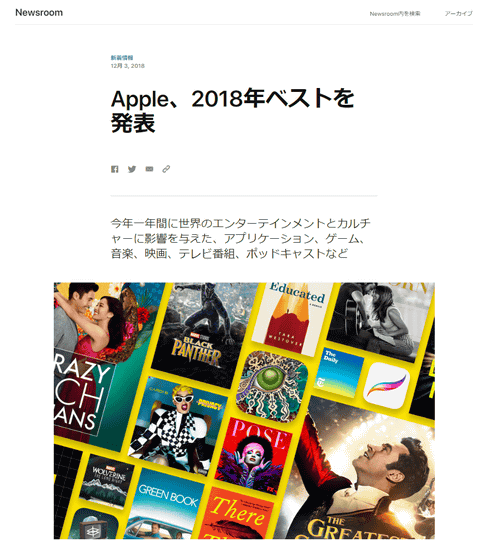 According to 9to5Mac, which deals with Apple-related news, this is the first time Apple has hosted a live event specifically for apps and games. Although Apple made an announcement at Apple Special Events in September 2019, it announced AirPods Pro at the end of October and 16-inch MacBook Pro in November, so it is famous at Apple's presentation `` 9to5Mac points out that 'One more things' may be left for the December 2 event.

In addition, as for what may be announced in the event, "AirTag" of forgotten tracker whose development has been rumored, and ...

Is the name of the forgotten tracker reported to be under development by Apple "AirTag"? -GIGAZINE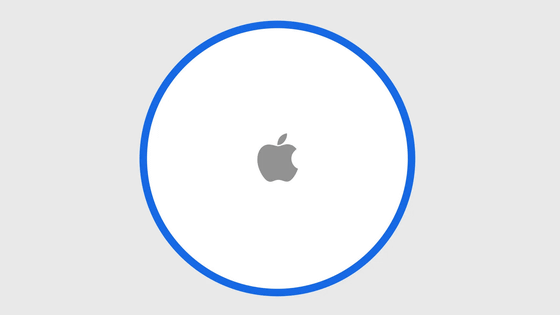 9to5Mac predicts that it will announce further details of the already announced Mac Pro.

28-core Intel Xeon processor & up to 1.5TB memory monster machine "Mac Pro" announced-GIGAZINE