A fraudulent act of staying in a poor room using a fake room photo / fake review and ripping money was rampant on Airbnb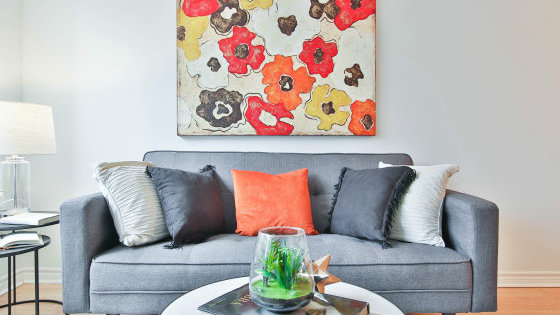 by
Sidekix Media
Airbnb,
which allows you to rent a room from a local person, is gaining popularity because it is cheaper than a hotel and you can experience a local experience, but there are complaints
that a camera was installed without permission in the room
, Problems such as
adversely affecting urban areas have
also been pointed out. And the fact that fraud using Airbnb was rampant in several cities in the United States has become clear.
I Accidentally Uncovered a Nationwide Scam on Airbnb-VICE
https://www.vice.com/en_us/article/43k7z3/nationwide-fake-host-scam-on-airbnb
Writer
Ally Conti
used Airbnb to stay in Chicago in the summer of 2019. The room rented out by a couple named "Becky & Andrew" said that the platform was spacious and filled with beautiful photos filled with light.
However, while traveling, I received a call from a man named Andrew, who was the tenant 10 minutes before check-in. Andrew explained at the phone that there was a problem with the piping in the room that Conti was planning to rent. Andrew has suggested that another room can be provided during repairs, as he sees Conti's view that it is hard to find another hotel. To Conti, who was worried, Andrew added that the replacement room was three times the size of the reserved room. The photos of the "alternate room" that Mr. Andrew actually sent were wonderful on the smartphone.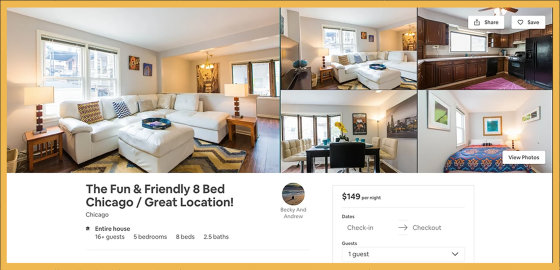 Conti, who found it difficult to find a new inn in a limited time on unfamiliar land, accepted Andrew's suggestion. At this time, as a condition, it seems that they had written leave that they accepted an alternative room. Andrew and Conti finally changed their bookings using the Airbnb app.

However, when I actually went to the alternative inn, the rented room looked like a cheap hotel rather than 'someone's house' and was completely different from the photo. Conti says that there was a bottle of soy sauce on the shelf in the kitchen, the bedroom had multiple beds in a strange arrangement, and the walls had holes. However, Conti, who was tired on the first day of the trip, decided to stay at the hotel. The next day, Andrew said, "The plumbing hasn't been fixed yet, but another person will come to the inn instead of the one we are staying at now." Conti made a reservation for another hotel without any help. I decided to move.

After that, I contacted Andrew about the refund, but there was no reply. When I unavoidably contacted Airbnb, after spending several days interacting with the person who called the manager, I received a refund of only $ 399 (about 43,100 yen) out of the accommodation price of 1221.2 dollars (about 130,000 yen) thing. This fee does not include service fees received by Airbnb.

A couple of Becky & Andrew has sent a message in the exchange at the time of reservation 'Airbnb changed the algorithm, so the review should be rated 5 stars', Conti's series of events is just 'bad luck' That wasn't the case. After finishing the trip, Mr. Conti carefully read the reviews of Becky & Andrew couple's room, and found a strange point in the positive reviews.

For example, the couple Kelsey and Jean left Becky & Andrew with a comment that they were "friendly and wonderful people". However, Kelsey and Jean have two properties in Chicago. Conti, who wondered why he had two of his properties in Chicago and needed to stay in another Chicago property, went further.

Then, the photos posted on Airbnb by Chris & Becky, Kelsey & Jean, Alex & Brittany, Becky & Andrew, who rent out rooms in Chicago, turned out to be the same.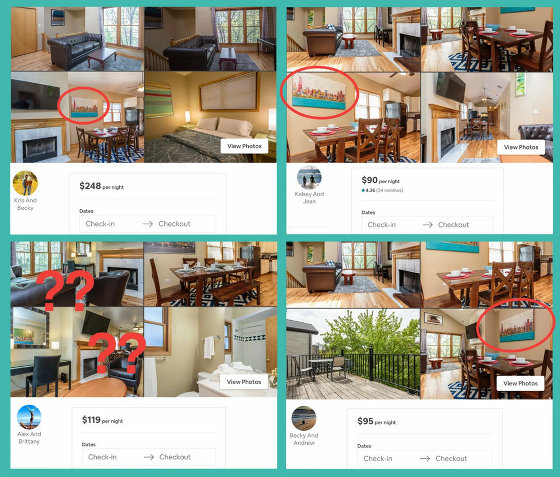 In addition, Conti tracked who left negative reviews in Becky & Andrew's room. One of them was Jane Patterson, a lawyer who lives in Michigan. Mr. Patterson was the same as Mr. Conti, and he was forced to change his room just before check-in. Patterson actually left the room where he stayed in the photo, and the state of the torn sofa and scraped table is recorded.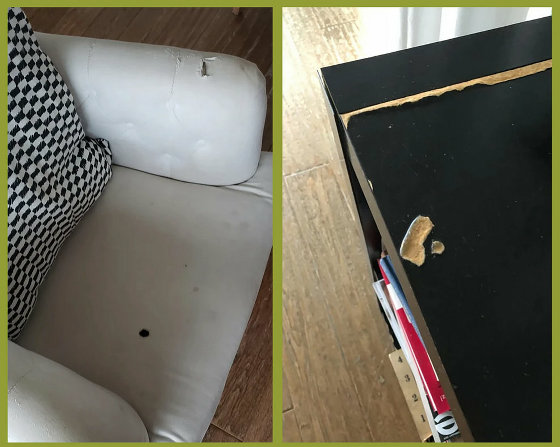 "I can't stay in this place," Paterson immediately moved to a friend's house in the neighborhood and started processing a refund.

Although Airbnb's refund policy does not state that "a full refund requires written evidence", it states that "all Airbnb 's decisions regarding the guest refund policy are at Airbnb 's discretion
". Has been
. According to Conti, it is difficult to get a full refund if you stay overnight, according to Airbnb rules. Airbnb advises you to cancel a room change when you aren't satisfied, but it's a strange place where you don't have a room to stay in. Conti points out that it is a preferential treatment for scammers.
Against this background, Mr. Patterson said that Airbnb offered a partial refund as well as Mr. Conti. Many accept proposals to avoid long struggles, but attorney Paterson did not stop fighting. And finally he received a full refund.
Patterson did a rigorous review of Becky & Andrew's room before getting a full refund. Since Airbnb is a system where both the borrower and the lender review each other, Patterson seems to have received severe criticism from Becky & Andrew for retaliation. This is another reason why Airbnb reviews get sweeter, and reviews on Airbnb get higher ratings than reviews on hotel booking sites to avoid criticizing others for fear of hurting their reputation
Surveys show that
it is trending.
In addition to Mr. Patterson, Conti contacted several Airbnb users who suffered from Becky & Andrew. Eventually, we found that about 100 real estates across eight cities were fraudulently exploiting Airbnb rules using fake rooms and fake reviews.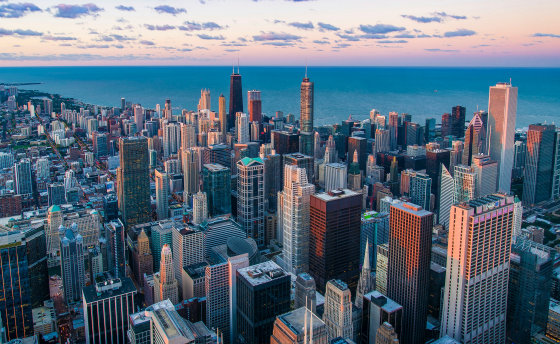 by Pedro Lastra

Conti finds out through a survey the existence of a person named "Shrey Goel" who runs a luxury corporate rental company in Los Angeles who calls himself "Abbot Pacific LLC". LinkedIn also mentioned a person named 'Shawn Laheja' who was helping Goel.

Conti tried to contact Goel many times, but it didn't work. Therefore, Conti called Gobel's Abbot Pacific phone number repeatedly, left the answering machine, sent an email to Gmail, and finally contacted a person named Patrick who called himself "Abbot Pacific's telephone clerk" I succeeded in receiving it. A person named Patrick said, 'When I searched for you on Google, I found that I was basically writing a negative article. I'm wondering what I can help you with.' Cut out. Mr. Conti said that he wanted to talk to Mr. Goel, but Mr. Patrick did not hand over to Mr. Goel.

Strangely 30 minutes after Conti finished the call with Patrick, strangely, the Abbot Pacific website that would have existed 30 minutes ago was gone. Conti calls Patrick again and Patrick explains, 'The website went down yesterday. We are preparing a new page.' When Conti returned, "I just accessed 30 minutes ago," Patrick said, "It 's funny."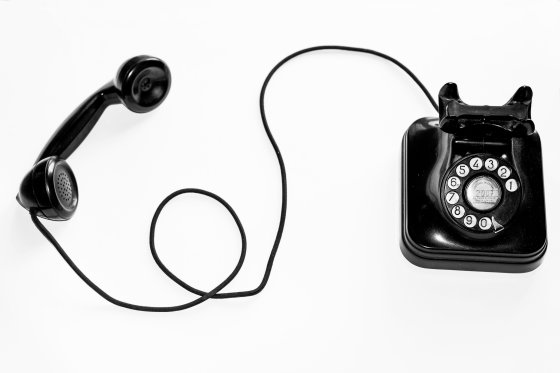 by
Quino Al
Conti explained that he was investigating the "scam" incident that occurred on Airbnb, and told me that he wanted me to give me an email address because he sent a link, but Patrick never told me an email address, I did not break down the attitude of "writing with notes". And at the end, Mr. Conti said, "Actually, such an incident happened to me," Patrick said, "I was convinced" after a few seconds of silence.
According to Patrick, Abbot Pacific has several properties, but Patrick himself knows little about Airbnb properties. "I'll call you to understand why the problem happened," Patrick hangs up.
Conti then sent a message to Chris & Becky's couple's account, 'I'm writing an article now, can you ask Goel to call me?' After 4 hours, Conti's is 'Hello, Ali. You'll also send an email surely wrong. Room reservations do I need?' I received a reply of. Six hours later, the price of Chris & Becky's rented room was changed to a price that would not be able to be rented by a traveler, 10,000 dollars per night (about 1.08 million yen).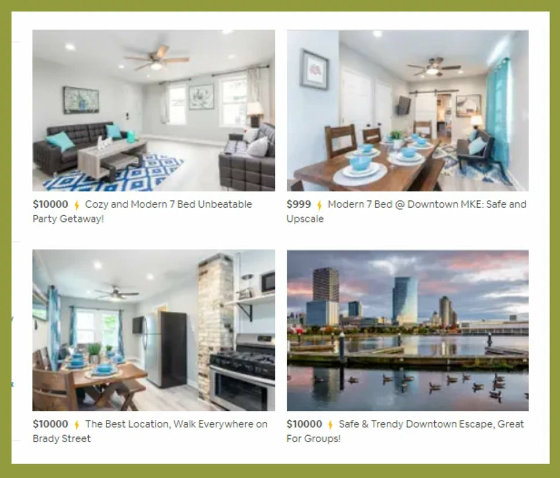 Conti, who felt there was enough evidence to send his claim to Airbnb, sent a long email to Airbnb's public relations.

After 24 hours, Airbnb said, "Such scams using the substitution of one room for another is a violation of our community standards. We have removed these rooms and are conducting further investigations. I sent an email. In the sent email, Mr. Conti asked about the process of finding fraud, how to confirm that the person renting the room is genuine, etc. Was not answered.

Even if Airbnb deletes these fraudulent accounts, Mr. Conti has pointed out that the root of the problem has not yet been resolved, the possibility that the same person may be fraudulent in another account.