An Indian school introduces a measure to prevent cheating by putting a cardboard on its head


In China, cheating technology has evolved, and many people are cheating with the latest equipment , but in India it has become a hot topic as a way to prevent cheating by the method of " covering cardboard boxes " during testing.

Haveri college issues apology-the Hindu
https://www.thehindu.com/news/national/karnataka/haveri-college-issues-apology/article29746259.ece

Karnataka college's 'out-of-the-box' method to check copying-The Hindu
https://www.thehindu.com/news/national/karnataka/karnataka-college-boxed-in-over-copying/article29742161.ece

Karnataka college makes students wear cartons during exam to prevent cheating | Education News, The Indian Express
https://indianexpress.com/article/education/karnataka-college-asks-students-to-wear-cardboard-boxes-to-check-copying-6077373/

On Wednesday, October 16, 2019, the principal of the school `` Bhagat Pre-University College '' in the place of Haveli, India, instructed students to wear cardboard boxes on their heads to prevent cheating Did. According to TNIE Karnataka , the state agency under the Ministry of Education has already sent a warning to the university.

#Karnataka
At a private college in Haveri, college management made students to wear corrugated box to stop them from copying during exams.DDPI has issued notice to the college @NewIndianXpress @Amitsen_TNIE @nimmasuresh pic.twitter.com/uSC9EQ0nCw

— TNIE Karnataka (@XpressBengaluru) October 18, 2019


This is the photo under test.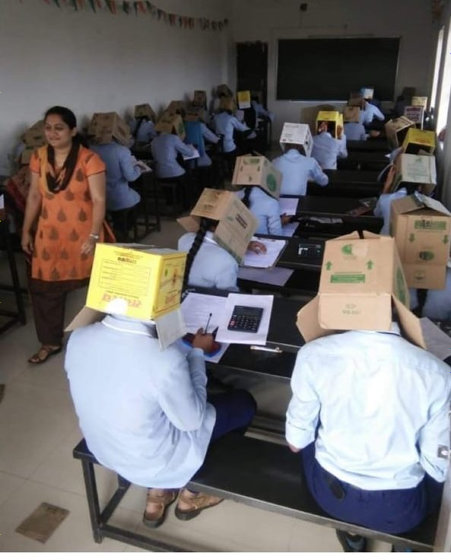 The students are all wearing cardboard boxes on their heads, and it looks strange.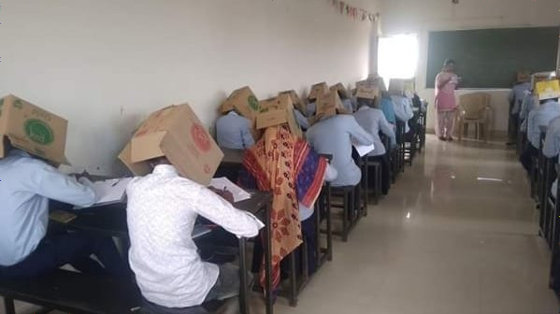 There is a hole in the front, and you can see the test paper, but you can't see the answer of the person next to you.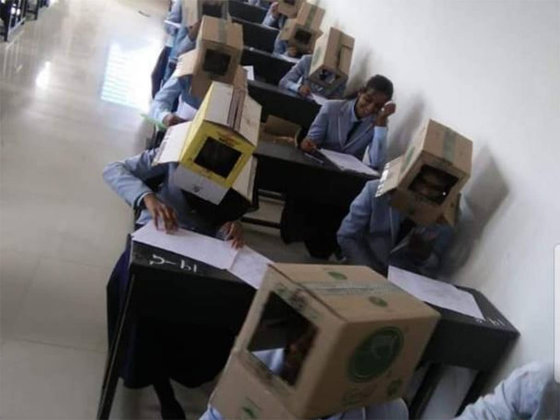 This attempt was an "experiment" to prevent cheating, but SC Peerzade, the head of pre-university education, caught the eye and was told to stop immediately. Peerzade said, "When I went to school, many students wore cardboard in their heads. When I asked the headmaster for an explanation, they were surprised to me," This was something I saw at another school. 'I'm doing it experimentally,' he said. '

The university management has submitted an apology for this matter. The students also agreed to wear cardboard boxes, and the school told the BBC Hindi , "There was no compulsion. The photos show that some students are not wearing cardboard boxes." It is.

In addition, India's Suresh Kumar, Minister of Education for this single item is 'I can not be observed in the absolute. No one has the right to deal with students like animals' strongly criticized beneath.

in Note, Posted by logq_fa