Wendy's original free TRPG 'Feast Of Legends' released, too visual and settings too elaborate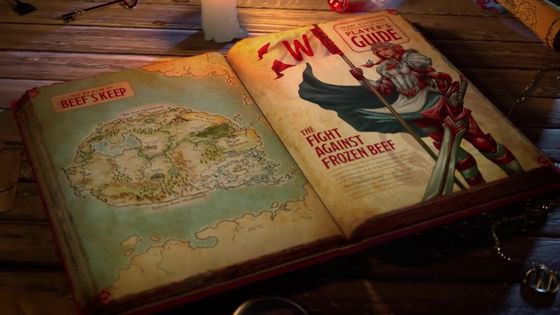 Wendy, a burger-centered fast food chain, suddenly unveiled a TRPG named " Feast of Legends ". Titles reminiscent of League of Legends , spectacular illustrations of fighting monsters and characters like Western games, and an official rule book of about 100 pages, and too serious content are attracting attention.

The Fight Against Frozen Beef | Feast Of Legends Wendy's Role-Playing Game
https://www.feastoflegends.com/

Wendy has been tweeting with the official visuals before the release of 'Feast Of Legends', saying that the kingdom is seeking a hero, which is quite motivated.

The Realm needs heroes. 10.3.19 pic.twitter.com/nNdxtzdkc7

— Wendy's (@Wendys) September 30, 2019


Along with the announcement of "Feast of Legends", an announcement movie was also released. Beautiful illustrations and built-in rulebooks are too daring for the main business and convey the fullness of Wendy's.

Feast of Legends: A Tabletop RPG presented by Wendy's-YouTube


The rule book is available for free, so anyone can play "Feast of Legends". The official rule book has 97 pages including the cover and the back cover, so you can see that it is made quite seriously as a game as well as visual. The cover is designed to resemble the Dungeons & Dragons red box .

(PDF file) Feast_Of_Legends.pdf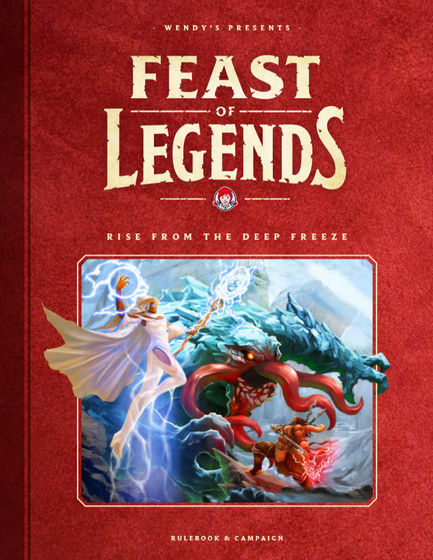 `` Feast of Legends '' will fight `` Frozen Beef (frozen beef) '' as a friend of Freshtovia kingdom and its queen Wendy who is the only hope light of the land of `` Beef's Keep '' story. The red-haired woman in the illustration below is Queen Wendy of the Kingdom of Freshtovia, and of course the model is Wendy's logo girl Wendy . According to the rulebook, Queen Wendy has ruled the freshtovia kingdom since 1969 and has been fighting against frozen beef since 1969 when the first Wendy store opened. pattern.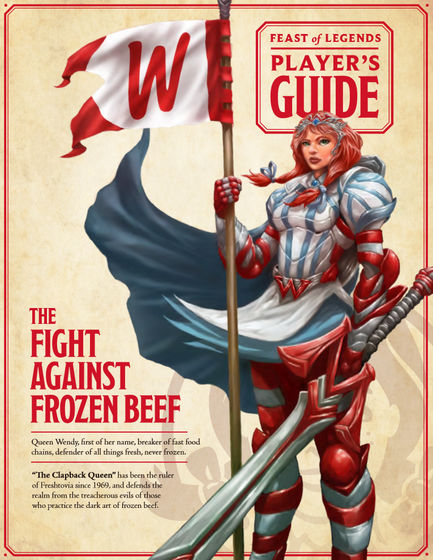 The main character fights against Creepingvale and United Clown Nations, the evil army that spreads frozen beef as an adventurer of the Freshtovia kingdom. In 'Feast of Legends', one person will act as the game master who will be the facilitator of the game, and the other players will proceed as if they were characters created by each other.

The whole map of Beef's Keep is as follows. The Freshtovia kingdom to which the player belongs is located at the right end of Beef's Keep, and the area covered with ice that says "THE DEEP FREEZE" in the lower right is an area where evil forces such as the Clown Republic are infested.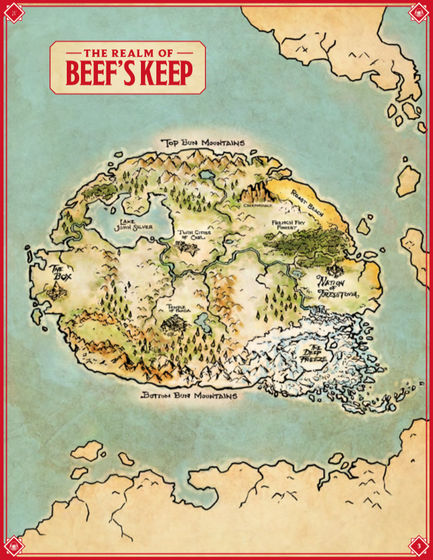 Players create their own characters at the beginning of the game. There are five statuses: "Power", "Intelligence", "Magic Power", "Mystery", and "Elegance", and each figure is determined by rolling four 4-sided dice.

There are also special rules in the game, and there are buffs and debuffs related to food like the TRPG devised by the fast food chain. Buffs and debuffs are always valid when playing. The contents are 'buff if you eat Wendy's menu' and 'debuff if you eat a menu other than Wendy's'. For example, if you eat a Wendy's cheeseburger menu, the status of "Power" will be "+1" when you roll, and if you eat a pizza at another store, the status of "Magic" will be "-2" when you roll.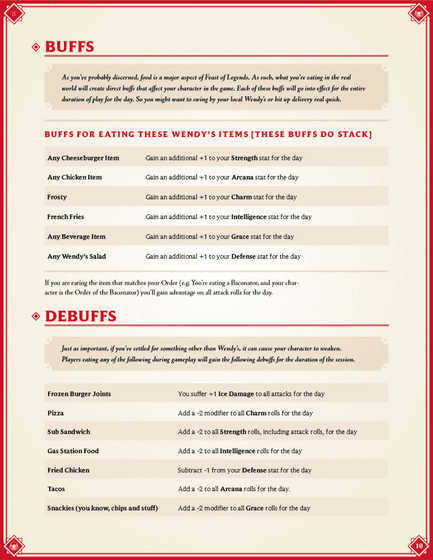 Like buffs and debuffs, characters are eaten at the time of play, and the character's profession varies depending on 'what to order?' There are three types of occupations from the left: "Chicken", "Beef", and "Side Menu", each with different base defenses, additional HP, bonuses, and usable skills. In addition, for example, even in the occupation "Chicken", "Spicy Chicken Sand" and "Grill Chicken Sand" have different status and skills, so players can enjoy "job" and "food" at the same time.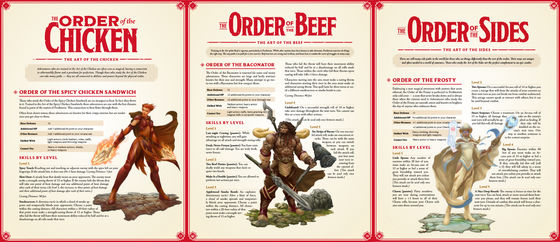 The occupation 'beef' seems to be a power type character with musculoskeletal as follows.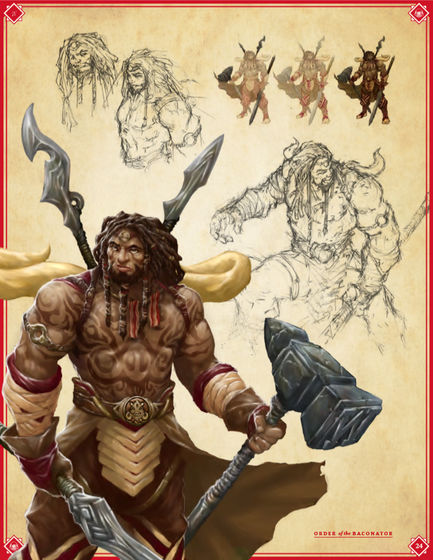 Map of Freshtovia kingdom. In the east of the castle, "3" is the Wendy's Restaurant.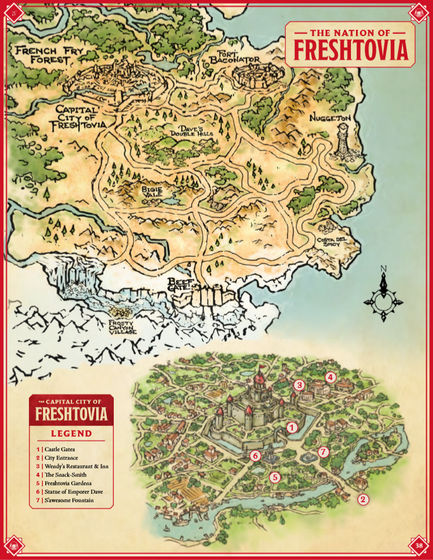 Not only maps but also information on enemy characters. The following monsters appear to appear as boss characters: "Ice Jester" (Ice Jester). The status is also written.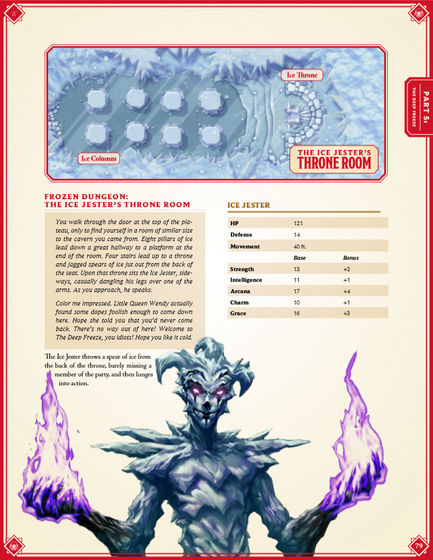 In addition to the ice clown, there are many enemies other than boss characters such as beef bandets, each with its own status and skills.



Some monsters also have multiple setting illustrations.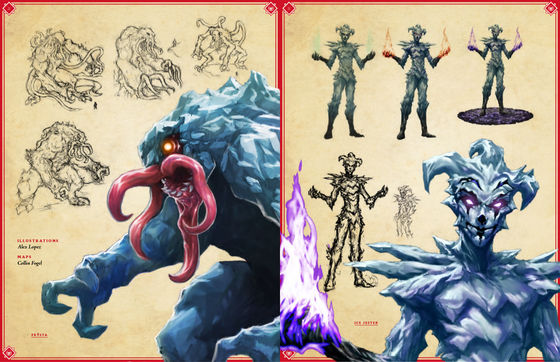 The official hashtag " #FeastOfLegends " is a tweet about buying a hamburger at Wendy's and playing Feast Of Legends ...

Marketing works, folks. # Feastoflegends @Wendys pic.twitter.com/RJjDdKtnN6

— Mark Meredith, Viscount of Fallen Leaves (@MarkMeredith) October 3, 2019


Some users post photos from Wendy's.

Can't wait to start our first session! @Wendys #FeastOfLegends pic.twitter.com/zetHarzAHg

— Andrew Carter (@Vidilefe) October 7, 2019


Furthermore, even fan art has appeared.

I've been inspired by #wendys to make a character based on their tabletop.I've never had wendys but the order of frosty looks pretty good #FeastOfLegends pic.twitter.com/QAiGNbyZcZ

— Alex W (@blinkingkills) October 3, 2019