'Kansai Committee 56' Participating Circle Summary of Works to Watch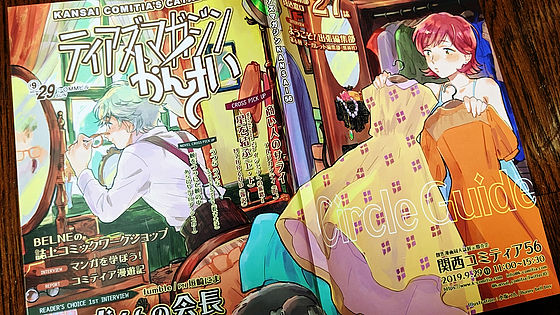 Creative Manga Doujinshi exhibition and sale event "Kansai Committee 56", created by the creator and reader of the Manga Doujinshi together, will be held on Sunday, September 29, 2019, 11: 00-15: 30, OMM ( It will be held on the 2nd floor of the Osaka Merchandise Mart Building.

This time, the 700 space plan has been increased to the limit with 1040 space participation, yet about 130 circles are still defeated, and it is clear that the Kansai Committee first participation circle has increased more than ever.


⚡️ ' # Kansai Committee 56 Information' # Important news related to Kansai Committee 56 will be updated daily and compiled as needed. Please share it. https://t.co/jAKeYgMXPY

— Kansai Committee (@kansai_comitia) September 18, 2019


That's why I tried to pick up the works that need attention and summarize them.


Shoes and handspic.twitter.com/bf5uoB3XU6

— Masuoka @ Seki Komi 56 [9/29] Q-33 (@ libs920) September 17, 2019
#This is the article of Kansai Committee 56 .
Since it was created by novelty sliding, it may be in time. pic.twitter.com/FHosNfNMTU

— Masuoka @ Seki Komi 56 [9/29] Q-33 (@ libs920) September 26, 2019
The real condition! Big Tits Menhera Glasses Older Sister ~ Doujin Manga Road Edition-pic.twitter.com/KvAT91YCdK

— Kenji Barefoot @ Seki Tia B34 (@sskp_megane) September 2, 2019
Announcement! I will participate in the Kansai committee on 29th! The new book is Big Tits Menhera Glasses Aunt ... Older Sister! I think that there will be a thin copy book of doujin manga. Semi-autobiographical? It has become a content. The published book will bring a little bit of 狐 and 狸. Thank you! # Kansai Committee 56 pic.twitter.com/nxGBxOes9W

— Kenji Barefoot @ Seki Tia B34 (@sskp_megane) September 26, 2019
☕︎ Darjeeling ☕︎ pic.twitter.com/ihm7NAJ0sG

— Spica ???? 9/29 Kansai Tier first participation [Q_50] ✨ (@ supica00) September 14, 2019
9/29 [ # Kansai Committee 56 Writing]
Is this the first time for the Kansai Committee ????

New work is a collection of tea illustrations ☕️ "Aromatic tea" ☕️
(First-come-first-served postcard gift)

⭐️ Space [Q-50 / Stardust Penguin] ⭐️

[New book illustration mail order reservation page]
↓ ↓ ↓ https://t.co/XE9UyqMWRM # Kansai committee # booth_pm pic.twitter.com/cvs2d1QZoN

— Spica ???? 9/29 Kansai Tier First Participation 【Q_50】 ✨ (@ supica00) September 23, 2019
New sample of Kansai Committee 56. | 〼 #pixiv https://t.co/SoLppoxAiR # Kansai Committee 56 pic.twitter.com/vA0OkqC2Cu

— 〼 @ 9/29 Seki Komi A-57 (@decobocomasu) September 25, 2019
Good evening!
I finished writing Kansai committee ✝️
Only the first event has an image. https://t.co/eenLu2nZiW

This time we will bring a lot of accessories including new resale!

For questions, please contact DM!
You can sign when you are calm ^^
We are waiting for you on the day ✝️ pic.twitter.com/vLECtW0KVF

— † Kurono Kyo † Seki Komi Q22 (@ RIP2_) September 21, 2019
New issue ???? pic.twitter.com/HB0ApSlKK2

— Yatsutsu Seki Komi M-53 (@amazu_) September 22, 2019
September 29 The new issue of Osaka OMM Building and Kansai Committee was also uploaded.
It 's a horror comedy book that 's completely different from the announcement. The space is "C-17". Bring it on. pic.twitter.com/cMozGm9Gxp

— Chanta @ Kansai Committee C-17 (@Chanta_in_inari) September 20, 2019
9/29 (Sun) #Kansai Committee 56 Business Consignment Corner commissions the new summer comic "Daily Life" and the published "Monogari no Ie" and others. Please drop in at the Tokyo Committee business trip consignment corner on that day. pic.twitter.com/1A0rmAt0PN

— Seiji Yoshida (@yoshida_seiji) September 24, 2019
I made two kinds of stickers I will bring them to Seki Komi ???? pic.twitter.com/jV9SiyhqbM

— Chinatsu 9/29 Kanko ミ Q28 (@mosopate) September 18, 2019
9/29 Kansai Committee 56 [Q28 RaccaTakka] OMM Building 2nd floor article and sample published. Bring new books and sets that came out in summer! The new one is a set of two kinds of stickers and two points of domists! pic.twitter.com/nGxMIyMO8H

— Chinatsu 9/29 Kanko Q28 (@mosopate) September 23, 2019
I made a rice cracker
September 29th It seems to be able to take to Kansai committee in Osakapic.twitter.com/t13iXu3pxS

— Hibino no Hibino (@its_hibino) September 27, 2019
This is a sample of the new Yuri book "Witch and Cat-Magical Trap" (20p / 200 yen / B5) from Kansai Committee 56. The cat is still loved by the witch. pic.twitter.com/CP80ToasiS

— Nagori 悠 @Seki Komi F-13 (@nagoriyuu) September 24, 2019
[Store Opening Information] #This is a product written by Kansai Committee 56 . I'll bring a new issue and new goods for August! It is a space just after entering the entrance.

Booth [No.Q-39]
Opening date [9/29 (Sun)]
Exhibition name [MASCOT] pic.twitter.com/J27optIiNR

— Somemachi ✏️ Kansai Committee Q-39 (@somemachi) September 26, 2019
Kansai Comitir 56 you Shinagaki Yasutatsu Ver. Pic.Twitter.Com/35I80h6KKk

— Yatsutsu Seki Komi M-53 (@amazu_) September 26, 2019
I will participate in the Kansai Committee on September 29th.
"Maritime lily" B5 / 34P / 500 yen / No age limit sample is skipping delicately. We will also post a longer one on pixiv later. When a woman is married, she talks about becoming a couple with a woman.
Thank you. (Space is F-06) # Kansai Committee 56 pic.twitter.com/48NBnMoVVy

— Yakiniku set meal @ Kansai Tier F-06 (@niku_teisyoku) September 24, 2019
New book cover! (I re-up I'm sorry.) # Sukubo pic.twitter.com/AOnYSWOU9z

— Kiriya @ Kansai Committee 9/29 (Sun) G-46 (@ 30kiriya09) September 24, 2019
[New Publication Information]
New publication information scheduled to be distributed at Kansai Committee 56 / Boys Parade 2 has been released!
Thank you on the day. Https://T.Co/7mDdnsWbos # Sukubo # Kansai Comitir 56 # Boipare pic.twitter.com/TptWnJK06L

— Gymno @ Kansai Committee 9/29 (Sun) G-46 (@kiriya_gymno) September 26, 2019
West Tia
There is a joint book commissioned in a candy shop https://t.co/fO2vaDAx8h
Please talk about anything that is not on the table ~
Please feel free to put the cloth together on the tree!
I have a cute thing so come visit # Kansai committee 56 # Kansai committee pic.twitter.com/VVKvov8u9B

— Hanaya ???? Kansai Committee L-52 (@hanayaoat) September 23, 2019
I would like to participate with machi-san ( @nf_machi ), which is an article written by Kansai Committee 56, thank you! pic.twitter.com/PMv9sKTWns

— Omarumaru @ Seki Tia K65 (@oma_ru_maru) September 22, 2019
This is an article written by Kansai Committee 56 on 9/29. We will participate in Space M-21 "Pinkina".
The new book is 'Pattern C', which summarizes pictures of insect and plant clothes.
Food Chain Blood Midori Amami Yuri Manga 'Yamayuri no Witch' trial reading → https://t.co/UHmWoHcceT
There are also new Pins-thank you. pic.twitter.com/pLByY5eAqo

— Nishitsuka em ???? Kansai Committee M–21 (@doxxxem) September 26, 2019
This is the 29th Kansai committee article! Volume 3 of the full moon coffee shop will be the first sale in Kansai. ️ Please come if you like ✨ ???? # Kansai committee 56 pic.twitter.com/uyifeviLzZ

— Chihiro Sakurada ???? Kansai Tier C35 (@ChihiroSAKURADA) September 26, 2019
We will appear at Kansai Committee 56 on September 29! I'll put out a creative lily book! It is a lily cartoon that falls in love with a female moth cared for by researchers who are studying moths. The space is M47. Click here for more samples → https://t.co/3kIQRJ6cyh pic.twitter.com/H6eJ6dtvPD

— Anago @ Seki Komi M47 (@ yuzukan02) September 4, 2019
Perattopic.twitter.com/gZcNorOTAv

— Naso ???? Seki Komi I-35 (@ nasso0810) September 25, 2019
These are the original drawings that will be brought to the Kansai committee! ✌️
I used copic colored paper for the first time this time, but it was the best so it's time to dima ???? #Copic pic.twitter.com/dLKmnMHN3Y

— Naso ???? Seki Komi I-35 (@ nasso0810) September 23, 2019
9/29 #Kansai committee 56 held at Osaka OMM Building.
The new book is the 2nd volume of the original manga "Kuroro Sanyoin". Others are already published, goods, mini originals and drawings. If it's in time, the new publication may have an extra origami ...
Space is L-41. The already published poster is a landmark. Thank you very much ???? ‍♂️ # Kansai committee pic.twitter.com/OzMyI7ORrU

— Paper L-41 Kansai Committee 56 (@coyori_motoyui) September 23, 2019
This weekend is Sunday

'Kansai Committee 56'
September 29 (Sun)
OMM Building Circle borrows "Shousakuin Island" from Koji Ohara!
Space No.A-24

Comic book, A5, 52 pages
500 yen!

I'm worried about the weather (^^;) pic.twitter.com/Dt0aFpK183

— Rei Yumeno (@yumenoley) September 24, 2019
9/29 Kansai committee article! I hope you can come and see me if you like ????
There are no plans to resell illustration books in the future.
A flyer of `` Suzuran Street Clothes Store '' will be distributed, so please take it home freely ???? pic.twitter.com/yzy7HlUpl6

— Fouatons / October book release / Seki Komi N-22 (@ surume050505) September 26, 2019
New work
I made a can mirror!
Take it to the Kansai committee.
I tried to make it easy to use everyday ☺️
Although it is hard to understand in the photo, it has a slightly moist texture because it has been matted.
There are two types of black and beige ???? pic.twitter.com/CYMxDHtbSP

— Fouatons / October book release / Seki Komi N-22 (@ surume050505) September 27, 2019
September 29 Kansai Committee Halloween mode early one month (lol)
BLCD and picture book ・ Manga book published in May is the main, but I will bring the main volume already published, so thank you for WINGS Massive bleeding men's book is also the first landing in Kansai ★ # Kansai committee 56

I've put the index ♡ (´ρ`)
※ 10/6 Akiba also has the same writing pic.twitter.com/bnPrKiZd0E

— Sakura Akane ???? 9/29 Kansai Tier H-03 (@wings_web) September 20, 2019
# Kansai committee 56 , space is out! The fictional world building organization is [J-18]!
#Millorian solo and creative all set / main book assorted book will come out! Yoshinani ♀️ ???? Pic.Twitter.Com/La8TSV6RF6

— Shiranu Yozuki ???? Kansai Tier J-18 (@izayoi_tuki) August 27, 2019
A new book has been submitted ………! ! ! pic.twitter.com/wkDLaeGeSW

— Karin 9/29 Seki Komi Q-19 (@ 11karin23) September 18, 2019
9/29 (Sun) Seki Komi 56 writing!
Venue: OMM Building 2nd floor

We are waiting for you at [Q-19]!
Will be withdrawn around 13-14 o'clock to go to Koshien

On the day you would appreciate your favor ♀️ ???? # Kansai Comitir 56 Pic.Twitter.Com/JlrZkDWqiQ

— Karin 9/29 Seki Komi Q-19 (@ 11karin23) September 22, 2019
Yesterday, I received a comic book, so I'll stick it like this.
Wye feces shooting technology.
Saddle stitch as the first piece.
The content is full color.
The size is B5, the same as the American comic book, and the thickness is thicker than the original, so it looks like a pamphlet. #I am going to distribute at Kansai Committee 56 . pic.twitter.com/v5SNStE0Bu

— Harasho @ 9 / 29Kansai Committee 56 (A-38) (@hara_afterhero) August 18, 2019
Good morning. #I made an article of Kansai Committee 56 .
The extra batch is really a toy level. pic.twitter.com/VkNm9FSRB4

— Harasho @ 9 / 29Kansai Committee 56 (A-38) (@hara_afterhero) September 23, 2019
#Kansai Committee 56
Kansai committee 9/29 will participate!
business Makikishi [E-22]
Come out with the town!

I'll bring you one night family! 50P / 800 yen!
I'll put a cartoon sample!
If you are interested ~ 是非pic.twitter.com/bVtC3LmlDq

— Kyoko @ West Tier E-22 (@cook_kure) September 5, 2019
#Kansai Committee 56
I drew an article! pic.twitter.com/CMpLSYFCZB

— Kyoko @ West Tier E-22 (@cook_kure) September 16, 2019
◇ Notice ◇ 9/29 Kansai Committee / Iroha Retro. [O-30] It looks like this. Thank you on the day ◎ # Illustration # Kansai Committee 56 pic.twitter.com/hA4vUKpEgP

— Yonekome ◇ Kansai Committee (@sakoyonekome) September 26, 2019
I will participate in the 9/29 Kansai committee this weekend. The second part of Goyaji Natsuko seems to be able to take, but the illustration collection of the notice came up with a narrative style, so this time again! We are waiting for you at Space A-24 Sanyoinjima with one new work by Ohara and a new comic by Rei Yumeno! pic.twitter.com/2f55St4pb4

— Junji Ohara 9/29 Kansai Committee A-24 (@ w0hara) September 24, 2019
#Kansai Committee B-46
Drawing and drawing by Ayaya Shiori ( @Akorium )
Best regardspic.twitter.com/ZfvDYojaFA

— Nata de Coco @ B46Kansai Committee (@natadecocodesu) September 7, 2019
9/29 I will participate in the Kansai committee!

Kansai's first appearance is two new books of the childhood friend men's and women's romantic comedy series 'The Lie that Continues with My Neighboring Stories'-please put it in the sample lip column! # Kansai Committee 56 pic.twitter.com/i70nnefdBW

— Amupaka ???? Kansai Committee A60 (@amupaka) September 21, 2019
???????? Promotional ???????? This year's white coat book! ! Finally, it will be the fifth volume, but this time the theme is [white coat x plant]! ! ! It is a wonderful book that is very delicious for me with its unique personalities! 9/29 Kansai Tier, N-39 We are waiting for you. Come on if you like! ! ! # White coat imahineya # Kansai committee 56 pic.twitter.com/oDxkx6qZXs

— Yukuto ???? Kansai Tier N39 ✴︎ The tip of the cane ???? (@imaduneya) September 25, 2019
♡ New issue of Kansai committee ♡
The new issue is what you want to draw for each piece of paper in a transparent bag.
I talked about stories about cafes and clothes in Kyoto, stories about mysterious memories, stories about the Hokkaido product exhibition, things I bought recently and things I failed, and so on! Because there are many double-sided printing, it became a pretty volume ♪ pic.twitter.com/36tfDs3Kqh

— Teramaki @ 9 / 29Seki Komi H42 (@ maaki888maaki) September 24, 2019
[9/29 (Sunday) Kansai Committee]
We have a collection of art collections and goods such as mafia palo and animalization based on the original Japanese style creation! ✨
If you like handsome boys and cute things, please drop in by all means (* ^-^ *) ♥ ✨ # Kansai Committee 56 # Kansai Committee # Goods Writing # Mahorotsuki Hayaba pic.twitter.com/ 1kRJJqh6NN

— Shingo Uzuki @ Kansai Committee Q47✨ (@Hiduki_Shin) September 25, 2019
9/29 (Sun) Osaka OMM ' # Kansai Committee 56 ' Space [M-30] New publication ... Still thinking about page structure ... It's surprisingly busy ... Robo and SF? Chocho (゚ ω ゚) Anyway Osaka ???? pic.twitter.com/9y2Mh8nP8d

— Yasushi suzuki (@ElegantSuzuki) September 13, 2019
"Mitsunaya" will participate in Kansai Committee 56.
Space: I-59
Date: Sunday, September 29, 2019, 11: 00-15: 30
Opening: OMM Building 2nd floor ABC Hall is a permanent memory main character material + past illustration book # article writing # Kansai committee 56 pic.twitter.com/jkBgKrCUjt

— Mitsunadate ???? 9/29 Kansai Committee 56 [I-59] (@mitsunadaten) September 17, 2019
❤Kansai Committee 56❤
I'll make "Gorimuchu" ♡ I will make an article later ♡ It is a sample ♡ pic.twitter.com/xxippRyK49

— Masatsuka❤️Yomochi❤️f8 (@masa_tsuka_) September 21, 2019
I will participate in the Kansai Committee on Sunday, September 29th.
[M-32] This is a joint circle with Happareto Kotorisa ( @cotolier_risa_i ).
We plan to distribute joint / individual illustration books and bookmark sets.
The work exhibited with 100 loves will also be displayed in the space.
Thank you…! pic.twitter.com/BHSzqUIZbz

— Bibipo // Kansai Committee M-32 (@bibito_po) September 25, 2019
This is Seki Komi foreword on Sunday, September 29th. The food & animal illustration book will be released as the main item following the last time ???? Please come by all means ~ # Kansai Comitir 56 # Kansai Comitir pic.twitter.com/7CdC7u6iF2

— Yasin / 9.29 Kansai Committee L-50 (@Y_ashi_n) September 23, 2019
Space [C-52] Seventy-four
This is an article of Kansai Committee 56 held on Sunday, September 29th!
We are waiting for you to prepare a character setting document collection, postcards, and acckey! Please drop in! Thank you! ! # Kansai Committee 56 pic.twitter.com/DTu4lHGGpz

— Pear 9/29 Seki Komi C-52 (@u_ddzd) September 26, 2019
# Kansai Committee 56 Q & 44

The new comic book
# Episode 2 of the Miracle Miracle !

In addition to published books,
The first POSCA event,
Sales of ATC originals,
A solo exhibition DM will be distributed!

Also, I will entrust Mame's Hanafuda ???? https://t.co/9xYvwmCUB2 pic.twitter.com/eQRjhD5FdW

— 沁 @ 9/29 Kansai Committee Q44 (@shamidare) September 24, 2019
[Notification] 9/29 held # Kansai Committee 56 [Tefuya Shokudo] Placement D11

Simple semi-dried tomatoes made in the oven.

Although it is small, the umami is concentrated so that it can be topped up just by topping it.
It is easy to use and recommended.
It is Kansai first sale. # Kansai committee pic.twitter.com/IdKUjTN3HS

— Tefuya Shokudo @ 9/29 Kansai Committee D11 (@tehutan) September 24, 2019
This is a continuation of "The Witch and the Demon Story" which is an 8-page copy magazine for the Kansai committee. I'm working hard, but I don't know how far I can do ... At this pace, I'm planning to make a draft copy. Space No. is F-35 # Kansai committee 56pic.twitter.com/bOVR0sa2Yj

— Osamu Oshima (@kijincalo) September 26, 2019
Excuse me for raising it again (Thank you for pointing it out ????)
9/29 Osaka Tenmanbashi OMM Building Kansai Committee 56 is waiting for you at [N-54] ~
Thank you for your new book 'God's Holiday' & 'Landscape with You'! # Kansai Committee 56 # Writing pic.twitter.com/ucQcaNWIQO

— AYO Travel @ 9/29 Kansai Committee [N-54] (@ AYO85710327) September 19, 2019
[Advertisement] I will participate in Kansai Committee 56.
We will distribute the 44th edition of the new book "I can't be gentle" for 400 yen per book. The content will consist of two parts: main comic 32p and extra 10p.
Other publications will also be distributed for 200-300 yen.
Space 'A-10', thank you! # Kansai Committee # Kansai Committee 56pic.twitter.com/2IZ2aU9VIp

— Kirisao Kansai Coal A-10 (@kirisao) September 22, 2019
We have a space for the Kansai committee on weekends. A16 " Depressed " My neighbor is Reiko- san ( @nadecco ) of " Shirarain Hakushu"!
The new book is a summary book of "The Legacy of Licorice Leaks". pic.twitter.com/pfFjjGja2d

— Nobara (@utsu_noba) September 24, 2019
9/29 (Sun), Osaka OMM Building Kansai Committee 56 article! (Made by a friend)
Various illustration books, etc. are put in the joint circle 'Trom Chu!' (Space m-15) with Omochoron! ! Thank you????
(Remaining items will be sold at BOOTH)
#Kansai Committee
# Kansai Committee 56 pic.twitter.com/LOFsjft1hy

— Inuhan wa ni 兎 ??? Kansai committee M-15 (@ H_hanito4) September 25, 2019
Is it an article of Kansai Committee 56 held on Sunday, September 29 ????
[M-41]
I'll be waiting for you at 'Coffee Bowl' ~ ☕

Click here for mail order of books ???? ⇩ https://t.co/molFGrOBFR

Thank you on that day! pic.twitter.com/DBKPYzXUgB

— ☕️☕️Kansai Coat 56 [M-41] (@ 4ori_41) September 27, 2019
This is an article of Kansai Committee 56!
Bring a collection of dark fantasy creation settings, domino straps, and postcards!
If you don't have time, don't worry, you might have a poster if you have the energy. [Mushroom Cultivation Kit P-30] I'll be waiting for you. # Kansai Committee # Kansai Committee 56pic.twitter.com/ZTJV9R46F4

— Enoki @ 9 / 29Seki Komi P-30 (@enokinobayasi) September 22, 2019
New publication YO! pic.twitter.com/82zypSeg7C

— Yuki Yuuki 9/29 Seki Komi Q-06 (@nidoduke_) September 26, 2019
[Notice] This is an article written by Kansai committee in Osaka this weekend! This is the first time that you have participated in a Kansai spot sale event, so thank you! # Kansai Committee # Kansai Committee 56pic.twitter.com/ExU4xjUONf

— Minato Kitouya @ 9 / 29Kansai Committee D-12 (@yuzu_touya) September 23, 2019
#New issue "Solitude" will be published at Kansai Committee 56 . A collection of sketches of girls who spend their time alone. 210mm × 210mm, 16 pages of all colors, 12 new works included. The mark on the cover is foil stamping.
It will also be sold at group exhibition venues scheduled for participation from October. pic.twitter.com/e7C4hieL8n

— Kansai Committee Q-10 (@ izmi69) September 27, 2019
Kansai Committee is coming soon! ! pic.twitter.com/GwD5NLKtFY

— Tobe Jiro [Kansai Committee Q-11] (@ tobeG6) September 18, 2019
I received the illustrations! pic.twitter.com/UKQ24yBSMI

— Tobe Jiro [Kansai Committee Q-11] (@ tobeG6) September 25, 2019
[Trial reading comics] 2/1
The story of a girl who got lost in a strange cafe that understands fate ???? # Kansai committee # Kansai committee 56pic.twitter.com/e0dXvgBEUJ

— Mizuho Kirihata (Eating Spill) @ Kansai Committee 56: L-15 (@ uzunyan620) September 24, 2019
[Kansai Committee 56]
9/29 (Sun) L-20

Distribute fantasy creative illustrations.
Centered on landscape illustrations, including girls, weapons and tools.
There is also a sample magazine so please take a look!

Alice Books consignment
https://t.co/u3UgHLowT1
BOOTH
https://t.co/kJsHdBpzXm # Writing # Kansai Committee 56 pic.twitter.com/zH6eczqYm0

— Yayoi Garuta @ 9/29 Kansai Committee L-20 (@A_taisa) September 20, 2019
#Kansai Committee 56
9/29 (Sun) This is a product written by Kansai Committee 56.
We plan to distribute new publications of fantasy novels, illustration books and goods.
There are also Kansai's first-selling books and goods, so please come and visit! pic.twitter.com/1L53QfD3KB

— Riyu @ Kansai Committee 56 【J-51】 (@riyu_) September 21, 2019
[9/29 Kansai Committee 56 writing]
I'll bring the latest issue of Seki Tia's first pants-cord older sister illustration book. This time, there will also be a venue-only Posca. I'm waiting for those who like my sister. # Kansai Committee 56 pic.twitter.com/qvMdAYKrSc

— Shintaro @ 9/29 Kansai Committee M33 (@mono_stellar) September 26, 2019
9/29 (Sun) OMM Building Kansai Committee [M-15] Hani-chan's joint circle Trom Chu!品
"Belt accessories x uniforms x junior high school students" is the theme of illustration books and my personal first life comics, so please come and have fun!
(Error correction version)
#Kansai Committee 56
# Kansai committee pic.twitter.com/Mw3O82E1dN

— Omochoron @ Seki Tia 56 ・ M-15 (@omocyoron) September 25, 2019
September 29 (Sun) OMM Building Kansai Committee 56
A joint illustration book with the theme of uniforms.
We are waiting for you at [O-31] Thank you. # Kansai Committee 56 pic.twitter.com/ZZ2JdiSwyI

— Mirin (@MiririQ) September 26, 2019
We have compiled 3 readings that were published in commercial magazines!
I am waiting for G-04. Thank you. # Kansai Comitir 56 # Kansai Comitir pic.twitter.com/tDtubbosfJ

— Sinononn Kansai Komi G-04 (@ sinoda5) September 22, 2019
At the Kansai Committee on September 29th! Thank you in advance! pic.twitter.com/OXjXqMDFLL

— Ichinoe Kansai Committee Q-11 (@I_chinoe) September 25, 2019
#This is a product written by the Kansai committee . Two new publications will appear ???????? # Kansai Committee 56 # Pencil Drawing # Pencil pic.twitter.com/XlxarnhyZ1

— Yota Tsushiro @ Kansai Committee K30 (@yota_tsukino) September 24, 2019
9/29 # Kansai Committee 56 This is a sample and sample.
We are waiting for you at [M-11]!

I am nervous at the first participation, but thank you for the day! ! # Kansai committee pic.twitter.com/YU0BMlHEnL

— Gravel Saya (K) @ Seki Komi 56 [M-11] (@ sari0_0namekuji) September 25, 2019
I will borrow a little from Kaori Oku's space at # Kansai Committee 56 on 9/29.
H-53! Come on!
# Kansai committee pic.twitter.com/o4UK3Bjbk5

— Nanae Mayu ???? Borrowed between H-53 Seki Komi (@nanao_mayu) September 25, 2019
The new book will bring a copy of A5 16p 100 yen.
I'll be waiting for you at Space A43 so please ~ ???? # Kansai Committee 56 pic.twitter.com/HaizrqvraE

— Asahi Kaoru @ Seki Komi A43 (@asahiyuu__) September 27, 2019
I was able to write! We are waiting for you at # Kansai Committee 56 Okarodo B-63. # We have a variety of new books , original pictures, and Posuka.
As we are going out (shopping) early by example, please come back leisurely after about 30 minutes (^ ▽ ^) / Tweet when you return Yoshinana ~ pic.twitter.com/a6nDEWcx4r

— Nene @ Kansai Tier B-63 (@nene_reader) September 23, 2019
This is an article written by Kansai Committee 56. There are also plans to sell illustration books on the theme of folk costumes and new Posca. Thank you!
Date: 9/29 (Sunday)
???? Space M-27 # Kansai Committee # Kansai Committee 56 pic.twitter.com/8Om6OdI9Xm

— Kototani ???? Seki Komi M-27 (@tkvst) September 21, 2019
On September 29th, this is an article written by Kansai Committee 56.
We are waiting for you at O-39. Thank you in advance ~
# Kansai Committee 56 # Writing pic.twitter.com/kUI6N8pwmL

— Susumi @ Seki Komi O39 (@ suzumi_390) September 23, 2019
Seki Komi 56 9/29, a paper with two boys cramming in Kansai and a book of money and friendship and siblings
'Heisei Heppi hips & unevenness' A57 space!
Thank you! pic.twitter.com/JurzhUGpIX

— Hatriayako (@hatoriayako) September 27, 2019
9/29 New publication will be announced at Kansai Committee 56!

'I live with a succulent woman'
A5 / 30P / 500 yen

A sequel to the succulent book. New characters will not come out, but the eggs will be messed up. Half of the manga and half of the color 10P also serves as a savory gravure photo book of my home!
If there are no deficiencies, it will come out! Best regardspic.twitter.com/AS8ytloJfo

— Draft, Missoyama in the manuscript ???? 9/29 Kanko E-20 ???? ✒ (@ho_echinocactus) September 18, 2019
'Nightmare and Caffeine'
We will also bring in a 4-frame cartoon for a coffee shop separate from the Japanese mythology creation.
A story about opening the last coffee shop on earth.
Currently up to 3 volumes. # Kansai Committee # Kansai Committee 56 C-50 # Nagoya Committee # Nagoya Committee 55 H-28pic.twitter.com/qvHGZifjdI

— Uta @ Kansai Committee C-50 / Nagoya Committee H-28 (@motiiiiiiiii) September 22, 2019
9/29 (Sun) Kansai Committee 56 @ OMM Building / B-26 [DOG'S LIFE.] Will participate ★ The new issue will be a complete version of the previous copy of the "Nothing Queen" copy! # Kansai committee # Kansai committee 56 # Creative cartoon pic.twitter.com/ORzUXTYw3m

— Chitose Hidaka ???? Seki Tier B-26 (@dogs_chitose) September 19, 2019
品 Writing item ☘
We will participate in "Kansai Committee 56" held at OMM Building on Sunday, September 29th.
Although it is mainly a horror game, it also has an original illustration book!
Now is the time when summer has come to an end and I feel autumn.
Please feel free to come to the space [P-55] ♪
# Product Writing # Kansai Committee 56pic.twitter.com/4KgcgfF7Uf

— Outer Palace ???? Kansai Tier P-55 (@Guygoo_Manga) September 19, 2019
I was able to write the Kansai Committee 56!
Although it is not in the writing, I will bring the original picture and colored paper.
All items, including new publications, can be reserved, so please feel free to lip! pic.twitter.com/AFNLBRloiE

— Bamboo leaf cherry emperor ???? Seki Komi [I-42] (@ Hazakura0920) September 26, 2019
(Note a little bug)
New sample of Kansai Committee 56. Color illustration 2P + monochrome text 20P. One book is 500 yen. It's close to the collection of setting materials though it's well-known.
Collected 'poisonous poison' that turned into a boy. # Kansai Committee # Kansai Committee 56pic.twitter.com/tChO27IMUM

— Wosvolk. @ Kansai Tier Q-48 (@wosvolk) September 19, 2019
9/29 # Kansai Committee 56 at OMM Building. Previously published folk costume books and illustration collections, comics only in the middle. There are no new publications. The first sale is Akkey, the new one is a postcard (same design as a poster) and analog colored paper.
The space is "J-19" and the background poster is a landmark, thank you! pic.twitter.com/S4hhrWJxkX

— Toki | Kansai Tier J-19 (@tokmry_o) September 27, 2019
Sunday, September 29 Kansai Committee 56
[A-42 珈 琲 Bonbon]
New book 'End of Summer and Soap Bubbles' A5 / 16p One sister's story, a very short story. There is also a reprint of "My sister" released at the beginning of the year. It is a joint space with friends. Thank you! pic.twitter.com/ArbDWHzqbw

— Nishizaki Fukuno @ Kansai Tier A-42 (@bbboogiee) September 24, 2019
Manga for Kansai Committee 56 # Manga # Original # Creative comic # Creative # Kansai Committee # Kansai Committee 56 https://t.co/vSdoSni18i pic.twitter.com/1wTTsK6q2e

— Demon @ Kansai Tier C-29 (@oni_pipipipi) September 24, 2019
#Kansai Committee 56
It is a little sample and writing

How to make friends with the worst brother and little doll at the first encounter! ?
looking forward to! !

Thank you in advance ^^ pic.twitter.com/HqtFz0QTWw

— Kanko @ 9 / 29Kansai Komi 56 (J-01) (@ Kouji493) September 25, 2019
Next Week Kansai Committee 56
9/29 [Q18]

-New issue-Vietnam sketch ¥ 500
Font book ¥ 1500

-Already drawing ¥ 500
Comic 1000 ¥ # Kansai Comitir # Kansai Comitir 56 # Kansai COMITIA # Kansai COMITIA56 Pic.Twitter.Com/xFjlqoPgBk

— Acorn Eyes ???? Seki Komi Q18 (@DonguriManako) September 22, 2019
I will participate in Kansai Committee 56 on 9/29. Space is Night Train of [B-68].
It is a youth manga space, but please note that the new issue in September is prohibited on the show 18! Already published are dim folk-style comics of all ages.
I will bring a postcard set as a new one, so thank you ~ ~ ??? pic.twitter.com/O5IizIbLTy

— Aoi ♨️ Kanko B-68 (@_aoi_isaiah) September 22, 2019
Kansai Committee A-41
I will bring the monster ballad up and down, mail order will be done after the November committee.
The sample is from the following, thank you for the day # Seki Komi 56 https://t.co/wiyApuKJuW pic.twitter.com/34HuFJiIY2

— Seki Komi A41 (@ 1OOOOOkm) September 26, 2019
Rough book 3 comes out though! I don't know if there is a sample (the image is on my phone) or an article of writing because I'm not connected to the internet ... I don't know if this will work well or not this time ... Please ... Kansai Committee 58, F19 pic.twitter.com/x9GqLnjfCa

— Imotaro Seki Komi F19 (@imoimodarake) September 25, 2019
#Kansai Committee 56
New sample! ! A story about a girl who doesn't know 'I like'. A-22 [Piraf and Tiramisu] We are waiting for you ※ Mail order is undecided, but if you have hope I will think pic.twitter.com/JZA07pyMmj

— Toyohashi Sakane @ Kansai Komi A-22 (@toyo_saka) September 15, 2019
9/29 Kansai Committee 56
K-62
It is a joint magazine of Tsunayasu urban legend theme! pic.twitter.com/RLWql5ayaB

— Haramyo (@ asan0my) September 21, 2019
For the time being, something that could be put out.
Sorry if it was hard to see.
New or not made ... pic.twitter.com/hzmBWWx5HQ

— Spectacled Owl Kansai Committee J-31 (@ owl1996) September 25, 2019
The 29th is the Kansai committee! I will participate in Space M-48. The lineup will be the new "DRAW", 2 types already published, postcard size original, and 10 postcards. pic.twitter.com/S0ZroBErMm

— Nakamitsu [Kansai Committee M-48] (@nakamitsudasaku) September 27, 2019
[Notification]
Illustration books will be distributed at Kansai Committee 56 on September 29th. I filled a palm-sized night full of stars and lights.
We are waiting for you in circles "Plum and Reindeer" and "J-26".
Specifications: CD square size / 20p / 400 yen # Kansai committee 56 # Kansai committee pic.twitter.com/SPrcbZCprM

— Triangle @ Kansai Committee J-26 (@ murmur_54) September 22, 2019
I'm making printed materials for the Kansai committee, but I'll try to do all the work up to the surface with just the surface.
[Seki Komi / N05] #junpark_zunko # Kansai committee pic.twitter.com/NcmKezYFcU

— Zunko / N05b_ Kansai Co. (@ zunko1127) September 18, 2019
9 / 29First participation in Kansai committee. It is F-47 DILL. I was planning to stay in Kansai for about 3 days, and the schedule was exactly right, so I participated in Kansai Tier where I wanted to go once. A new issue is also available. Story of a jewel girl. I worked on the first liquid tab and the first crystallizer this time. pic.twitter.com/2nCTWaHBD0

— Sakuraya @ Kansai Committee F47DILL (@sakuraiyuko) September 25, 2019
#Gag manga depicting the daily life of Okan boys distributed at Kansai Committee 56 . Please see the tag of #Okan is a painful series for past published samples. # And Futoshi Don # creative cartoon # creative
Place a little more sample on the lip. pic.twitter.com/xUfXc5aR9z

— Katsuta Donta 9/29 Kansai Committee [E-01] (@tonkatsuageta) September 24, 2019
9/29 Kansai committee will participate! The space is [A-15 / Shirarain Hakushu]. Next door is Nobara ( @utsu_noba ). The first distribution in the west is "Light is hidden by hand" and "Tokyo Light". Nice to meet you! pic.twitter.com/JRfdRl1yLJ

— Reiko / West Tier A-15 (@nadecco) September 27, 2019
A new book of poetry has arrived.
The sale will start from the Kansai committee the day after tomorrow, and the article will be posted tonight or tomorrow! pic.twitter.com/hN6hN2Poid

— Tokumei-kibou | Kansai Tier [H-24] (@tokumei_kotoba) September 27, 2019
Today, I received a new illustration collection of Kansai Committee, but I am very happy that I have a collection of books as a book.
It is an illustration collection that I wanted to make since I received a thankful word from a certain person at Nagoya Committee a year ago, so I am impressed ☺️✨ pic.twitter.com/DpVjSBR2oU

— Hase Asuka ???? Kansai Committee N53 (@asuka_hase) September 27, 2019
#Kansai Committee 53
We will be exhibiting at Kansai Committee 56 on September 29th at OMM Building!
New black and white copy books, offset booklets and postcards will be sold.
The booth will be Q-05. Please drop in ✨✨ pic.twitter.com/ggPRPnMD1o

— Kobe University Manga Study Group (@kobe_u_cc) September 22, 2019
The Osaka OMM hosted Kansai committee on Sunday 9/29 has lost 130 circles this time.

Therefore, this time, I am participating in the "Random Insect Site" (I-21). So, only the first issue in Kansai is sold 'Machico 2030' https://t.co/Xp4CHdon3T
`` Recommendation for creative doujin electronic books '' https://t.co/c4ebNZfiji # Kansai committee 56 pic.twitter.com/eoCiQ0pJqS

— Yoshimi Nanakase @ 9/29 OMM Kansai Committee 56 participated in the "Random Sickness Insect" I-21 (@yosimin) September 27, 2019
Unlocking the secrets of Suzuki Tengu's Hanafuda ???????? Something pops out with AR when you hold your smartphone over the Hanafuda! The dedicated app will be distributed free of charge. # Kansai committee is preparing to touch and experience ???? Please wake up to the booth by all means ?????? pic.twitter.com/gSexCeP94n

— Suzuki Tenjido @ 9/29 Kansai Committee 56 (P-36) (@tengudo_kyoto) September 24, 2019
A sample of the committee.
About 12 pages ... pic.twitter.com/ofDD0dHnad

— Shino. Kansai Committee [B-66] (@ shino5385) September 25, 2019
[New issue] Yuri Sanju # Manga # Original # Yuri # Kansai Committee 56 https://t.co/kBKaNiaJxB pic.twitter.com/OEqsJOBWoT

— Natsumikan @ Kansai Committee F03 (@ ohwc2) September 27, 2019


09/28/2019 20:53 Add


2019/9/29 Kansai Committee 56 (OMM Building) will distribute a new book "Think about how to draw a doujinshi cover".
There is also an already published book "How I Become an Erotic Gamer", which was selected as the leader's choice for Tear's Magazine Kansai 56.
Please drop in! # Kansai Committee 56 pic.twitter.com/tQiftUpGuf

— Anffinsen @ Kansai Committee 56 D-23 (@Anfhinzen) September 28, 2019
9/29 【Kansai Committee 56】 It is a written item. Space: We will participate in the M-64 "Devil Fire". It is a joint space with Satoru Saguchi for the first time from Hokkaido. (???? is only for me.) Thank you very much! Throb…! # Kansai Committee 56 pic.twitter.com/w9ojAxHItD

— Fukurokoji K ???? Line Art Exhibition Osaka 9 / 23-9 / 29 ???? Kansai Committee M64 (@ 2965u4) September 26, 2019
[9/29 Kansai committee article]
Participate in Space M64 "Devil Fire of Reika". It is the same as Fukurokoji.
It is the first participation in Kansai event. #Thanks to Osaka in conjunction with the line drawing exhibition Osaka ~~~ (* ꆤ.̫ꆤ *) ???? ✨ #Kansai Committee 56
#pixiv https://t.co/JPBus1gH9L pic.twitter.com/GcARB47aW7

— Osamu Saguchi ????-9/29 Line Art Exhibition Osaka ???? 9/29 Sekiya M64 (@ oro193) September 26, 2019
I will participate in the 9/29 Kansai committee. The writing is the same as the committee ~
[Space: N14] #Kansai Committee 56
Thank you! ☺️ https://t.co/JZRO1HNFkt

— AZSA ◎ Kansai Committee N14 (@azsaan) September 27, 2019
[New Publication] 9/29 Kansai Committee 56 will participate. Newly published 'Machikado Pocket' (with 4 illustration cards / postcard size / double-sided full color / Trepé Envelope / price 300 yen) Space [O-34 Crest White Butterfly] will be distributed. Thank you in advance! # Kansai Comitir 56 # Kansai Comitir pic.twitter.com/W5WxztxOLG

— Pan Mountain Onigiri ???? Kansai Committee O-34 (@_shake_onigiri) September 27, 2019
#Kansai Committee 56 will participate! ! This is the regular product DA-! !

I will bother you in the space [I-56] of Kimuri-san [ @kim_urinasu ]! ✨ Thank you very much for your kindness! ????

The distribution is
◆ Eclipce Vol.1 ◆ Character Costume Collection ◆ Reading out "COLLEA"

Will be! Nice to meet you! ???? = ???? pic.twitter.com/k9p0aqayzP

— Yaslro @ Kansai Committee 【I-56】 (@yaslro) September 25, 2019
[Notification]
9/29 (Sun) Kansai Committee 56 at Tenmanbashi OMM will participate in "Glieate Works" (P-48)!
There is no new book dedicated to this time, but we plan to bring mecha and brown girl's already published together with the mecha book that came out in summer tier ????
If you are interested, thank you very much- * ^ v ^ * pic.twitter.com/QPyKC4Zsyx

— Gond @ Kansai Tier P-48 (@ gond_7) September 28, 2019
Thank you.. o ○ If you can afford, take the mug you made before! # Kansai Committee 56 pic.twitter.com/TocG7WlLPT

— Nukai Kansai Committee Q-26 (@nnmjny) September 28, 2019
We are waiting for you at Kansai Committee [E-06] on the 29th! ٩ ()) و

This is the newly published Arisa series. You can read in the first episode ↓.
If this is OK, I think other stories are okay ???? ‍♀️

Please feel free to come! # Kansai Committee 56 https://t.co/TjlrZBgete pic.twitter.com/Dy7t3cCM9L

— Mike ◆ Kansai Tier E-06 (@ firesign01) September 28, 2019
Tomorrow's Kansai committee will divide my friend's circle in half and participate ☺
I'm at H-50's 'e *' Hosuka ( @hotmotska ) ???? There's no new book, but I'm just waiting for the first book in Kansai! Commercial books will be signed by those who wish # Kansai Committee 56 pic.twitter.com/H7wXrQCtcS

— Fukaya Kayoko @ 9/17 2nd release of Kampo bride diary (@meiju_yome) September 28, 2019
A fantasy manga where an immortal man who is both honorable and honored is born by an orphan girl ① pic.twitter.com/ceRXlAkIVV

— Adashicchi @ 9/29 West Tier B65 (@ adashino0f) September 22, 2019
Tomorrow's Kansai Committee article!
Please come by all means ~ # Kansai committee 56 pic.twitter.com/qNQMYQl1ay

— Tokino Kunogi @ Sekiya O-47 (@ comi_21) September 28, 2019
# Kansai Committee 56 Newly published sample.
A book full of 1p comics! pic.twitter.com/zS8VcWdOBE

— Yoko Murasakiyama ???? Seki Komi D-55 (@m_yonko) September 28, 2019
Tomorrow's Kansai committee article! We will be waiting for you at CJ-23! # Kansai Committee # Kansai Committee 56pic.twitter.com/nS3QE9noYh

— Shiroton @ Kansai Tier C-23 (@ siro1000) September 28, 2019
This is a prologue of new horror comics.
The tone atmosphere changes slightly on paper. # Kansai Committee 56 # Kaneki Comicpic.twitter.com/RA0jgR2oOA

— NIR @ Seki Komi 56 ▶ I-22 (@YMI_byou) September 28, 2019
#Kansai Committee 56
Let's go! My name is the last minute announcement!
Tomorrow's Kansai committee will bring # Shibomi 's new work!
She looks like a detective but doesn't make any assumptions!
The event venue is Osaka OMM Building. Please come to play!
more than! Notice from the last minute announcement! pic.twitter.com/bsPH89KtTC

— Matsuda Kagu ???? Kansai Committee E-03 (@koso_ri_N) September 28, 2019
#Kansai Committee 56
C-55 Hotabata (Hottan @ hottan3 / Butter @ butteraoow )
・ 'Scallop' ¥ 400
・ 「All power current」 ¥ 500pic.twitter.com / 4lYAZImbmm

— Butter @ 9 / 29Kansai Committee C-55 (@butteraoow) September 28, 2019
It is # Kansai committee 56 article writing tomorrow held on September 29th. It will be the first participation. We are waiting for you at C-43 [AKAGAWORKS].
The new book is a copy (not distributed) of a light nori ghost story manga set in elementary school. I will bring a lily magazine distributed at the Nagoya Committee. Thank you! pic.twitter.com/rwHpKpbIX9

— Akagawa Fuji ???? Seki Tia C43 (@AKAGAWORKS_info) September 28, 2019
[Kansai Comitir 56] (! Up to 15P) you Shinagaki and body sample # Kansai Comitir # Kansai Comitir 56 # girl manga # matchmaking Majommusume Komako chan # Kikusakumichiru # incense burning # Kyoto # cartoon # Japanese style # fanzine https: //t.co/JoUlqK03oJ pic.twitter.com/mo8cFmV7Rt

— Senana Nanase @ Seki Komi F-50 [Tsukinami Planning] (@senananase) September 28, 2019
I will participate in #Kansai Committee 56 tomorrow ⚡︎ 2019/9/29 (Sun)
11: 00-15: 30
Osaka Tenmanbashi OMM Building

Booth ☞ M-35

I will bring the goods sold mainly at Dezafes ☺︎
(Coin cases and pouches are not sold out ...!) Nice to meet you! ???? # Kansai committee pic.twitter.com/LZ4TIHAyAL

— Sanremo ⚡︎9 / 29 Kansai Committee M-35 (@ 3kaku_illust) September 28, 2019
9 / 29Kansai committee 56 goods!
[O-53] 'Lucky cocoa'
Distribute illustration books and postcards.
Thank you! # Kansai Committee 56 pic.twitter.com/NHYF7AoCeU

— 心 杏 ☘️ 9/29 Seki Komi 【O-53】 (@ cyan_328) September 28, 2019
September 29 (Sun) # Kansai Committee 56 [J-26] Writing

The new book is a collection of illustrations that travels through fantastic nights and lights.
In addition, there is a warm hearted cartoon of Egyptian god creation, a short story of Japanese old tales arranged short stories, and Posuka. There are many types of fantastic books. Thank you for tomorrow! pic.twitter.com/zc9YVj6FAt

— Kanoko Kuzuno * Kansai Committee 56 [J-26] Nagoya Committee 55 [A-35] (@tonakaiforest) September 27, 2019
9/29 # Kansai Committee 56 Goods! !
New books, postcards and drawings will be sold at O-52 Sweet * holic ~! There is a consignment from Nako ( @ 75_tea ), so please feel free to drop in.
Please note that the venue is different from the previous one ...!
Thank you in advance * # Writing # Kansai committee pic.twitter.com/sOQzfoOPMa

— Yu Yu @ Kansai Tier O-52 (@yy_sl) September 27, 2019
I will participate in Kansai Committee 56 on September 29th. We plan to distribute the already published "HEAVE" "INTERPLAY" and new mini stickers and free paper. The space will be [A-02], and we will bring you a sample magazine that will not be distributed. Nice to meet you! # Kansai Committee # Kansai Committee 56pic.twitter.com/bJZpQ1YAjz

— Kawataro / West Tier 56 [A-02] (@kmgwkwtr) September 27, 2019
[Notification] This is an article written by Kansai Committee 56. The new issue is a preparation issue.
The space number is "D-38" hacobune! A blue poster is a landmark! # Kansai Committee 56 pic.twitter.com/3sMIRhVlhr

— Mamezawa @ Kansai Committee 【D-38】 (@haco_mame) September 27, 2019
#Kansai Committee 56
5/26 (Sun) Kansai committee 56 c-2 space name 'Uninhabited'
New book 'Golem humus'
A mother who lost her only son, talking about making a golem like a son with golem humus pic.twitter.com/mP9XD5eXDp

— Miura Hanto (@muzinnokura) September 27, 2019
9/29 JK detective book sample to bring to Kansai committee 56.
(1/2) # Kotta-boiled brick # Daily life in the world of Godless # Kansai committee 56 pic.twitter.com/HsR66JtYtZ

— Amayuki @ Kottanibrick (9/29 K-23) (@amayukinen) September 28, 2019
#Kansai Committee 56
It's an article! Kansai committee will participate for the first time!
Samples and book layouts are different due to various circumstances ???? ‍♀️I'm sorry…!
We are waiting for you at M-51 ☺ pic.twitter.com/qcoPfNeJSx

— Pigetaro [Seki Komi M51] (@pi_ge_ta_roxxx) September 28, 2019
[Notice of Event Participation] We will participate in Kansai Committee 56 scheduled for 9/29 (Sunday) with the circle name "kilight". (Space NO: C-25) Markers are image posters and panels. Thank you on that day! # Kansai committee 56 # Welcome ghost funeral shop # I love you pic.twitter.com/CGySoRaBVJ

— Yoshi Yoshito (@kilightit) September 26, 2019
[9/29 Kansai COMITIA56 article]
Space: M-12
Circle: Omaineko Kimai

The new work is a canvas tote bag ???? I will bring various new publications such as the new summer comic "Hokurogaru"! Nice to meet you ???? # Kansai committee 56 # Kansai committee pic.twitter.com/M8SozoL0eJ

— Gyoza Nuko @ Seki Komi M12 (@gyozanuko) September 25, 2019