'Kansai Komitia 55' participation circle required work summary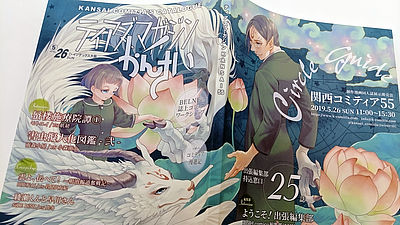 A creative comic doujinshi exhibition spot sale party 'Kansai Komichija 55', created by a writer and a reader of the creative manga coterie together, May 26th, 2019 20:00-15:30, Intex Osaka It will be held at Building No. 2.

About 1,400 circles are to participate this time, and the first Kansai commitee participation circle has increased significantly.


⚡️ ' # Information for Kansai Community Tier 55 Participants Summary' # We have compiled various notes and requests for participation in Kansai Community Tier 55 . We will add more in the future. Please use along with the catalog / circle participation guidance at hand. https://t.co/1UW38ojOaC

— Kansai Committee (@kansai_comitia) May 18, 2019


So, I picked up and summarized the works I needed to watch.


Not delicious! #Community Failure vs Lily # Kansai Committee 54 pic.twitter.com/bMTgkiqEGd

— Secret ???? Kansai Tier L-22 (@iemaki) May 21, 2019
We will participate in the Kansai Commitee 55 with L-22 Secrets. Kansai first sale is how three books! ! I also do an Akkee supporter present. Come by all means!
# Kansai Commitee 55 pic.twitter.com/XVGHGW9GC2

— Secrets ???? Kansai Tier L-22 (@iemaki) May 22, 2019
[Kansai komitia foreword]
Look cute, play and have fun! We distribute Paper Doll House! (I can actually play it)
・ We are sorry for mermadedo
・ Lemonade Diner ????
・ Unicorn bathroom ????
・ Above garden?
There are four types of There are stickers and stuffed animals too! ????
Absolutely come ??? ??? ??? # # Kansai Komitia 55 pic.twitter.com/DQJ Fegpz1j

— 【N58】 Kansai Committee (@hachika_chan) May 22, 2019
【New Sample 1/3】
New publication 'Chairman of the domestic dog' will be released in Kansai Committee 54 on 5/26!
As it is R18 this time, when you purchase, may we check the age?
→ # Creative BL # Kansai Committee 54 pic.twitter.com/SMUiDWe43l

— To Kakizaki ???? 5/26 Kansai Tier J-18 (@kksk___n) May 19, 2019
【 # Kansai Committee 55 】 On 26th May 2019, Kansai Committee will distribute new clear posters, limited edition papers, first-choice announcement papers, and three previously published papers at Kansai Committee [N-37 & 38, CANVAS / morikuraen]. We look forward to it!
(※ The previous issue is melon, even in consignment sale in Tora! The first picture book is this → https://t.co/0eNvF1DDyt ) pic.twitter.com/V5C6CSn9VS

— Morikura Yen * First Art Book 6/10 to be released (@morikuraen) May 23, 2019
I received this book. If there is no fatal mistake, it is likely to be brought to Kansai commitee this weekend. pic.twitter.com/vPLOzPdcgM

— Tako Paison / Kansai comitia D-33 (@python_octopus) May 20, 2019
The lunch break scene of the octopus book will be up because it is lunch time pic.twitter.com/P0uhw46JG6

— Tako Paison / Kansai comitia D-33 (@python_octopus) May 20, 2019
5 5/26 (Sun) Intex Osaka / Kansai Commityer 55 / "Aoi" P-76
We will distribute mainly on the new issue 'REMEMBER' and Kansai's first sale 'Prototype'? Please come to the 3rd poster as a mark. # Kansai Committee 5 pic.twitter.com/4trqPI8N5T

— Tokito Saika / Kansai Tier: P-76 (@tokihito) May 19, 2019
[Most new item 5] Postcards of 2 types Postcards of lunch pattern also increased! #Dezafes 49 # For sale at Kansai Commityer 55 . pic.twitter.com/nlWvpp6rxX

— Senomachi / Kansai Komitia [O-62] (@somemachi) May 16, 2019
It is a new book cover of Kansai Commutia 55 ('ω') pic.twitter.com/VSATXHgeLY

— Asami Kurumi @ Seki Komi M-33 (@ 0115_Kurumi) May 17, 2019
5/26 It is an article written by Kansai Committee, which will be held in Intex Osaka.
[M-33] It is panda tofu.
The second is an illustration book sample.
Thank you in advance ~ ~ \ ('ω') / # Kansai Committee # # Kansai Committee # # Your order pic.twitter.com/GXpWSk0wZ5

— Asami Kurumi @ Seki Komi M-33 (@ 0115_Kurumi) May 18, 2019
[Notice] We will participate in the 5th and 26th Kansai Committee 54! Space No. is 'hacobune' of [I-48]! !
The new issue is a story in which the anthropomorphism of the early Taisho period and military personnel are only looking at the stars.
A5 / cover included 28P / cover FC + foil stamping / text monochrome Thank you! ! # Kansai Committee 5 pic.twitter.com/k9MsdZ5njT

— Mazuzawa @ Kansai Tier [I-48] (@haco_mame) May 21, 2019
It is announcement of #COMITIA 128 # Kansai committee 35 again some time ???
I'll bring a new book, an illustrated book, a posca, and more! I also prepare a hand-drawn original picture pic pic.twitter.com/lX9h4sdusA

— Hakone Komichi @ Seki Tear L54 (@fox_road) May 7, 2019
It is SF talk that Yande girl tries to give heart (re-up) 1 episode (all 9 episodes) 1/6
You can read the whole story normally here ↓
Creative SF lily 'This kind of heart I do not need' | tamiko # pixiv https://t.co/HDRxyzmdz2 # Komitia 128 # Kansai Komitia # creative Yuri # creative cartoon pic.twitter.com/BvEYxfRoav

— Tamiko 関 西 Kansai Komitia [L11] (@ paserpaseri) April 25, 2019
#We will participate in the Kansai Community Tier 55 L11!
I will take these three books! https://t.co/HDR xyzmdz2 https://t.co/VNRg4CPupB https://t.co/aqzFLAARWo # Kansai Comica # Creative Comics # Creative Lily pic.twitter.com/4p7zz3bfA0

— Tamiko 関 西 Kansai Komitia [L11] (@ paserpaseri) May 24, 2019
It is an article written by Kansai Comttier 55! The 3rd and 4th samples are samples. BL (?) And magic girl stuff will be delivered as planned, maybe goods may be added, but it's just like this! There are plans to prepare several points without delivery-if you are worried about it, please! [P-57] We are waiting for you ???? #Kansaikokutiya 55 pic.twitter.com/FXzOrntRgc

— ??? ??? ??? ▼ / 5/26 コ ミ [P-57] (@ 129_99_) May 20, 2019
It is an article written by Kansai Comttier 55.
[M-76] from the entrance (after the toilet) is a god location near the end of the mess (laughs)
Please do not hesitate to visit the event.
This time, we will also submit to the sample magazine section, so even if you read it there! I am waiting for you! # Kansai Committee 5 pic.twitter.com/XRzoJsqFZd

— Farewell @ M 76 Kansai Tier 55 (5/26) (@selflse) May 19, 2019
We will participate for the first time in the Kansai Committee 54 held on the 26th!
The new issue is a creative Yurimoto of a female college student and a schoolboy who feels like going out of school! If it is in time, I would like to bring a limited edition paper or business card.

【K-53】 Gumtape-type instructions and additional samples will be added later. Thank you! # Kansai Komitia 55 # Creative Lily pic.twitter.com/1sCTs6YmjP

— Nauchi | Seki Komi 55 [K-53] (@nowre_orig) May 16, 2019
C13 'Sinakei' goods written new issue of fictional walled city rice & dragon world view free paper summary book 2
Fountain pen illustration book and miscellaneous goods of flower and plant and fantasy ・ Place: Intex Osaka Building No. 2 ・ Date: 2019.5.26 (Sun) 11: 001515: 30 https://t.co/bsHbWA6LRa # Kansai commitia 55 # Kansai Komitia pic.twitter.com/amlE8yqZ36

— 惠 (5/26 Kansai Tier C13) (@ 47kei) May 19, 2019
【menu】
Held at Intex Osaka on 5/26 # Kansai Committee 54
Full-color illustrations and books will come out! We are waiting for you at N-07! ! pic.twitter.com/6R14qNpQ7l

— Daisuke Kurama @ Kansai Tier N-07 (@ vitamin_xx_2525) May 19, 2019
A new book has arrived! I am sparkling! ! ! look look! pic.twitter.com/PAiiPF53OQ

— Daisuke Kurama @ Kansai Tier N-07 (@ vitamin_xx_2525) May 19, 2019
# This is the cover of the Hoshi Saga Gas Mono Art Book sold at Kansai Commitye 55 !
It is an illustration book that introduces the actual stars that became the motif with the 12 main characters. There are lots of drawings!

'Feslia Fantasies' C-49
Thank you in advance ???????? # Hoshisagasu mono pic.twitter.com/fqH3v0ZFTg

— Hikaru Rennada Kansai Tier [C-49] (@Caphricina 02) May 18, 2019
# Kansai Commitee 55
品 your order
'Feslia Fantasies' C-49
I will sell two illustrations of Hoshi Saga Gas Monogatari and CD at the venue.

We will start accepting BOOTH on the same day, so please use that as well (data sales available)
Please come to play by all means! ????

5/26 (Sun) 11: 00-15: 30
Intex Osaka Building No. 2 pic.twitter.com/oOKksD0kmr

— Hikaru Rennada Kansai Tier [C-49] (@Caphricina 02) May 19, 2019
# Kansai Commitee 55
5/26 INTEX Osaka P-73 It is a postcard. There are a lot of things ... pic.twitter.com/izwYR9YoY4

— Junkuma (@J_KMOR) May 19, 2019
The new issue of Kansai Committee 54 on May 26 has arrived! !
It is a very beautiful print on a nice touch of paper. And 60p chunky
It is a trace of seven years since I started to draw the girl on the cover using a copic.
I think if you have your hands by all means ...! # Kansai Committee 34 # Kansai Committee # Copic pic.twitter.com/f1hdu2wyHJ

— Kawana @ Kansai Komitia N-19 Nagoya Solo Exhibition 5/28 to 6/1 (@spicaboy) May 12, 2019
It is an article of Kansai committy 55 of 5/26!
I think that you should read the second piece well.
Please note that returns after leaving the space will not be accepted in principle.
The third sheet is one of colored paper. I want to bring about 5 pieces ...! The new issue is the event price. # Kansai Committee 34 # Kansai Committee pic.twitter.com/zyzZYaOBAX

— Kawana @ Kansai Komitia N-19 Nagoya Solo Exhibition 5/28 to 6/1 (@spicaboy) May 21, 2019
Colored paper for Kansai community- ~ # # copic pic.twitter.com/r32YVdJKwV

— Kawana @ Kansai Komitia N-19 Nagoya Solo Exhibition 5/28 to 6/1 (@spicaboy) May 22, 2019
If all goes well, this picture will be a thin collection of short comic books on the cover in Kansai Comica. Thank you in advance ???? #KansaiKomitia 55 pic.twitter.com/QPxZOw74JB

— Hidden * Seki Komi E-75 (@Hk_mino) May 21, 2019
5/26 Participate in Kansai Committee 54 held at INTEX Osaka ????
Space [A-33] Circle name [Moto Yui] We will bring you pre-published manga and newly published illustration books, and mini original drawings if you get along. A detailed sample is in a lip. Please drop in at a good time as there are children selling and selling on the day!
# Kansai Committee 34 # Kansai Committee pic.twitter.com/CY80zS4FwK

— Paper board 5/26 Seki Tear 【A-33】 (@coyori_motoyui) May 19, 2019
Speaking of which, we will participate in the 5/26 Kansai Committee. We are planning to release 3 new titles and 5 to 6 existing cans of GW and a copy of the new title 'Gray Wolf's Pacific War 7 U-Boat U168 sunk to the lust (?)'. I am still blank, but I will do my best to finish the work and write .... pic.twitter.com/NAWyEIlraf

— Hiroki Uchida @ Kansai Tier [J57] & 4/27 "This Socialist Gourmet is Amazing !!" Commercial Version Released! (@uchidahiroki) May 20, 2019
Local · Kansai Komitiya 5/26 K-13 Kisakiki's first business trip!
11:00-15:30 Intex Osaka Building No. 2

Creative completeness, Neko Kakumaku, creative theory rooted smoking (made for this day, I'm leaving for a while, manga creative secret secret book, ZOM BIEMEN distribute! Everyone in Osaka, thank you very much please! Pic.twitter.com/ uWV51tk2tW

— Kizaki St. 5/26 Kansai Comtite K-13 (@saintkisaki) May 17, 2019
It is a postcard of the Kansai Commityer 55. The space is M36. I will be behind the venue.
There is no new publication, but I think that I would like to have some illustrations of the first distribution illustration books in the Kansai area, two newly made goods, and a few other mini colored papers.
Please stop by if you get caught in the eyes of something . #Kansai Commitye 55 pic.twitter.com/iQpImij5Eo

— Natsu Mika @ Kansai Tier M 36 (@ ntmk_twr) May 19, 2019
【Kansai Komitia Merchandise】 We will participate in the Kansai Komitir for the first time. It is also with Bucchi's ( @quriltai )! The product does not change with Tokyo, but there is less Axta and collaboration stickers, so if you want one soon! Thank you in advance ???? #Kansaikokutiya 55 pic.twitter.com/GydSMS9iH2

— Emmu @ Kansai Tier [B-25] (@emriko 955) May 18, 2019
# Kansai Comictia 55 E-51 Hinauta new issue 'nightmare and caffeine 3'
It is a basic four-piece frame with a slightly dark atmosphere.
The sample is here → https://t.co/TSbTWlAiQX
For the new issue, I will attach an option and a shopper for drawing materials.
If you participate, thank you! # Kansai COMITIA pic.twitter.com/CnGCEhCKe8

— Uta @ Kansai Commityer 55_E51 (@motiiiiiiiii) May 15, 2019
We will participate in the Kansai Committee 54 held at Intex Osaka on Sunday 26th (Sunday).

[L-41 / Maruoka nine storehouses]

Also in the near future SF standing drinker cartoon '陋巷 陋巷 ま ち ま ち ま ち か' latest three volumes and other published issues will also be distributed.
Watanabe Denki Co., Ltd. @ w_denki teacher's impressive youth group drama "11 people of Dogma Zhuang" will also be commissioned and distributed!
Nice to meet you! pic.twitter.com/objmcaFeGr

— Maruoka Kyusaku ● 5/26 (Sun) Kansai Commityer [L-41] (@ mmmaruoka) May 19, 2019
5/26 (Sun) At Intex Osaka # It is the first participation in the Kansai Committee 54 Circle!
Starting with the new edition 'Time Locksmith Luke (Cartoon)', we will distribute existing goods and colored paper! Novelty available

In addition, it is entrusted distribution Ali than Black Nanami ( @ orishichika_K ) Mr.! ※ President

Next to the B-32. ( @ harino_enju ) and adjacent participation!

Please! pic.twitter.com/VvryifziKj

— Ibaraki 関 西 ??? Kansai Commityer 【B-31】 (@ youkiyou 619) May 17, 2019
We will join Seki Komi on May 26 (Sun)
Space is [N-66 PLAN 39] It is likely to bring a new issue of neutral women's book.
It may be used as an order, a sample, or a colored paper instead of a poster. Please do something good ~! # Kansai Committee # Kansai section 54 pic.twitter.com/GcoiIKMWuW

— Sanku @ 5/26 Seki Komi N66 (@ thank722) May 22, 2019
New book creative cartoon 'Yumeko dream tie' B5 / 28p / 400 yen

It is the dark fairy tale drama 'Yume miru Yomiko' series third volume (upper) of the black-haired Ponite girl Yomiko and Twinte girl Strana.

This time it is a sailor suit ※ Sample continued to the lip section continued # Kansai commitee 55 # Kansai commitee pic.twitter.com/zVBXPFSfEB

— Bean GO ■ Seki Komi E-56 (@ mame5go) May 17, 2019
It is an article! !

The new issue will carry three copies of Dream Yomiko and non-distributed copies of Neshaberizu!
I printed a lot of free paper as an example, so please come and get it by all means! ! !
(I'm sorry I did not raise it again because the date was wrong ...) # Kansai Committee # Kansai Committee 34 pic.twitter.com/k2u2a5hUSE

— Bean GO ■ Seki Komi E-56 (@ mame5go) May 22, 2019
# A book to be issued to the Kansai commitee 55 , the title has also been decided, so it is publicity again.
It is a collection of works of # pencil drawings of a building (plus bonus) that exists in Kansai, 'A Guide to the Boys of Conductors'. We are planning to sell other published and post cards, etc.! # Kishiwada High School Women's School # Curator # Shiomibashi Station # Kizukawa Station # Mikage Koukaido # Modern Architecture # Pencil pic.twitter.com/E1uyPRgulX

— Hata Tsushirono @ Kansai Comtite K46 (@ yota_tsukino) May 24, 2019
May 26 (Sun) at Kansai Tier! ! We will go on an expedition with Emum ( @ emriko 955 )! Japan Kansai area 55 pic.twitter.com/moovF4To2N

— Mino Buchiko @ Kansai Tier [B-25] (@quriltai) May 23, 2019
5/26 Kansai Comtite Intex Osaka C-27 [Prelude]
If it is in time, a book will be released containing about 12 4 frames like this! !
The work is the story of three authors who are limited and brainy!
Because the brain is so fluffy, I can not carelessly say something below, or I can destroy my eyes or destroy the world! ! #KansaiKomitia 55 pic.twitter.com/IDYZalCYPO

— Ga 中 中 関 @ Seki Tear 【C-27】 (@ gnggttd6) May 17, 2019
Next week Kansai Comica [D-41] Oden lunch. Will join! New book is circle 5th anniversary book! There are also new products in addition, so it's in the lip section! # Kansai Kansai region 55 pic.twitter.com/sv84wKtHOC

— Amupaka ???? Kansai Commityer D41 (@amupaka) May 17, 2019
#KansaiKomitiya 55 , a sample of the new issue of 'Kanyu no Kanme'.
The story of a junior who is attracted to the fluffy fushigi-based seniors without help. (1/4) # Creation BL pic.twitter.com/P2RhyIs8Iu

— Seika Ohana @ Seki Komi I-53 (@seishoobi) May 17, 2019
5/26 Kansai Commuta 55 [E-25 / Shishiba + Masaya] A personal magazine should appear in Shishiki if there are no defects! Thank you in advance ~! If it is pixiv, there is a bit longer sample → https://t.co/HHEwAGrl2S # Kansai commitia # Kansai commitia 55 pic.twitter.com/9oOvbWBjOR

— Yuan Shi Yuan [Seki Komi E-25] (@shishi_kiba) May 23, 2019
My distribution on the day is these four types, various creative men and women. The pottery boy and Lolita daughter book which has been lost in the previous Seki-Komi have just been reprinted a little! In addition, I raise articles and a poster image to the pixiv person, too.- # Kansai commitia # Kansai commitia 55 pic.twitter.com/hHXFL7aSYZ

— Yuan Shi Yuan [Seki Komi E-25] (@shishi_kiba) May 23, 2019
[5/26] We will exhibit at a chocolate shop in Kansai Comtite ~
Space number R-40
Kansai first entry.
I used to dig from old books, PVC figures, and warehouses.
It is a united space with the aqua box of Takeyama teacher @ TAKE 1127 . # Kansai Committee 34 # Kansai Committee pic.twitter.com/5cq4pLNLrp

— CHOCO Father @ 5/26 Kansai Committee (@choco_mugi) May 23, 2019
[Komi 55] B-11 new star rocket new issue 'Maria and Jeanne' # Kansai commitia 55 # Lily https://t.co/a723c9ABzF pic.twitter.com/nRP9ccmpOr

— Six @ Seki Komi B11 (@ 22zikahatudenn) May 22, 2019
【Notice】 # We will participate in the Kansai Committee 34 .
・ 5/26 (Sun) 11:00-15:30
・ Intex Osaka (Osaka City)
・ Space [E-42]
・ There is free distribution cartoon

※ Please be forgiven in case of sold out because the number of carry-on is less than the number of previous sales for both zero and 壱. # Komitia # Kansai Kochitia pic.twitter.com/0xzXPNu1Hv

— Kawamura Marina [E42] 5/26 Kansai Commitia (@kawamuramarina) May 24, 2019
#KansaiKomitia 55 [E-71] I will bring Bo Adam Reiss brushed up as a full version from the previous text 16P to all 88Ps-both boring and not! Thank you very much mogly moa pic.twitter.com/pntwSubb7C

— Midorobochi Seki Tear E-71 (@midoro_monte) May 19, 2019
It is a digest of a manga to be issued to Seki Komi on the 26th of this month. This is the atmosphere pic.twitter.com/LKZo8DoT5D

— Lahanachi * 5/26 Seki Komi E-75 (@namaekimaranaiz) May 22, 2019
We will participate in the Kansai Committee 34, which will be held on May 26th!
New issue is a bunny girl illustration & cartoon!
If you like Husa, please come and see us ♪
I am waiting for you at Space NoE-64, so thank you _ (. _.) _ # Kansai Commissure 55 # your bill # Bunny Girl pic.twitter.com/TiQ2eMoEwl

— Okishima Lighting @ Kansai Committee E 64 (@ between0621) May 23, 2019
#KansaiKomitiya 55 #Inspection
Kansai first participation. It is the information book (character and manga expression) center circle of sake and mirin. This time, I decided to bring some goods for the first time in a while.
The details of each distribution are updated at any time from → https://t.co/9iFJlGGcO4 . # Kansai COMITIA pic.twitter.com/R2ttaeVbt2

— Sasatsuyu @ Kansai Komitiya 55J-53 / Sankuri P20a (@sasatsuyu) May 19, 2019
#Kansai Komitia 55 : 9 How to Drink Mirin-A collection of basics, history, product reviews, and recipes for a comprehensive collection of phosphorus. We also publish a report on interviews with Mirin, Shonan City, Aichi Prefecture.
Letters → https://t.co/0HoQQh1rfI pic.twitter.com/PUSBtmomrH

— Sasatsuyu @ Kansai Komitia 55J-53 / Sankuri P20a (@sasatsuyu) May 21, 2019
5/26 Inte Osaka # Kansai Commitee 55 I-39
It is the history creation of Japanese medieval times.
・ The Kamakura Shogunate ruin anthology ・ Uesugi Norizane We will bring you a copy book. Please do something good ~! pic.twitter.com/DzKwxbcet0

— NO @ Kansai Committee I-39 (@ mob_ojisan) May 20, 2019
Although we are approaching this weekend, Kansai Committee 54
I am leaving at [P-05].
If you are coming, please drop by at the booth.

※ Students of Seian University of Design, Bantin Game Academy, and Kyoto Art Design College should be numbered. # Kansai Committee # Kansai Committee 54 pic.twitter.com/OYnDDcJcKj

— Haruki Komai @ Kansai Committee P-05 (@HarukiKomai) May 23, 2019
It is the goods written of # Kansai commitee 55 held in Intex Osaka on Sunday, May 26 ????
[M-35] It is etoile!
I would like to prepare it by the day and so on.

Thank you by all means! # Kansai Kansai region # 品 pic pic.twitter.com/O79p1N3fkl

— Hoshinoru @ Kansai Committee 35 M-35 (@ 4696moon) May 18, 2019
It is an illustration of a business card distributed by the Kansai Committee of 5/26! ????
It's free, so if you come to the venue, it would be nice if you could come visit us ???? pic.twitter.com/PQI7bixN31

— Hoshinoru @ Kansai Comtite 55 M-35 (@ 4696moon) May 16, 2019
5/26 #KansaiKomitiya 55 S48 'kobone' It is a bill. It is a circle of creation BL and a girl. It is all Kansai first distribution. Please come to the third poster mark as it is the end! This time is fco ( @ _fco ) and next door!
▼ New issue sample → https://t.co/UloovIMOgS
▼ We accept advance of colored paper up to 5/25. (Continued) pic.twitter.com/hem3ICq1q8

— Kobone ︎ ︎ 5/26 Kansai Tier S-48 (@ kobone5) May 21, 2019
5/26 I got an article written by Kansai Komitya. The new issue is a full-color booklet that uses setting materials as manga. I am delighted to be a good maniac. # Kansai Committee # Kansai Committee 54 pic.twitter.com/o817O2Ylh6

— Kukuri @ Seki Tier B-27 (@ kukri_e10) May 18, 2019
# Kansai Comitir 55 # Kansai Comitir ANAGURU! I will join at the meeting. Space [I-36] is a new issue 'Tsurishinobu' * \ (^ o ^) / * Please read and go by all means! pic.twitter.com/1HyLnpmGDQ

— ANAGURU !! ︎ @ Kansai Comtitiator I-39 (@ konntani0) May 18, 2019
New issue sample (1/3) | 'New housemate is Yankee' 28P / 400 yen It is a slapstick room share comedy book of a hero who wants to live a peaceful high school life and a Yankee who is searching for a certain person! # Kansai Committee # Kansai Committee 54 pic.twitter.com/XmEa1layID

— Shinya Rin @ Seki Tear E-56 (@niiya_rin) May 19, 2019
Related posts on 5/26 (Sun)! There is a new issue! ! I did it! ! !
[Surgeon family] [S-71] 'the dead day of pothos' A5 / 28P / 400 yen # Kansai commitia 55 pic.twitter.com/BZoR5JJoGx

— Uni Maru @ Kansai Commityer 55 (@uniuniship) May 17, 2019
5/26 (Sun) Kansai Commityer 55's goods ???? The second is a sample of a new issue. It is the first time to participate in Kansai Committee, so we are waiting for you in Q29 'Tea Rose' ???? # # Kansai Committee # Kansai Committee 54 pic.twitter.com/RSKMrMzThC

— Snow Teacup Kansai Committee Q-29 (@ yukitea017) May 19, 2019
# It is an article written by Kansai Comttier 55 !
Hatsumoto, the first personal postcard and original colored paper!
We are waiting for you at space P-67.68.69! Pic.twitter.com/x7EBcvBU65

— Sera information Komi P-67 ~ 69 (@ sera_sefi6) May 15, 2019
【Advertising】 We will participate in Kansai Tear for the first time on May 26 (Sun)! The book is a good book for anyone who has studied the modern architecture of Kyoto City. The new issue is Chukyo-ku, where many heavy classes remain. Since it has been exhibited in the other genre, [K-09], everyone in the Kansai area, please come and see! # Kansai Tear # Modern Architecture pic.twitter.com/ci0glIeBLJ

— Iwatobi @ Kansai Tier K-09 (@ iwatobinbin) May 23, 2019
It is an article of the Kansai committy 55 of Sunday, May 26-!
We are waiting for you at 【BANCA / K-22】
Thank you in advance ~! ! ! # Kansai Committee # Kansai section 54 pic.twitter.com/pZb1K8Ty3L

— Nagarayori @ Seki Komi K-22 (@nagagagagaga) May 21, 2019
It is reed ????

The next event participation will be Kansai Committee 'F-34' on Sunday, May 26th (. • ̀_ ••.) ???

The new issue is scheduled to be a sequel to 'Yamu no Hatsue' ????

Hatsue-san series reading answer outstanding predominately erotic look and look forward to (no ∀ \ *) ????

Will you bring in the original already published ????

Thank you in advance (* ꒳ `*) ???? pic.twitter.com/jzZ0dDnVPr

— Kobayashi Yuka ???? 5/26 Kansai Commityer F 34 (@alemateorema) May 14, 2019
May 26 Space will be in Kansai District 54 [A-07 Apricot Jam]
I will distribute the new issue which I brought at the comitaire I want to make drawing or colored paper with additional ...
Please see PIXIV for a sample of this book. # Kansai Commitee 55 # Kansai Commitee https://t.co/03OGwtoO0e pic.twitter.com/MyIpDojdiP

— Kure ◆ Kansai Commityer A-07 (@ KureCaelum) May 19, 2019
Sorry for the last report ....
I will be with my friend at E-54 of the Kansai Committee 54 on Sunday, May 26th!
Circle name 'Tuesday Food Court'
New issue 'fingers to transmit' 28P, 400 yen

The contents are the loose BL of the boy junior high school student who is worried about the mouth that the next guy's touching with a whistle becomes anxious, and it is monmon. Thank you in advance # Kansai Committee 34 pic.twitter.com/pCcq7OH9zv

— What is this thing ???? 5/26 Kansai Tier E-54 (@kotonokonoha) May 22, 2019
As it was accepted for the time being, it was advertised.
5/26 (Sun) Intex Osaka will participate in the Kansai Committee.

Title: Whale with frequency 52 (68P)
Contents: Story space to relive experience of trip written in diary: G-22

Thank you. # Kansai Commitee 55 # Kansai Commitee pic.twitter.com/iFdwRqapVY

— Black and white @ criminal B _ Kansai commitia [G-22] (@tantei_in_chair) May 22, 2019
【Notice】 We will participate in the Kansai Committee 54 on May 26th. Space is a match with the G-25 I. Kansai's first sale is an additional epi-folded book on the street fighting four-frame manga released in January. If you participate on the day, please come and see. # Kansai Commitee 55 # Kansai Commitee pic.twitter.com/ch7kc7qSYV

— Computer Ichiro @ 5/26 Kansai Tier G 25 (@ densankitiro) May 21, 2019
It is an article of 5/26 (Sun) Intex Osaka Kansai commitia 55.

'Watercolor material' (with trial watercolor paper) written about watercolor material
'Framed' that gave up how to framed for beginners
Other illustrations and posca.
I will also bring some of the original drawings.

Thank you in advance ✨ # Kansai Committee # # Kansai Committee 55 pic.twitter.com/3EOeuP717N

— Kano Asakura Kansai Commityer 55 [Q-40] (@ yoshinoA395) May 24, 2019
5/26 #We will participate in the Kansai Committee 34. The first sale is Ryujin x the girl's last & bonus book 'The Dragon God Encore!' A heartwarming fantasy cartoon is main. Bring the Nagoya walking book and the outside entrance figurine book. Please do something good ~! B-75 * 1 million miles of empty space # Kansai commitee pic.twitter.com/zoLY5djVNj

— May @ Seki Tier B-75 (@ k 100 may) May 16, 2019
New book 'Yurufuwa like bread? ] (A5 / 8p / 100 yen) is a sample. UP half of 8p ... If you want to know the continuation is Yoroshiki at 'Kansai Commityer 55' on 5/26! # Kansai Commitee 55 pic.twitter.com/KPesrKFPed

— Yanagida Pon * 5/26 Seki Komi A-27 (@ yanadapon) May 19, 2019
The space that participates in the Kansai Community Tier 55 is F21.
Newly published sample 3 # Kansai Committee 34 # Kansai Committee pic.twitter.com/5sRB05I8uF

— Sinononn Kansai Comtite F-21 (@ sinoda5) May 21, 2019
I will participate in the Kansai Committee 35
Space is F21.
There are two new titles this time
Mr. Kashimura's house series is finally the final volume ????
And I will bring a short editorial compilation of past commercial works.
In addition, I will bring a lot of already published books, so I'm glad if you can stop by ???? # #Kansai komitia 55 # kanisan komitia pic.twitter.com/U4RqkFp77C

— Sinononn Kansai Comtite F-21 (@ sinoda5) May 18, 2019
#Kansaist Commitye 55 #Kansaist Commitye

K-55 Circle / Yurizono Nunpanda new issue 'To you will become a dream eventually' 26 pages / B5 size / 300 yen

It is a manga that a girl who is unrequited with a girl struggles in love.
Please keep in mind that a boy is busy.

There is a continuation of the sample in 1 rep. pic.twitter.com/u95mwGqtia

— か @@@ コ ミ K-55 ???? Reserve in process (@kawawo_wo) May 19, 2019
May 26 Intex Osaka 2nd Building Kansai Committee 54
Location: F-35 PLUM
New publication 'Yellow 4 pieces' submission completed
B5 32 pages 500 yen

It is a 4-frame real record recording book drawn down # creation # Kansai COMITIA # new sample sample # cat # Si Berian pic.twitter.com/6xa2U5s0qv

— Kanna / Kansai Tier F-35 / PLUM (@kannaplum) May 21, 2019
We will participate in the Kansai Committee 34 on Sunday, May 26!
We are waiting for you in the space [C-70] on the day! Thank you! # Kansai Committee # Kansai Committee 55 pic.twitter.com/DOIs6ur2tH

— Kajitsu @ Kansai Commityer C-70 (@ kajitsu_08) May 21, 2019
It is a cover and sample of the new issue of Kansai Commuta 55!
It is an illustration book of B5 full color 16P.
Thank you in advance ???? # Kansai Kansai region 55 pic.twitter.com/L8lYvrNnZy

— Uiro @ Kansai Commityer P 36 (@ uirou_04) May 22, 2019
#Kansaikokutiya 55 will distribute the paper after a long time ~ A sense of affordability that can be read neatly on P8. Free distribution at 'F-01' N [A] S. It's not finished yet, so it's production from now on pic.twitter.com/a0qk7C5Wi9

— Amano Akira ☆ 5/26 Kansai Commityer F01 (@odd_nas) May 23, 2019
[Notice] I will participate in the Kansai Committee this weekend.
[J-60 care worker Tonko chan]
The distribution is almost the same as the other day's Tokyo Committee. Nice to meet you! # Kansai commitee 55 pic.twitter.com/T1CC0Z6RXf

— Tonko @ 5/26 Kansai Tier [J-60] (@kaigoshi_tonco) May 24, 2019
# The Kansai Commityer 55 is a newly published sample!
Footsteps heard from the passage in the back of the junior high school second grader Shiho who had been thrown into a jail house with a medieval-like atmosphere when I realized it, why is it such an eye ...?
It is an adventure manga beginning with such feeling! pic.twitter.com/x2ls3PnGF0

— Tomoka Ohara @ Commitia 55 [A-16] (@ nanakeito7z) May 20, 2019
【Notice】 Kansai Commityer 55 is out! # Yuka Ohara Sorcerer # five method # your insurance # original Https://T.Co/iPivfzJKpU Pic.Twitter.Com/yH9sTaFmt7

— Tomoka Ohara @ Commitia 55 [A-16] (@ nanakeito7z) May 21, 2019
It is an article of Kansai Commuta 55 (May 26)!
The larger book has a bonus post card!
Thank you! # Kansai Committee 34 # Kansai Committee pic.twitter.com/XsWVRFRBa6

— OGT. Kansai Committee / O-39 (@Ogt_japan) May 24, 2019
Scanned by Me

It is a new publication, and the poster has the same pattern, so it is a mark ... pic.twitter.com/emHuL4aOdY

— ASK.A ▷ Kansai Commityer M-71 (@ ask_a07) May 21, 2019
May 26 'Kansai Commityer 55' will participate!
Space is a travel book K-18.
Polish travel magazine Manga 'Polish Angels' visited twice before and after the Eastern European Revolution. It is a very old work called the first edition of 1995, but will be distributed in the event for the first time on the occasion of this reprint! Nice to meet you! pic.twitter.com/0vDm8pAvRm

— Maro ???? 5/26 Kansai Commityer K-18 (@_maro_p) May 24, 2019
It is the cover and sample of the new issue of Kansai Comica on May 26. It is a comedy-friendly girl cartoon. I will bring other illustration books and mini original drawings. # Creative cartoon # Creative male and female # Kansai commitia # Kansai commitia 55 pic.twitter.com/iBxarjpDRT

— Mogu 関 西 Kansai Tier I-05 (@lollymogu) May 2, 2019
【Sample Manga Part 1 Tegasu no Shoku】

Kansai Committee of tomorrow 55
We handle 2 coterie magazines at the business trip consignment section of Mr. COMITIA.
I like to draw a mysterious or scary world that lurks in everyday life.
Thank you ???? # Kansai Comitir 55 # Kansai Comitir pic.twitter.com/umtFoc4YQV

— Cut-field water leaf (eat spills) @ reading being displayed ???? (@ uzu nyan 620) May 25, 2019
【Sample Manga Part 2: Waiting for Delivery】

Dwarf and Gardening Cartoon It will be the sequel to 'The Garden of Grass and Liar'.
It is a story of the people and the dwarf who work in the garden which lost the Lord, and the violet.
This is also handled at COMITIA's business trip consignment corner.
Thank you ???? # Kansai Comitir 55 # Kansai Comitir pic.twitter.com/uSd7deK26c

— Cut-field water leaf (eat spills) @ reading being displayed ???? (@ uzu nyan 620) May 25, 2019
【Manga】 A ramen game of death in an apartment where cartoonist aspirations gathers! 1 # Kansai Committee 34 # Kansai Committee pic.twitter.com/TGit3Y6EmU

— Watanabe Electric Kansai Co., Ltd. Consignee L-41 (@w_denki) May 25, 2019
[Notice] It is an article written by 5:26 Kansai Comtitia 55 "E-78 Salty Dragon". The new issue is 'Saturday Kanagawa Hojo.' There are three kinds of 'Kanagawa Hojo Family Brothers', 'Fourth Year of Nagai', and 'Head and Me'. (※ 'Nagasa 4 years' has a small remainder) Please feel free to drop in! ???? # Kansai Committee # # Kansai Committee 55 pic.twitter.com/K5ZOZXeEJ

— Suzumori Michiko @ 5/26 Seki Komi E-78 (@ichiko_tubuyaki) May 11, 2019
Since it was the day before, I RT!
Tomorrow I will join Kansai Commitye 55 ~ Space is N39!
A long time in Osaka,
Kansai Committee is the first time to participate.
Thank you in advance 関 西 # Kansai Committee # # Kansai Committee 55 pic.twitter.com/32DG9mDb2H

— Mashi 5/26 Kansai Komitia N39 → 7 / 27.28 Taiwan ff both days (@aguninet) May 25, 2019
[Notice] 5/26 (Sun) Kansai Comtite, 8P is drawn in glasses cartoon anthology 'Megaman'. It is the story of the girl who made the glasses for the first time.
Circle name: TRD
Space: F-04
I can not go on the day, but my big friends are waiting. Thank you!
# Kansai Commitee 55 # Kansai Commitee pic.twitter.com/YjWSs0VInF

— Oguri Iko @ Kansai Tier F 04 (@ o_gu_r1) May 25, 2019
It is a cartoon created by the Egyptian god that distributes Kansai Komitiya 55.
◆ 'Seto's Holiday'
A5 / 60 pages / short story cartoon assortment / 500 yen ◆ It is a comics of the fragrant god Seto, who is a heartwarming character, spending holidays in various cities.
◆ Space: 【Plum on Reindeer】, distributed at A-47. # Kansai Committee 34 # Kansai Committee pic.twitter.com/aXlepobCb9

— イ yew · Seki Komi A-47 (@ murmur_54) May 25, 2019
2019/5/26 We will sell 'How I became an erotic gamer' for 500 yen at Kansai Committee 55 held in Intex Osaka. The booth is K-04.
This time, it will be handmade binding.
There is also a sample, so please feel free to drop by! # Kansai Commitee 55 # Kansai Commitee pic.twitter.com/YyDlBehlXH

— Anphinsen @ Kansai Comtite 55 K-04 (@ Anphinzen) May 24, 2019
Tomorrow I will participate in Kansai Commityer 55. The booth is 【S-01】
The new issue will teach you 'My Neighbors' and 'How to keep the dragon 26'
Also, since I was allowed to draw the cover of 'Tears Magazine Kansai', I will also display an illustration of that.
Thank you!
# Kansai Committee 34 # Kansai Committee pic.twitter.com/QlJmPqUKpa

— Sundew moth 5/26 Intex Osaka Kansai Committee 54 S-01 (@sunamushij) May 25, 2019
Kansai Comica New Sample Sample # Original # Lily # Kansai Comica https://t.co/s6XzXLIH11 pic.twitter.com/q2LdY4D79n

— Kansai International Co., Ltd. L-18 (@ ikuraaaa 138) May 25, 2019
5/26 Kansai Commuta L50 'Morholovich Discontinuity' The new issue is a sober SF series 'The Day of the Three Persons of Decisiveness'. It is an episode that is the beginning of the case called 'the great breakup' that came out only by its name in volumes 1 and 2. The Kindle version is scheduled to go on sale in July. Nice to meet you. pic.twitter.com/QB01db9bES

— Kujo HYO Taro Hagi / Kansai Committee L-50 (@ kuhyo) May 22, 2019
Maybe the flyer illustrations of 'Kansai Komitia 56' are drawn in connection with it ???? The flyers are probably in the venue of 'Kansai Komitia 55' held tomorrow (5/26) ... ('∀ `) ~ 55 The venue of is Intex Osaka. # Kansai Kansai region pic.twitter.com/iQu0mQ7gau

— Yasushi suzuki (@ElegantSuzuki) May 25, 2019


In addition, Kansai community member 55 sample book reading society held as 'meeting, only reading' of sample magazine is participation fee 500 yen in my dome Oh 3rd meeting room on Sunday, July 7, 2019 at 11-18 o'clock It will be held at