Japan's first `` mayonnaise flavored ice cream '' tasting review of `` calorie monster Chelio creamy mayonnaise taste '' exceeding 300 kcal per bottle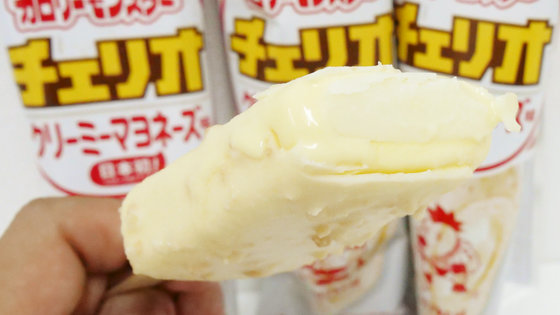 Morinaga Dairy Co., Ltd. appeared on September 23, 2019, " Calory Monster Chelio Creamy Mayonnaise Flavor " is the first bar ice cream in Japan with a mayonnaise-flavored ice sandwiched between chocolate bars and white chocolate with cookies. In addition, it is said that the calorie monster is over 300kcal. I actually tried what kind of mayonnaise flavored ice cream is.

"Calory Monster Chelio Creamy Mayonnaise" | News Release | Morinaga Milk Industry Co., Ltd.

https://www.morinagamilk.co.jp/release/newsentry-3206.html
The package looks like this.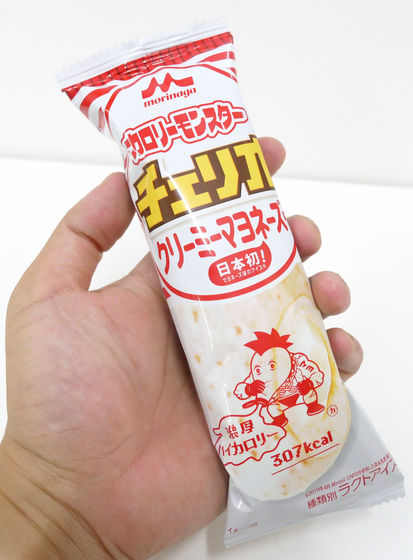 Under "Creamy Mayonnaise Flavor", "Japan's first! Mayonnaise flavored ice cream" was appealing.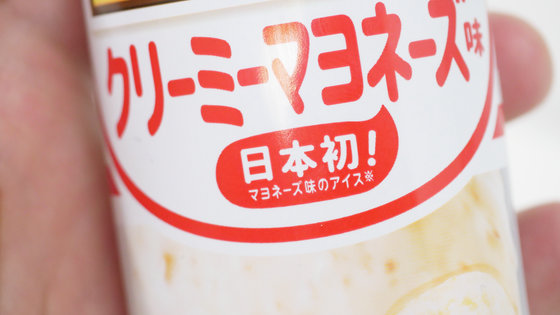 At the bottom of the package is a powerful illustration of a mysterious creature with a mayonnaise container on its head that squeezes out the word "rich high calorie" with mayonnaise. In addition, "307 kcal" and the calorie per bottle were specified.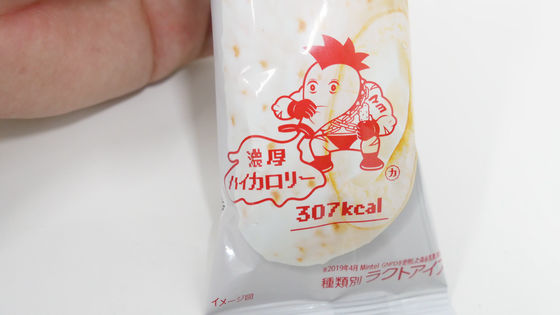 The ingredient name was "mayonnaise" alongside common chocolate ice creams such as "white chocolate coaching", "dairy products", and "sugar".



The calorie per 85ml is 307kcal, which is a little higher than the 295kcal ' Cerio Vanilla ' per 85ml.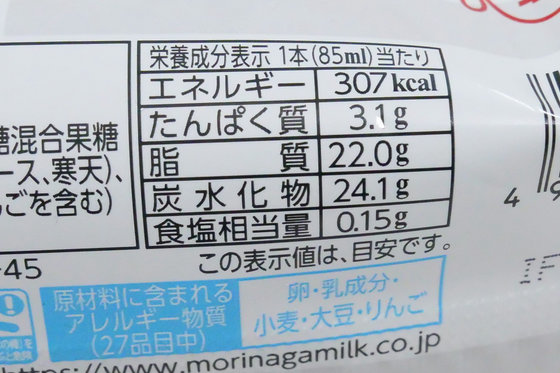 The contents look like this, and at first glance it looks like an ordinary white chocolate ice bar.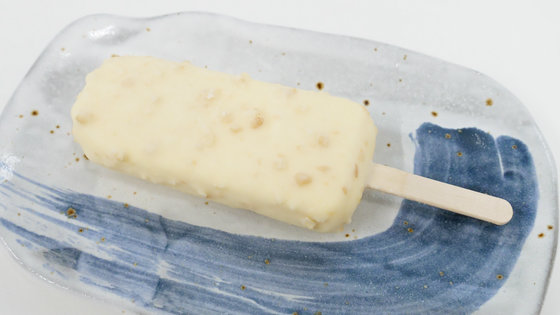 When I cut it with a knife and checked the cross section, the white chocolate coaching with cookies had a two-layer structure of yellowish mayonnaise-flavored ice and white white chocolate.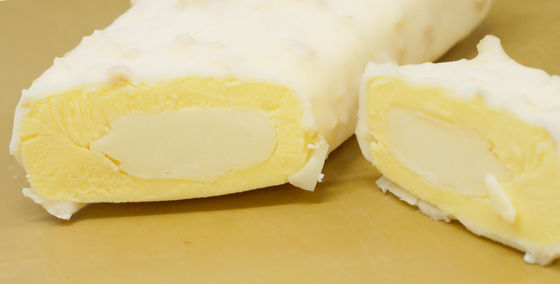 When you eat it, the crispy feel of chocolate coaching and the crispy texture of cookies are accents. At first, you can feel the sweetness of white chocolate coaching, but as the ice melts in your mouth, the flavor of mayonnaise gradually increases. And the sourness and richness peculiar to mayonnaise is firmly felt, and the aftertaste is almost mayonnaise. However, the impression that the sourness of mayonnaise is quite mild thanks to the white chocolate sandwiched between them. Calorie Monster Chelio Creamy mayonnaise taste was bar ice that can be enjoyed as chocolate ice cream while using an unusual taste ice cream called mayonnaise.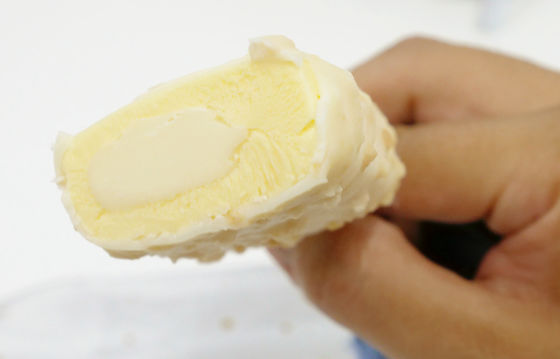 Calorie Monster Chelio Creamy Mayonnaise has been available at convenience stores and supermarkets nationwide since September 23, 2019 (Monday). The suggested retail price is 140 yen per tax, and at the time of writing the article, you can order a set of 24 bags on Amazon.co.jp for 4580 yen including tax.

Amazon | Morinaga Milk Industry Chelio Calorie Monster Creamy Mayonnaise Flavor 85ml x 24 bags | Morinaga Milk Industry | Ice Cream Mail Order