Twitch acquired IGDB, a game database site, aiming to improve search function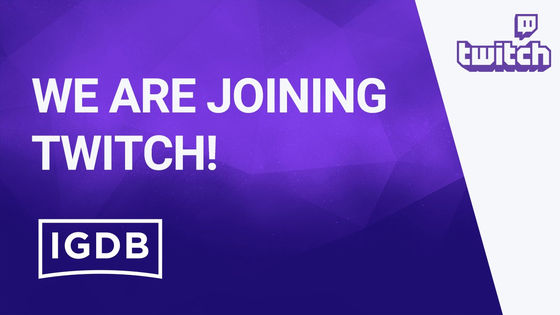 Game streaming service Twitch, which Amazon acquired for about 100 billion yen, has acquired the game database site " IGDB ". Twitch says it has made this acquisition to improve its search capabilities.

We are joining Twitch!-IGDB-Medium
https://medium.com/igdb/we-are-joining-twitch-54cfdf44c496

Twitch acquires gaming database site IGDB to improve its search and discovery features | TechCrunch
https://techcrunch.com/2019/09/17/twitch-acquires-gaming-database-site-igdb-to-improve-its-search-and-discovery-features/

IGDB is a game-specific database site that comprehensively summarizes all related information about games. As a result of Twitch's acquisition, IGDB's database may be integrated with Twitch's "search" and "discover" capabilities. The IGDB site itself will continue to be serviced without being closed.

IGDB started in 2015 in Gothenburg, Sweden. Together with the active update by the gamer community and automation, we have continued to serve as a database dedicated to games. IGDB contains various information about the game, including game genres, supported platforms, short descriptions, evaluations by members and reviewers, story synopsis, game modes, publishers, release dates, and character information. In addition, information that is not very general, such as the approximate time it takes to play the game and the viewpoint on the game screen (first person or third person, etc.) may also be included.

For example, the "The Legend of Zelda Breath of the Wild " page of IGDB is as follows.

The Legend of Zelda: Breath of the Wild (2017)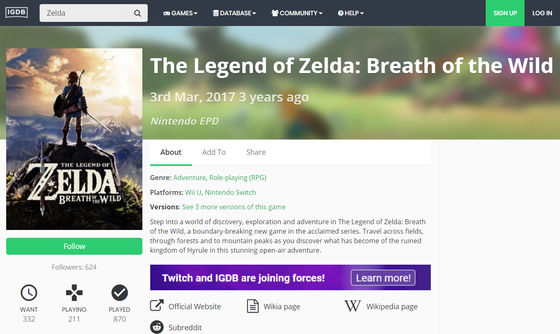 IGDB also provides credits for voice actors appearing in specific titles, allowing voice actors to claim that they are appearing in this title.

IGDB provides an API that can process up to 50,000 items of information in the database, which is free for small shops and available to other companies for $ 99 per month. According to IGDB, this API is used by thousands of users.

Twitch told overseas media TechCrunch, "Millions of people visit Twitch every day to find their favorite distributors and communities. We want to make it easier for users to find what they are looking for. And IGDB, acquired by Twitch, is developing a comprehensive game database that can improve and expand Twitch's search and discovery capabilities more quickly and provide better features in the future. I am glad to be able to do so, "he commented on the acquisition.

Details about the acquisition are not clear, but IGDB is a team of only about 10 people, so the amount of acquisitions so far is about 1.5 million dollars (about 160 million yen) TechCrunch notes that it will not be a big scale.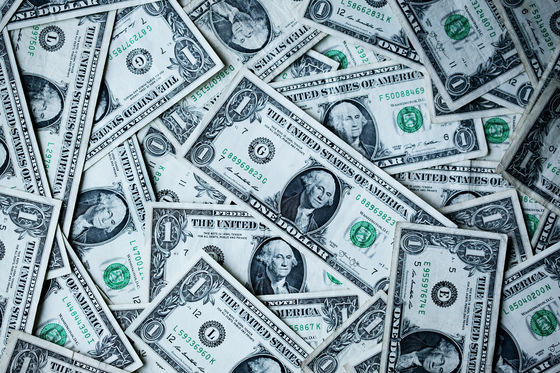 by Sharon McCutcheon

Ewitch Sheer, CEO of Twitch, has publicly said that the search function of the service is having problems and needs to be improved. In early 2019, the search results may be empty if one wrong character is entered, or there may be cases where a different publisher from the search results is displayed as the search results. We 'll fix the inconvenience and make it work better, "he promised to improve the search function.

IGDB said on the official blog about the acquisition by Twitch: "Our mission has always been to build the world's most comprehensive game database, which is very difficult for small startups. We will be able to leverage Twitch's experience, resources and skills, accelerate progress, and provide the IGDB we have always dreamed of. '

In addition, IGDB announced that it will offer free APIs that have been provided for a fee by acquiring Twitch, with the free version. As a result, "Thousands of apps, services, and websites that utilize Twitch and IGDB information will appear in the future."