Autumn-only `` Tropicana Seasons Best Fruitful Pomegranate Taste '' Tasting Review that You can Savor the Clean Sweetness of Pomegranate with a Mild Taste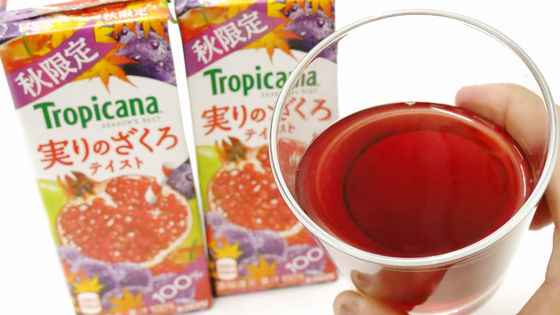 Kirin Beverage's fruit juice brand '
Tropicana
', a limited-time new '
Tropicana Seasons Best Fruitful Pomegranate Taste
' appeared on Tuesday, September 3, 2019. The pomegranate is blended with apples and grapes from the end of summer to the fall, and it is finished in 100% juice perfect for afternoon breaks and mood changes. I actually drank it to refresh my mood in the late summer.
'Tropicana Seasons Best Fruitful Pomegranate Taste' New Release (Tuesday) September 3 (Tuesday) | 2019 | News Releases | Kirin
https://www.kirin.co.jp/company/news/2019/0807_04.html
Paper pack of "Tropicana Seasons Best Fruitful Pomegranate Taste" with a cross-section of pomegranate and fresh grapes and apples. There is a straw on the back.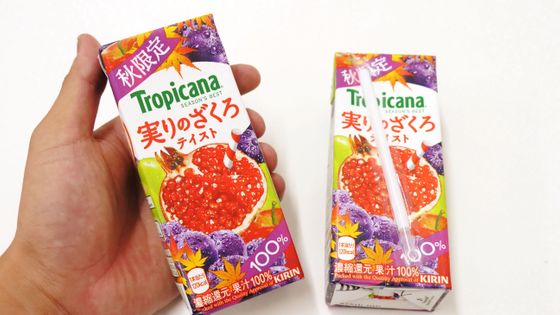 On the side is a message "please swallow before drinking". The name is fruit mixed juice (concentrated and reduced), and the raw material name is only fruit juice (apple, grape, pomegranate) and flavor.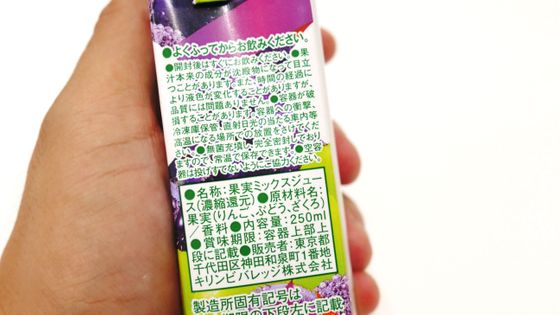 The calorie is 120kcal per 250ml.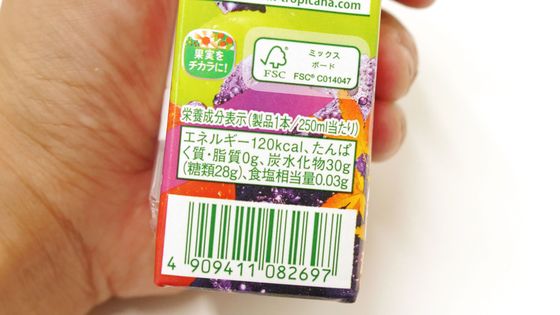 Originally, I drank a straw in a paper pack, but I was wondering what color it was, so I cut the paper pack with scissors and poured it into a cup. Juice has a clear red color, and the pomegranate fragrance drifts around when it is poured.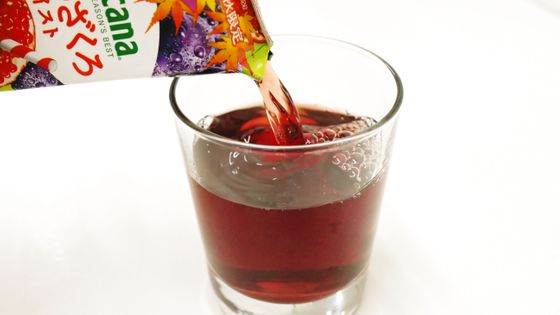 Pomegranate is a fruit with a strong acidity compared to apples and grapes, but when you drink `` Tropicana Seasons Best Fruitful Pomegranate Taste '', there is almost no acidity that makes you tune, and with the taste of apples and grapes, the sweetness of pomegranate The scent was felt firmly. Because it is a blended juice of 100% fruit juice, the sweetness is drawn without leaving it in the mouth. The taste is mellow and fairly easy to drink, and even people who are not good at pomegranate acidity and astringency can drink safely, but some people may feel unsatisfactory because it is too sour.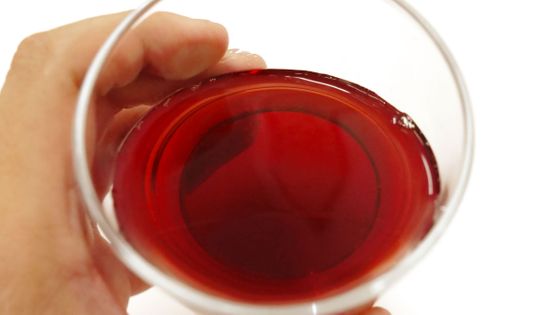 "Tropicana Seasons Best Fruitful Pomegranate Taste" will be available at supermarkets and convenience stores nationwide from Tuesday, September 3, 2019. The suggested retail price is 108 yen including tax.

Also, Amazon.co.jp handles it, and you can order a set of 24 at 2589 yen including tax, but it was out of stock at the time of article creation. ,

Amazon | Tropicana Seasons Best Fruit Pomegranate Taste 250mlLL Slim x 24 | Tropicana | Vegetable Juice / Fruit Juice Mail Order