One-fest 2019 [Summer] General dealer required featured work summary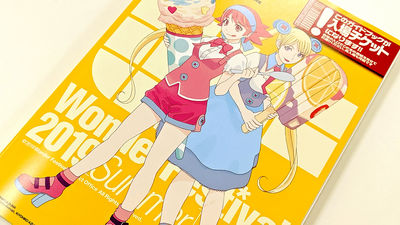 Wonder Festival 2019 (Summer) will be held at the 1st to 8th halls of the Makuhari Messe International Exhibition Hall from 10:00 to 17:00 on Sunday, July 28, 2019 .

One of the biggest features of Onefes is a system called 'On- site copyright system .' We have copyrights (licenses for production, display and sales) that are valid only at the day of the event and limited in the venue as special cases, and legally sell in the same position as a 'dealer' with corporations such as companies. It is a revolutionary system that can

In addition, some rules have been changed this time, for example, the regulation of cosplay has been revised.


[Notice of the # 1 Wonfes Cosplay Participation Regulations Revision]
・ About exposure measures in clothes with many skin exposures ・ In addition, it revised about a large brought-in item.

Please do not hesitate to give us your cosplay, non-cosplay and everyone's enjoyment! https://t.co/thcC1tGyZw pic.twitter.com/KDAwbMVFEi

— COSPATIO (@cos_patio) June 14, 2019


In addition, prior grant of the dealer pass is changed on the day as resale measures.


In view of this situation, in WF2019 [Summer], we will cancel the advance delivery of the dealer's pass (sending by the final guidance) and change it to the system issued on construction day and at the time of the dealer acceptance on the day of the event.

— Wonder Festival official (@WF_officialinfo) June 19, 2019



So I felt like that, and from the general dealer who made full use of the benefits of the Onefest, including copyrights on the day, I picked up the important works of this Onefest 2019 [Winter] roughly and summarized.


Koyanskaya is completed! 24cm, unpainted unassembled resin kit. Sold at WF2019s-it is 13000 yen. I worked hard to make a bad face! The image is continued # WF2019s #FGO pic.twitter.com/5lNxpamM9w

— Heartstrings Morizo (@Heartstringsfig) July 13, 2019
'Toru Amuro Tuxedo ver.' Is completed. We will sell garage kits on July 28th, 5-15-03 'Hakka'. We have received a license from the publisher for the day. Thank you. # wf2019s # Detective Conan # Toru Amuro pic.twitter.com/RqO0jsFnND

— Sat @ Wan Fes 2015 Summer 5-15-03 (@ha_c_ca) July 21, 2019
[WF2019 summer Shishamo also: 5-02-01] notice

【Yomichi new work】 Grand Blue Fantasy ・ Lucifer (Saf blow prototype exhibition only)

Created by ZBrush, output by photon. Six pieces are clear resin. Thank you! # wf2019s # Grabble # zbrush pic.twitter.com/dVTC18QZBc

— Yomichi [WF: 5-02-01] (@ yomichi_clay) July 25, 2019
New work [spin blade en = te] completed!
Includes metal bearings and left hand replacement parts. We will sell the unassembled garage kit 10000 yen at the 1st festival on the 28th. Thank you!
package…! # Wf 2019s pic.twitter.com/xWuZthYR57

— Aoi Kimiro @ WF4-19-05 (@ikzwr_t) July 25, 2019
New announcement idol master million live! (Kinoshita Hinata Animal Parade ♪ + Ver.)
Size: 1/7
Price: ¥ 10000
Reproduction: Kikuya-like bringing in: 25 pieces

It is a garage kit that requires assembly and painting. Table 7-46-06 Polygo Noise Thank you © BANDAI NAMCO Entertainment Inc. # wf2019s #Mirishita pic.twitter.com/Je9alAdEMj

— Vertical and horizontal @ WF5-35-01 (@siden_j) July 22, 2019
Always thank you for your help. WF2019 summer, small mackerel ke becomes a prototype display. (There is no other item sale · ·)
Just as I wasn't in time I could take a picture. I am sitting in 8-22-5. Please look around if it is good when you go near the street. Thank you for your help. pic.twitter.com/8NxcNJtT7d

— Ke (@comaccow_ke) July 25, 2019
One fess new work 'delicious Shinbo' erase rubber Yamaoka Shiro and the ultimate confrontation set of Yuzan Kaihara!
It is the first time that two people are in figure! ?
Price 4,000 yen Soft resin size about 65 mm ※ The product is achromatic.
Booth 4-05-01 # wf2019s # Delicious and delicious pic.twitter.com/Tcn0DX6aKK

— Mocos 4-05-01 (@mokos_gangu) July 11, 2019
7/28 figure festival One Festival ♪

It is a new hero king [Girugamesh]
We sell garage kit at WF

絆 f fgo gill and 絆 10 と な り と な り 10 記念 記念 記念 記念 記念 記念 記念 よ ろ し く-Thank you very much-thank you. * ° +. (* 'v` *). + ## wf2019s # fgo pic.twitter.com/MU9g5BXrxv

— Grizzly Panda (@GRIZZRYPANDA) July 21, 2019
Ah! ! We received a copy license from Capcom University Sensei on the day! ((((; Д Д))))
Thank you! Thank you! ! ('; Ω; `) Thank you for your consideration when coming to the Wonder Festival in Buwa Summer! ! (- People -) ???????????? ✨ # Wf2019s # Wonder Festival # Okami #Okami Pic.Twitter.Com/pHGBvhw6im

— 7.29 WF 2019 S [4-17-17] ☀ 9.22 GWC Orion 3 (@ neco_damashi) June 19, 2019
I will participate in the WF2019S. Takuban 7-20-05 The new work will be a glimpse of Alice Gear Aigis's gold lagoon. Tops and bottoms are open / close selection type. Deployment status will be up tomorrow. Thank you. # wf 2019s # Alice Gear https://t.co/tEq29XkQMc pic.twitter.com/rhm3bxZR78

— Setsuki @ WF7-20-05 (@setuki_sp) July 20, 2019
Polarized color of new color to sell in Wanfesu summer. It is hard to understand if it is an image, but it changes from green to purple is the left 'prism alexandrite'. It was named 'Prism alight ruby' on the right to change from blue to red! pic.twitter.com/j1NfQ2yShI

— WF2019 Summer "6-03-01" Gaia Notes (@gaianotes) June 19, 2019
It is announcement of one fes 2019 summer. Platform number 4-05-02 Curve models
FGO Yoshida Okada second return (with a face that is not for lighting) 16000 yen
FGO Jeanne Horta Swimsuit (Sabafes ver. With tights decal) 12000 yen Nakamura Asamiko J All J exhibits
+ Α
Unpainted Unassembled kit.
Thanking you in advance!
# wf2019s pic.twitter.com/k8Ng637MEY

— Curve Models WF4-05-02 (@carve_models) July 17, 2019
You are here !!
# wf2019s pic.twitter.com/ppLy331qVv

— Naotake Oniyama WF5-02-02 (@kiyamahisatake) July 25, 2019
[Compatible]
The prototype of the new product 'Pacrantoite' (provisional) will be displayed at the Onefes compatible table.
We are developing a desktop sensor for preventing theft of products and works so that they can be used to prevent contact with camera straps, etc.! ! pic.twitter.com/LmwqIJEP41

— Figufigu @ WF4-26-03 (@ FigufiguA) July 23, 2019
羽 完成 completed!
It will be sold at the Onefest held on July 28.

Table number: 5-31-10 Schplech studio price: 15,000 yen decal attachment replication is RC Berg like

Thank you! # wf 2019s # pigeon wing swing pic.twitter.com/TLzY3Nw9mf

— Muneshi Hayashida WF 5-31-10 (@MuneatsuH) July 21, 2019
'Ganesha' for exclusive use of Kanshiya Shitara is completed. It is planned to sell at WF2019S and the price is 20000 yen. Paint sample innocchi ( @ inukkochansan
I asked for)! # WF2019S # Aris Gear Aigis # Mahoron ... https://t.co/UG2VHWqYR6 pic.twitter.com/pon7I0zvAi

— 柚 P ???? WF4-02-07 (@ YZPhouse) July 25, 2019
'Hermitage Queen' from the horizon on the border
The paint sample is complete! !

Dealer name Kenjin soup table number 5-31-17 at this one festival
Price 30,000
Sell at

Both the finished sample and the product are quite large in size.
Please come and see the real thing # WF2019s # One Fess pic.twitter.com/MkUVkiHZB3

— Justice 5-31-17 (@ justice2280) July 20, 2019
I understand the table version of Onefest. It is 7-08-03. My item for sale is the Okada founder dog version. Thank you. # wf2019s #fgo pic.twitter.com/9dRJTjgDWi

— Noi @ WF 7-08-03 (@noinori) July 6, 2019
Table number 5-20-09
Dealer name RET

We will exhibit something like this at WF2019s

Thank you! # wf2019s #Phrozenshuffle pic.twitter.com/yAKm9UKjzD

— Yukihiro7 @ WF 5-20-09 (@ RETmodels) July 21, 2019
I took the FGO swimsuit Jeanne Horta, which will be sold at WF2019 (Summer). I can not sell it last time and I will sell it at a price of 10,000 yen. It is 'Kagutsuchino Principality of Dreams' (5-15-12). Thank you very much. # wf2019s #FGO pic.twitter.com/m9kwbfIxv1

— K valley @ WF5-15-12 (@ kagutsuchino) July 14, 2019
We will exhibit Otokadoll's Envy at the summer festival! The table number is 7-22-04 and the dealer name is FUJIMAKI. Come everyone! For photography, I used the space for Yokkaichi plus pace! # Otokador # wf2019s pic.twitter.com/iFEjg0KmDl

— Omochi @ Wanfest 7-22-04 (@omochi_otoca) July 24, 2019
I made a goat.
Take a one-part molding to a garage kit and take it to a one- fess ~ ~ (^ o ^) 丿 # wf 2019s # One-fes pic.twitter.com/0hX7a4BTRX

— SHINZEN @ WF7-06-01 (@shinzen_sl) July 16, 2019
[New one fess part 2]
From the country of jewels 8 cover monthly costume Foss number: 5-32-12
Ties, sleeves are clear, all without contractor. It sells for 10,000 yen.
I tried to put in a lapis lazuli hair and eyes made of synthetic pearls. You can play Ekmea in real. Thank you! #Jewelry Country # wf2019s pic.twitter.com/YBg3ioa3zD

— Chikashi @ WF5-32-12 (@ chikashi731) July 21, 2019
Wang Fes 2019 Winter New Release One-Punch Man 'Genos'

I was conscious of the sense of demon cyborg attacking aggressively! !

Summer sales will be very low. I am sorry! ! Cry # Wan Fes 2019 Summer # Wan Pan Man # Genos pic.twitter.com/HbuN6Svmm4

— Sculpt Man ★ 彡 wf 2019 summer 7-01-02 (@man_sculpt) July 21, 2019
HORIZING @ wf7-17-09
Ludwig of the Holy Sword
WF version right kit size: Height approx 40 cm
Number of parts: 18
Price ¥ 28,000.- # Wf 2019 S # bloodborne # Onefes 2019 summer pic.twitter.com/OqJyVDzgCB

— HORIZING @ wf7-17-09 (@ Horizing1) July 17, 2019
WF announcement! Table number 5-31-01 Sea rat

● The new work 'Nuimine-san'
Mayo tofu replacement parts included ¥ 5,000
12 parts, height 10 cm
It is a garage kit that requires processing and assembly and painting.
The first image is a complete sample of one set

● Display only 1/7 scale 'Kotomine Kirei'

Thank you. # wf2019s #Fate pic.twitter.com/9wrfxfUniQ

— Sachi (sea rat 5-31-01) (@sachi_umi) July 21, 2019
'KING OF PRISM'
Saionji Leo is completed!
I made it with Ssu sosu from the presentation at Rozpa, so I can finish it at this timing and feel it?

We will exhibit the finished product and sell the garage kit at the July 28 Onefest.
Thank you.

詳細 Details of the garage kit and so on continue. #kinpri # wf2019s pic.twitter.com/G5AVmFvOMo

— Kiyomi (Wan Fess 4-05-04) (@colorsstars 333) July 21, 2019
We will sell the original mechanism that transforms from car to raptor type at Onefest!
It is table number 7-22-06.

It will be sold in Form 2 output state.
Some parts can be made in any combination with a selection formula.
The number may be smaller than last time. I'm sorry. # wf2019s pic.twitter.com/fregZ4UvGT

— Yushin WF7-22-06 Thunderbird Studio (@ U_shin_0604) July 13, 2019
Re: I also tried to retake the photo of vale.
It will be on display on July 28 at Onefest.
Hundreds and thousands finally appear! I'm looking forward second term anime ~ #WF # WF2019s # Ainana pic.twitter.com/h9ESOkUMYf

— Amaguri [TauruSnail] WF5-02-04 (@amaguri_fg) July 14, 2019
[Notice] We will sell 20 unassembled unpainted kits '1/6 Haruru Ajiba' of 3D print output products limited. The price is 15,000 yen.
Please stop by at the ArCray desk [5-33-02] ✨ Wonder Festival 2019 Summer (7/28 at Makuhari Messe) ✨ #wf 2019s # Ideon # Yukawa Koyu # Sunrise # shuffle XL pic.twitter.com/ B01HGNAE 5H

— WF Summer 5-33-02 (@ mk2_mattuk) July 7, 2019
I'll announce you again next week 7/28 WF2019s will participate!

More than 'Don't Otoko Toriko' · Toriko / 鎧 option Yes (¥ 12000)
・ Set of 5 boys (¥ 1500)
Unpainted resin kit will be sold.

We are waiting for you at Takuban 7-33-10 (sobae). Please come and see me on the way! # wf 2019s # People's great Otoko Toriko pic.twitter.com/2TUexoTGfi

— Yamaguchi Narumi WF7-33-10 (@Narumiymgc) July 20, 2019
Youku of Karukan ( @ karkan3 ) is completed.
It will be on display on July 28th and it will be sold as a kit.

I asked for painting by Mr. Tsuchiya ( @IhsanClosterman ), and shooting by Mr. KON ( @figuephoto ).
Thank you for finishing the wonderful work! Wf2019s # # Eastern pic.twitter.com/Qg7MfSRiAr

— Patton @ WF6-18-10 (@ptn_t) July 21, 2019
The new work is a familiar noodle stopper set # wf2019s # miabyss pic.twitter.com/ZZP2ZLeG28

— Akizuki WF7-46-02 (@a_akiduki) July 20, 2019
Adult silver miscellaneous goods 'Alli for lunch box' series is 'all 2 for lunch box' once for all five kinds of random gachas ¥ 990-
'Alle DX of a lunch box using various natural stones' 6,200 yen each
Put out! DX is scheduled to cast a limited (* '· ω ·) ゞ# wf 2019s # wf 2019 summer # one festival pic.twitter.com/uIu349dMaK

— Clystal Moon / Daiko Soejima (@ Cmoon47) July 17, 2019
It is a one-fest guide!
On July 28, I will exhibit 'The Beast of the Priest' at Makuhari Messe! Please come and see the entrance guidebook now on sale at anime and hobby shops nationwide!

Table number: 5-09-04 Suzuki elephant kei

↓ production landscape ↓ Https://T.Co/nCQr67gjFI #Bloodborne # Brad Bourne # Wf2019s # Wonder Festival pic.twitter.com/tnDqXyuxfU

— Suzuki Shinya @ WF5-09-04 (@suzuki_predat) July 15, 2019
New item information
-----------------------------------
It is Toki from 'Kemono Friends'!
Unpainted garage kit with clear parts

Table number: 7-20-02 Inari town thank you m (__) m # WF2019s # Kemono Friends pic.twitter.com/JMu6qoLSJl

— Inari @ WF2019 summer [7-20-02] (@ inari2014) July 16, 2019
Thank you very much!
The figure of 'Dororo' for One- fest show is completed- # wf 2019s pic.twitter.com/RlS0H8C9Do

— Kim.WF 4-15-12 (@tokimodesign) July 20, 2019
[WF2019 summer] New 2 bullets 'Airi Shimada'

'-Studio-SunFlower' 7-47-7
With Centurion turret price 12000 yen # Wf2019s #Garupan # Garupan

Airitoshi of the third work. I like it the most in garupan. https://t.co/yaOYv2oA9t pic.twitter.com/kKijLrswqp

— Studio Sunflower ???? @ WF Summer 7-47-07 (@studio_sf) July 21, 2019
I found a fairy! pic.twitter.com/2nKhHgQCNH

— Tanabecin WF 7-45-07 (@tanabeshin) July 20, 2019
【Notice】
We will sell the new FGO 'Goodbye Second Second Ver.' At 2019 Summer One Festival on July 28.
¥ 20000
Dealer: One shot 30,000 rounds Table number: 04-14-06
It will be an unpainted, unassembled garage kit. # wf2019s pic.twitter.com/jxYD9QIN51

— Toshi @ WF04-14-06 (@ represent1121) July 16, 2019
【One season 2019 summer new item】
It is Hinata-chan and No-Ai-chan from 'An angel came down to me!' ! Pretty finished (『'` *)

For more information about the exhibition information → blog → https://t.co/PjGJpMUoRT # wf 2019s # Waten # wataten pic.twitter.com/qoGjpKUH0R

— Oocho @ WF6-23-01 (@occhotan) July 24, 2019
WF Summer's new!
'CANDY LAGOON'
The fins, water oysters, and wave base will be clear resin.
The kit will be sold at table number 7-04-03. Nice to meet you···!
... Beware of 'CANDY LAGOON'! # Wf2019s pic.twitter.com/UQerfnTfhE

— Yuki Fujimoto WF7-04-03 (@YOKKI_munchkin_) July 12, 2019
■ 7/28 Wonder Festival ■ After school Revol (7-19-02)
■ 1/12 Full Action Soldier Legion ■ Price ∶ 15,000 yen It is a costume style that has not been blessed with three-dimensionality so far, and it will be three-dimensional with black color resin, each part's movable action figure.
Thank you in advance for this opportunity. pic.twitter.com/BBP4iynv3s

— LMU-23 WF7-19-02 After School Libor (@hidarichan) July 22, 2019
One festival notice 1

New work: Major Helsing
July 28 Makuhari Messe, Takuban 6-14-01 Overpainted resin kit 30,000 yen Planned sales number 50

Sales start is from 11:00 to one person per person.
Thank you. # wf2019s # Hellsing # hellsing pic.twitter.com/3xwxGNq9gT

— Motocci @ WF6-14-01 (@jaralacs) July 21, 2019
Join # wf2019s .

5-16-16 'Tsukushinbo Works'
1/48 gun head @ 30000 yen

It is a full movable variable resin cast kit that uses the setting picture of Mr. Masaharu Kawamori as an index.
It is an unpainted unassembled item.
Attach the chest of the drone (photo 4) as an option. pic.twitter.com/LRqOHqqJbE

— Shirai @ wf 2019s_5-16-16 (@tsukushinbou_ss) July 9, 2019
It is likely that you can bring the violante somehow for sale.

Unassembled unpainted resin kit ¥ 43000
Thank you~.
(Godzilla and electric decoration kit are not included) # wf2019s # Wanfest pic.twitter.com/zynTwz465O

— Kudaf Romi / Fukuda WF4-07-07 (@KUDAFU_ROMI) July 23, 2019
Mee Le Kim's prototype, the daughter image of the cat, was completed.
I painted in a standard color scheme. Cute and cute. Posing a three-dimensional look from any direction, strange arrangement.
The gold chain at hand is a pocket watch of memories. I can not see from the front, but the details are beautifully shaped. pic.twitter.com/xgebafFXGp

— Konekoko (@koneta_ko) July 6, 2019
[Notice] Bunny Chiyo's painting sample of 7/28 (Sun) ONE FACE new item is completed! (Shooting: Sachi Hira san @ sachihira )
The resell Shiho-san will be sold at dealer Omni at a ¥ 15,000 garage kit.
The details are https://t.co/cs9gGKjdpQ # wf2019s # Garupan # Bunny Chiyo # Chiyo Shimada # Shiho Nishizumi pic.twitter.com/7YhRK3YqK2

— Magic child @ WF6-25-3 (@omnihisyo) July 24, 2019
Poco Sensei @poco __ 's original character 1/8 Chain: saw 013 sells to WF for the first time.
Color sample production: Kadogami @ xiaango

Table number 5-16-13 Rabbit house price 18000 yen sale number 50 set

Nice to meet you everyone. # wf2019s pic.twitter.com/cGDcrjMqL7

— Rabbit WF2019s 5-16-13 (@ udongein 87) July 22, 2019
狐 cute!
We sell painted and unpainted goods in wf site #Wf # Wf2019s Pic.Twitter.Com/AL9QTioUf9

— Kunoyuki Kumono WF 4-23-01 (@ Kumono17) July 24, 2019
The painting of Libert Legis is almost finished!
It is a full operation model using a commercially available joint.
The photo of the action completes the weapon and will be next time!

If mass production is possible, it will be the first sale for ¥ 35,000 at this one festival! # wf2019s # dem bain pic.twitter.com/ENtTtt0wxX

— Umets Momomi (WF6-25-08) (@umetzu_) July 15, 2019
Mr. Casewabe ( @KSUWABE ) A reproduction sample was received from RC Berg ( @ RCBelge1984 ), the original Gakapon warrior-like Servant.
It looks like it is shallow, but the back hole is also implemented.

Babbage & Hasan for 5000 yen Mode Red for 3000 yen
It will be sold at WF2019S, table number 7-22-13. # WF2019s #FGO pic.twitter.com/BJUCRSet9g

— JK Frost @ WF7-22-13 (@JK_oFrost) July 20, 2019
FGO Katsushika Hokusai painting completed This summer is scheduled for sale of wf Thank you for your consideration. (● 'ω `●) # wf 2019s # fgo # One fess # Katsushika Hokusai pic.twitter.com/JQjRHX4NYX

— Wf5-27-11 @ Lilim (@ King_SeungH) July 8, 2019
[A fluffy embrace]
I was finished squishy wakina!
You can reproduce the movable leg extension state by replacement ヾ (* 'ω') No This work will be sold at Wonder Festival 2019 summer!
The table number is 8-31
It is 3,000 yen one!
Nice to meet you m (_ _) m
# wf2019s #MHW Iceborn # Completed product of #Mamune # MHW pic.twitter.com/Km7ch0NxQP

— Masamune WF 8-33-11 (@masamune_MHF) July 7, 2019
It is a new work 'purple Shiki ' for Tonfesu #wf # fg pic.twitter.com/0c8555n 6QO

— Miki Sakurasaka @ WF7-49-06 (@m_ousaka) July 23, 2019
wf 2019s, table number 6-23-7

* FGO Karuna Redress 【1/8】,
It is 10000 yen, sale quantity 15 unpainted garage kit.

Prototype: Miyoshi Haru painting: Apostle Apostles Regards # wf2019s #FGO # Karna pic.twitter.com/8WxAsD9xXi

— Miyoshi Haru @ WF6-23-7 (@miyoshiharu) July 25, 2019
【WF exhibition information】 Platform number 7-20-05
I will exhibit at the new work The new item Kanagata Shiomi (25,000 yen)
Resale State Heavenly Region Shiina (25,000 yen)
Resale Aikawa Aika (16000 yen)
Reselling Kobayakawa Pohi (12000 yen)
Thank you in advance # wf2019s # Alice gear pic.twitter.com/S2XeJ4aksj

— Setsuki @ WF7-20-05 (@setuki_sp) July 24, 2019
As we received permission from Kumamine-sama, we will sell 'a cat that will be held from now on' at wf 2019 summer held on July 28th.
Table No. 7-18-05 It is an assembly kit made of pure cafe guillotine resin This time there is no time too much and it is a mass production.
Since there are fine bubbles, special price 2000 yen sales number is planning 20 pieces. # wf 2019s # み pic.twitter.com/mnezW977Uz

— KG Masayuki WF7-18-05 (@ kg_magras30) July 22, 2019
# wf2019s # Egypt god to one
Final notice In this year's festival, the Egyptian god new works OTTER, SOBEK, WENET standing pose sale and nine pillar standing pose, flower viewing version, half size resale.

Half size is five hundred yen, standing pose and Hanami version is one thousand yen.

Thank you. pic.twitter.com/JKmIUoS66h

— OGRE.J WF2019S @ 4-09-02 (@OGREORDKEI) July 24, 2019
I will participate in the Wonder Festival. Table number 7-14-12
The copyrighted material is Tsunoko 1/7 ¥ 12000
Animal pilot (Mamo, cozy original) # WF2019S # Wanfes 2019 summer pic.twitter.com/5R0hd7w1df

— Asano will @ 7-14-12_wf2019s (@ Yuji2014a) July 20, 2019
Wang Fes 2019 summer dealer name: Ulsan Electric '
Table number 6-24-05

New work railroad daughter 'Kuroshio Shirara'
Completed (* ω ω `*)
Painting is Pokomichi

The price is 8000 yen

Please note that for the convenience of copyright, it will be sold only this time. # Wan Fes # wf 2019s # Railway Girl pic.twitter.com/HJpiTwi0XX

— Itsuki @ WF6-24-05 (@ ituki3) July 9, 2019
# # wf 2019s AK Garden Mascot Girl, # Gadeko 's Mecca Daughter Version Mechagadeko will join! This time is enough, so I prepared loose quantity than AK Garden, so thank you! Thank you! pic.twitter.com/Ij87uCNVwE

— Muscuto WF 07-02-03 Muscuto (@muscaro) July 21, 2019
We will sell the garage kit of Scasach = Skadi from Fate / Grand Order at the 1st festival on the following Sunday (7/28).
It is ugly before, but the butt is also ugly.
Look forward to the day! .

Product details will be posted on the blog later, so if you would like to purchase, please see the information there. # wf2019s #fgo pic.twitter.com/QbJ1V4oCiA

— Mono; Polish @ WF 8-34-02 (@MonoPolish) July 21, 2019
It is a new prototype of WF2019 summer. # Produced 'Fyro' from the rise of the shield's hero .
Please see the blog for details. https://t.co/Jinvo9xNOP

The table number is 5-33-06. # wf 2019s # Philo pic.twitter.com/9Omb1nDMVt

— Ryo Hashimoto (@primal_ryo) July 16, 2019
[WF 2019 Summer order book] Firewood 500 yen Sales schedule Detailed from last time, I adjusted so that the white ash remains with the burning and the beginning. (It turns brown when you wear it sideways with a burner.)
We will borrow the desk of Schprech studio @ MuneatsuH on table number 5-31-10. # wf2019s # wf 2019 summer # one festival pic.twitter.com/e2W9sFTsCD

— Sexadam @ WF5-31-10 (@gorovodka) July 7, 2019
It is the present condition of Wanfesu new work 'Fukuneko Jizo' (Stunning). # wf2019s # cat Jizo pic.twitter.com/DcdnVpAmy4

— Cat Jizo mori [WF5-01-07] (@nekojizo_mori) July 24, 2019
WF's table number was 5-12-01

Outstanding items are Sailor Moon and Kira Kiri from Pretty Cure a la mode Cure Chocolat (original / design side @ anbe 18695 )

Thank you in advance # wf2019s # wf 2019 summer # Pretty Cure # Sailor Moon pic.twitter.com/9ENxIx7JsM

— Koichi Masumi @ nico-labo (@ ma_sumiya) July 10, 2019
[WF2019 summer announcement] '5-27-7' Please ask

It is Glenville from Azul Lane.
It was an exhibition of temporary output items, but I managed to make it in time.
Thank you. # wf 2019s # Z Brush # Azure Lane pic.twitter.com/WYmpFqpSFK

— Back root @ WF5-27-7 (@uraneya) July 25, 2019
I tried to apply the pink and yellow samples among the free distribution hair parts samples. Expect twitter product shipping (due August) and #wf 2019s sales! # Megami device pic.twitter.com/DI4CMoZUen

— Muscuto WF 07-02-03 Muscuto (@ muscuto) July 18, 2019
One-fes summer notification is Yuru Can よ り Aoi Inuyama is a stove and pot with a pot with a pot 5-07-07
Sincerely, ‹\ (ωω`) / ››
# wf 2019s # loose can Δ pic.twitter.com/siHwKNRDIE

— Pork pot house wf5-07-07 (@ticbon) July 20, 2019
[WF notification]
Displayed and sold at WF2019s.
New work Mai Sakurajima (¥ 12,000-)
Table number 8-14-02 (Wisywig)
※ It becomes a necessary garage kit for assembly and painting

Thank you in advance # wf2019s # wf 2019 summer # blue pig # Mai Sakurajima pic.twitter.com/JHiSLudQum

— Hiroshi @ WF8-14-02 (@kou_WisyWig) July 16, 2019
1/1 Unico. The size of the face is almost the same as a child. # wf2019s # Unico # lifesize # finished product sale # Osamu Tezuka # doat pic.twitter.com/Cr6Mf352cP

— Doat / WF 4-13-09 (@doat_doat) July 12, 2019
wf2019s new work Persona 5 from Fox (Yusuke Kitagawa)
It sells for 10000 yen. This time, I got a cool photo by @sachihira Sachihira-san. Thank you!
Takuma No. 5-32-12 In the name of Desire of a Maiden # wf 2019s # wf 2019 Summer # Persona 5 pic.twitter.com/7Jy12d7lBO

— Sapiens @ wf5-32-12 (@googoosapiens) July 16, 2019
I tried to light up the one that was removed from the formwork yesterday.
The base is made of black cardboard below, and the inner side is masked with masking tape.
But did it feel good? # Submerged diorama # wf2019s pic.twitter.com/9tygLkLf4y

— MASAKI @ WF5-18-02 (@MasakiSe) July 2, 2019
We will sell the original 'Long Haired Maid' at WF 2019s!
It is unpainted assembly kit 7000 yen.

Wf2019s # # maid pic.twitter.com/yePdP4urA1

— Kln⚓ WF 5-14-09 (@ 39ken39) July 12, 2019
Ku Furin Horta is complete! !
We will exhibit at the Wonder Festival, which will be held on July 28 (Sun).
The table number is 8-28-12 and the dealer's name is 'croquette crushed'.
This time it is unlikely to be ready for sale, but it may be sold at future events ...!

Wf2019s # #FGO # Koo Fuling Horta pic.twitter.com/HIoc38nULW

— Croquette Crushing @ WF 8-28 12 (@meirikeng) July 23, 2019
[Wf 2019 summer new item information] Event limited garage kit The coloring sample of Diodrit was done.
A high elf of the no return forest that appears in Rhodes Senki. The eternal maiden will be three-dimensional in 1/8 scale.
The details are here → https://t.co/G0Jcj8DK3U # wf2019s # Rhodes Island Senki pic.twitter.com/2yao2cO3CU

— Metalbo @@ Metal Box (WF7-05-05) (@metalbox_metabo) July 22, 2019
Wang Fes 2019 Summer Flower Shop 8-33-10
[New work] From Fate / Grand Order, Robin Hood half-body statue: 8,000 yen The third return was made into a half-body statue. Leather straps can be assembled in a detached state (can not be removed) is a vendor reproduction. Thank you in advance # wf2019s # FGO https://t.co/DWn9GjPKAG pic.twitter.com/KsbaGz1xus

— Ado. ???? WF 8-33-10 Flower Shop (@ado_cbcd) July 24, 2019
'Cure Miracle Mini' prototype completed! Base, it is about 9 cm in height not including Ponite. I tried side by side with Happy of Petit Chara! For size comparison. The ball of Ponite will be packed with beads. The price is ¥ 6,000. It will be released at the Wonder Festival on the 28th of this weekend. # wf2019s # wf 2019 summer # Cure Miracle pic.twitter.com/WxPmTzqtG9

— ■ Kuramoto Ikuma @ WF7-49-02 mm modeling (@millime_kura) July 23, 2019
\ Harlow Harlow Hello Mac ♪ /

[New] clear mascot ☆ Mac Lion

One part configuration that can be enjoyed more intuitively! #wf 2019s copyright and license

7-18-07 'MADHANDS' Exhibition and sale # Hello Mac https://t.co/6PSUuXGgfl pic.twitter.com/AWZFAr8uQW

— HYO (MADHANDS) 【The day after tomorrow】 One festival: 7-18-07 (@madhands_tweet) July 25, 2019
Kiri-tsu! Watch out!
High clean!

Bust of three people of Nijisanji JK group was completed (* '`` *)
It will be sold at Wanfesu 2019 summer.

The price will be 8000 yen for a 3-person set.
Thank you. # Delo Oh door # Mitoato # Lin Art # Wf2019s # Wonder Festival pic.twitter.com/4rBq8UPHMK

— Itsuki @ WF6-24-05 (@ ituki3) July 13, 2019
It is announcement of one fes 2019 summer.
【Daisy Bell】 4-24
● New item Fate / Grand order
'Assassin of Deforme Shinjuku'
Sculpting KaNA ¥ 3,000
● Display only Touken Ranbu 'Hakusan Yoshimitsu'
Sculpting ATSUMI ( @ atm_colors )
Thank you! # fgo # Touken Ranbu # wf2019s pic.twitter.com/gxi5YMDNAF

— KaNA @ WF2019S4-24-13 (@ misakih20) July 23, 2019
Station number WF 4-23-03 # wf 2019 summer
'Aoki' gray scale, unpainted assembly kit price 21000 yen,
Sincerely, pic.twitter.com/2Uj3pUJFWx

— ShanRen Zhou Feng WF Summer 4-23-03 (@ zfshanren) July 24, 2019
It is announcement of one fes 2019 summer [Northern Village (Kitai village)] Takuban 4-16-04

New work Alice ・ Gear ・ Aigis 'state Tenshiro Shiina gym suit ver.'
1/8 size Price 8,000 yen Unpainted, unassembled resin kit Decals are not included, so please be careful # wf2019s #Alice Gear

Next resale pic.twitter.com/a3thSwNVBz

— Hiro @ wf4-16-4 (@ hiro30crono3) July 15, 2019
Asuka sells dresses. # wf 2019 summer pic.twitter.com / 5ALDcyWSqB

— Atomicbom Table number 6-16-08 (@Suzu Atomicbom) July 23, 2019
7/28 one festival 2019 summer table number 7-12-01 another house 106

'1/12 Movable Foe-kun' (3,000 yen)
We sell the movable model of Fou from Fate / Grand Order. It is an unpainted assembling type garage kit.
The loading screen can be reproduced using the included 'LOADING plate'.
Thank you so much. # wf2019s #FGO pic.twitter.com/NcCSf3reB6

— Kido-kun ☆ separate house 106 / wf 7-12-01 (@shiroi_keitai) July 18, 2019
Hm ah Oh I'm blown away!
And it was table number 8-16-3!
The unpainted unassembled garage kit is planned at ¥ 4000 for both the new ping pong Akma and Smile.
I think it's the last thing I can paint, but I'll let you know if I can, so I'm going to make a photo with an angle cover # wf2019s pic.twitter.com/NX0LzoHphG

— Taro WF Summer 8-16-13 (@taaaaaaaaro) July 16, 2019
I will join GILLGILL in Wonder Festival 2019 summer.
Table number [7-36-01]

【New item】
Akuma rabbit ¥ 3,000
【Resale】
Akumaneko ¥ 3,000
Akuma dog ¥ 3,000
Akmakaras ¥ 3,000
Tenya Yasha ¥ 16,000
Incubus ¥ 16,000

【Exhibition】
SCULPTORS 02, 01 Displayed works on display # wf2019s # wf 2019 summer pic.twitter.com/hs1X050y6F

— Tsukada Takashi WF7-36-01 GILLGILL (@tsukachuma) July 25, 2019
A summer fetish, Shark Fin's new work is Mari Tamaki from 'a place further from space' than Kimari!
It becomes 5000 yen with 1/9 scale, decal. The photo was taken by Mr. KON ( @figuephoto ) very beautifully!

Thank you in advance m (__) m # than # wf2019s pic.twitter.com/JGHiTNv26S

— Fukahire @ WF4-12-06 (@ fukahire2015) July 15, 2019
We will continue to announce the one-fest. (Part 2
At Table No. 5-24-05 (Formation Center Ondo Buddha),
'Deformed Five-seven (Dolls Front Line)'
We will sell Thank you very much. # wf2019 # wf2019s # Dolls front line # Dolflo # Girl veil pic.twitter.com/o6rBHNxOw2

— Tobotobo @ WF5-24-05 (@tobotobo_) July 23, 2019
Wonder Festival 2019 summer

● The new manga mad nightmare dog ¥ 3,000-

● Foresight of resale Abrietors ¥ 6,000-
Children mushroom ¥ 12,000- # wf 2019s pic.twitter.com/mpH9ayR4vo

— Herasagi wetland @ wf 8-32-7 (@herasagi_shitti) July 21, 2019
It became # WF2019S dealer number 7-20-09.
The new work # Chemlica Rin has also been licensed. Really, thank you. #WF # Wonder Festival
I could also draw a package picture. Let's work hard to do the remaining work. pic.twitter.com/FM8HjmJoeI

— ZAN WF2019S 7-20-09 (@ZAN_NEKOTAMA) July 7, 2019
WF2019 summer new work, 1/12 movable rider Ushiwakamaru was completed.

The kite comes with some soft material, five faces, and three wrists.

The movable range will be attached to this tweet as soon as the paint film settles, but please also refer to the past tweet in production.
Thank you on the day! # wf2019s #FGO # Ushiwakamaru pic.twitter.com/JgdiE0wmCY

— Miruwao @ True Mosasa Studio-WF2019s-6-14-02 (@kogemaguro) July 16, 2019
At the Onefest! Gridman Naassi B in the soft vinyl series homage of that time! © ︎ プ ロ ︎ ︎ GER TRIGGER · Tetsu Amamiya / 'GRIDMAN' Production Committee # wf 2019s pic.twitter.com/uNpR8fhYWH

— Cans WF2019S 7-13-02 (@ m93rauto9) July 21, 2019
Jurisan ( @ 10rXXXjamberry ) 's character, three-dimensional Humiditi thing Dei-
As it is a full-color output product as it is, it is a small number in Wanfesu 2019 summer, but I would appreciate your favor! # wf2019s pic.twitter.com/xMXraPwa77

— Yoshikoe @ wf 5-19-15 (@Yoshikoe 777) July 14, 2019
One fess new item
Main character challenger than FC 'challenge'
Main character win price from FC 'Mystery of Atlantus': Each 2500 yen (not for set sale)
About 55 mm in size made of soft resin ※ Product is achromatic.
The NES explorer series first installment! (However, it does not continue) # wf2019s #KONAMI #SUNSOFT pic.twitter.com/juulIE6SCm

— Mocos 4-05-01 (@mokos_gangu) July 14, 2019
In the summer festival

We will sell Verona [Verona].

Khoria output product

It will cost 5,000 yen for 1 child.

Thank you! ! # wf 2019s # Z Brush # Onefes 2019 summer pic.twitter.com/KRhVGn5T0V

— Gami_wf_04-27-01 (@ oogamitakehiko3) July 8, 2019
My table is '4-24-04'!
Your order is Godzilla (head model) 7000 yen
GMK Godzilla (30 cm) 35000 yen crush blade Dinovardo (head model) 13000 yen Spinosaurus 13000 yen Thank you ^ ^ ^
I think Dinovardo will be completed tomorrow (^ ^;) # wf 2019s # Godzilla # Monster Hunter pic.twitter.com/ZIZ3ITTFof

— RYO @ Nendoroid WF4-24-04 (@ nendoseizin1987) July 9, 2019
wf 2019s sale ~ 9800 yen uncolored kit ~ 5-35-07 ~ pic.twitter.com / 2KFO 7QIPBE

— Hayate 'Snowflake Snow' WF2019-5-35-07 (@skyhayate) July 16, 2019
Well, I did ... I was in time ...
I will bring in the summer of 20th of January 28 2019 Summer, 'Kankore' destroyer · Kishinami, launched!
Amateur's normal pressure manual reproduction, strong love to Kishinami is essential for assembly, Kishinami ski Admiral! Please come and see me! Wf2019s # # ship this pic.twitter.com/uh0hj4UzNv

— TETSUNAMA @ WF4-20-07 (@TETSUNAMA) July 25, 2019
I am in the process of creating a new original that was Takuban 6-29-03.
Lavinia's resale should be in time ...
Thank you in advance. # wf2019s pic.twitter.com/bM5sjROzlT

— Inorisama (@inorisama) July 24, 2019
It is WF advertisement of this month!
Dealer name 'makemake'
Image 1st piece Rose (Rose) 1 body 6000 yen 2 images Bust person 'Protest woman' 1 body 5000 yen
Will you sell it at 4-04-06 ????
Both are products of a garage kit that requires painting and assembly.

This time, the photo was taken by Shocott ( @chocot_ )! Cute chicks # WF2019s pic.twitter.com/Ew7u9hzqeI

— Kaori Ishizaki wf 4-04-06 (@ishizaki_saori) July 14, 2019
Will you join wf 2019s ????
【Thin Valley 5–34-06】
???? Hoshimiya strawberry 6000 yen
[Preprisamine +] Nana Abe 13000 yen
(Unpainted, unassembled garage kit)
Usamin is scheduled for final sale this time. If you are interested in this opportunity ~ ???? # wf 2019s pic.twitter.com/19j IARnivC

— Mishima WF5-34-06 (@ mishima_2292) July 19, 2019
A new painting of Wanfesu 2019 summer, the original 'Sora' paint sample is complete! Here is red. The white flower pattern has a ceria nail seal. Please paint your favorite color and pattern ☺️ Height approx 20 cm, garage kit, 10000 yen. # wf2019s pic.twitter.com/HRyEdqe9iz

— Ice9 @ WF4-19-04 (@ ice9_info) July 15, 2019
The new original 'Moto's Koto-chan' has been completed!
We will sell the garage kit at Wanfesu 2019 summer, so thank you in advance! # wf 2019s # Original pic.twitter.com/aOuvmpn Yjb

— Hone (hone) WF6-11-04 (@ whoopiepie_h) July 20, 2019
Sober for the new work this one

Kazuo Umezu drifting classroom 'future man'

It became like this-# Onefes 2019 summer # wf 2019s pic.twitter.com/w8MhHNuIt5

— Repatriation 473 @ WF4-17-02 (@fdsoda) July 24, 2019
WF new work, 'purple Shikibu' color sample completed
It is a bust up model on the thigh.
The price is 6000 yen.
It is an assembly kit by resin cast and FORM2 output product. Thanking you in advance. # wf2019s #FGO # purple ceremony part https://t.co/b5PLgpjjI7 pic.twitter.com/QJzmtkRwCv

— Kyami @ WF5-22-04 (@ kyami43) July 21, 2019
It will be FGO fear beauty that will be exhibited and sold at the one-fest of this weekend. Base, sword, dress is clear resin.
It becomes 10,000 yen by unpainted and unassembled.
Nice to meet you ~. # wf2019s #FGO #The fearful woman pic.twitter.com/89lsEYmyZE

— Super Onion @ WF6-08-14 (@ super_onion55) July 22, 2019
【7/28 WF new work】
'Bourbon' from Detective Conan
'Lai'
It was completed!
We will sell the garage kit at 7/28 Onefest. (There is no mail order because it is a copyrighted item on the day. It is not a set but it is sold separately.) Details will be given in the final notice given later!
Counter number 7-13-9 # wf 2019s # bourbon # lie pic.twitter.com/qCGet9QLRG

— Miro ☆ WF 7-13-09 (@ vanillalove1013) July 26, 2019
Wonder festival 2019 Summer
House of Cranes 6-27-17
New work [Fate / Grand Order]
For more details on the Archer Inferno event, please check at the Tsurunokan blog. ↓ https://t.co/AIVejpxxWY #fgo # Onefes # Crane House pic.twitter.com/4oyUgN3L2s

— Mai Nocchi [Tsurunokan] WF6-27-17 (@turu_mocchi) July 20, 2019
【Notice】 We will sell the Eraser Doll of Ryujin Maru of Genjin Hero Den Wataru at OneMace at cMp 5-12-06! The new color is blue! Thanking you in advance! It's super fun and cool to say HAPPI! ! # wf 2019s # Genie Hero Legend Wataru pic.twitter.com/6zSEaNOeHe

— Happy WF5-12-06 (@HAPPY 0000000) July 20, 2019
I was able to temporarily assemble!
Wang Fess's new work is an Ando Brigade 'Sho Si' from the original series Royal Inner Self.
This time it is a small and cute movable kit.
The rest is just painting ...! # wf2019 summer # wf 2019s pic.twitter.com/vsozJvnISq

— Hiiragi beginning WF5-14-02 (@Hi_ragiHajime) July 15, 2019
For sale at Wonder Festival 2019 Summer, held on Sunday, July 28 from here

An angel has fallen to me! Shirasaki 13,000 yen

The Idolm @ ster Cinderella Girls Chie Sasaki 12000 yen

Takuban 5-35-01 Dealer Name: Thank you for your consideration ~ Polygo Noise # wf2019s # Wataten # imas_cg pic.twitter.com/QTSsF4U6pc

— Onda @ WF5-35-01 (@ On_da_nac2) July 25, 2019
One-fes your order

From the copyrighted material 'Holding the Demon'

'God Beast Shirosawa-sama' 19000 yen (new work)
'Ema Daioh First Aide First Officer Onisama' 18,000 yen (resale)

Detail in the following descriptor field # Wf2019s #Wf # Wonder Festival cool-headedness of # ground cherry # ground cherry # Shirasawa pic.twitter.com/aVfVT5E1Qz

— The restaurant shop Pon @ WF 4-09-01 (@emikokamo) July 22, 2019
It is a three-dimensional rock lantern of Katsushika Hokusai ???? LED and a button battery are built in, and it has become a mechanism that lights up like a candle while flashing when the switch is pressed. The finished product will be sold at the 1st festival on July 28. The table number is 【5-32-5】 ???? # wf2019s pic.twitter.com/LCn8XXItOQ

— Bizarre 紗 7/28 WF class number 【5-32-5】 (@kaiki_risa) July 9, 2019
[Notice] WF2019s new item

CC Sakura Clear Card Knit Kinomoto Sakura & Cerberus Star ver.
{Completed sample display, kit sales ¥ 15,000 will be planned}

This time, I would like to disturb you at the dealer [6-20-12] Frontier Industries.
The new work is also with Sakura ???? # wf2019s pic.twitter.com/BKEHhv02Ul

— Harume! @ WF2019s 【6-20-12】 (@ moca_711) July 20, 2019
We will sell Hydroshark for 10000 yen at Wonder Festival Summer 2019. Some of the previous ones have been refurbished, and it has become easier to assemble

The table number will be 7-22-06

The picture will be the previous one, but it will be updated as soon as the painted sample of the refurbished one is made. # WF2019s pic.twitter.com/3xJWcKUfa

— Cat fish WF7-22-06 (@ catfish 644) July 13, 2019
Exhibited!
Table number: 【7-22-02】
Product for sale: Original Mega Girl-GN Project 1st edition [WOLF] 001.
This series is a PVC movable finished product.
Scale: 1/12
Total height: 15 cm pic.twitter.com/lFKo7g3Cjt

— Wrinkled shell wf 7-22-02 (@ wozhikexiazuo) July 17, 2019
1/12 scale 'example alle', 3D printing kit 2000 Yen # wf2019s pic.twitter.com/yqOBeGrhcV

— Yura @ WF7-27-04 (@yura_greycube) July 25, 2019
The summer festival will be 6-23-12.

The product is from the new work "a place far from space"

'Antarctic Schoolgirl Set'

Repair new Nagasu-san ver1.3

Reselling Amano Megumi

It becomes, image-up of new work would become just before # Wonder Festival # WF2019S Pic.Twitter.Com/ASgf1dmy9d

— Hiroki Kuga WF 6-23-12 (@kugahiroki) July 8, 2019
Dealer 'inorganic storage'
Table number 7-33-07
The first of the original series
[RENA] 10,000 yen (Unassembled and unpainted garage kit)

The painting of the display sample was Mr. 180, thank you very much in this week!

Thank you my child! # wf 2019s # One Fess pic.twitter.com/WGgYmYMFWQ

— FanTesinBorm @ wf2019s (@FanTesinBorm) July 25, 2019
【Advertisement】 7/28 Wanfesu 2019 summer 8-17-7 Catacoli studio Wonderland Wars 'Little Alice (new work)' 'Shadow Alice (resale)'
Both require painting and assembling resin figure ¥ 8,000.
Nice to meet you! # WF2019s # Charis # Alice # wlw pic.twitter.com/TxeIqfLKyq

— Catalico @ WF2019s 8-17-7 Catacory Studio (@ katariko_T100) July 24, 2019
Porcelain Figure Tobitaro Kitataro is rolling out one after another. # Jiro model # wf2019s pic.twitter.com/RPml2aW8Gn

— Jiro WF 7-15-05 (@machtoranoana) July 16, 2019
We sell signboard type USB desktop light of 'spirit or consultation center' with # wf2019s .
By repeating the flickering exudes an atmosphere of an overcut fluorescent light.

You guys, Wang Fes 2019 summer is Takao modeling office '6-20-14'
So I shake hands with me. # Mob Psycho 100 pic.twitter.com/dh2vAkqpB3

— Yuri ☆ @ WF6-20-14 (@ yu_ristar) July 17, 2019
[Wonfes 2019 summer item note]

Original 'Sanma porch' ¥ 2200

There is raw samma and grilled samma ????
We are waiting for you to put on the seven wheels (laughs)!

# wf 2019s # One Fess pic.twitter.com/DHw9bDpzSG

— Bamba Paria @ wf 2019s 5-33-18 (@banmof) July 22, 2019
It was completed.
It is Anna Aluminum ・ Birch of the third generation Itako from Sherman King superstar.

7/28 one-fest
4-20-12 The model section (nexT) will be exhibited and sold.

Thanking you in advance!

Details continue below. #wf 2019s # Shaman King pic.twitter.com/PMoHTpMrX4

— Mai-07 @ WF 4-20-12 Model Department (nex T) (@ maibushi07) July 20, 2019
Wonder Festival 2019 summer dishes

[Table number 5-35-01 polygo noise]

New item Hinata Kinoshita ¥ 10000
Resale box Saki Hoshika ¥ 10000
Yuriko Nanao ¥ 10000

I will write again because I made a mistake in the table number in the notice of completion
[Table number 5-35-01 polygo noise]
Thank you for being 5 holes

© BNEI # wf2019s # Mirishita pic.twitter.com/AvMOvdxCDC

— Vertical and horizontal @ WF5-35-01 (@siden_j) July 25, 2019
New work of this Wonder Festival 2019 summer, the young wolf is a primary schoolchild! A sample of "Wakagami Okami" was completed! It will be sold for 7,000 yen as a garage kit on the day, so thank you in advance! # wf2019s #Wakagami are elementary school students ! ... https://t.co/tToHuiPMPb pic.twitter.com/08FQnr7wWO

— Uruniou @ 6-19-05 wf 2019s (@uruniw) July 19, 2019
At the Wonder Festival on July 28th, Maslao and Necromancer will be sold from 'Labyrinth 5 of the World Tree', and kits of Fortress and Night Seeker from 'Labyrinth 4 of the World Tree'. There is also a dancer exhibition at the WSC 20th Anniversary Presentation. The details of the price etc. are here → https://t.co/kfZ9AL8Yhn # wf2019s # SQ4 # SQ5 pic.twitter.com/O6sC5d5GC1

— Sisiro WF5-26-08 (@shunshudo) July 21, 2019
Wanfesu summer announcement part 1
This time also sells 3D printed plant models

The model of the distillation column is 7 pieces (one piece 5,000 yen) of the same size as the finished product

One slightly larger model of the distillation column (one piece 7000 yen)

Six pipeline models (one for 10000 yen)

We have prepared # wf2019s # と # # 工場 plant # plant pic.twitter.com/D8zzzO3ldO

— MASAKI @ WF5-18-02 (@MasakiSe) July 22, 2019
We experienced the first full color 3D printing with the cooperation of Firefly Corporation! The clear part is a one-piece molding, and there is no division part and it is smooth finish. There is also good color and transparency as a whole. We will be exhibiting at Wanfes, so please come and see the best technology! By the way, the title is 'benefit' and the motif is a mallet # wf2019s pic.twitter.com/7txhVJwX75

— It will be alright @ WF5-29-17 (@Alomoalomo) July 23, 2019
Koyanskaya is completed!
Pink hair again this time.
Sold as a garage kit at the 7/28 Wonder Festival.
The price is ¥ 11,000. The base is included.
I am sorry to be the last notice every time ...
I am glad if you can come to see it.
Thank you very much! # wf2019s #fgo pic.twitter.com/WxRYpdLJt4

— Kazuhiro @ WF 7-19-06 (@ ryoheifull) July 26, 2019
One Fess 2019 Summer New

'Jack O Lantern'

Sneakers with only one foot on damaged jeans. Parker's food is a special seat for a friend. Silver accessories on hand ... 斧. He is the best in the cemetery ... fashionable?

I'll treat you with a dark and cute pumpkin.

Overall length of 210mm
◼️ 21 parts (with electrical parts) # wf 2019s pic.twitter.com/jil0A77uSR

— "North. 9" @ WF8-23-4 (@ Lucky0611g) July 15, 2019
【Notice】
We will participate in Wonder Festival 2019 (Summer) held at Makuhari Messe on July 28 !!

Murase Timber Branch Takuban 4-08-08

We will sell painted and kit products of uhmeka's new tuna and Demekine!
We are planning to display past works of Umeka.

Other details will be announced later! # wf2019s pic.twitter.com/A79fuolKPO

— Murase Timber 7/28 WF Summer 4-08-08 (@ Latimeriaa) July 9, 2019
【Wf new item】

Goldfish

It is colour No. 04-07.

I tried binding 07 so that I could hang it on the wall ^ _ ^

No. 06 is omitted because it is a simple pedestal in the same color as 01 and 07.

Although No is assigned as an individual identification number along with the sign on the back of the pedestal, it is not the order of production. pic.twitter.com/mPA9tKrwUO

— MICHIRU imai 5-34 (@chilmirumirumi) July 8, 2019
WF2019 summer, Koto MIKEN 5-04-06 will display and sell the latest RPGX (Rocket, Properd Girl, X) and the abandoned machine dragon. Both are unpainted and unassembled kits. Thank you! # wf2019s pic.twitter.com/wGGH7VKN9R

— Furuta Hajime @ WF5-04-06 (@ Yoshida1Insect) July 21, 2019
We will sell the original character of Motomurato ( @ motomurabito ) 's character kit, Samurai's garage kit, at WF2019S, Table No. 8-29-09.
The price is ¥ 15,000. Thank you in advance ! # Wf2019s https://t.co/eCv9W3rdEE pic.twitter.com/sCXMBuLYR1

— The addict @ WF8-29-09 (@anaddict) July 20, 2019
WF table numbers have appeared ~ 4-14-07!
The exhibition this time is 'point of the sky' and two points of 'alacran'. Thank you. pic.twitter.com/AIXq5ziO9V

— Small tank (wf2019s 4-14-07) (@ tibitan9) July 7, 2019
The name of this work is 'water-bound'. Elf-based spirit character, size is 1:12. We plan to sell unpainted products at wf 2019s. I like this type of work very much. There are some differences in what you sell to the scene. # wf2019s pic.twitter.com/lTjocR7IZ6

— Kunoyuki Kumono WF 4-23-01 (@ Kumono17) July 17, 2019
WF2019 Summer new work, full action Gordorf Musik completed color resin 8 color + phosphorescent acrylic pedestal + pupil seal assembly assembly movable kit 5 expression parts, 4 wrist types, sample of a picture with cake & fork are brushed to basic composition It is an easy finish finished with a partial paint and finish # WF2019s # FGO # Gordorf pic.twitter.com/csN5BE7pms

— OZ (Revoler) WF 7-19-(@oz_revo) July 23, 2019
✨ One-fest display & sale よ り# Little Noah 'Noah'

Voiture * Kater (Vourture Carter)
7-15-03

This time, we prepared a copy, so we will sell it on # wf2019s as scheduled. Plan your visit not ✨ Pic.Twitter.Com/4JuNfQoT4d

— Maya (@mayabox_) July 20, 2019
I will participate in the Onefes 2019 summer.
[Table number] 8-33-10 flower shop,
【New item 1】 Bradamante, ¥ 10,000
Thank you. # wf2019s #FGO https://t.co/TC1VMvaQgX pic.twitter.com/0QpiHmI69n

— Nagii @ WF2019s 8-33-10 (@nagi_megane) July 24, 2019
[WF2019 summer order book]
The new work of Wanfesu
Napoleon from Fate / Grand Order.
Approximately 9 cm (including the base),
Unpainted, unassembled kit sale.
The copy is RC Berg.
The price will be 5000 yen.

Table number 6-27-20
Thanking you in advance. # wf2019s #FGO pic.twitter.com/d16coL0f6E

— NAYUTA @ WF6-27-20 (@NAYUTA_summer) July 24, 2019
Yun Yun is completed!
In this wonderful world Blessing Extras Also featured in the spotlight for those fools 3 3D illustrations used for your limited paid bonus tapestry.

The dealer name Kenshin soup will be sold at ¥ 10,000 for 5-31-17.

I hope you will come to see the actual item! # WF2019s # This short pic.twitter.com/EgmhfojS5d

— Devil WF 5-31-17 (@ maoutuyoi) July 25, 2019
[Resale] Kumamine's phone cat 'why'
[New work] 1/12 tapioca milk tea to piggyback on fashion in full power

◽︎ Phone cat is an improved version of the self-reproduction that has been reshaped. There is no pedestal. Price 1,500 yen ◽︎ Tapioca replicates the container with a transparent resin. One thousand yen for the finished product.
I hope you're too good! ! ! ? # wf2019s pic.twitter.com/PkXP9zd24o

— Chikashi @ WF5-32-12 (@ chikashi731) July 22, 2019
It is an exhibition product of 7/28 (Sun) WF2019s. SD Variable Valkyrie Series VF-19 Revised Fire Valkyrie!
Sound booster is also about ¥ 12000-! There are 10 ready.
Table number 4-19-02
It will be distributed at Experten. # Wang Fes # wf 2019s # Macross pic.twitter.com/pomWDuxTIS

— Experten @ WF2019S: 4-19-02 (@expertenmodels) July 24, 2019
Wonder Festival 2019 [Summer]
【Same-day sale】
AX2 Poly Body Male # 01 for each ¥ 7,500
-Skin Color ver.
-Gray Color ver.
————————
Dealer Name: AX2 Limited
Table number: 5-23-04
-------- # AX2limited # Wf2019s # Wonder Festival pic.twitter.com/rXwcrWIGHO

— AX2 @ WF 5-23-04 (@ AX2_JP) July 22, 2019
We sell painting jigs at 7/28 one-fest!
Description appearance is YAMA ( @ yama 823 ) place mikan kapachichan!

Let's paint a lot of mandarin orange with a painting jig! !

Dealer's name: Club Takuban 5-30-12 # wf2019s # Painting jig # Mikankape pic.twitter.com/2HnVdB9SW8

— Painting jig shop @ wf5-30-12 (@ charr_001) July 9, 2019
Sell Rusia and Patricia's garage kit at Wanfes!
The price is an unpainted / unassembled kit of 8000 yen each!
kindly! # WF2019S # Nora, Princess and Stray Cat Heart pic.twitter.com/wrrwXvm6Pj

— Cookware @ WF2019s 6-15-01 (@ 0cayou) July 24, 2019
1/8 Scale 'Namatako' Ver. 3.0
Unpainted resin kit
WF2019 summer and mail order (Coming soon) pic.twitter.com/nkCfyljosv

— Marsano 0728WF Summer [7-45-07] (@JamesMarsano) July 2, 2019
Stran9eFruits is the announcement of the summer festival's prizes.

'UFO and Business'

It is a set of one UFO and one body. 4 parts, clear resin (reproduction is made by Mr. Kikuya).

Table number: 4-25-06
Price: ¥ 4,000 yen

# wf2019s pic.twitter.com/lXBaSDTHVt

— C9 @ WF4-25-06 (@ Stran9eFruits) July 13, 2019
【Notice】 A paint sample has been made.
Ryu ga Gotoku from ONLINE 'Sawashiro Take Bust'
We will distribute the unpainted unassembled garage kit * at the 7/28 Wonder Festival 2019 summer.
Platform number 5-28-17 MIDORO
It is ¥ 6000 (without the 150 mm height pedestal attached) ^ ^
Please stop by when you come. pic.twitter.com/41opjI7Z0p

— MIDORO WF 5-28-17 (@_MIDORO_) July 25, 2019
It is a sailor suit original of sale or forget, but added a little hand. The refurbished version will be sold on the 28th of January.
Original 4 .. Price 6,000 yen (painting and assembly required)
Wait for the same person! #wf 2019s # One festival

https://t.co/vIR6XkLIxA pic.twitter.com/7C8Zb4LkiS

— Tamagawa Youth Space WF is 5-14-06 (@seishunsp) July 21, 2019
The image will be your order for the weekend weekend. Nice to meet you. # wf2019s # Horse daughter # garupan https://t.co/R2lCDMGdYk pic.twitter.com/MChcmYvOv4

— Cuff N @ WF5-21-07 (@kafu_N) July 21, 2019
WF2019 summer new item 2
Original bottled figure [Flower and Rose]
(Two types of girls and boys, total length 65 mm, painted finished product, one bottle 2000 yen)
It is a long time bottled figure! There are many different color schemes, so please choose your favorite child. pic.twitter.com/1FDDxvWaFB

— Sayuki incense WF [Asobine] 4-07-03 (@asobune) July 23, 2019
【Notice】 We will exhibit and sell the following at One Feast of July 28 (Sun)!

Smart phone STG, gothic than magic maiden ・ [Ame Darkness] Rosalie +1, 12000 yen (the umbrella one)
・ 【嬢】 Rosalie, 8000 yen (for the queen)
Table number: 6-14-14
For Sale: Unpainted Assembled Resin Kit

(A little RT was done in winter wf when Tsui wf2019s is wrong) # wf 2019s # Go 乙 pic.twitter.com/z9zvJrx6Vw

— Yuki 100 (Yuki) @ WF 6-14-14 (@ yuki 100 aboa) July 14, 2019
We will sell the garage kit of 'Drifters' Nobunaga Oda at the Makuhari Wonder Festival on July 28. Prototyping TK resin parts 16 pedestal included Height 150mm not assembled, uncolored, thank you in advance! Tak's Hakonia, are you there? # wf 2019s # One Fess pic.twitter.com/N4vRTi6bZx

— TK @ WF7-15-10 (@TKhakoniwa) July 24, 2019
WF2019 summer, table number 7-04-03
New Item 'Kandy Lagoon'
Clear resin used · Height (from under the pedestal to the top of the head) about 190mm · ¥ 20000
Resale · Tiny Cleaver ¥ 10,000 (few)
Resale / Garden ¥ 12000 (very few)
All products are reproduced by the vendor. Thank you! pic.twitter.com/aEzhuDHL6R

— Yuki Fujimoto WF7-04-03 (@YOKKI_munchkin_) July 25, 2019
Azul Lane from Prince of Wales
It has exceeded 100 parts · · 1/6 size
The force of the 4-armed gun is great.

Dealer: Tsukinoto @ Takuban 4-3-10
Thank you. # wf 2019s # Azure Lane https://t.co/a27CgVxMAB pic.twitter.com/MX87cFe01Y

— Hodo @ WF4-3-10 (@prosperitte) July 18, 2019
WF2019 Summer new item 'Rider (1/7 scale Bunny Girl Arrange)' is completed.

Table No .: 4-13-03: The garage kit (painting required, assembly) will be displayed and sold for 10000 yen at Yagokudo. # wf2019s #fgo #FateStayNight pic.twitter.com/8uHryzGT0Z

— Yoshida @ WF 4-13-03: The Hachigodo (@yosida_rw_etc) July 23, 2019
It is a new work of Onefes.
'Oki Skull' magnet, height is about 60mm.
The left is the original model, and the molded product is the right ivory.

HEAD LONG Table number [5-20-11] pic.twitter.com/k6HtinmzaW

— Shinya Akao @ WF5-20-11 (@AkaoHeadlong) July 14, 2019
Sell the cat's hand (brush) with WF The part behind the cup of the handpiece (red part in Fig. 2) is a part that gargles and it is difficult to remove paint, but it is easy to remove this needle and insert it from there Can be beautiful
One 500 yen Storage case is convenient for storage Regards! (`· Ω · ́) / pic.twitter.com/KGnXREvLge

— The cat moth WF4-16-03 (@necosaba) July 23, 2019
[Kururu-chan _ copyright new work] table number: 5-01-02
Chibi Serval caracal with bagan is sold separately but it is good atmosphere to line up together
Hat is the Wonder Festival 2019 Summer is removable jumbo snails Thank you # only be frame # only be frame 2 # Wf2019s Pic.Twitter.Com/44Nj6FYwpH

— It's a rocky seaweed @ WF5-01-02 (@messa_ka) July 23, 2019
2/28 # Wonder Festival will be sold at paint samples of 'Mothra' (Mothra vs. Godzilla) was completed.

After painting the whole tea system, yellow, orange spray to give a sharp, use blue for shadow. We use black for darker parts.

Assembly kit 160mm 4 parts 4000 yen

Thank you! # wf2019s # wf2019 summer pic.twitter.com/zm9e0jN3Jo

— Kazuyoshi Sato (extinction store) wf7-48-08 (@ kijyuu313) July 25, 2019
This time it will be Es from Bray Blue Central Fiction of Arc System Works, for the first participation of Onefest.
Since it is planned to sell for 15,000 yen, everyone thank you. # Wan Fes # WF2019 S pic.twitter.com/OLa5vTYA7i

— ZP1 @ WF2019 summer 8-31-04 (@ ZP147087634) July 23, 2019
RT, I am sorry for those who gave me a favorite, I raised it again because 4 pieces of the display did not come in fine
I finished the WF new work anew. Good balls from FGO, Suka Saha,
It is beautiful day Ochako from my hero academia! Sumimasen only in a hurry image! #FGO # Qin Liangyu # Sukasaha # My Hero Academia # Urarabi Ochako pic.twitter.com/Y9C6wYGBHb

— Zenko [Sulfur Fountain] (@ zenkoCY25E) July 26, 2019
Since we took a photo of the photora well, we will upload it individually in Wonder Festival 2019 summer
It is planned to sell for '5,000 pieces of' Rinko 弐 finished product 'from the cool of the demon light which is planned to be sold from MJS garage kit. # wf2019s # One festival # cold light of the cold pic.twitter.com/oQKchjVh1t

— Kokey @ WF4-17-02 (@tsuyakeshisama) July 25, 2019
【One Fence Notice】
The cat's studio (4-17-17)
Shiba Inu (less) / number of parts 3 / \ 1,500
※ With mini cushions ※ It is unassembled unpainted garage kit # wf 2019s # wf 2019 summer # one fes 2019 summer # one fes # dog https https://t.co/0Zm Yg YMOaV pic.twitter.com/i9MMaRCyxK

— 7.29 WF 2019 S [4-17-17] ☀ 9.22 GWC Orion 3rd (@ neco_damashi) July 26, 2019
It will be held at Makuhari Messe on July 28 (Sun.) at the summer festival # wf2019s table number 5-22-19.
????
????Mandarin orange
???? Leopon We sell 4 points of Masotan.
(Honoka Kosaka is on display only)
Thank you very much. #Lovelive_sunshine #Lovelive #Garupan # Hisoma its pic.twitter.com/W2jvDFZjyU

— Yas @ WF5-22-19 (@Pectry_) July 21, 2019
Daedalus Factory Original item Miniature size toothbrush Unpainted kit 1 pc 500-, 5 2,000- / painted finished product Each color is 1,500-. The gate has been cut as shown in the photo.
# WF2019S pic.twitter.com/UiflDuzpC6

— NEY @ WF5-20-12 (@rna_ney) July 20, 2019
Monbya Museum Onefest 2019 Summer New

'The Magical History of Evolution' Painting Completed

When the witch in front turns to the back, it transforms into a crow by magic

Some people become birds and some things can not become birds

Evolution is the accumulation of a great deal of change and failure from the past, and what is now is also a failure to the future

Monbya Museum Collection (・ 3 ・ b) pic.twitter.com/1E7Dhcxf4h

— WF Summer 4-13-04 (@monobya) July 25, 2019
7/28 # wf 2019s will participate at 3D Printer SK Honpo (table number: 4-28-01).
The new work will be on display and sale at Mini Mizu Wanda (FILE: 07 Poco Ver.) 3,000 yen, Masu-shu and Toshi-shatan 500 yen.
Both are Shuffle output products, unpainted and unassembled kits.
Thank you in advance! pic.twitter.com/tKEMqD48jQ

— Cool Director, Director @ WF4-28-01 (@TheCoolMuseum) July 19, 2019
It is the guidance of WF goods 'HIRUKO' It is 1P resin kit It is limited to the venue but it is limited to the original production. We will bring things to the venue with the HIRUKO sample books (Yotake Takeshi) How about souvenirs? ¥ 3500 Please come. pic.twitter.com/QnoGL7kJWP

— X-works wf6-21-08 (@ xworksbz1) July 25, 2019
# wf2019s
We were not able to make the original figure Makina paint sample for the exhibition schedule,
We will exhibit in this state on the day ¥ 1, 2000
It is a normal pressure manual flow resin cast kit (only clear parts pressure degassing) thank you m (__) m pic.twitter.com/jtX5MZQMPK

— Teikomedo 4-13-05 (@ 1X7mzaOBIkDeL82) July 24, 2019
wf2019 It is an article in summer.
■ iTANDi
Choco Angel (Ilya) new work ¥ 20,000
Loyalty dog wait none (Tamamo, Kiyohime) resale ¥ 30,000
■ Beautiful ring departure progress (Astorfo) new work ¥ 25,000
Archer Inferno Resell ¥ 15,000
There is a lot of inquiries, so a dog is thinking about a drawing, and a wf guidebook is needed ???? pic.twitter.com/0E4RvQyyXA

— ITANDi ✨ wf 6-23-2 Connect Rect (@itan_di) July 26, 2019
One fes 2019 summer (2019/07/28) sale item, new item 'SSSS. GRIDMAN Takara Rokuba swimwear ver.' Table name: Supervisor, table number: 4-16-10 https://t.co/PifFuYz2M4 # wf2019s # SS SS_GRIDMAN # Treasure Poly Six Flower # Figure pic.twitter.com/RXC0lpX0BU

— Supervisor [Digital Sculptor] (@s_visor) July 26, 2019
One Fez 6-16-12
It is Rei Tsukasa.

Kenma Maryu ¥ 5000 (left)
Snake Shinmaryu ¥ 5000 (right)
Unpainted garage kit ※ Example: Adoroki

牙 弐 form ¥ 5000
Crazy True Magic (newly created) ¥ 8000
Unpainted garage kit

Thank you in advance (* ^ ^ *) # Wan Fes # Wonder Festival # garage kit # Rei Tsuzuki pic.twitter.com/tGMcOeJc8l

— Jun misaki 下 下 麗 一 フ ス ス 6-16-12 (@design_misaki) July 25, 2019
It will be the product of this year's Onefest! Thank you. Since the copyrighted material is resale soon and I feel unwell, I will go with original only this year! # wf 2019s # Z Brush # Onefes 2019 summer pic.twitter.com/3MRJCMlE59

— Gami_wf_04-27-01 (@ oogamitakehiko3) July 26, 2019
WF new, super original figure!
Shonen Admiral Shota-kun ¥ 3,000

Three years from the start of production, finally completed.
An expression can be attached by neck operation.
Sold at Wonder Spoof Showcase Console! ! # wf2019s pic.twitter.com/s03hdJAlTV

— H Saburo WF4-13-2 (@ hsabu) July 25, 2019
【Notice of Kanio Miniatures Onefest】
The original 1/20 resin kit '1/20 Bikini Armor Yoshiko' designed by Syunya Yamashita, a member of the general sales market
This one-fest special price 20 pieces limited @ 4000 yen offer!
At 'The Rough Hall' 4-18-09.
Nice to meet you!
# wf2019s pic.twitter.com/4MhM7RkQMm

— Kanagawa Tachikawa @ WF4-18-09 (@Tachikawa_canio) July 23, 2019
My name is 'Cat Group Cat'. For the first time, we will participate in the 2019 Summer Wonder Festival this time.
We will prepare a kit version and a small amount of painted finished products.
It will be the table number [6-13-15]. If it is good, please take a look! We look forward to your visit. Thank you in advance. # wf2019s pic.twitter.com/2lxdXtwSX0

— Amie WF6-13-15 (@Piaooooo_) July 10, 2019
The second collaboration with YokaiShop. # Prof. Eiichi Shimizu # Prof. Tomohiro Shimoguchi
'ULTRAMAN' Mr. Red has been completed!

■ Height 245mm
■ Base thickness 7 mm
■ All four parts (unpainted, unassembled) Duplicator other than pedestal Komori Bure ( @ csmlibre ) will be.
■ Price 15.000 yen

Thanking you in advance. # Heroes # wf 2019s pic.twitter.com/rR8peXdqaP

— Ode wf 7-15-08 (@ ode 555) July 25, 2019
# wf2019s announcement ① #POCO Mr. original #NAVYFIELD than 'Mio & 15 Formula type 2 (sharks)'
¥ 12000 for 2 sets
Free fall 6-29-02

By all means greedy who wants to make both mecha and girl.
Thank you.

Continue! pic.twitter.com/KYVqs24thi

— Pety @ WF 6-29-02 (@ pettyrx56) July 26, 2019
【Notice】
I made a storm glass necklace with hard glass whose shape changes depending on the weather. There are also mineral weather tubes where the chemical solution looks slightly colored by putting minerals into it, as well as full size clione and ultraviolet light.

We are waiting for you at WF Summer 5-04-06! # wf2019s pic.twitter.com/bGLvUqGjwQ

— Peach Can @ WF5-04-06 (@glass_momocan) July 24, 2019
The final guide of WF2019s has been received, and the seven ring hall is '7-26-01'. A new product is planned: 1/700 scale Korean People's Army wooden shipbuilding. We will work hard to prepare other ships, so thank you #wf 2019s pic.twitter.com/K6xAMpgWP4

— Citrine @ WF7-26-01 (@ shitirinn) July 6, 2019
WF2019 I will bring summer Rahum and Berrahm !!
Come on, let's prepare for Babylonia pic.twitter.com/d0rNigrFqy

— Stitches (Revolver) WF7-19-02 (@ 0 mj 50 f 5538 z 0 99 e) July 22, 2019
Finally finished the sample! ! ! (I managed to get in time)

Please guide me again.
We will participate for the first time in the summer of 20th of 20th on July 28!

■ Table number
8-09-04 HeavyHandsModeling

■ Item
[New] Yukine Chris Gym Uniform ver. 1 / 6.5
(From 'Senki Zessho Symphogear')
→ Height approx 235mm, 3D printer output product. Unpainted Unassembled. pic.twitter.com/TmQcWvoZQp

— Omega 11 @ WF 2019 S table 8-09-04 (@ omega0x0b) July 26, 2019
[Wonfes 4h-15-08's ho-ho table! ]
For sale!
● Walrus 'Todolata' 4000 yen ● King's chair 'Red Riding Hood' 4000 yen ● Mr. Whale 'Chat Toss' 4000 yen ● House of sea beasts undecided.
All full color 3D printed products. It is transparent resin use.
We will also display full color output products.
Come and talk to me! pic.twitter.com/kWUFWeirM8

— Nobuho Fukui WF2019s 4-15-08 (@nobgame) July 17, 2019
We're sorry We are sorry, in addition to the new products in this # 1 Wonfes 2019 summer, we will have the damage specifications of 05, 08, 09 and the Old Castle color of Rocky Mountain series Thank you in advance # wf2019s # wf2019 summer pic.twitter .com / 5NbTY88Joy

— Diorama Breaker Onefest 6-23-11 Diorama Breaker (@diorama_breaker) July 11, 2019
'Puno color 23' 'Suno Gradation Resin ver,' is the first sale of Wanfest. @RCBelge 1984 Mr. Sakura's clothes are reproduced very beautifully by the gradation resin by the super technology of production (o ^ ∇ ^ o) The pupil is reproduced by division. Thank you in advance ~ # original # wf2019s # wf 2019 summer pic.twitter.com/9a5eY5xROQ

— Tona KANSHI [WF5-10-03: Lynn] (@ryuntaro) July 24, 2019
I got the last show of the one fess.

5-06-03 Garden of the month

We sell miscellaneous goods of fake sweets, accessories. Cake and cream soda note stand, I will bring only a little access of shrimp fried so thank you ~ # wf2019s # Wanfesu # moon garden pic.twitter.com/85GFwNL1Yd

— Moko @ Wan Fes 5-06-03 (@ ningyototuki) July 6, 2019
I made it like a squid egg. It is a strap and it is a plan of one 1000 yen.
As always, I will bring soft vinyl and resin Seyther tow whales.
8-14-05 Moe #wf 2019s #sofvi pic.twitter.com/kum1FbRv96

— Maruchi WF 8-14-05 (@kargaurio) July 26, 2019


・ Bonus

# WF2019S General Participation Request Please destroy the 10,000 yen bill of the military fund to some extent and attend. Many general dealers can not provide enough fishing. There are cases where fishing will not come out even if you sell it just after opening. If you intend to shop in the morning, please prepare a thousand yen bill to some extent.

— OM-11 @ WF2019S 8-14-08 (@OMkikaku) July 25, 2019
[Anime News] 'Wonder Festival 2019 [Summer]' Check the copyright trends # anime # anime # One Fess https://t.co/gCzBcctdeu

— Anime Hack (@animehackcom) July 25, 2019
This is very grateful to have you tell me pic.twitter.com/ARpgnbaNx3

— Ama @ WF 5-18-3 (@amamodeling) July 4, 2019
For those who bought the garage kit, 'I do not know how to make it.' We recommend 'shops that can make models' in various places across the country!
There are also some who are familiar with the store manager and the customers who are using it, so why not visit us by all means? https://t.co/SbL0TRb8EK

— Kenji / WF2019 summer 5-27-10 (@ mark00ac) May 4, 2019
<Proliferation hope>
We created a booth posting sign to eliminate resale shops that are rampant at WF venues.
Even if the resale itself is not illegal, I think it is a problem that some people who can not buy it at the venue come out because of resale shops.
There is no binding and I do not want to make such an indication on the exhibition space, but I think it is important to first make a statement. ※ The image is reprint free < cont. > Pic.twitter.com/MYGpb69gV3

— Tano @ WF8-05-06 (@ tano1jp) July 8, 2019
July 25, 2019