One Festival 2016 [Summer] General dealers need attention work Summary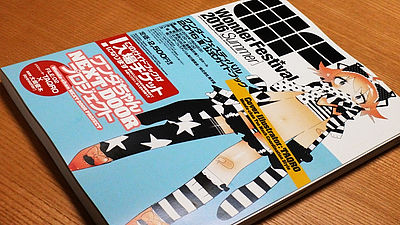 Sunday, July 24, 2016 at 10 am - 5 pm at Makuhari Messe International Exhibition Hall 1 - 8 HallWonder Festival 2016 [Summer]Will be held. This time a movie released from July 29Shin · Godzilla"Takefui Takayuki's exhibition of No. 1 model for shape examination andYuji Kaida· Maeda Masahiro Reproduction Original Picture Exhibition, Further Anno Hideaki Produce · Kaiyodo Production by Takaya Takayuki Prototype ""Shin · Godzilla" skeleton replica figure"Commercialization announcement, August launch Anno Hideaki responsible editor" Shin · Godzilla "official record collection"The Art of Shin GodzillaWe are planning to release the latest information such as "

So, while various figures including special effects such as Godzilla are being sold every one time in one festival, it is something that supports itThe day copyright systemMechanism that it is. It is a revolutionary system that letting the copyright which becomes effective only in the hall for one day be gathered for the general public and making it possible to legally sell it in the position of the same "dealer" as a company etc, and licensed ones Although it is only, it clears the right problem which tends to be complicated. So, I tried roughly from the general dealer which is said to be the biggest feature of such One Fes, centering on the essential work of this one festival 2016 [summer].


PopteWe will sell more new "POPKO & PIPPI Set". A total of 55 parts to fully reproduce those name poses in the play! Mr. Kikukya for replication! It comes with a decal of face and graffiti# WF 2016 Shttps://t.co/TncWVMeF4nPic.twitter.com/ADUb0zPzog

- What is cool Coordinates @ WF 4 - 14 - 11 (@ TheCoolMuseum)July 14, 2016
Summer One Fest Miscellaneous 1 (Corporation) It is a figured figure of Sasaki Chie of Idolmaster Cinderella Girls who received permission from NAMCO BANDAI Entertainment No. 8-24-03 Polygonoise# Wf 2016s# Imas_cgPic.twitter.com/BcEbejIFu 6

- Ozu @ WF 8 - 24 - 03 (@ On_da _ nac 2)July 7, 2016
One-fest appearance part 1
"Magnet DX" (but, magnet is not included)
Unpainted resin kit 500 yen
The table number is 4-09-17.Pic.twitter.com/V9FcheqbUK

- Iwakin Yuki 4 - 9 - 17 @ WF 2016 Summer (@ iwaiwakanekane)July 9, 2016
General purpose body that can be used for Nendoroid etc.
"Uncle's Marshmallow Body"
"Uncle's Muscle Body"
It is an unpainted resin kit.
It can be used variously such as a certain CM like a cannip and a bath, a gold body etc.# Wf 2016sPic.twitter.com/dZNE4J1GdK

- Bantam @ WF 5 - 15 - 02 (@ ryu _ Bantam)July 5, 2016
Heddyaku Hasebe, one period first shock ~ It's time for a snack! ~, Tsurumaru Kunaga ~ It's not a snack time? It is! ~ It is completed! Details are on the blog.https://t.co/vDhqLz7uRK# Wf 2016shttps://t.co/LRJ3v8UJRwPic.twitter.com/ZGXtW1w3Lz

- Chika / WF 5 - 11 - 03 (@ chikai DD)July 14, 2016
Noel was completed from the new figure at the Wonder Festival, "Method of the Celestial Body"! In this season, it became a pretty smile of Noel who blows away hot weather (^ ^ I also tried various details variously.Please continue your favors.Pic.twitter.com/x8e2aoiMXh

- Azusa zero (@ azusarei)July 13, 2016
One festival 2016 summer exhibition sale
Showa Genroku Rakugo from the heart to chrysanthemum
It is sold in the garage kit.
The Japanese issue of the previous work will be exhibited only at the exhibition.
Table number 5-24-6
Thank you.Pic.twitter.com/hHNiZj8y6G

- Konbu @ WF 5 - 24 - 6 (@ conntake)July 10, 2016
Earl of San Jermi from "Drifters". We will sell the kit in one festival in July. There will be a finished product exhibit, so please come and meet with your dear brother!# Wf 2016s"TK's Hakoniwa"https://t.co/qgfMo1B3z7Pic.twitter.com/eNoW6E5fut

- TK WF 7 - 01 - 08 (@ TKhakoniwa)June 24, 2016
Although it is an unpainted kit to exhibit in a new tiger, one festival, everyone troublesome to paint a pattern, since we are also molding a pattern! \ (^ O ^) / You can paint yellow, you can paint it white, you do not have to paint it, you can order it with a real \ (^ o ^) /Pic.twitter.com/rQmZtGBkcj

- SHINZEN 7/24 WF 6 - 35 - 0 2 (@ shinzen_sl)July 8, 2016
Color painted almost completed and photography. . It is!
WF 2016s, Smoked smell (confusion) is waiting at 6-12-8.
Taka kimi new shinsha
Ke · New work (this) · Resale Shinozaki
Thank you for your help.Pic.twitter.com/srP5C6MyqK

- Ke (@ compacow_ke)July 11, 2016
"Wrestler and Ichika" garage kit paint sample has been completed from WF new work, Fafner of the Azure. 【5-22-10】 Sunny day on rainy day + 6000 yen at ice 9. Details will be posted on the blog later.# Wf 2016shttps://t.co/Vti1UlEHu8Pic.twitter.com/9gTA7gVhyT

- ice 9 @ WF 5 - 22 - 10 (@ ice 9 _ info)July 13, 2016
One festival 2016 Summer's new second work! It is the dealer's name "sunny cat" title "survival: 03 / Undertaker". More images →https://t.co/0wi0Xi9W8N
# One festival # wf 2016sPic.twitter.com/LAMomF6gkY

- Shu Yui @ WF 2016 Summer 4 - 18 - 06 (@ shiyumaimai)July 9, 2016
WF2016 Summer New Work "Apron Beachfront", Dealer Name: Kaguya Hime 5-15-17 Assembly Kit Because there is no resale, we do not buy!# WF 2016 Summerhttps://t.co/2O0z0tI6S6# Ship thisPic.twitter.com/DgTJa3CXPL

- Ayatsuki (Kaguya Hime) WF 5-15-17 (@ayazukiouka)July 14, 2016
One festival new work in summer, Marco (shoji clothes) than Shaman King. Schedule 5000 yen, although it is a few, I will sell it. Since it is an unpainted unassembled kit, please celebrate.# Wf 2016s# Shaman Kinghttps://t.co/fbqf0ZTMUiPic.twitter.com/D3Fx2wGnC7

- Kotori @ WF 5 - 05 - 17 (@ kokokokokotori)July 14, 2016
One festival will take part in 6-12-07 Sakura Tacho.
The gift is mainly
Iron Maiden Seal Case Advance trial version (with hinge, screw, magnet)
Iron Maiden stamp case painted finished product
is.
I'll put out what's in the photo for sale.# Wf 2016sPic.twitter.com/ERFMdp6xyM

- Kitten @ WF 6 - 12 - 07 (@ unagi 88)July 10, 2016
Finally I was able to arrange 2 departmental Symphogear attire a year and a half from the start of production. It is feelingless.
Thanks to those who bought this at WF and RT and Fuobo here. Thank you very much.# Symphogear# Wf 2016sPic.twitter.com/2R7P6KTzhM

- Toys @ WF 7 - 21 - 01 (@ ToysRX)July 13, 2016
A paint sample was made. Mr. Mashima from Ryu ga Gotoku. 7/24 (Sunday) Wonder Festival 2016 We will distribute unpainted unassembled garage kit in summer. It is a secondary creation. Total height 220 mm ¥ 10000 Table number 5-19-19 It is MIDORO.Pic.twitter.com/5z830HxmWy

- MIDORO WF 5 - 19 - 19 (@ _ MIDORO _)July 15, 2016
WF Promotion
"Katyusha Oitake Transfer Edition"
(Although this is also my own homemade ... ...)

Since it is floating, the angle to avoid avoiding panchira is limited (sweat)
From the 2016 calendar pose source
(There is no Pravda PJ this time)#garupan# Wf 2016sPic.twitter.com/DYb5JtOjD6

- Bronze WF 8-28-2 (@ bronzecircus)July 10, 2016
"SHIROBAKO" figure Yasuhara 's figure completed!
I will put out on one festival ~# Wf 2016s# MusaniPic.twitter.com/Go4XK7ErLH

- Sato @ WF 6-16-14 (@sssatosi_nau)July 11, 2016
A paint sample of WF new work and a teacher and ochazuke has been completed! For details on blogs as well as Yosuke of resale.https://t.co/gHXauAbJqc# Wf 2016s#SRX...https://t.co/Zyf0g2x85fPic.twitter.com/FoWGQhDwx 6

- Masako WF 5 - 20 - 07 (@ omnihisyo)July 10, 2016
【Finished paint】 WF sales information has come out! WF 2016s 【Cake Yang】 Table No. 4-09-01 New work Rockman Zero "Cake's GK-zero (unpainted)" 20000 yen Venue limited edition 50 pieces # Wf2016s # Rockman ZeroPic.twitter.com/minPlfZcvF

- Prototype cake (@ cake_Yang 92)July 13, 2016
[WF2016 summer] The table number of "Daedalus Factory" is now 8 - 13 - 07. From TIGER & BUNNY new work 1/6 accessories · Nendoroid hair parts, others We will resell the center of the bust so please take care.# Wf 2016sPic.twitter.com/dWFjmzRXs0

- NEY @ WF 8 - 13 - 07 (@ rna_ney)July 5, 2016
[Steampunk ~ steam punk ~]
Adventurer's wristwatch - serial number 002-

In addition to thermometer, compass, light 2 lights, Unit 2 is equipped with multipurpose storage.

In the image there is a rock salt for salt supplement during adventure.

We will show off at one festival.Pic.twitter.com/6H9nEtkhda

- Joh Forêt ☆ WF (@ gallery_jo)July 7, 2016
We will sell shogun and monk from Fortress and Dancer, Night Seeker, World Tree 3 from World Tree 4 on Wednesday 24th. Fortress is scheduled to re-paint. Details of price etc. are here.https://t.co/kfZ9AKRnpP# Wf 2016 wPic.twitter.com/dQiTBFhbkS

- sisiro_WF 6 - 12 - 16 (@ shunshudo)July 8, 2016
Poet 's child expression clay, it was excavated! It is! We will sell one full color plaster output product at 3,000 yen at one festival. Thank you# Wf 2016s# SUPER PACIFICPic.twitter.com/BvhXXIFvPG

- Go-ro's @ 5-05-11 (@ umebosinonakami)July 9, 2016
【WF Announcement】
From the publisher I got the copyright license on that day
"Chowder" 3 person set 3,000 yen
Billy & amp; Mandy's "Mandy and Grimm" 2 person set of 2,000 yen
I will sell it at WF ヽ (; ▽;) ノ# Wf 2016s#Cartoon NetworkPic.twitter.com/ujM2zEUVA 7

- Inoue Sumi WF 8-25-12 (@ inoueosamu)July 7, 2016
New work "1/144 Pepakura warehouse kit" to sell in one festival It is completed in a while. Various kinds of accessories decorated in museum style and decorated are under adjustment to be around 3500 yen.# WF 2016 S# 144 SquamoPic.twitter.com/4vYbyPqPhK

- White ship studio WF 8 - 26 - 04 (@ skkobo)July 4, 2016
It is Jessica from Gran Blue Fantasy that will be exhibited in one festival summer! Finally finished Oh!
Although it is decorated, the LED is not included in the kit. (; 'Д `)# WF 2016 S# G rublehttps://t.co/yHx1WDm49DPic.twitter.com/gsXi6IQySd

- Shell @ wf 6-19-16 (@ nakedkaiow)July 10, 2016
Summer One festival announcement No. 1.
Completed deformed glasses, it is 500 yen by 3 favorite glasses. Thank you for your consideration!# Wf 2016sPic.twitter.com/uuF4PgGKp1

- iida @ Buckwheat WF2016 Summer (@ Nagato_saber)July 11, 2016
"Dissolved painting" With this!
sleepy. . . . Well then, I will go to bed. . . good night# Wf 2016s# A Arimura Chick paint productionPic.twitter.com/7i4KFF80SC

- amuro_h @ WF 6 - 19 - 04 (@ amuro_h 782)July 5, 2016
We finished grain than Medarot Weight of arms and head ...
We will be selling it in the summer festival 2016 summer - I'm supposed to be a color resin kit for the time being (The image is painted)# Wf 2016s# MedarotPic.twitter.com/fpIolvIO 2 Y

- Shinmu @ wf 5 - 24 - 03 (@ lenom 333)July 4, 2016
The one festival table number of the cat Jizo is 8 - 21 - 09.
All copyright goods are painted finished goods
From Wood Book "Ponta" "Sleeping Pot"
Natsume's friend's book "Master Yukari Nyanko"
.# Wf 2016sPic.twitter.com/316B9yHDIi

- Cat Jizo mori 【WF8-21-09】 (@ nekojizo_mori)July 5, 2016
Takeru Ranbu from Ishimaru Maru - Battle - Painting sample has been completed! It is 1/9 scale, the total height including the pedestal 24 cm, 27 parts. Please note that this is a garage kit that requires assembly and painting. nice to meet you!https://t.co/lq3LzdBBk8Pic.twitter.com/dKwKczqHU 8

- isola (wf 5 - 07 - 07) (@ isola_studio)July 14, 2016
I got permission to move like noise!
It is scheduled for 8000 yen. Thank you very much.# Wf 2016sPic.twitter.com/nRq5YHLsMe

- Vanilla Sheikh WF 8-19-11 (@ noukou_ banira)July 4, 2016
One-fest desk has been decided ↑ ww
And I applied for exhibition "Fireball Gigantes" because there is a taste to prepare dealer Maschinen finished product exhibition space# WF 2016 SPic.twitter.com/KqYw2Imb9X

- Makoto (One Faces 6-14-11) (@ makoto_krieger)July 5, 2016
WF's desk number was 5-27-06.
Rocket & 507 Rocket side is
Demons from Seoul "The knights of the train"
It is two points of "Red Dragon" from Dragons Crown# Wf 2016s# Demons Soul#Dragon's CrownPic.twitter.com/80DcQsfrYs

- Rocket @ WF 5 - 27 - 06 (@ Rocket _ 409)July 5, 2016
The copying and painting finish of Kalashnikov girls' high school girls is over, why is this kind of rough ... Why not on WF on the day 8-15-13, thank you. Let's keep price undecided (weakly meaning) I want to re-upload photos or I want to re-paintPic.twitter.com/sg3LW1wAl6

- Waqier WF 8 - 15 - 13 (@ wakie 69)July 11, 2016
[Announcement]
We will sell a new work "Konjitsu (Kokusito)" at 10,000 yen in one festival!
I finish up my own fetish with lavish creature shaping lol If you like plague mask please do not miss it!# Wf 2016sPic.twitter.com/Hk50apS1mc

- yoshi @ WF 7 - 23 - 08 (@ Yoshi 6054)July 14, 2016
One festival 2016 Summer, finalized the schedule "Ara-Ara Kadomado" 7-23-12.
Oila garpan 1/35 new works a lot! More details a little more! (; '∀')# Wf 2016s#garupan# Model Tank RoadPic.twitter.com/BmkXP631hC

- Arakin @ WF 7 - 23 - 12 (@ fzr_araken)July 5, 2016
One Festival Summer Fairy Princess to sell in summer 2016. (The picture is taken at the time of this application.) The table number is 5-05-15 SilkieHeads.# Wf 2016s#Rage of Bahamuthttps://t.co/DFG8V3Jk8MPic.twitter.com/fajxfkAWMF

- E - mail Pawn @ WF 5 - 05 - 16 (@ S - COMPACT)July 5, 2016
"New work" Ise shrimp (large)
It is expensive & orders made only for large size. Suimasen · · ·
But do not touch it so please come and visit!
¥ 45,000 (Discount Ali)# Museum Fetish# Wf 2016sPic.twitter.com/y9 UEPYghrb

- Sardine metallization (@ nagiasa 61)July 15, 2016
It is a one-festival announcement again.
Shark fin new work is Girls & amp; Panzer Tank Destruction Mission! It is more orange peco V-day 2016. We will also resell Mirai chan of Rokoro. Thank you!#garupan# Wf 2016sPic.twitter.com/Dmy9EF7rFQ

- fukahire @ WF 6 - 18 - 13 (@ fukahire 2015)July 12, 2016
● I am indebted to you. It is Shimamoto. "Invasion Robo" will participate in the one festival 2016 summer .... The table number will be 8-27-02. (It is a pretty edge, is not it?) I think that we can publish the prototype of a new work this time as well. (It becomes exhibition only ...)Pic.twitter.com/na 0 PghKpzc

- ■ Shunhiro Shimoto WF 8-27-02 (@ optune)July 8, 2016
I applied for one festival, thanks to Karakuri Circus, I got permission from Pantalone - sama Silver Ring! Overwhelming gratitude to the publisher.
It is a free size ring made of Ag 925.# WF 2016 SKarakuri CircusPic.twitter.com/D4NzRSj08P

- Lak @ WF 5 - 18 - 03 (@ raku _ raku _ m)30th June 2016
Document of one festure came!
Do not forget to do something until this arrives (^ ^;)
We can sell miniature tools made of actually measurable miniature calipers, SKD 11, SUS 316 and others.
It is booth No. 6-11-09.# Wf 2016sPic.twitter.com/o6SF7Uwwn 9

- Katsuyuki Todafonfesu 6-11-09 (@ katsudoren)July 5, 2016
A work room new work. I will sell it for a ghost, one festival. It is a fan, a pedestal, with a ghost cat # wf2016s
The movie of a ghost is here ↓https://t.co/c6TQHGzrinPic.twitter.com/YGvOlsO 51 c

- noi @ wf 4 - 12 - 1 (@ nooori)July 5, 2016
The climate of Tempeki.
Obachan# Wf 2016sPic.twitter.com/u5JO8Yqcmt

- noi @ wf 4 - 12 - 1 (@ nooori)July 5, 2016
This year we started the garage kit activity of original Robo, and these three points which I had prepared from last year became a kit.
We are planning to add another piece in summer WFOliveroPic.twitter.com/2UczrE2K52

- Mitsutake @ WF 4 - 17 - 8 Living situation (@ mi_tu_ta_ke)July 11, 2016
【WF Dashimono No. 2】 Diamonds from jewelry country
I want to make my hair sparkle rainbow-colored ... try hard and paint ...! It is!Pic.twitter.com/fX1s2LpEIw

- Chikashi @ WF 4 - 10 - 17 (@ chikashi 73 1)July 10, 2016
I found out the placement of one festival (^ - ^)
It is "5-17-15".
I will interfere with the dealer Reincarnazione.
Goldfish and occasional crayfish.# Wf 2016s# WFPic.twitter.com/6YyvVVVx31

- Kusan * HMJ 23th I - 188 * (@ mayuki - 74)July 5, 2016
I will bring it to one festival because I am making a garage kit, which is feather Tirano made with how-to of how to make dinosaurs, subtle adult feather tirano made with BIRDER. Both have few stocks \ (^ o ^) /Pic.twitter.com/aWOgrMAgJc

- SHINZEN 7/24 WF 6 - 35 - 0 2 (@ shinzen_sl)July 11, 2016
The second flavor of the popular flavor, new work is a guy!
Hoohoooooooooooooo! It is!
My ambition, "Mame Akiyama-Den - uniform version" finally arrived!
Fahahahahahahahahaha! (≧ ▽ ≦) Nooshi (≧ ▽ ≦) Notch (≧ ▽ ≦) Notch# Wf 2016sGarpanPic.twitter.com/SlkPmR2YHa

- Feng WF 8-25-08 (@ fumin_B)July 5, 2016
WF2016 I participate for the first dealer in "Mizuten Revolver" in the summer. I will sell it with the original movable figures output by the 3D printer attached to the raft.# WF 2016 SOne festival...https://t.co/CL118pwSelPic.twitter.com/oMLBH 17 jBC

- Mizuten Revolver WF 6-25-14 (@ takuomizuno)July 12, 2016
I prepared for Otome Peeling. Night round cats Endo Hirimori mascot painted finished product 2500 yen Please let me hear the unpainted version of nice guy that I paint about it by myself.# WF 2016 S# Jiro modelPic.twitter.com/WtXNTO 9 x qk

- Jirokichi WF 7-01-05 (@ machtoranoana)July 6, 2016
Godzilla × Mothra × Mechagodzilla Tokyo SOS has made Godzilla 2003. Wonder Festival It is scheduled to sell in the summer 2016.
The image is a little before the prototype completion. We will announce again as soon as copying and painting are over.# Wf 2016sPic.twitter.com/DPcglSCT6j

- tomo @ summer WF 8 - 12 - 10 (@ roong_melon)July 5, 2016
Completion From "Monster Hunter 4" "Excavation giraffe equipment (U) whitening skin with prison gyuzu" / Ugokawa! Series (movable · color resin) is! I tried making it with the gist of selling only once in one festival of summer. More details later ...!# Wf 2016sPic.twitter.com/Iev1Ykrrdh

- HYO ◆ WF new work begins disclosure! Conference 5-8-1 (@MADHANDS_HYO)July 15, 2016
Information lifting. Clayman × RC Berg New Project 7/24 WF On the day of RC Bergs desk "Spiral Movable Frame No. PHB - 01" will be sold in advance. Dark gray molded color# Wf 2016sPic.twitter.com/M6WvKbv5o4

- Clayman WF 8-22-10 (@ claymanlabo)July 15, 2016
One Fest Concert 5-08-15 Ippe Mori 1,000 yen at reserved park, 1,500 yen resale Nessie will sell Other sales and exhibition! Thank you# Wf 2016s# Mr. LovePic.twitter.com/M8k6ukBLjp

- moA @ WF 5 - 08 - 15 (@ aerial jellyfish)July 5, 2016
I will participate for the first time in one festival. Take sword sword dance character image goods. It becomes a magnet with a small bird motif made with wool felt.
4-12-16 "Takeshodo"# Wf 2016sPic.twitter.com/jlId5y64DY

- Hayasakura ◆ wf2016s_4-12-16 (@ nononoimofumofu)July 5, 2016
Chattac de Resort. Muu, how do I shoot. And one festival will be exhibited in summer 2016. 4 hole j, FLYING MEGALOPOLIS booth.Pic.twitter.com/dZ3OEinTGC

- So easy one festival 4 hole j (@ honhodo)July 10, 2016
You have plenty of too much use, are not you?
360 degree gear gear gear from anywhere. Plenty of vacuum watch LED candles for parts of the watch.
It is the first come, first served in one festival.# Wf 2016s# WF# StagepunkOne festivalPic.twitter.com/rbQs 54 Owsq

- Hootalinqua 【6-16-08】 (@ Hoota_Linqua)July 4, 2016
One festival table number 6 - 11 - I will participate in the garden of July. There are lots of new works and resale ~ ♪# Wf 2016sPic.twitter.com/vM43JTzsi2

- Moko @ WF 6 - 11 - July Garden (@ningyototuki)July 5, 2016
I got the copyright license of Aoe River 1/8 for WF. Thank you very much, Nitoro Plus !!
I was a little worried about a monstrously-oriented pedestal, but it was okay ^ ^
Questionnaire questionnaire →https://t.co/Mt1owlayNUPic.twitter.com/CaPgCM6Knu

- Hyakken - Momo Fusa - (@ momofusa 800)July 10, 2016
It is an announcement! This will be the new work of WF 2016s "[Minakamoto no Moto] Ryuzaki Kaoru +". Although the photograph is a prototype, I will sell it as a garage kit on the day, so please take care.Kaoru RyosakiCinderella Girls# Wf 2016sBNEIPic.twitter.com/bKvkq6qG88

- Let's be wf 5 - 18 - 07 Light blue diseases (@ uruniw)July 5, 2016
WF New Dorothy & amp; Leona model has been completed! It is! Duplicate paint Now I will let you know the details later. Thank you.#pripara# Wf 2016sPic.twitter.com/XJuot0feYh

- and WF 6 - 30 - 4 (@ toga_yu)July 10, 2016
I got permission of Suite Precure ♪ I applied for resale in the summer of WF2016. Thank you to everyone involved.# Wf 2016sPic.twitter.com/GWgIfyagTz

- K Valley @ WF 4 - 08 - 02 (@ kagutsuchino)July 4, 2016
Almost complete prototype was completed.
It is Farru of Awakening of the prepare.
The part number is schedule for 54 parts including 8,000 yen, including a spoiled item.
I think that it will be a bitter, so I think that the number is small.# Wf 2016s#priparaPic.twitter.com/1 JNea H 9 z 33

- Ero (Yarn ball) @ WF 5 - 20 - 20 (@ zyuunintoiro)July 11, 2016
From now on "Shaman King" [Dragon of the wooden sword] I got the copyright under one festival! The prototype is almost finished and it is entering the polishing work! I have also licensed Li Bai Dragon! The photos will be uploaded soon!Pic.twitter.com/nsK1OXNS0w

- Matsui Kazuki (@ keroyon_kazu)July 11, 2016
【7/24 One Fest Announcement】
THE IDOLM @ STER Summer from Cinderella Girls ☆ Usamin Abe Nana (Garage kit) ♪ Thank you for your resale ♪!# Wf 2016s# Azalea's MitsuBNEIPic.twitter.com/gBao6Jt0bf

- Azalea no Mitsu wf 5 - 15 - 01 (@ shimoomichann)July 5, 2016
Takemitsudo, WF desk number is 5 - 05 - 08.
1/6 Practice Cruiser Kashima 10000 yen
1/7 Destroyer Akebono at the end of 2015 ver 8000 yen
Seaweed strap 1000 yen
Thank you# Wf 2016sPic.twitter.com/4 HF 2 UG 0 Py 7

- Takeki @ WF 5 - 05 - 08 (@ takemitsudou)July 5, 2016
One festival new work original form of summer ① It is "swimsuit peach" from the lion of March. Floating rings and arm helper become clear parts. Sorry for being a little dirty as I took it after taking the mold.# WF 2016 Shttps://t.co/Hh6rKPjdGPPic.twitter.com/QmAReYOXoM

- に の やi * WF 7/24 * 4-10-05 (@ flalalamin)July 13, 2016
Watashi ~ Iasa came ~ ('ω `)

GANTZ, I got the permission of a hard suit.
Production, make it in time! Is it?

So save 100 points for the Osaka edition in translation!# Wf 2016s# GantzPic.twitter.com/3RJH1zMIRM

- Musuke @ WF 4 - 12 - 1 (@ musuke_twit)July 5, 2016

· Bonus

I was making it for the exhibition of WF, but I thought that it would be useful if it was such free material so I made a white version too. Please use it freely if you want to use it.# Wf 2016sPic.twitter.com/1C9T8838kL

- Shige G @ WF 5 - 07 - 13 (@ shigeggg)July 8, 2016

· Continued
One festival 2016 [Summer] General dealers Necessary works Summary of continuation - GIGAZINE