A city banning the sale of e-cigarettes emerges, manufacturers bounce back that 'the black market is born'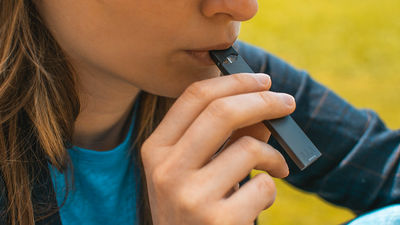 by
Vaping360
The San Francisco City Council passed a bylaw prohibiting the sale and distribution of e-cigarettes as the number of young people smokers soared. Since the mayor who is the final approver is also scheduled to sign, the establishment of the treaty is certain, and seven months after its implementation, electronic cigarettes will disappear from shops in the city.
San Francisco becomes first US city to ban sale of e-cigarettes | US news | The Guardian
https://www.theguardian.com/us-news/2019/jun/25/san-francisco-e-cigarettes-vaping-juul-ban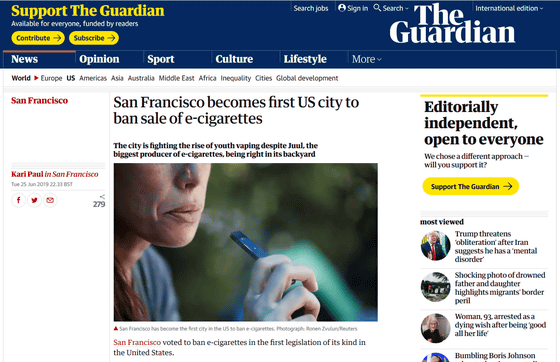 In the United States for many years the number of young people who smoke has continued to decline, but it has turned to an increase with the advent of electronic cigarettes. According to the data, the number of young smokers was 3.4 million in 2017, reaching 4.9 million in 2018. Under these circumstances, San Francisco City, for the first time as a city in the United States, has decided to ban the sale and distribution of electronic cigarettes.

Made History Today We By Passing Legislation To Prohibit The Sale Of E-Cigarettes Without FDA Approval In San Francisco. Thank You To All My Colleagues And Co-Sponsor City Attorney Dennis Herrera On This Unanimous Decision 11-0. Pic.Twitter.Com/ 9JADm7vlOa

— Shamann Walton (@shamannwalton) June 18, 2019


The contents of the ordinance are 'Prohibiting electronic tobacco products that have not been pre-screened by the US Food and Drug Administration (FDA) to be sold and distributed to San Francisco citizens'. It is also forbidden to go ahead to the city of San Francisco. The FDA did not require e-cigarette manufacturers to do a pre-market review of their products, so all e-cigarettes, including the largest Juul (Joule Labs) product, would be eligible.

Shaman Walton, who was in charge of drafting the ordinance, said, 'We have fought against the huge tobacco industry in the form of 'cigarettes', but from now on we have to rematch in the form of electronic cigarettes '

Jules Labs spokeswoman Ted Kwon said, "If you ban e-cigarettes completely, people who quit smoking and switch to e-cigarettes will get back into cigarettes again, and those who will switch to e-cigarettes now 'We will also create a black market in exchange for dealing with young smokers.' We have stated that we will continue to oppose the ordinance and put forth a plan to make it possible to purchase electronic cigarettes over the age of 21. The regulations do not prohibit the use of electronic cigarettes by persons over 21 years of age.

'San Francisco has taken action to protect the children. If the federal government has done its job, there will be no need for such a temporary moratorium, ' said Dennis Herrera, legal officer at San Francisco. And comment. It indicates that the FDA's e-cigarette regulations were inadequate.


in Note, Posted by logc_nt