Gundam statues are found in Indonesia by any means, locals are testimony that they were hundreds of years old


When a person tweeted about a Gundam-like stone statue I found on a land called Nyamato in Semarang, Central Java, Indonesia, it has become a big topic on Twitter.

Penampakan Gundam dari Batu Ini Hebohkan Netizen Indonesia-HiTekno.com

https://www.hitekno.com/internet/2019/04/14/200000/penampakan-gundam-dari-batu-ini-hebohkan-netizen-indonesia
The following tweets are calling the topic. At the time of article creation, it is popular popularity that it has been retweeted over 8000 times and has been liked over 5000 times.
soekarno: INDONESIA NO MOBILE SUIT GUNDAM ICHIMAN !!! pic.twitter.com/xeuqGMcRw8

— Incorrect indogov quotes (@wrongindogov) April 13, 2019


The image attached to the tweet seems to be a screenshot of the interaction on the SNS, and the first sheet says 'I found Gundam Kingdom in Najama in Central Java in Indonesia!' The stone statue you are looking at is Gundam from wherever you look. Because there is a cross pattern on the chest, it looks like ' GN-001 Gundam Exia '.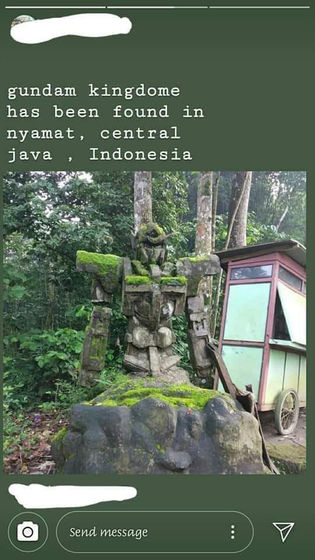 The second one says, 'The locals said that this stone statue was made during the
kingdom
of
Majapahit
.'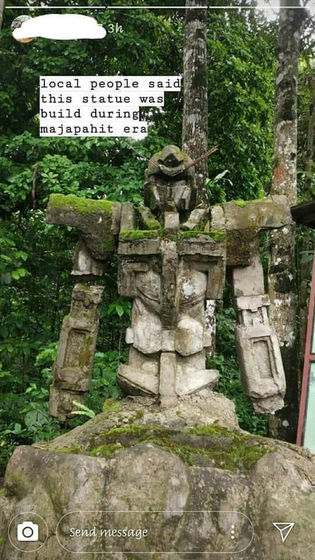 There are similar posts on Facebook.

Dengan penemuan ini, sepertinya Sejarah akan sedikit beruhab .. ????
Harusnya saat penjajahan dulu diaktifkan ..
.
.
Ada yang, tau siapa pemahatnya ?????

#exiarepair #gundamexia
# mobilesuitgundam00

Posted by Terust Saturday, April 13, 2019


It looks like it looks completely exclusive to Gundam, but it looks like it looks as if it has fused with rocks, and that there are a lot of moss.

On the other hand, on the Internet, there is an opinion that it must have been called by the technique of massaging ...

Kuchiyose no jutsu pic.twitter.com/KK8Xaz37Jl

— Ceuk Aing Ge Naon (@Aromatica) April 13, 2019


There are people who tweet 'This is for the kingdom of Mekapahit ...' and Mecha and the kingdom of Majapahit.

THIS IS MECHAPAHIT... Ululululu

— Sarjana KePokemonan (@ PutraPokemon) April 13, 2019


'There is evidence of anime worshipers in Indonesia'

Bukti nyata penyembah Animemisme itu ada di Indonesia.

— Panji Yodantara (@panjiyodantara) April 13, 2019


'Probably this is a stopped robot'

Maybe it's a deactivated autobots

— Seseorang (@alhiee) April 13, 2019


It should be noted that KotakGame, a local game media, is an animated work broadcasted in 2007 by ' Mobile Suit Gundam 00 ' where GN-001 Gundam Exia appeared. It can not be denied that it is likely to be hateful in 2019, 'he wrote,' Details can only be awaited from researchers. '

Berita: Ditemukan Patung Mirip Gundam Exia yang Diperkirakan Ada Sejak Era Majapahit | KotakGame
https://www.kotakgame.com/berita/detail/79189/Ditemukan-Patung-Mirip-Gundam-Exia-yang-Diperkirakan-Ada-Sejak-Era-Majapahit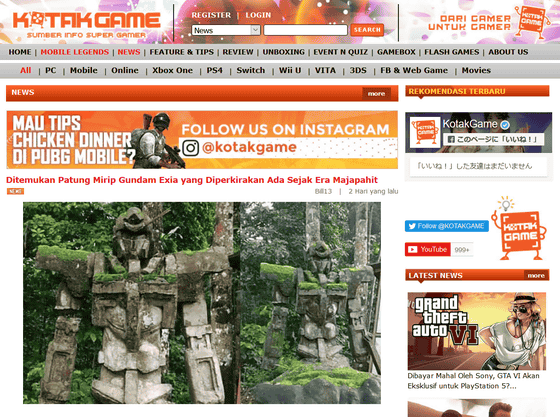 ・ Continuing
The details of the Gundam-like stupid stone statue are finally clear by any means-GIGAZINE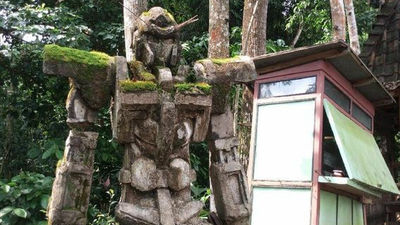 in Anime, Posted by logu_ii