What kind of original work is delivered by Apple's original streaming service 'Apple TV +'?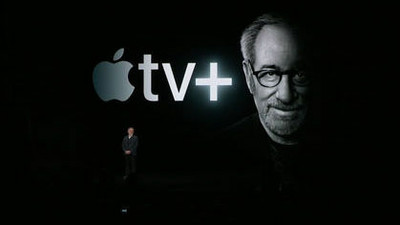 At Apple Special Events, which took place on March 26, 2019, Apple introduced the video streaming service ' Apple TV + '. It is reported that Apple TV + will also deliver original drama series in addition to movies and animations. MacRumors, which deals with Apple-related news, summarized the original series delivered on Apple TV +.

All of Apple's Original TV Shows and Movies-MacRumors
https://www.macrumors.com/guide/apple-tv-shows/

The original drama series scheduled to be distributed on Apple TV + has 25 plans decided at the time of article creation. Some of them are the following titles.

◆ New work of " Amazing Story Strange to the World "
'Amazing Amazing Story' is a science fiction omnibus drama broadcasted in the United States from 1985 to 1987. The episodes are directed by general director Steven Spielberg , Clint Eastwood , Martin Scorsese , Robert Zemequis , Toby Hooper, and so on, and it has been very popular for over 30 years since it aired. . Apple contracted with Spielberg to order a new episode of all 10 episodes. It is said that the cost of producing $ 5 million (about 550 million yen) per episode is spent.

◆ The Morning Show
Featuring Reese Witherspoon and Jennifer Aniston, who also featured on Apple Special Events, The Morning Show is a drama depicting the back of a television show airing in the morning in the United States. Apple said that Witherspoon and Aniston both paid a $ 1.25 million deal per episode.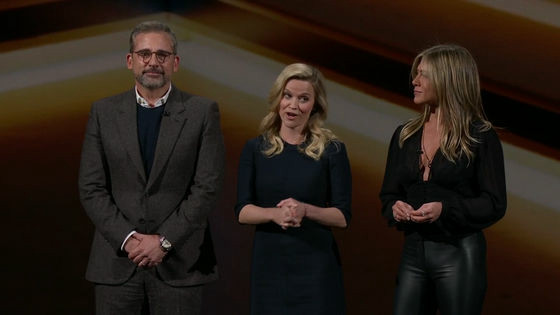 ◆ For All Mankind
For All Mankind is a science fiction drama depicting what happens to the world in a setting of 'if the space development competition ended with the end of the Cold War would not have ended in reality'. The appearance of Joel Kinaman of 'Alternate Carbon' has been decided, and the series composition is Mr. Ronald D. Moore who worked on the screenplay of ' New Star Trek ' and ' GALACTICA / Galactica '. It was said that all the shooting was completed.

◆ Truth Be Told
Truth Be Told is a 10-piece suspense drama based on the novel 'Are You Sleeping.' There are gorgeous actors such as Octavia Spencer , Aaron Paul , Lizzie Kaplan and Elizabeth Perkins, and it seems that all episodes have already been taken.

◆ See
'See' is a drama that depicts a world ravaged by viruses, in which human beings have survived slightly but are blinded. It is reported that ' Aquaman ' Jason Mormore and 'Death Parade Wives' Alfre Woodard will appear.

◆ Drama version ' bandet Q '
The TV drama version of the movie 'Bandet Q', directed by Terry Gilliam who is a member of the world famous comedy group ' Monty Python ' and is known for ' Future Century Brazil ' and ' 12 Monkeys ', is also Apple TV + Will be delivered at It is a story where a young boy adventures over time with a thief who stole a space-time map from the creators of the world.

Time Bandits [US Trailer]-YouTube


◆ Servant
The new drama series of the psychotic thriller, directed by M. Knight Shamaran of ' Six Sense ', ' Sign ' and ' Mister Glass ', is 'Servant'. Although the details of the story are unknown, a story of a young couple who hires a babysitter to care for a baby is reported that Apple has ordered a total of 10 hours and 30 minutes of episodes.

◆ New drama series by director Damien Chazel
Apple has announced that it has signed a drama series deal with ' La La Land ' director Damien Chazel. However, it is not clear at the time of writing about what kind of content it will be.

◆ New drama series by Simon ・ Kimberg
All 10 episodes of SFS series by Simon Kimburg who served as the screenplay for the 'X-MEN' series and ' Sherlock Holmes ' and ' Lincoln / Secret Book '. Its contents have not been announced at the time of writing, but it is said that production will begin in the summer of 2019.

◆ Defending Jacob
To save the 14-year-old son Jacob accused of murdering his classmate, dramatization of the thriller novel 'Defending Jacob' that a local prosecutor struggles alone. The appearance of ' Captain America ' 's Chris Evans has been decided.

Defending Jacob by William Landay-YouTube


◆ Pachinko
The smash hit novel 'Pachinko' is a story of a poor Korean clan who came to Japan at the beginning of the 20th century. Apple announced in March 2019 to create a drama series of all eight episodes based on 'Pachinko'.

◆ Peanut
A new animation of the cartoon Peanut drawn around Snoopy, the world's most famous beagle, and its owner, Charlie Brown, will be created. It is said that there are multiple animation projects for Peanut, and one of them is an educational animation based on Snoopy, who aims to be an astronaut.

It's Snoopy!-YouTube