A guilty man who sent fake invoices to Google and Facebook for more than 11 billion yen is guilty, how is that trick?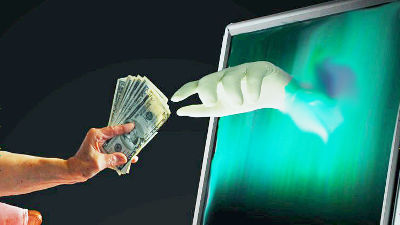 by
Don Hankins
A Lithuanian man has been arrested for guilty charges for tricking Google and Facebook employees into transferring more than $ 100 million to a bank account. A man is confiscation of $ 49.7 million (approximately 5.5 billion yen) for crimes of fraud, spoofing and three money launderings. The trial, which will be held on July 24, 2019, may be sentenced to up to 30 years in prison.
The United States District Court for the Southern District of New York
(PDF file) https://www.justice.gov/usao-sdny/press-release/file/950556/download
Lithuanian Man Pleads Guilty To Wire Fraud For Theft Of Over $ 100 Million In Fraudulent Business Email Compromise Scheme | USAO-SDNY | Department of Justice
https://www.justice.gov/usao-sdny/pr/lithuanian-man-pleads-guilty-wire-fraud-theft-over-100-million-fraudulent-business
Lithuanian Pleads Guilty to Stealing $ 100 Million From Google, Facebook
https://www.bleepingcomputer.com/news/security/lithuanian-pleads-guilty-to-stealing-100-million-from-google-facebook/
Man Pleads Guilty in $ 100 Million Scam of Facebook and Google-Bloomberg
https://www.bloomberg.com/news/articles/2019-03-20/man-pleads-guilty-in-100-million-scam-of-facebook-and-google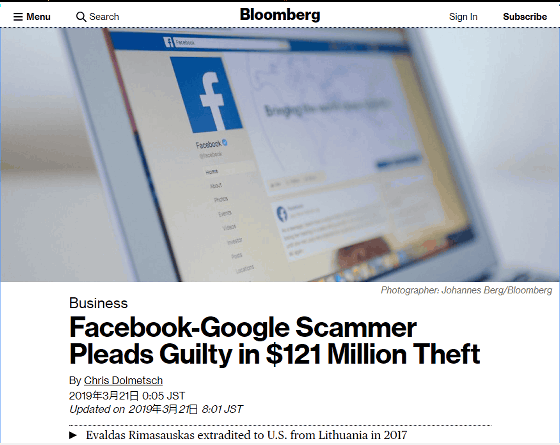 The prosecutor's allegation said Evaldas Rimasauskas, a Lithuanian native, sent a fake email to Google and Facebook employees, posing as a maker named
Quanta Computer in
Taiwan with the conspiracy. The content of the e-mail was to transfer unpaid payment to Quanta Computer to the designated bank account.
This scam took place from October 2013 to October 2015. The accused had set up multiple accounts in Latvia, Cyprus, Lithuania, Hungary and Slovakia, and was trying to prevent investigations by sending money transferred from companies to banks around the world.
According to the United States Department of Justice (DoJ), the man forged a bill, a contract, or a letter signed by an officer of the victim company, and the company name The bank account was set up using the fake mark entered. And they succeeded in sending money to the company's bank account in Latvia, not only to the employees of Google and Facebook, but also to the bank responsible for the company.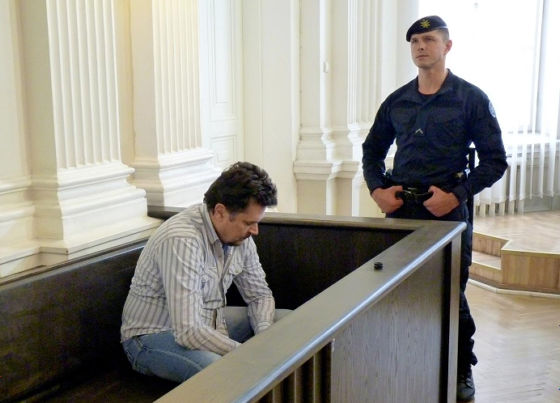 The case documents in the United States have not identified Google and Facebook as the affected companies in this case, but according to Reuters , the case in Lithuania in 2017 will have the names of Google and Facebook Was listed as a company affected by According to Reuters, Google's damage is $ 23 million (approximately 2.5 billion yen) and Facebook is $ 99 million (approximately 1.1 billion yen). BleepingComputer asked Google and Facebook to comment, Google said, 'We detected this scam and promptly notified the authorities. We are glad that the losses have already been recovered and the issue has been resolved.' It seems that the reply came.

In June 2016, the FBI's Internet Crime Complaint Center warned that the number of cases of huge losses due to business email fraud (BEC) is increasing, and the damage to BEC has become serious in recent years. You

in Note, Posted by logq_fa