How can I unlock the stolen iPhone activation lock?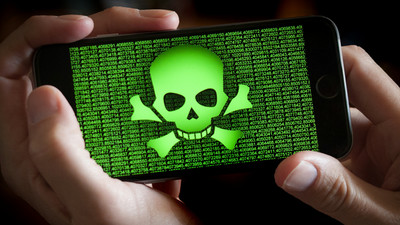 by Blogtrepreneur

By linking Apple ID which is the account of cloud service " iCloud " provided by Apple to iPhone, even if it is stolen or lost, remotely activate lock is applied and no operation from anyone is accepted It is possible to do so. However, in recent years, Motherboard reports that this iPhone whose activation lock has been released is on the auction for merchants.

How Hackers Break into iCloud-Locked iPhones - Motherboard
https://motherboard.vice.com/en_us/article/8xyq8v/how-to-unlock-icloud-stolen-iphone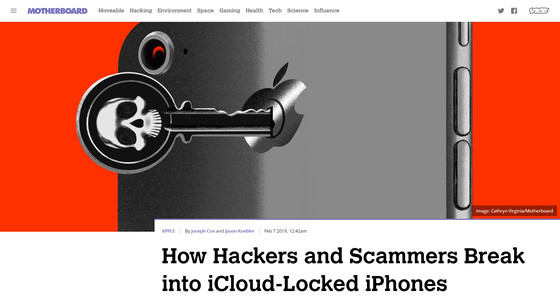 In 2013, as part of its security features, Apple has designed iPhone to be tied to only a single Apple ID. This makes it possible to search for lost iPhone via iCloud and it is now possible to display on the iPhone screen "This owner is lost, those who found it please contact us".

In addition, you can activate your iPhone lost via iCloud so you can prevent it from being peeped or misused by third parties. In order to make the iPhone operable again, you have to release the activation lock by entering the Apple ID and password associated with that iPhone. This Activation Lock can be canceled only by the owner himself or the employee of the Apple Store.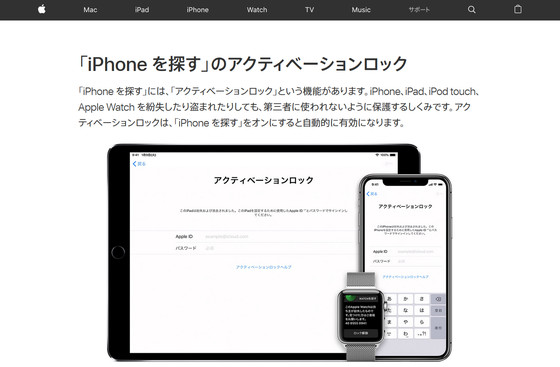 A vendor contracted to repair the iPhone by himself will purchase an iPhone from a second-hand auction specializing in mobile phones in order to take repair parts of the iPhone. In the second-hand auction, iPhone which became unnecessary by original replacement originally, and iPhone which was broken down and discarded are sent, but it is a problem that somehow iPhone which is in the state of being unlocked activation license has also circulated. Against this backdrop, Motherboard says that the evolution of criminal technology is seen.

Activation lock release technology has already been advanced, and seems to have penetrated until dealing with even people who do not have specialized skills and knowledge in particular. In April 2017, young people in their teens from the back of a woman walking down the subway threatened to "delete your iCloud", a case of robbing a woman's iPhone 6s occurred in Washington, DC in the United States Did. Also in the same incident that occurred in Philadelphia in January 2019, the culprit threatened the victim with a gun to rob the iPhone, disabled the "Find iPhone" function and set the Apple ID tied to the iPhone It seems he had deleted all the registered information.

The criminal is getting the Apple ID and password for releasing the activation lock by the phishing scam. The following image is a screen shot of a phishing site that steals an Apple ID. If you accessed without noticing, you are doing quite well, even if you do not doubt enter your Apple ID and password.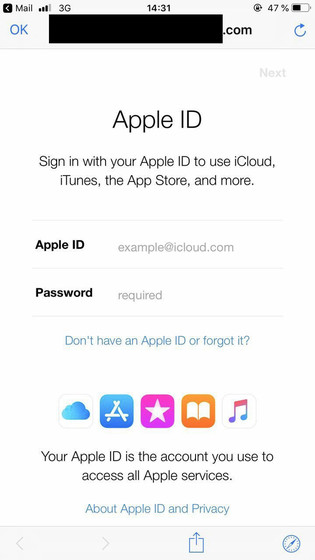 A database that lists the Apple ID and password stolen at such a phishing site is the image below. Between Activation Lock and crackers that unlock Apple ID, you can check whether the "Search for iPhone" function is turned on on the stolen iPhone or whether the lost mode or all the data from the remote is being deleted Online service is being used frequently. Also, it seems that kits that can easily build a phishing site to steal an Apple ID are circulating among crackers.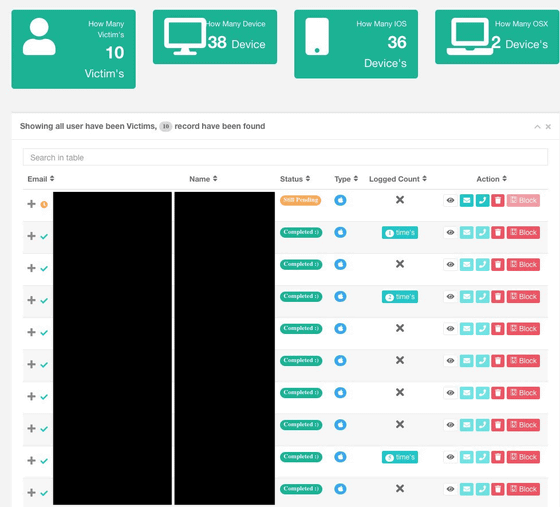 Some crackers are collecting iPhone information by accessing Apple's device management system "Global Service Exchange (GSX)". GSX is used to access a variety of technical resources such as Apple's service guide and troubleshooting tools, and anyone at the Apple Store employee can access it. According to Motherboard, the account of GSX stolen by phishing fraud is being traded on the online underground market.

Some people work on fraudulent acts to forge Apple Retailers and legitimate service providers to activate their locks and unregister their Apple IDs by counterfeiting receipts from Apple and their carriers. Indeed, in online underground markets there are also companies that undertake counterfeiting of invoices and receipts for about 150 dollars (about 17,000 yen) to 300 dollars (about 33,000 yen) per case, Motherboard I report it.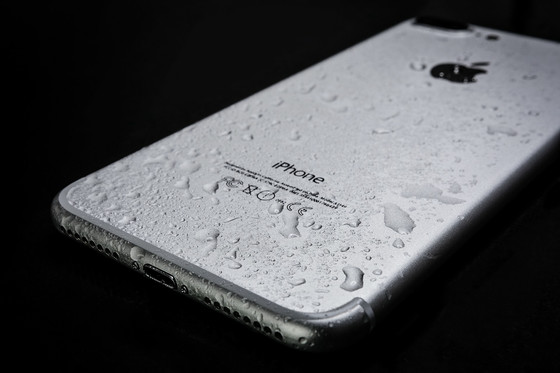 The repairer can not distinguish whether the iPhone being exhibited in the auction is actually "iPhone unlocked by being stolen" or "Used iPhone that has been regularly withdrawn to the carrier". Motherboard points out the possibility that a repairman will get caught up in a theft incident without knowing without knowing and fears that the release of activation lock by a criminal threatens iPhone's repair industry.