Persons who are urgently required for ransom on a hacker taking the iPhone hostages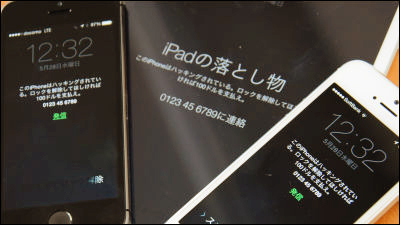 In Australia, an iPhone or other iOS device was locked remotely by a hacker and a ransom was requested through PayPal to unlock it. A victim who asked for a remedy posted a thread to the Apple Support Community, and people who suffered similar damage continued.The Age Digital LifeIt reports on its method and coping method.

Australian Apple iDevices hijacked, held to ransom
http://www.theage.com.au/digital-life/consumer-security/australian-apple-idevices-hijacked-held-to-ransom-20140527-zrpbj.html

What do I ...: Apple Support Communities
https://discussions.apple.com/thread/6270410

On May 26, 2014 (local time), to the Apple Support Community "The device was hacked but what should I do?Thread was posted. According to the poster, the device was suddenly locked when I was using the iPad, and the iPhone was "hacked by" Oleg Pliss "this device.If you want to release, it is 100 dollars (about 10,000 yen) / 100 A message saying "Euro (about 14,000 yen) payable to" lock [email protected] "by PayPal" was displayed.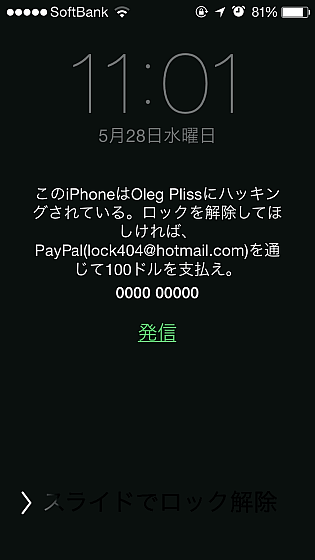 Threads have asked for countermeasures, some people say that ransom was requested by the same method, and threads have been updated for over 20 pages at the time of article writing. Although the amount of ransom differs depending on the person, there seems to be a case in which the hacking method and the person name "Oleg Pliss" are common, so that the sound is reproduced from the device and noticed. Hacking is all genuine iOS application "Find iPhoneBy misuse. A hacker who intrudes into iCloud searches for an iPhone "Lost mode"It is said that it used the function to lock a device registered to iCloud remotely and to display a message remotely by using.

Even if the user who originally set the passcode is displayed as "Paying ransom", it can be released by simply entering the usual passcode, but the passcode not set user can set an arbitrary passcode when starting lost mode Many users report that they can not be unlocked because they are entered. In that case, you can use iTunes to cancel passcode as follows

IOS: I forgot my passcode or my device becomes unusable
http://support.apple.com/kb/HT1212?viewlocale=ja_JP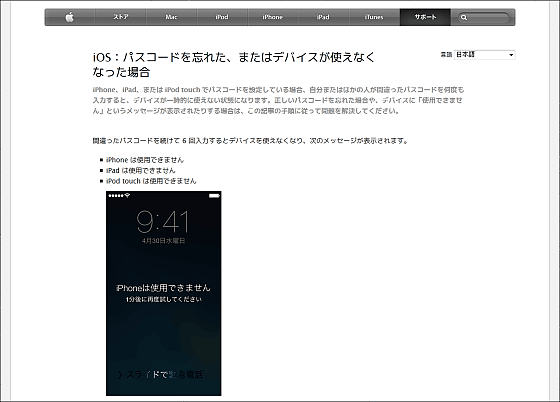 These cases are occurring only in Australia at the moment so far, but if you suffer similar hacking damage, login to iCloud from your PC etc. with the highest priority regardless of passcode setting and passwords Change is necessary. According to The Age, the person in charge of PayPal commented, "There is no PayPal account linked to the hacker's e-mail address", "If there is a person who paid ransom for a hacker, it will be refunded I will add it. "

IT security expert Troy Hunt says, "Since many users are using the same password, there is a risk of being reused for another service by one hacking.To prevent similar hacking," 2 It is necessary to set "step confirmation" "warning." Apple ID The following page shows how to set up "two step confirmation" which enables 2-step authentication by using an authentication code sent to an arbitrary device when logging in.

Frequently asked questions (FAQ) about two-step confirmation of Apple ID
http://support.apple.com/kb/HT5570?viewlocale=ja_JP&locale=ja_JP

First of all, Apple's "My Apple IDOn the page of "Manage Apple ID" click.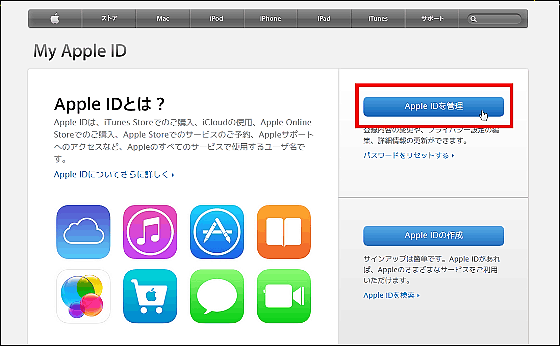 Enter your Apple ID and password and click "Sign in."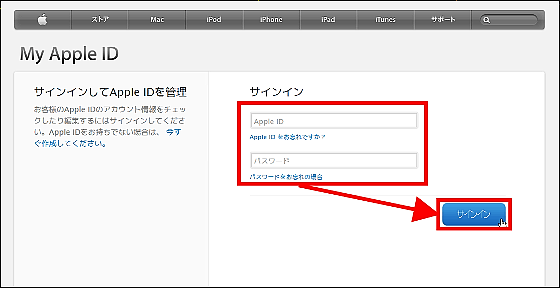 Enter the answer to the security question you are setting and click "Continue".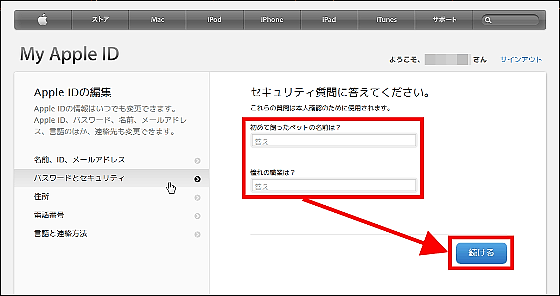 Click "Start using".




By clicking "Continue", when logging in to the Apple ID, the authentication code is sent to the smartphone etc., so it is possible to block unauthorized access.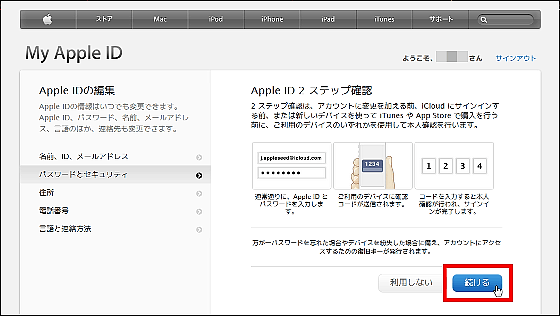 in Note, Posted by darkhorse_log