I tried to eat a calorie discreet 'Ajisaka use tool many soup' containing plenty of vegetables in Ajimen soup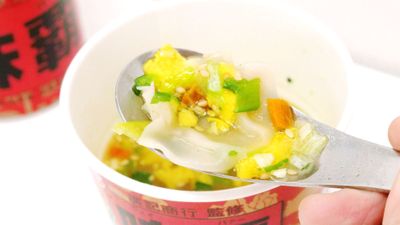 A long seller Chinese seasoning " Ajima " collaborated with Ace cook " Ajisaki Used Equipment Mixed Soup " has appeared on February 18, 2019. It is said that it is a cup soup with a lot of wonton and six types of vegetables in the authentic Chinese soup which used Ajisena, so I actually tried it.

Hiroki Shoko supervision supervisor Sake soup a lot Soup | Product Information | Ace coq Co., Ltd.
http://www.acecook.co.jp/products/detail.php?id=916

This is "A lot of soup with Ajisaka use equipment". It has become a package that draws pictures of food ingredients such as pigs and vegetables in the red ground, tribal taste of Chinese seasoning.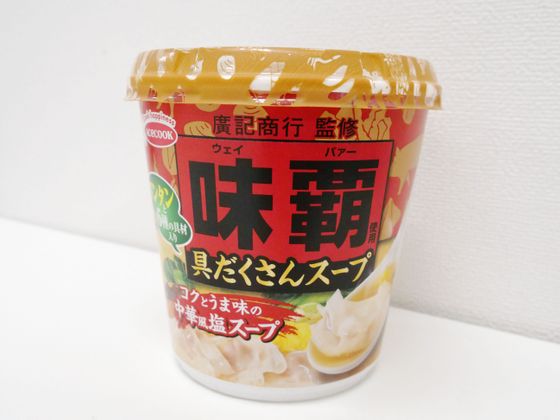 "There are plenty of Chinese-style salt soup with wonton and six kinds of ingredients in it".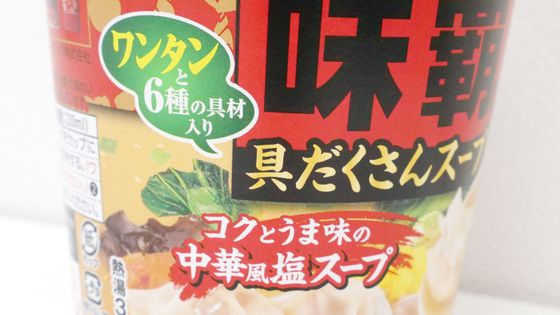 It is written as "Chinese seasoning (Ajisen)" in the raw material, and surely it can be confirmed that it is a cup soup using Ajisena. In ingredients, Wonton · Cheonggen · Egg · Sesame · Onion · Cyclage · Carrots, "Wonton and 6 types of ingredients" are lining up. The content amount was 14 g.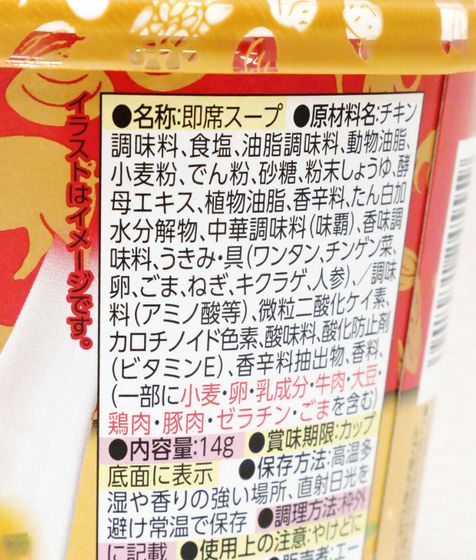 The calories are 58 kcal per serving and it is rather modest. The calorie just calmly is 26 kcal, and the soup alone is 32 kcal.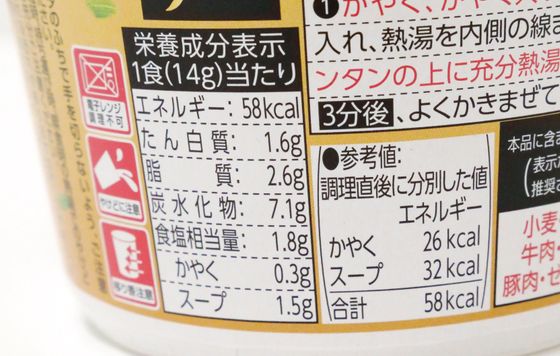 I opened the cup and took out the contents, it contained a quick bag and a bag of powdered soup quickly entering it.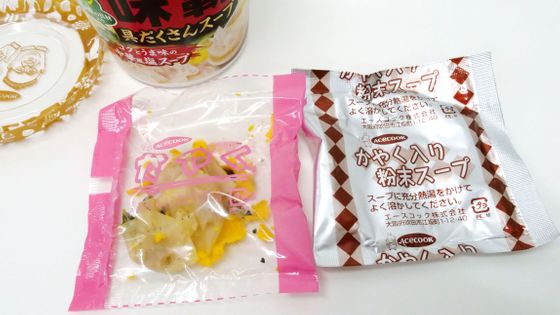 At best it's like this, compared with other ingredients, the biggest wonton and many eggs are conspicuous.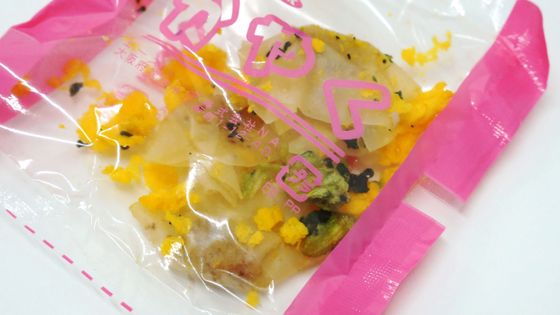 Put the powder soup in the cup quickly ... ...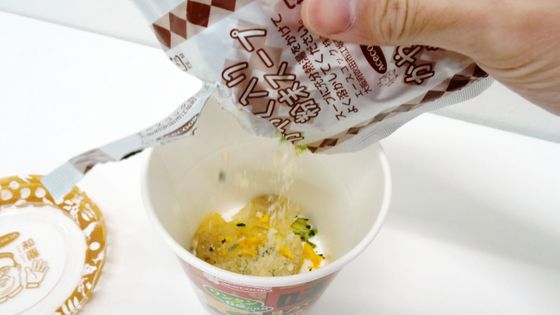 Pour hot water to the middle line. We need about 220 ml of hot water.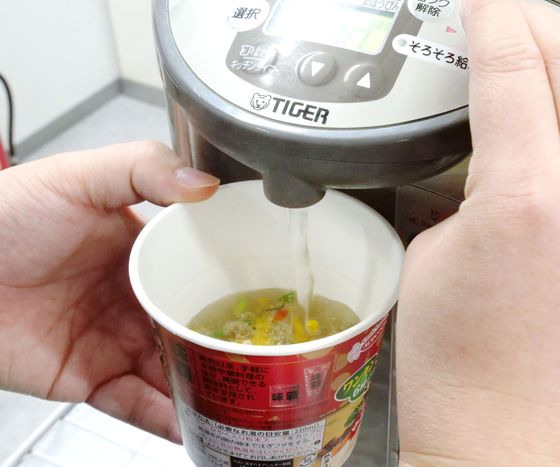 Play the lid and wait 3 minutes.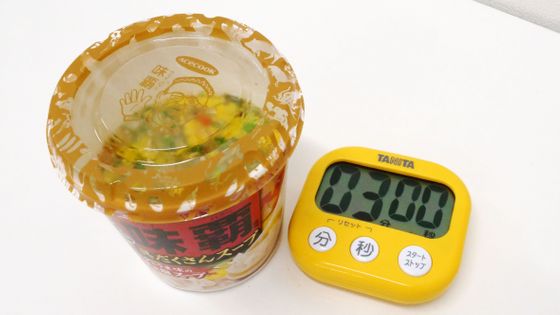 After the elapse of 3 minutes, complete by stirring contents.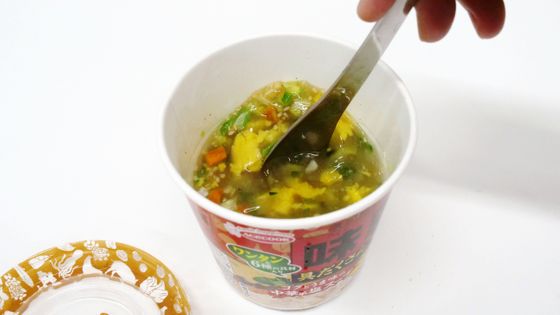 First of all I will try sipping soup. Although it is certainly a taste bass base, it became a vegetable soup of a complicated flavor that strongly feels the taste of leaf vegetables such as chingen vegetables and goat.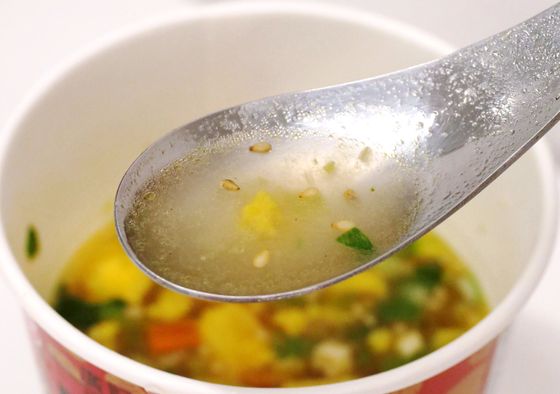 When I tried it, the skin of Wonton took in the taste of Akuhi and the soup of vegetables firmly and it was very soft. Not only the taste of each ingredient, but also the eggs are fluffy, the chingen sauce is shakiyaki, the chrysanthemum is korikori, the texture is clear. Thanks to the strong vegetables even though it was cut finely, it turned into a cup soup called "plenty of vegetables".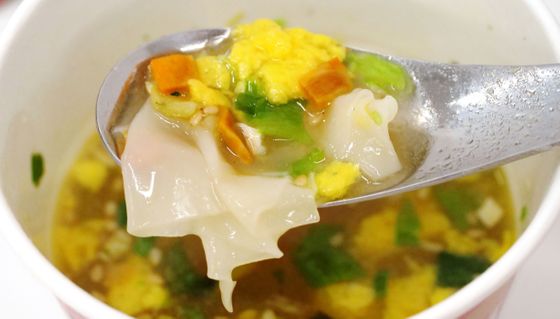 "A lot of soup used in Ajisaka" is sold at retail stores such as supermarkets and convenience stores throughout the country with a suggested retail price of 170 yen without tax.