In Firefox 66, audio that is automatically played is muted by default

by Denisse Leon

In browsing, there are a few cases in which sound is leaked unintentionally because one of the open tabs contains automatic playback media with audio. As a countermeasure against Firefox 66, when an open tab contains automatic playback media with audio, it will block that audio by default.

Firefox 66 to block automatically playing audible video and audio - Mozilla Hacks - the Web developer blog
https://hacks.mozilla.org/2019/02/firefox-66-to-block-automatically-playing-audible-video-and-audio/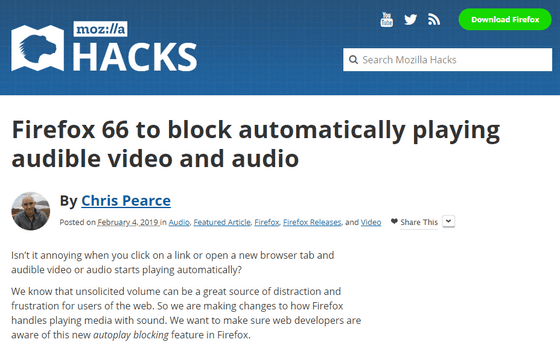 According to Mr. Chris Pearce, a software engineer at Mozilla developing Firefox, in the desktop version Fireofx 66 to be released in general on March 19, 2019, and Firefox 66 for Android, by default, the sound of automatic playback media with voice Is blocked, and the user takes an active action such as pushing a play button, so that sound will be played through the API for the first time.

Since it does not block automatic playback itself, automatic playback is performed as usual in the case of automatic playback media with no sound or automatic playback media with mute setting by default.

However, there are cases that "automatic playback of this site does not have to be silenced", there are cases in which there are cases, there is also a whitelist function to correspond to this. According to Mr. Pearce, when you click the icon on the left side of the address bar, it will be possible to choose whether to allow automatic playback or block by the item "Permissions" on the site information menu that opens.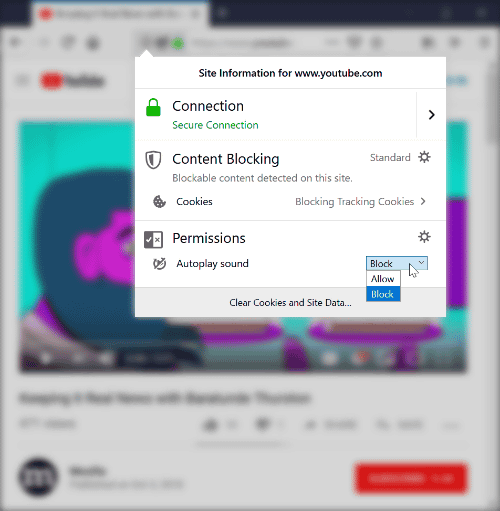 Please note that the automatic playback block of Web Audio has not been implemented yet and will be implemented separately within 2019.

Regarding the automatic playback block of audio, Google Chrome added a feature in Chrome 66 update in May, 2018, but there is a case that the function has been deleted due to a problem that no sound appears in a browser game or the like .

"Disable automatic voice playback" function just added to Chrome will be implemented again after 5 months since "Game no longer sounds" will be implemented again in 5 months - GIGAZINE